9 must-try food and coffee spots in Winnipeg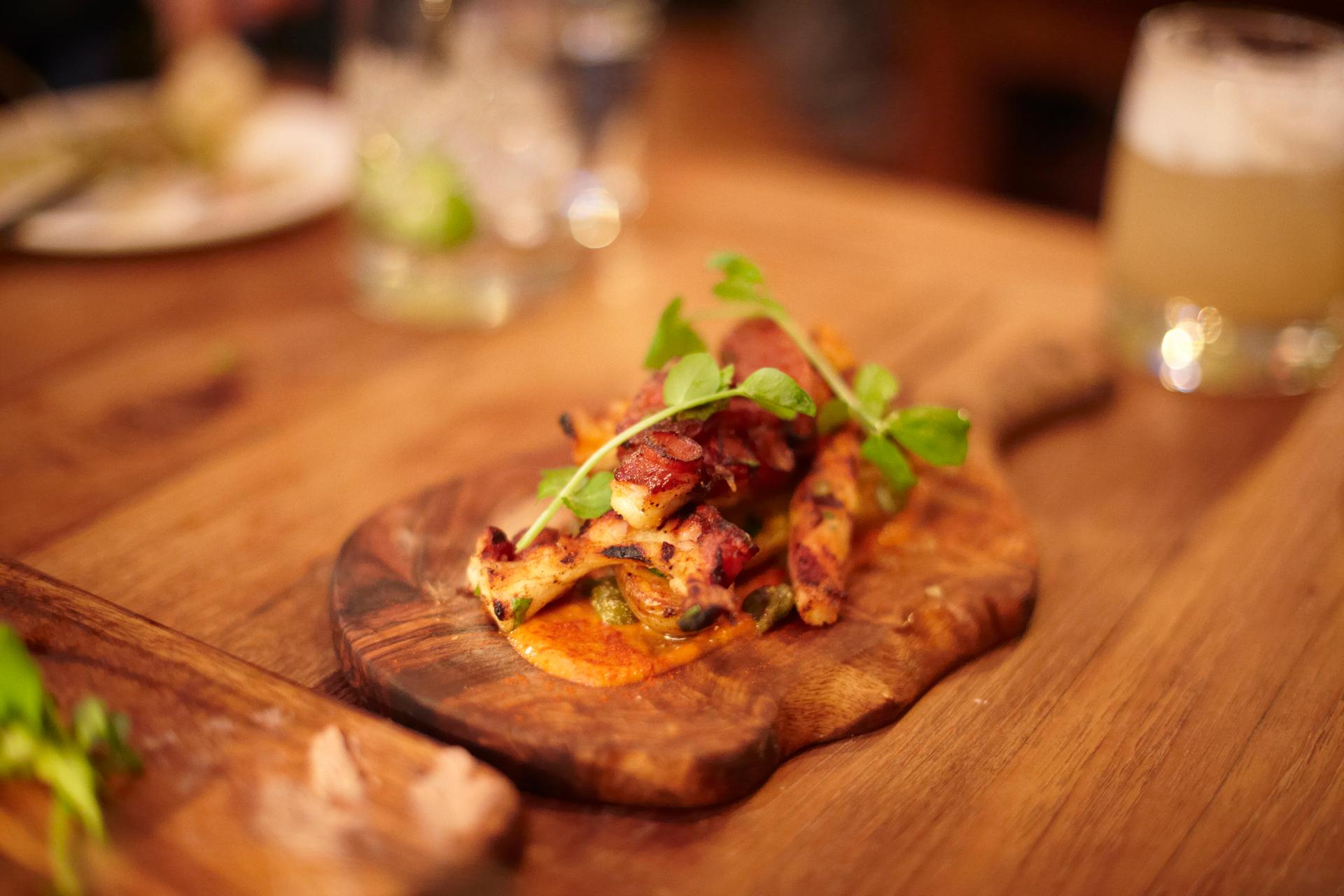 Manitoba's cuisine is not to be overlooked. Transformed from basic fare, to inspired, local cuisine, Winnipeg, in particular, is upping the ante up when it comes to food and beverage -- specifically small plates and coffee. Though the province has always had a love for food, as evidenced by its popular fall suppers (where communities host casual dinners in eclectic locales each fall) and cinnamon bun trail (exactly what it sounds like -- yum!), Winnipeg is past the up-and-coming phase and is now a full-blown hot spot for coffee and food lovers.
Food
Winnipeg is home to almost every type of food you might be craving. From classic steaks at Rae and Jerry's to traditional European fare at Jennifer's Restaurant-Picnic , you'll find a restaurant that will have you experiencing both the taste and vibe of this burgeoning prairie city. Check out some of our favourite spots below, or go for an all-in-one experience at the Food Hall at The Forks. Chances are you won't go hungry in Winnipeg.
If you're looking for home-style cooking that begs to be shared, deer + almond is for you. This relaxed space in the historic Exchange District prides itself on being comfy, casual, and of course, delicious. With a small and well-curated menu, you'll find dishes like beef carpaccio with pickled mussels and fried Brussels sprouts with capicola and a poached egg . Plus, with a focus on slow food, the experience will be just as memorable as the food.
Segovia boasts tasty Spanish plates that have earned a name for themselves in Winnipeg's food culture -- so much so that this restaurant is almost always packed. Though they don't take reservations, the traditional and inventive tapas plates they serve up are worth the wait. Stop by for a drink and a snack, then stay for an indulgent experience for all of your senses.
Looking for a breakfast spot instead? Head to Clementine Cafe, opened by the same owners in 2016.
You gotta eat here. No, we really mean it -- Marion Street Eatery was featured as a must-visit stop on the TV show "You Gotta Eat Here." Don't be dissuaded by the slightly rough exterior of the adjacent Marion Hotel, because on the other side, you'll find a beautifully chic restaurant that focuses on serving up amazing comfort food with a focus on local ingredients. Stop by for classic favourites like their BLT and stuffed meatloaf.
If you think you don't like vegan burgers, you obviously just haven't tasted a Boon Burger yet. This plant-based burger cafe has shaken things up in Winnipeg. With two locations to choose from, you'll be treated to burger joint favourite like the Bacun Cheeze burger, soft serve, poutine and more -- all with a focus on being cruelty-free and flavorful. Plus, all the meals are made to-order and from scratch so you know they'll be tasty and fresh.
Coffee
Thirsty for a pick me up? Winnipeg's got you covered. In fact, the city is filled to the brim with options that serve up locally roasted beans, homemade treats, and atmosphere to spare. In fact, the coffee scene is Winnipeg is so competitive (read: delicious options for you) that it's been covered by the CBC (Canada's ABC). It's time for a taste test.
Come for the coffee, stay for the ambiance. This Exchange District coffee shop features several coffees from roasters across the continent and prides itself on carefully preparing the most delicious cup of coffee you've ever tasted. To really ensure you can focus on your coffee tasting experience, Parlour doesn't offer wifi, so feel free to start chatting with your neighbour or draw inspiration from the rotating art on the cafe's walls.
Thom Bargen Coffee and Tea
Looking for a place to hunker down on a lazy afternoon? Check out Thom Bargen Coffee and Tea -- the perfect place to read a good book or get some quiet work done. With a bright, modern space inside, and chairs set up outside to enjoy some prairie sun, it's easy to see why this spot has become a local favourite. Their coffee is delicious, but we also recommend their house-made baked goods.
Little Sister Coffee Maker
With a fun and slightly cheeky attitude, Little Sister Coffee Maker is quickly becoming a staple in Osborne Village -- especially with Parlour Coffee as their big brother, helping kickstart their success. With a bright, clean space, this coffee-focused joint serves up the basics alongside local treats from places like Tall Grass Prairie Bread Company and Bronuts Donuts.
Swing by the French Quarter, just east of downtown, and you'll find Caf? Postal in St. Boniface. Priding itself on a laid back atmosphere, the focus here is clearly delicious coffee all brewed from Te Aro coffee beans roasted in Toronto. If you're looking for something a bit sweeter, try their subtle and rich mocha. Then sit back, and enjoy their mini art gallery with rotating exhibits.
Boasting a variety of feature roasters, Fools and Horses serves up a perfect cup, every time. Stop by one of their two locations for your caffeine fix, being sure to save some room for a local treat -- they carry a variety of Manitoba-made sweet and savoury goods. The space is fresh, clean, and simple, making it an ideal spot to spend an afternoon working on reading a favourite book.

Looking to dig deeper into Winnipeg and Manitoba's culinary scene? We've got options. Check out Travel Manitoba's website.