5 unexpected Canadian national parks to visit in winter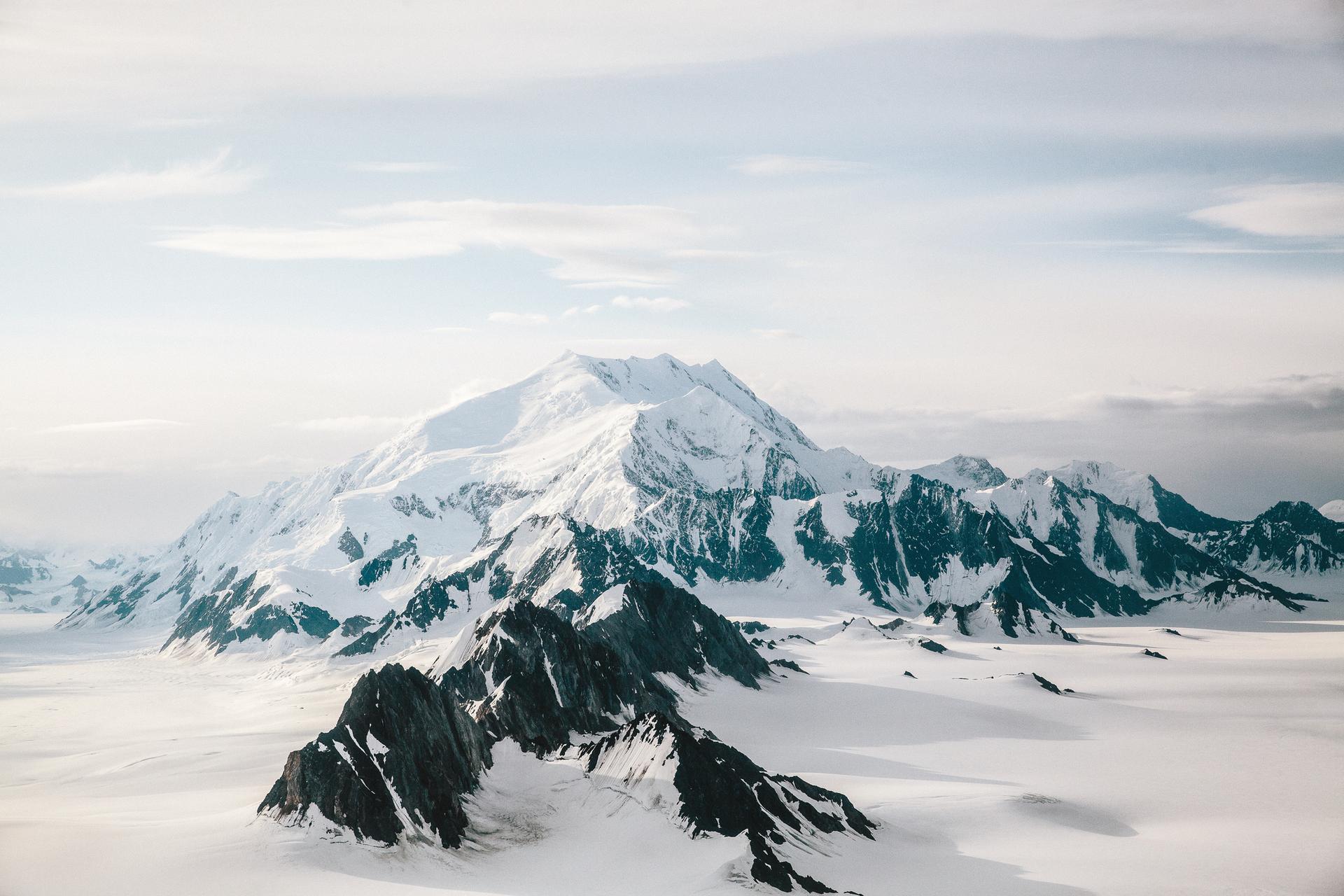 Looking for an escape? Look no further than Canada's diverse national parks.  
Winter may be chillier, but we think colder temperatures just add to the beauty of Canada's parks.  
With unique experiences—from luxurious camping to snowshoeing, here are some of the best, unexpected National Parks to enjoy during the winter months.
British Columbia: Kootenay National Park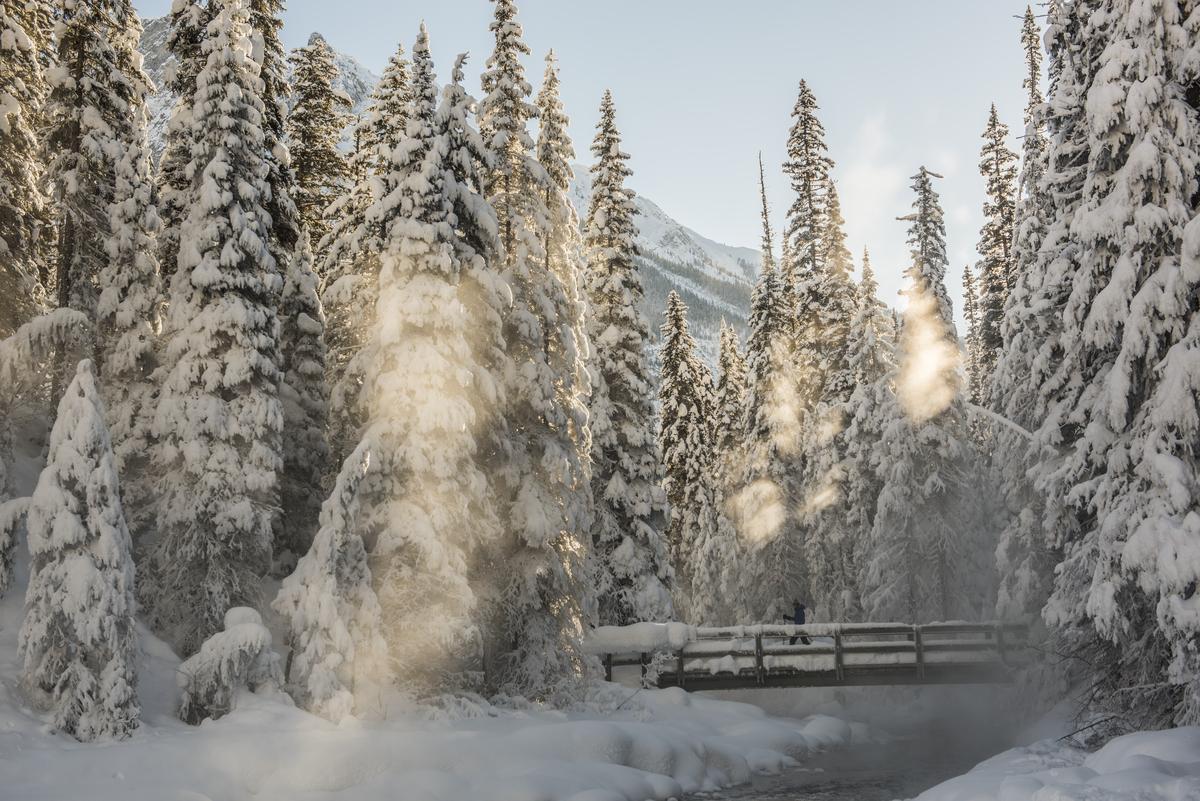 Cross-country skiing in Kootenay National Park, BC - credit: Destination BC/Kari Medig
Did you know that Kootenay National Park was established in 1920 as part of an agreement to build a new road across the Rockies?
Celebrate over 100 years of icy rivers to steamy hot springs. Known for it's wilderness and varied mountain landscape, this park is a winter-lover's paradise. Safely explore backcountry trails by cross-country ski or snowshoe, go ice climbing, spot wildlife -- like bighorn sheep, elk, and moose--then wrap your day up at Radium Hot Springs (Check website for availability, hours and safety measures). Sacred to First Nations and treasured by settlers to Canada's West, these hot springs nestled in the Canadian Rockies have rejuvenated and inspired generations of travellers.
Though beautiful, this park is truly wilderness. Consider winter safety on the road, in the outdoors and especially in the backcountry. Ensure you and your group are prepared with avalanche knowledge, safety skills and equipment needed. 
Qu

é

bec

: La Mauricie National Park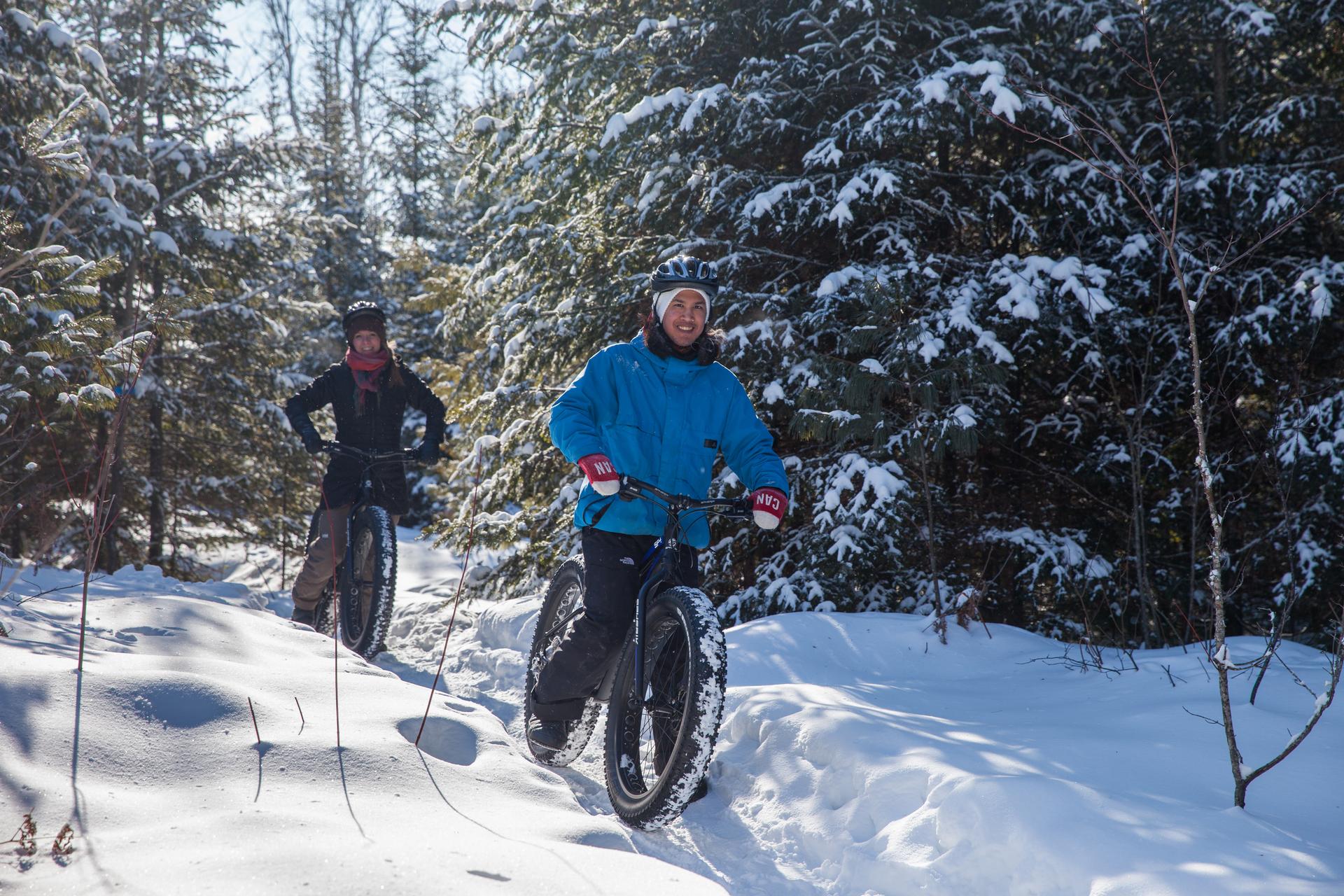 Hop on a fat bike and explore the trails and beautiful winter landscapes in La Mauricie National Park – credit: Parks Canada
Did you know that La Mauricie National Park is as big as the Island of Montreal? That means a ton of space to play.
Much like its cities, Quebec's parks come alive when temperatures drop. With over 150 lakes and lush forests to explore, there are plenty of opportunities in La Mauricie for winter activities. Cross country ski more than 80kms of marked trails, including heated rest stops, in one of the most beautiful regions of Quebec. Or pull some hiking boots or strap on snowshoes to admire panoramic views of forest, lakes and creeks along 75km of snowshoe trails - there is a trail for everyone! Stay a little longer with winter camping or stay in the comfort of an oTENTik in the heart of the silent forest.
New Brunswick: Kouchibouguac National Park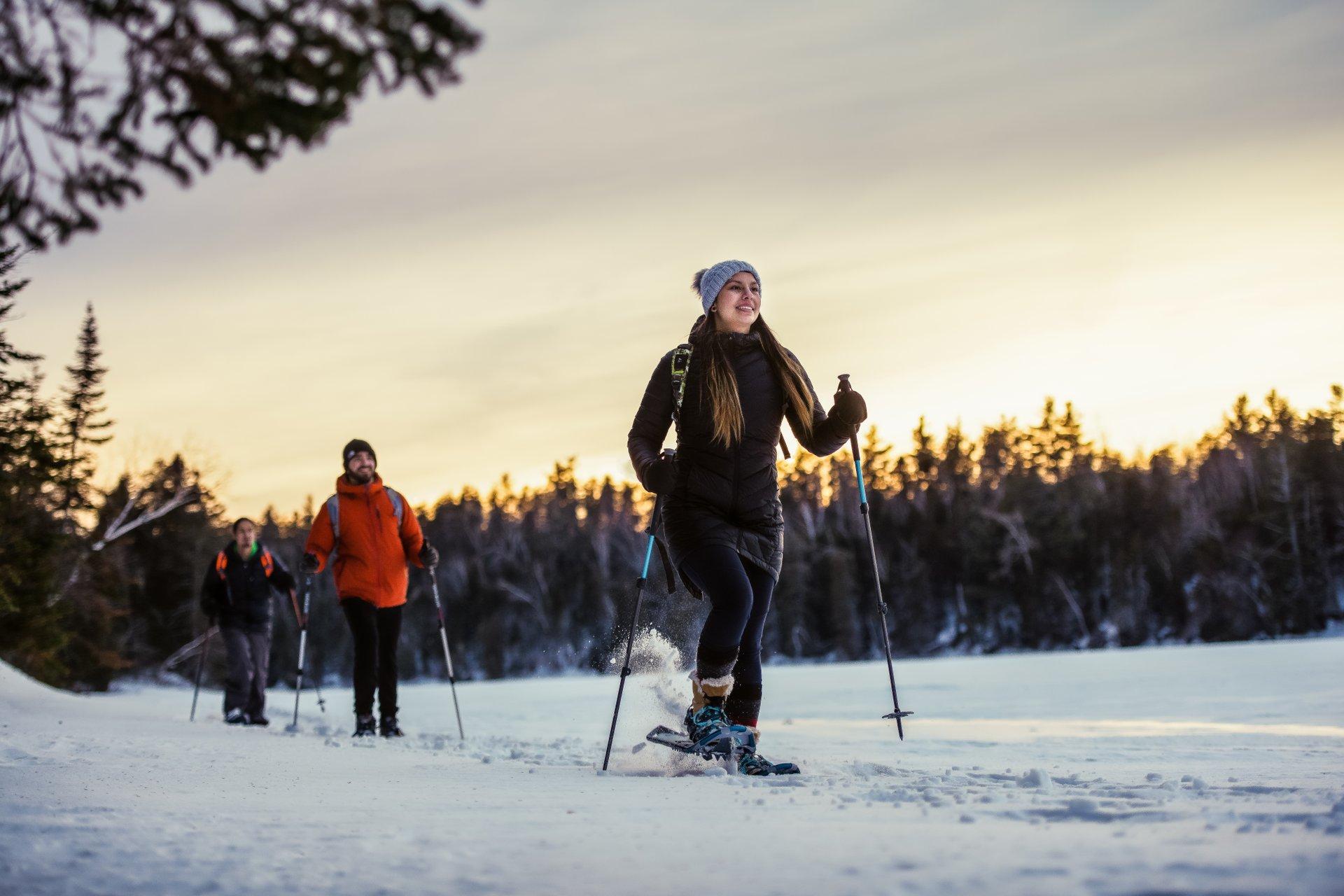 Strap on a pair of snowshoes and explore New Brunswick's Kouchibouguac National Park - credit: Nigel Fearon Photography
Did you know that there is an annual Christmas Bird Count in Kouchibouguac National Park? This tradition is been going for more than 50 years!
Winter is beautiful and accessible in this park, with cross-country ski, groomed snowshoe and fat bike trails throughout the season. This is a great way to rediscover the park under winter's snowy blanket. Rent any gear from Pijebooqwek Waxing Shelter opposite the Visitor Information Centre. While exploring keep a watchful eye for blue jays and northern saw-whet owls in the leafless trees. Relax and stay the night in one of three toasty warm three rustic shelters accessible by trail in the South Kouchibouguac campground (one closed in 2020/2021). If you prefer to sleep a little closer to nature, bring your tent for winter camping.
Manitoba: Riding Mountain National Park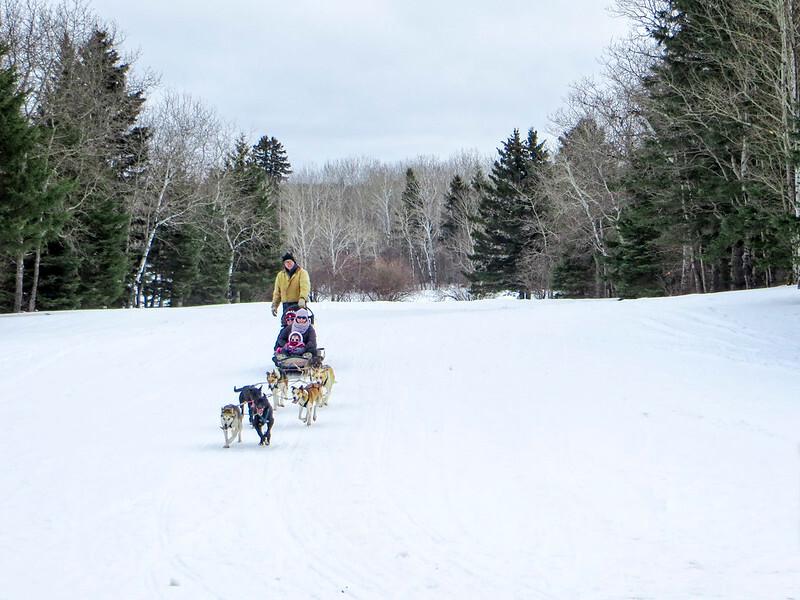 Dog sledding in Riding Mountain National Park, Manitoba - credit: Paul Cutting courtesy of Travel Manitoba
Did you know that Riding Mountain National Park is located within Treaty 2 territory and the park works closely with Anishinabe, First Nations from Treaties 2, 4 and 1? 
Located 3 hours from Winnipeg, Riding Mountain is home to a staggering diversity of wildlife and a winter adventurer's paradise.  See bison, moose and deer roam in their natural environment, grazing in the vast forests.  Try some fat-biking on a creative trail designed through the Wasagaming town site or explore hundreds of kilometers of snow trails through the park primed for cross country skiing and snowshoeing. Stay in a rustic-luxe winterized oTENTik, in either the heart of Wasagaming or the more remote Moon Lake. 
Yukon: Kluane National Park and Reserve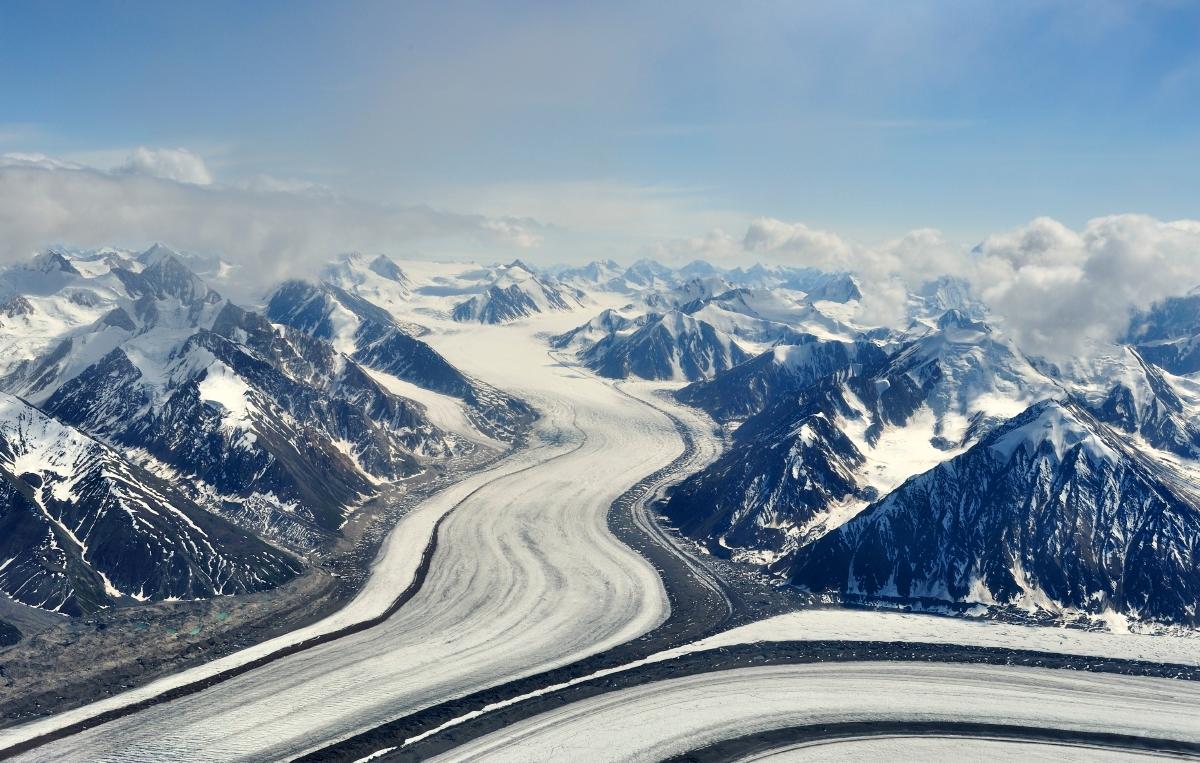 Icefield views in Kluane National Park, Yukon - credit: Gerhard Pfaff
Did you know that this park is home to Canada's highest peak (5,959-metre tall Mount Logan), its largest ice field, and North America's most genetically diverse grizzly population?
Looking for a bucket list destination? This park is it! Not only is it breathtaking, but it's home to all sorts of adventure, from rugged to low-key. Cross-country ski or snowshoe across Kluane's vast wilderness, or go ice fishing on beautiful Kathleen Lake and warm up inside the lakeside shelter. The lakes freeze over in the winter providing even more terrain to explore. Cross-country ski or snowshoe across the expanse, or go ice fishing and cook up your catch at a backcountry camping spot. Then, watch the Northern Lights dance across the sky above you.