Your Getaway Guide to Vancouver and Beyond
Vancouver and Beyond
From the relaxed vibe of Vancouver with its glass towers and urban forests to the rugged mountain paradise of Whistler and the tranquility of Vancouver Island, southwestern B.C. is an ideal place to explore in autumn. Take in a culinary or craft beer festival, get out in the wilderness to watch grizzlies, and find distinctive places to stay, like an island yoga retreat or First Nations lodge in the city.
Before you hit the road (or hop onboard a ferry) for a three- to five-day adventure, check out Vancouver's delectable eating and drinking scene, starting from downtown.
Sustainable seafood: B.C.'s coastal waters are filled with a bounty of sustainable seafood (look for the Ocean Wise logo on menus). Innovative dining options abound in Gastown, the city's downtown historic district. Relax at Tacofino, a hip spot loved by locals, to chow down on dishes like tacos stuffed with Pacific cod. Or reserve a table at gorgeous Coquille. Its menu features sea scallops from Vancouver Island, grilled Pacific octopus, and briny local oysters from Deep Bay, Desolation Sound, and Nelson and Quadra islands.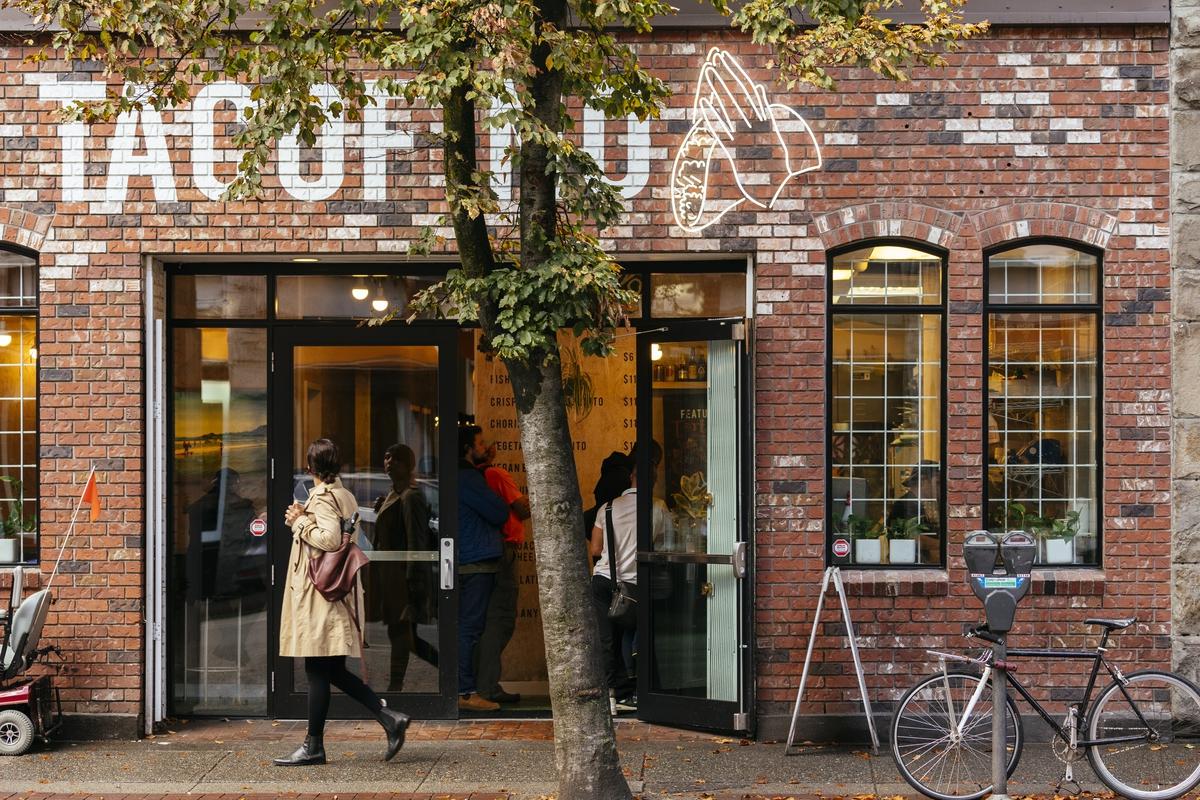 Tacofino
Asian cuisine: Metro Vancouver is famous for its authentic Asian food scene, especially the Dumpling Trail. Twenty-plus restaurants scattered throughout Richmond (easily accessible on the rapid-transit train from Vancouver) pay tribute to these plump bites, from traditional pork-filled Shanghainese xiao long bao, or soup dumplings, to wontons stuffed with shrimp.
Celebrate craft beer: Serving everything from pleasingly bitter IPAs to chocolatey porters, B.C.'s microbreweries are destinations for beer lovers. Mid-October heralds the BC Beer Awards and festival in Vancouver, where you can sample award-winning suds and meet local brewers.
Beer Tasting
After all that indulging, you'll want a good rest before continuing your travels. Get a feel for Vancouver's chilled-out West Coast vibe from the boutique suites in the Douglas. One of downtown's newest hotels, it delivers full immersion into city life. Case in point: check in to Apt. 108, an art-filled sanctuary that sprawls over two levels and offers striking views. Another unique downtown stay awaits at Skwach?ys Lodge and Residence. Located on the edge of Chinatown, this boutique hotel offers a First Nations cultural experience; it's the first of its kind in Canada.
Go beyond the city
Bowen Island (13.5 miles; 20-minute drive from Vancouver, plus a 20-minute ferry trip)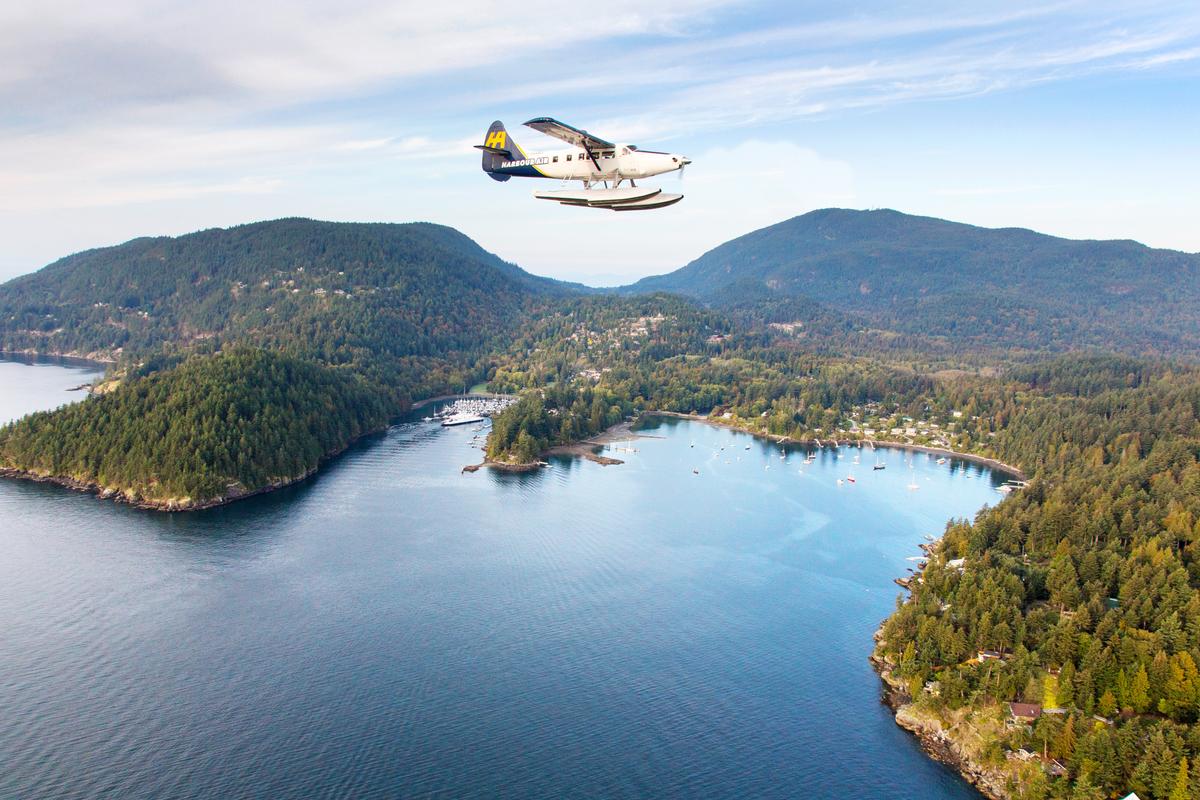 Bowen Island
Beautiful Bowen Island is just a 20-minute ferry ride from Horseshoe Bay (you can take an express bus to the ferry terminal from downtown Vancouver). When you disembark in Snug Cove, there's plenty to discover on foot. Choose from a trio of hiking trails that amble alongside lakes and wetlands, rent a kayak and paddle the calm waters of Howe Sound, or simply poke around Bowen's museums and galleries. Be sure to stop in at the Cocoa West Cafe for hot chocolate spiced with poblano peppers.
Make your trip an overnighter and practice your asanas at the new Nectar Yoga B&B hidden in the middle of the island. This compact place includes a handful of cottages, plus a Finnish sauna and yoga studio located in a geodesic dome. A peaceful sleep is practically guaranteed.
Sunshine Coast (13.5 miles; 20-minute drive from Vancouver, plus a 40-minute ferry trip)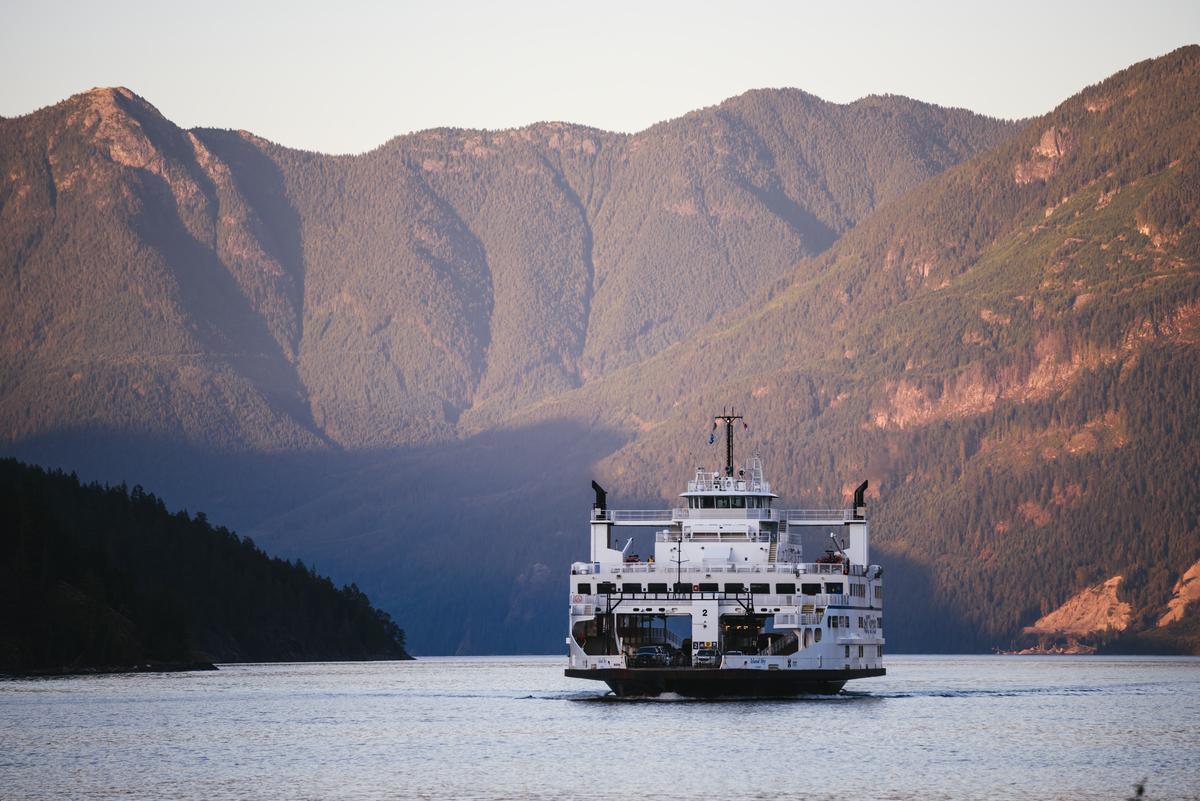 Ferry to the Sunshine Coast
Sublime views, sea air, and chances to spot whales, seals, and eagles are all part of the 40-minute ferry ride from Horseshoe Bay to Langdale, the start of the Sunshine Coast. Along with visiting some of the region's 100-plus artists' studios, or mountain biking, hiking, and sailing, take time to sample suds from the area's craft breweries that are part of the BC Ale Trail. Natural wonders on this peninsula include Skookumchuck Narrows Provincial Park near Egmont, an awe-inspiring place to watch 200 billion gallons of water gushing through the narrows and expert kayakers navigating the foamy waves.
Persephone Brewing
Head farther north to discover Powell River, with its Townsite district (a National Historic Site),  and vibrant recreational and cultural scenes. Simply take another jaw-dropping ferry ride 50 minutes up fjord-like Jervis Inlet from Earls Cove to Saltery Bay. Then knock another must-see off your list: drive to the village of Lund at the end (or start, as a sign cheekily notes) of Highway 101-- the world's longest at almost 15,000 miles. Soak up more solitude by bedding down at Lund Resort at Klah ah men. The historic hotel's reimagined guestrooms were inspired by the native Tla'amin art and culture. Make this idyllic place your base while exploring Savary Island's white-sand beaches and Desolation Sound's waters teeming with sea life.
Scenic Highway 7 (18-119 miles; 45-minute to 2-hour drive from Vancouver)
Discover what lies beyond Metro Vancouver by driving Scenic 7 (Highway 7), a slower-paced route that meanders through smaller communities like Coquitlam, just 18 miles (45-min drive) from Vancouver. In autumn, watch salmon spawning in the creeks and rivers and make a pitstop at the 1934 Minnekhada Lodge, where some scenes from the Riverdale TV series were filmed.
Along the way, find respite and adventure in places such as Mission, dubbed the "sturgeon capital of the world," where fall is prime time for catching--and releasing--these prehistoric fish. From here it's 34 miles (a 45-minute drive) to the village of Harrison Hot Springs, named for its mineral waters. Take a guided eco tour, whether on hiking trails or joining a jetboat excursion to learn about the area's Indiginous heritage. At newly opened Rowena's Inn on the River, get close to nature without sacrificing comfort and luxury. Settle in at spacious cabins where rustic meets contemporary styling and commune with nature while sitting on your patio or barbecuing dinner.
The community of Hope, a mere 30-minute drive (25 miles) from Harrison, is where valleys and canyons converge. Stop in for a home-cooked meal made from organic ingredients at the Owl Street Cafe, named for the 300-plus knickknacks donated by customers. And discover the new Mountainview Brewing Co. owned by local couple Danielle and Adam Keil.
Highway 3 (135 miles; 2-hour drive from Vancouver)
Highway 3
Scenic Highway 7 concludes at Hope but there's more to explore on Highway 3, a 45-minute drive (42 miles) south to Manning Park. With its lush forests, subalpine meadows, and sparkling lakes, this swath of nature is ripe for discovery. At nighttime, the Manning Park Dark Sky transforms into an otherworldly landscape with millions of stars twinkling overhead. During two astronomy weekend events held in October, you can join star experts to learn about the cosmos on a night tour. It's a perfect way to experience this pristine place before making your way back to Vancouver, about a two-hour drive (135 miles) the following day.
Whistler (70 miles; 1.5-hour drive from Vancouver)
Olympic Village at Whistler - Justa Jeskova
The resort municipality of Whistler is celebrated for year-round outdoor activities, and fall is a perfect time for outdoor adventures like hiking, biking and ziplining, or checking out the vibrant arts scene at the Audain Art Museum and Squamish Lil'wat Cultural Centre. Fall is also a great time to visit for one of Whistler's events and festivals, and Whistler Village becomes foodie central during Cornucopia in November. During this festival, take part in culinary and drinks seminars to brush up on skills such as how to pair bourbon with cheese.
When driving here north from Vancouver, recharge at newly reopened Fergie's Cafe in Brackendale for hearty dishes made from local ingredients, plus its riverside setting.
Vancouver Island (21 miles, 35-minute drive from Vancouver, plus a 90-minute ferry ride, then 30-minute drive)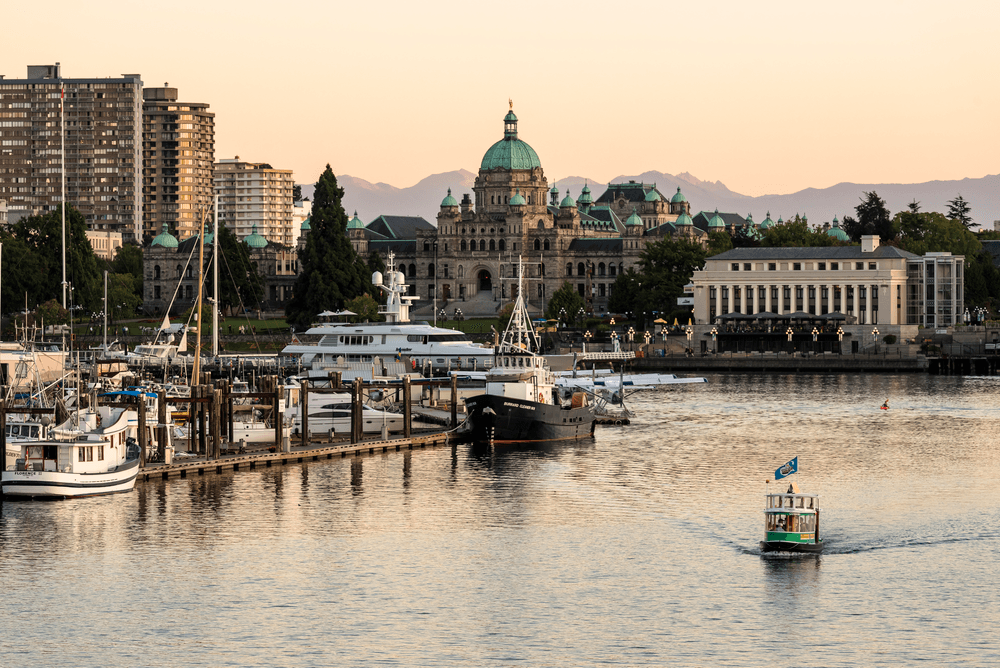 Victoria
A 90-minute ferry ride from Tsawwassen to Vancouver Island (plus a 30-minute scenic drive) takes you to genteel Victoria, perched on the island's southern tip. The province's capital is an easy daytrip if you fly right into downtown. Its walkable Inner Harbour is home to hotspots like the Parliament Buildings and the 1908 Fairmont Empress Hotel (National Geographic Traveler magazine named it one of the 21 Iconic Hotels in the World), which serves High Tea, plus cocktails crafted with its housemade gin at Q Bar. But come early September, the city is all about celebrating B.C.'s micro-brews during the Great Canadian Beer Festival.
Tofino
If you really want to chill out, drive to Tofino on the island's extreme west coast (or take a bus or seaplane from Vancouver). Mother Nature puts on a powerful show in fall, churning up massive waves that crash on the area's sandy shores. Watch dramatic storms roll in on Chesterman Beach from your front-row seat at the Pointe Restaurant inside the Wickaninnish Inn (get lulled to sleep by the sound of the surf). Or get in on the action like a local. Wriggle into a wetsuit and take surfing lessons with Pacific Surf Co. or Surf Sister at beginner-friendly breaks such as Long Beach and Cox Bay.
Ready for your next adventure? Plan your trip to British Columbia at the Hello BC website.