The urban park in Toronto you need to explore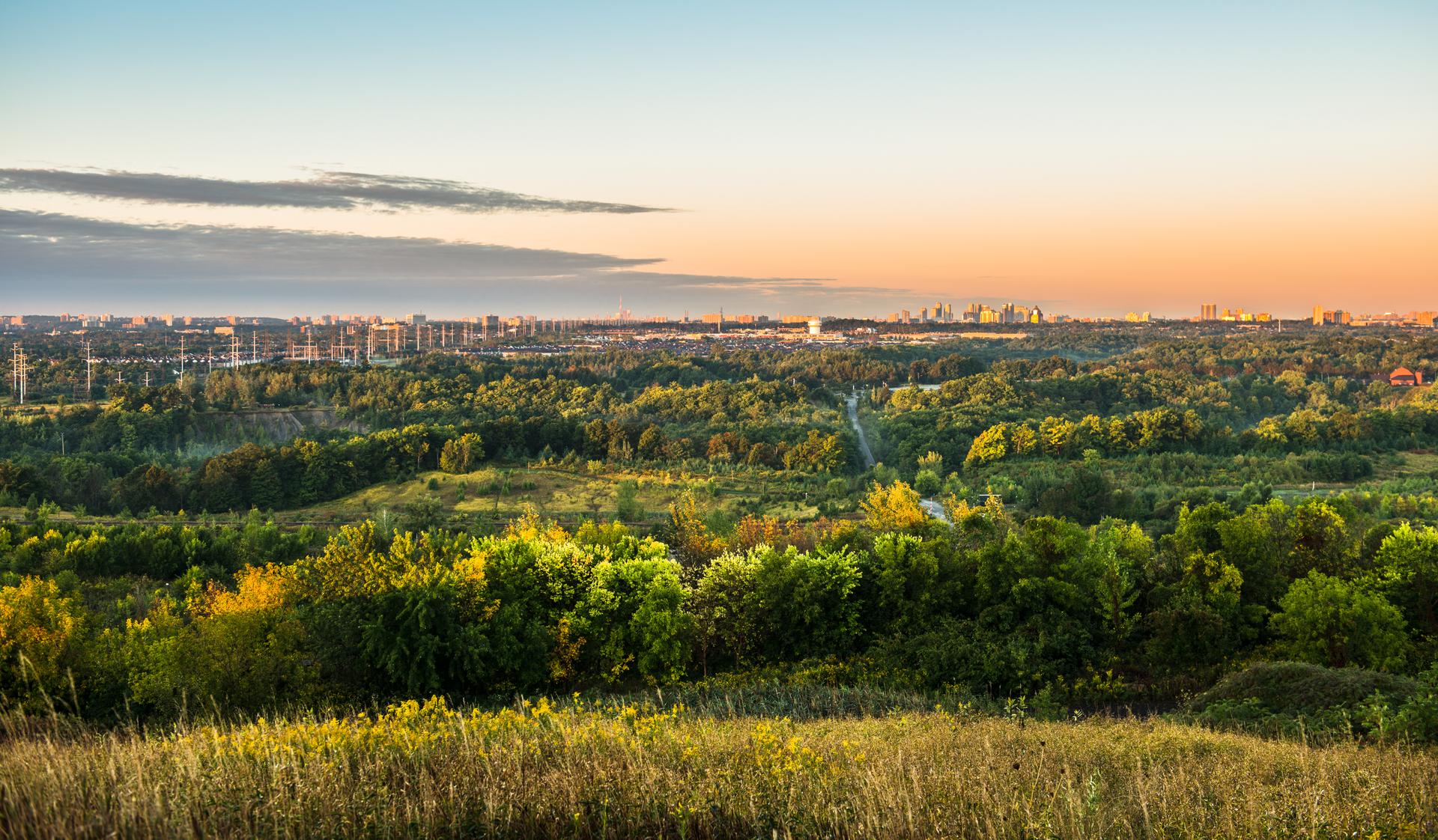 When you think of Toronto, you probably think of a big, busy, urban center. And though it's definitely that, it's also home to underappreciated green spaces. Sure, the Toronto Islands get their share of the spotlight, but there's another park on the scene that deserves recognition: Rouge National Urban Park.
The first of its kind as a national park based in a city, Rouge National Urban Park is in the Greater Toronto Area and a welcome reprieve for city-dwellers and travelers who want to escape the concrete jungle of the downtown core. The park is super accessible -- only about an hour outside the city by car, and just a bit longer by transit -- which means that you could be camping on your next long weekend, no car required.
The green space spans over 19 square miles, meaning it's 22 times larger than Central Park in New York! Within these 19 square miles, there are a variety of landscapes, including marshes, beaches, and forest, as well as over 1,700 species of wildlife, like beavers, turtles, and more bird species than we can count.

Once you've explored urban Toronto, head about 20 miles from City Hall to the park, and pick your favorite outdoorsy activity to get to know this beautiful space.
Yes, Ontario does have beaches! At Rouge Beach, you'll be able to swim in the gentle waves of Lake Ontario, picnic on its sandy shores, and enjoy a beautiful sunset. If you're not keen on hopping in the water, enjoy the surrounding marshes or head to the Rouge River and fish for the day. Then hop on the bus (yes, the bus and the GO train go to the beach) back to the city to enjoy a tasty meal at one of the city's many restaurants or food festivals.
With eight trails to discover, "the Rouge" as it's known by locals is the perfect place for hikers. Most trails are on the shorter side -- ranging from under a mile to 1.5 miles in length -- meaning you have the opportunity to try more than one in a day. Test out the Mast Trail where you can explore a 200-year-old logging route, or check out the Woodland Trail to explore Little Rouge Creek and the surrounding meadows.
Camping can be intimidating, but it doesn't have to be and Rouge Park is here to prove it. Twice a summer, the park offers Learn to Camp sessions that teach you all the camping basics. Start by setting up a tent, then let your camp leader walk you through other nuances of one of Canada's favorite pastimes. Cap it off with learning to perfectly roast a marshmallow for an evening s'more, then hunker down and enjoy the stars above in the only campground within the City of Toronto.
Not keen to take on new terrain by yourself? Sign up for a guided tour of the park Led by a park volunteer, these tours can cover a variety of topics from native plants and wildlife, to photography and cultural history. There are hikes and walks for every level and the topic of each one is announced at least a month in advance. Check out the current schedules of what's being offered during your visit, then select your topic, level, and duration, and hit the trail!
Brimming with nature, the Rouge is the perfect backdrop for any photo enthusiast. From wildflowers and colorful birds, to rushing rivers and sandy sunsets, this park is home to some great spots to build your portfolio (or populate your Instagram). Check out Rogue Beach to capture wetlands and shore birds, as well as exotic-looking shots people won't believe are in Ontario. Then head to the Cedar Trail and Beare Wetlands to capture sprawling meadows full of snap-worthy flora and fauna.
Set sail (by canoe) on the marshes at the park. Explore the river, lake, and wetlands, while getting a bit of exercise in too. Rentals aren't available within the park, but you can pick up a day rental in the city and bring it with you for a few tranquil hours on the water -- something even many Torontonians haven't experienced.
Whether you choose to stay overnight or just pop into the wild for a day, Rouge National Urban Park is working its way onto the bucket lists of locals and travelers alike. Will you add it to yours?
Explore more of Toronto's urban wilderness by visiting the Tourism Toronto website.
Explore more of Toronto's urban wilderness by visiting the Tourism Toronto website.