The top spots for canoeing and camping in Ontario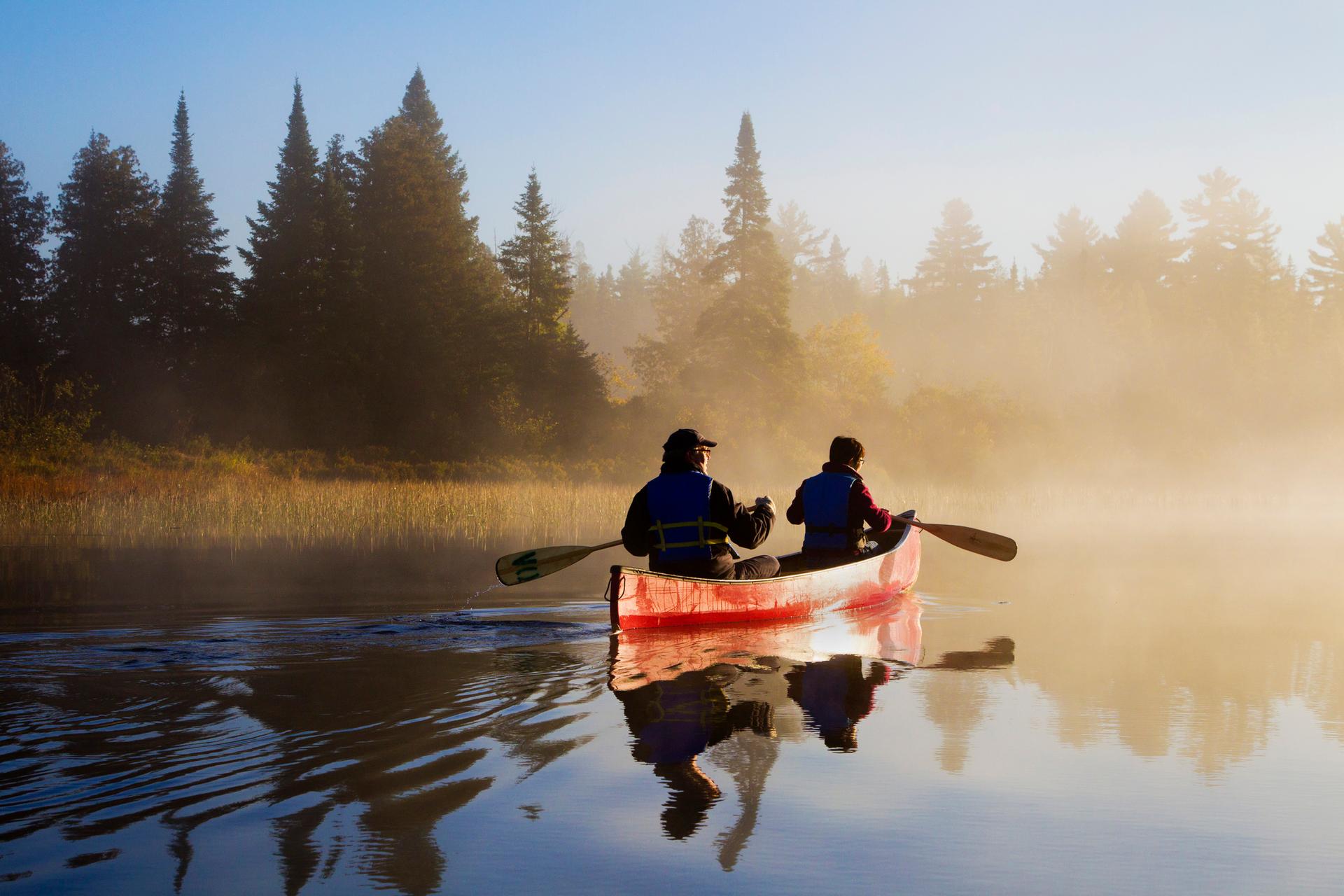 What Ontario lacks in ocean, it makes up for in bountiful lakes and rivers. Nestled among forests, parks, and fields, these waterways offer the perfect setting to combine two ways to explore boundless nature: canoeing and camping.
Whether you're a newbie paddler or a seasoned pro (remember: there will be portaging), exploring Ontario's more rustic spots -- though many are nestled close to the city -- from the water is a truly Canadian summer experience. While it might not be practical to haul a canoe over the border, there are plenty of places around the province to procure the watercraft of your choice -- 75 Ontario parks rent canoes, for example. Once outfitted with a boat, paddles, and flotation device, all you'll need (besides the camping gear you've brought along) is a place to go. And there are a lot to choose from -- Ontario parks have over 7,500 interior campsites.
Lucky for you, we'll let you in on our favorite spots that are prime for a paddle from mid-May to mid-October.
Charleston Lake Provincial Park
Just under two hours outside of Ottawa, this park is in the breathtaking 1000 Islands. With 10 interior campsites -- meaning backcountry camping, or spot you need to hike or paddle into -- you'll be able to find a perfect (private) slice of Canadian nature. Canoeing time can range from 10 minutes to 2 hours, depending on what sort of workout you're looking for, but no matter the distance you travel, you'll be rewarded with an elevated tent platform, fire grill, and other camping necessities.
Great beaches and awesome swimming spots characterize this park, located 3 hours outside of Toronto. But the best part? Outfitters will actually deliver a canoe to the launch, meaning no lugging or specialty roof rack for you! With nine campsites to choose from all within 5-20 minutes by canoe, you'll be camping in no time. Looking for a shorter trip? Being situated close to the highway and with easy access to equipment, Grundy Park is also great for day trips.
Canoeing and Algonquin Park go hand in hand. In fact, if you were to ask any Ontario local about canoeing, most will immediately think of this massive park, which is located only 3 hours from both Toronto and Ottawa. With over 1,200 miles of canoe routes and 30 access points, you can bet there are a ton of opportunities to explore the park from your canoe. Camping spots are located all over the park, and there are also ranger cabins (with no electricity or water) to shack up in. Local camping favorites include the Kiosk and Brent. Canisbay Bay and Crotch Lake are also must-sees with their paddle-in campsites that are a perfect balance between rugged backcountry and bustling lodge.
Recognized as a top wilderness destination in Ontario, Kilarney Provincial Park is recognizable by its vivid blue lake and white quartzite ridges. Plus, George Lake is motor-boat free, which almost guarantees a tranquil getaway just over 4 hours outside of Toronto. Campsites here can be booked in advance, and if you're not up for canoeing, check out the main campsite and sleep in a yurt for a luxurious stay. If you're keen to get out on the water, you'll be treated to expansive views of the Georgian Bay coast, as well as well-maintained portage passes.
A municipality in Northern Ontario, about 5 hours from both Toronto and Ottawa, Temagami has become the go-to destination for canoeing. Through the landscape of towering old-growth pines, you'll find a plethora of canoe routes to embark upon. As trips tend to be a little longer here, you'll want to have some canoeing experience under your belt. That said, near the access points, there are plenty of spots to explore for a day. Campsites fill up fast, but don't worry, there are quite a few scattered across both park and public lands. Make sure to stop by a local outfitter, like Temagami Outfitting Company, before setting out on the water -- local knowledge is always welcome in a more rugged spot like this.
Massassauga Provincial Park
Head 2.5 hours north from Toronto and you'll find yourself nestled between inland lakes and the inlets and islands of Georgian Bay at this park. With 135 campsites only accessible by water, you can be sure that Massassauga is a canoe camper's paradise. Plus, if you miss the city, just look south -- you can often see the city lights shining bright on a dark, starry night.
Kawartha Highlands Provincial Park
With more than one lake to explore, Kawartha Highlands Provincial Park is a great spot for a multi-day trip. Spend your days seeing a variety of landscapes -- all from your canoe. Whether you check out the small lakes, abundant wetlands, lush forest, or rocky outcroppings, all access points to this park will have you immersed in nature in no time. Approximately 2 hours outside of Toronto, you'll find over 100 canoe-only accessible campsites that often require portaging to access -- so come prepared.
Frontenac Provincial Park
Forty-eight campsites will greet you at this rugged, yet beautiful park. Close in proximity to Toronto, Ottawa, and Montreal, Frontenac Provincial Park is great for all types of campers -- though canoers especially enjoy it as there are plenty of campsites and canoe routes across 22 lakes. Plus, there are networks of hiking trails to explore when you need to give your arms a break.
French River Provincial Park
Paddle back in time on the river where First Nations, French Explorers, and fur traders once canoed. French River Delta Provincial Park is made up of beautiful granite channels and sloping rocks that you can see from the water. With over 65 miles of canoe routes all along different fresh water landscapes -- from lakes and gorges, and rapids to bays -- each day showcases a different facet of Ontario's natural beauty. Campsites are first come, first serve, so get up with the sun and get out on the water to make the most of your day.
There's really no better way to experience the Canadian wilderness than in a canoe -- and in Ontario it's accessible to all types of paddlers. Whether you spend the day or spend the night, get out on this province's waters this summer to truly explore.
Looking for more ways to explore Ontario? Check our favorite adventures or visit theTravel Ontario website.