Quebec City's 5 Favorite Food Trucks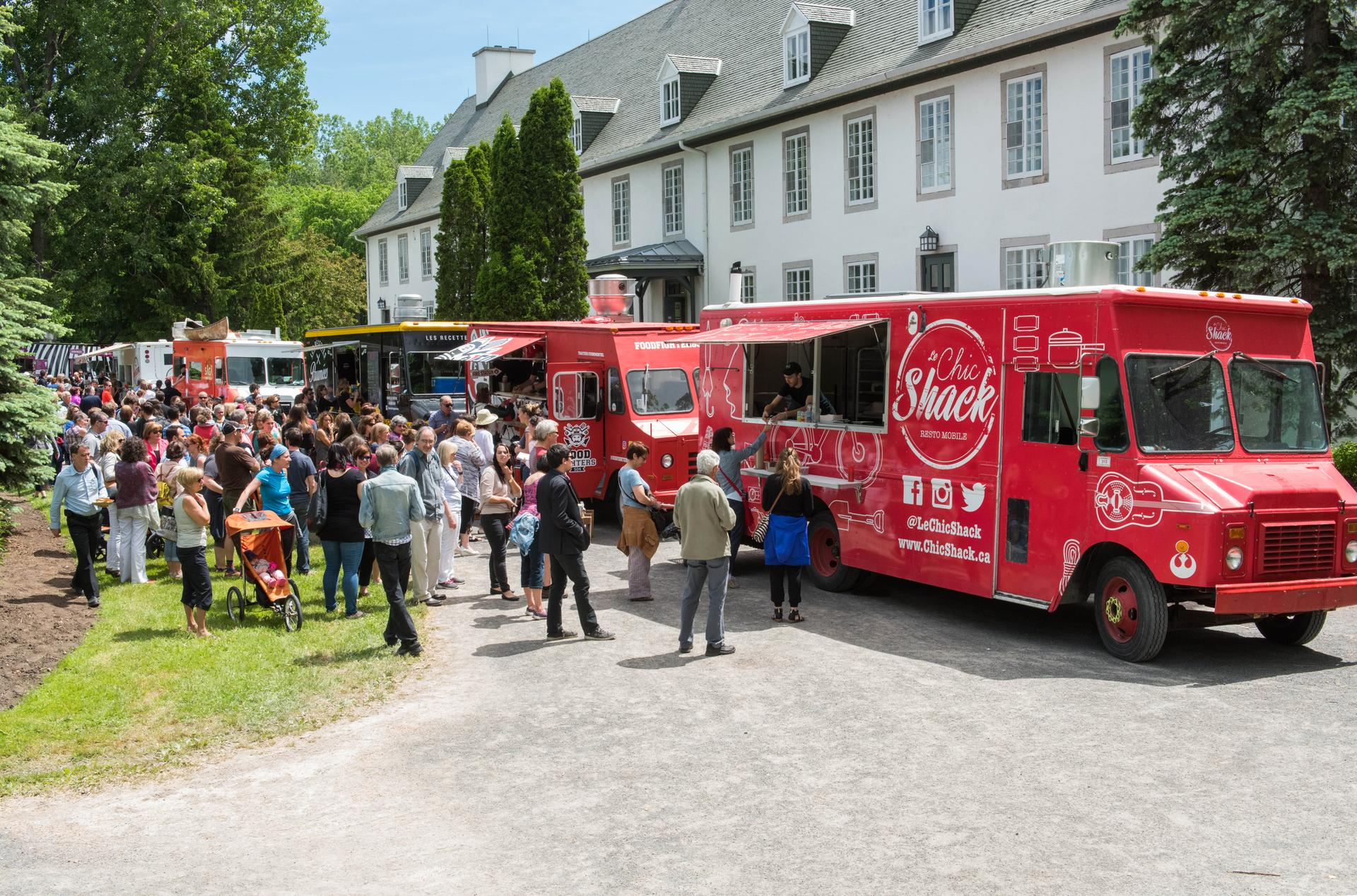 Food is Quebec's middle name. This French-Canadian province, dotted with farms and artisan food producers, is serious about the art of eating -- from its world-renowned cheeses to luscious pastries, quality craft beer, and fine wine. And Quebec City is one of the province's culinary jewels, a top global food city according to Cond? Nast Traveler readers.
Obviously, traditional and nouveau French dining establishments are a must, but just as exciting -- if not more so -- are the upstart food trucks, a new Quebec City street food pilot project launched in 2017. These mobile eateries are often the site of groundbreaking innovation and cuisine-forward fusion, plus they offer a chance to sample some of the city's best talent in a more accessible, and affordable, format. True, it's a dynamic, constantly changing scene best tracked on social media, but for now these are today's en vogue roving kitchens.
You'll know Saga Cuisine Nomade when you see the scarlet truck roll by. The elk painted on the side and signature cedar canoe on top also make it easy to spot driving through the streets of Old Quebec. Not your average offering, this is Wendake First Nations indigenous food from the much-acclaimed Wendake dining spot, Restaurant Sagamit? -- don't miss it. The offerings are wood-fired game meats enhanced with the traditional "Three Sisters": Squash, corn, and red beans. Tuck into the deliciously gamey elk burger or Guineafowl poutine with crispy fried onions sprinkled on top. Or try the favorite: The venison burrito, a familiar dish packed with delightfully unusual flavors.
2. Le Chic Shack Resto Mobile
To-die-for artisan burgers, thick-cut truffle salt and Parmesan fries, poutin,e and ice cream are four good reasons to seek out Le Chic Shack. Fresh and local is the mantra here. A must-order is the Le Chic Burger, a juicy patty on an artisan bun with cheddar, maple smoked bacon, and the signature Chic Sauce. Be sure to wash it down with a watermelon agua fresca. Add a sweet 'n salty homemade ice cream sandwich for dessert to complete the splurge. Unlike the much-loved bricks-and-mortar Chic Shack, the food truck offers Mexican inspired dishes, too. Try the Baja cod taco loaded with fresh veggies, mango salsa verde, and julienne radish.
Go to traveling Food Fighters 504 for fish 'n chips. Here, the fish is the star — flaky, moist, piping hot, and crunchy on the outside thanks to the beer batter. Though aficionados of the exotic would argue that the octopus salad is the must-order here: Tender tendrils smoked just right with a hint of spice served over a bed of peppery arugula mellowed with sweet grilled cherry tomatoes. There's also interesting stuff like BBQ bacon sticks and empanadas. 504 is often in parc John-Munn in Saint-Roch, but check Facebook for its whereabouts.
4. Côtes-à-Côtes Traiteur
It's easy to find C?tes-?-C?tes Traiteur AKA La Zebr? Mobile because it's a black-and-white zebra-striped truck with splashes of magenta. Once you find it, try all the flavorful sauces and be sure to say hello to the charming staff. Find the Zebra somewhere around Parc Montmorency and Jacques-Cartier beach, but check Facebook because it's moves to 12 sites around the city. This place, a spin off from the restaurant of the same name, delivers classic comfort food with panache, a la mac 'n cheese with tart artisan cheese and the real deal clincher, fried brownies. Though it's a close battle with the mac for the best dish, the stand-out is the addictively gooey maple BBQ duck drumsticks. Grab extra napkins!
L'Express Gourmet, or The Gourmet Express, in Beauport does greasy spoon classics with a playful twist. Think: Jerk chicken, burgers, French fries, and pork tacos. Musts are the falafel and especially the Chilean-style poutine, where coriander, salty feta, and briney olives mix and mingle to deliver a robust flavor experience. It comes with a heap of fries smothered in sauce, and the whole thing garnished with fresh cilantro.
After hitting the blossoming Quebec City street food scene, don't leave the province without a foodie drive along Quebec's Gourmet Route. Take the self-guided road trip through the green countryside pausing to nibble at some of the 50 farms, orchards, fruit stands, tasting rooms, and artisan producers' cottages. Local cheese tasting is a must, though sampling some cold-pressed cider, fresh-baked croissants, and local maple syrup or foie gras isn't a bad idea, either.
Get the latest intel on dining hot spots at the Quebec City website.