A Prince Edward Island road trip itinerary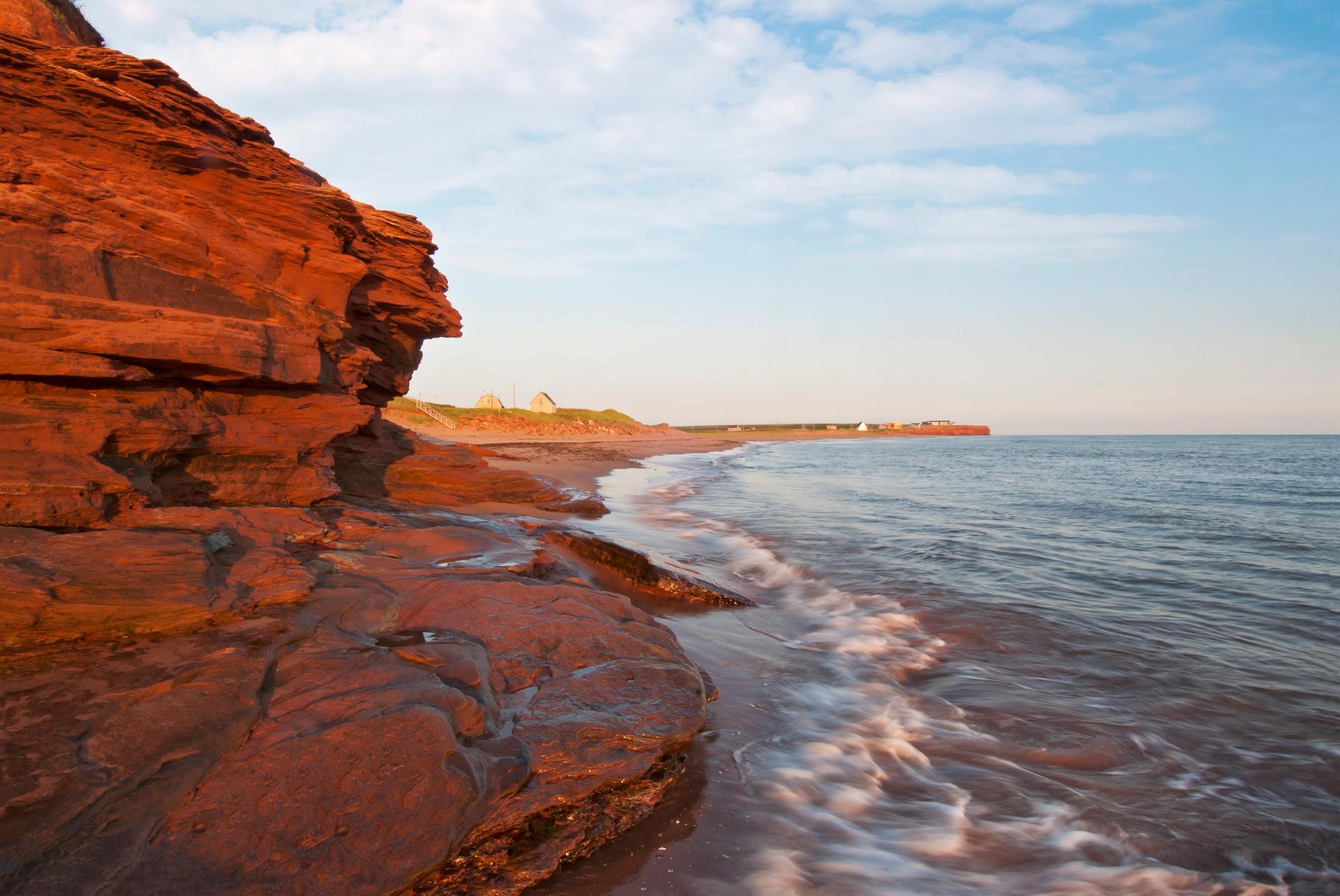 At just 2,000 square miles, slightly larger than Delaware, Prince Edward Island is Canada's smallest province. It's easy to get to this compact crescent-shaped island off Canada's east coast: fly, drive the eight-mile Confederation Bridge from New Brunswick, or take a boat ride with Northumberland Ferries from Nova Scotia. Soon you'll be cruising roads through pastoral landscapes and alongside sandstone cliffs and windswept beaches. And wherever you explore, you're never more than 10 miles from the ocean. That also means sumptuous seafood (lobster, oysters, clams) which has helped earn it the nickname "Canada's Food Island."
What does this drive look like?
After exploring Charlottetown's historic sites, art galleries, and culinary hotspots, you'll drive west to North Cape, getting a taste of Acadian culture and Island cuisine.
During the Points East route of the island you'll settle into the slow place of small town life, wiling away hours at some of the area's 50 beaches, iconic lighthouses, and touring the province's first artisan distillery.
Double back to Charlottetown or Summerside to start the Central Coast driving route. In the north, improve your swing at one of the 10 golf courses and take in everything Anne of Green Gables. Then drive south to see the site of Prince Edward Island's first permanent European settlement.
Each of these driving itineraries only take a few hours, so use them as a starting point. Customize your own tour, whether you want to spend all your time in the great outdoors or get a deeper understanding of PEI's colorful history and heritage.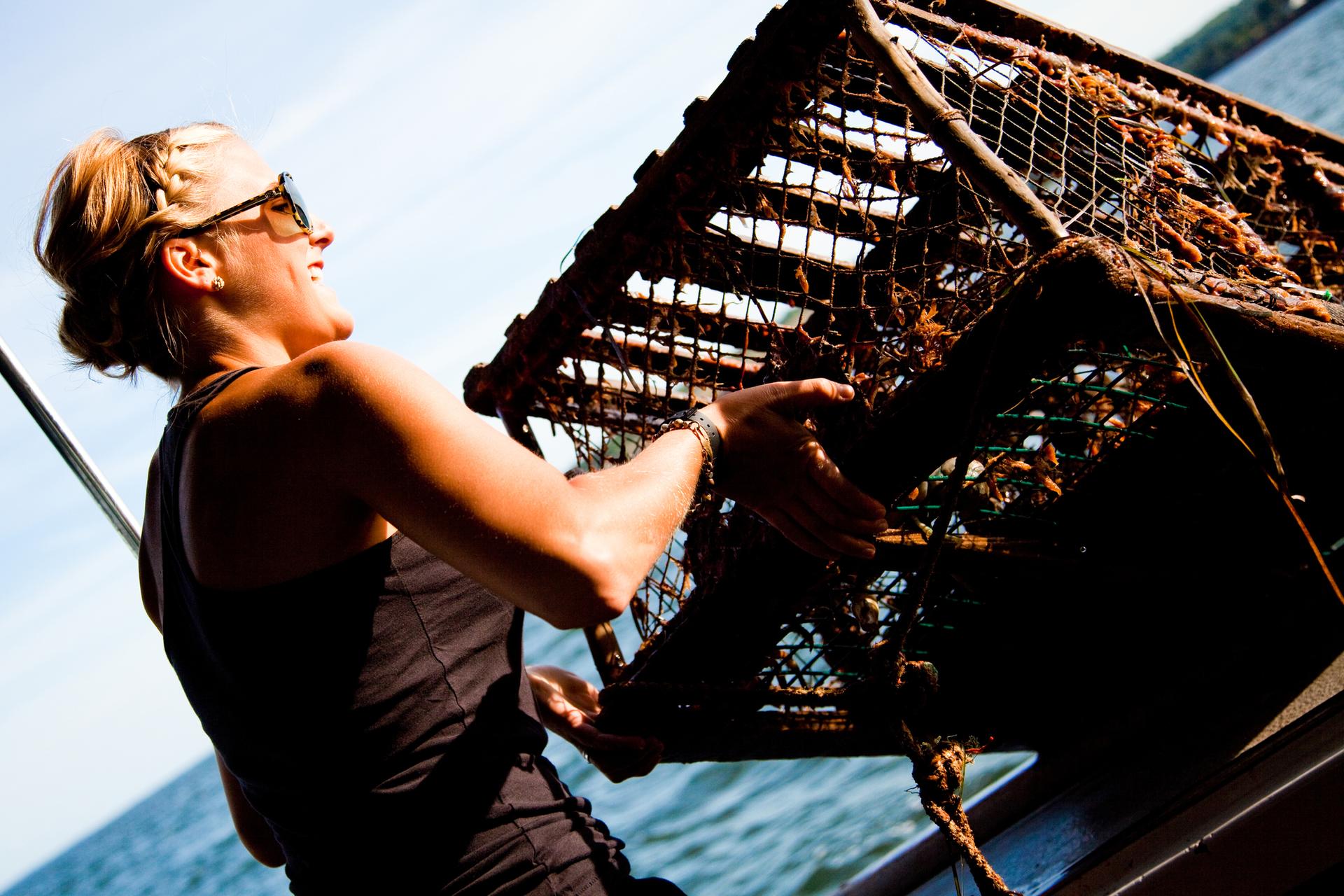 Top Notch Lobster Tours, Charlottetown
Day 1: Charlottetown
Your starting point
Must-stops along the way
Charlottetown is Prince Edward Island's urban hub, situated where three rivers spill into its namesake harbor. The province's capital and largest city has a thriving arts community, a lively music scene, and cool shops packed with local crafts. It's an ideal base to learn about the province's history, including its Irish and Scottish roots and its red-haired resident, Anne of Green Gables.
Confederation Centre Art Gallery: Digital media meets traditional art at this two-level gallery dedicated to developing Canadian visual arts that reflect Canada's evolving identity. More than 20 exhibitions are presented annually and the gallery's permanent collection boasts 16,500 items, including sculptures in the public outdoor plaza. When you're ready for a rest, stop in at the on-site Mavor's Restaurant for a bite to eat or glass of wine.
Top Notch Lobster Tours: If you've ever wondered what's it's like to be a lobster fisher for a day, you'll enjoy this hands-on tour aboard a 45-foot fishing boat. Join Captain Mark (he's from a four-generation lobster-fishing family) to learn things like how to haul a lobster trap. The highlight? Freshly caught lobster for dinner on board.
Old Triangle Irish Alehouse: The trio of Irish men who started this pub were inspired by their home country's concept of the public as a gathering place. Venture into the Tigh an Cheoil, or "house of music" to see live acts (check the gig calendar to find out who's performing) and sip a pint of its signature Old Triangle Irish Red Ale. Hungry? Chow down on traditional Irish dishes such as Connemara Shepherd's pie or salt cod and haddock fish cakes served with homemade slaw and baked beans.
Eat
Seafood, seafood, seafood. Now is the time to fill up on freshly caught lobster, clams, crab, mussels, and more at top-notch restaurants and simple cafes, many with outstanding views.
Water Prince Corner Shop and Lobster Pound: Follow the locals inside an unassuming 1850s-era blue building that was once a grocery store and you'll find a temple to seafood. For more than 25 years this restaurant has been serving simple, yet top-notch fare. On the menu are classics such as seafood chowder, fish and chips, and lobster rolls. You can also buy fresh local lobster here and have it shipped home.
Terre Rouge: French for "red earth," this bistro is dedicated to serving farm-to-table island cuisine, much of it organic. Comfort food is created with a refined touch, like tempura mushroom tacos topped with cayenne and cumin cr?me fra?che, fried cod tongues with a side of house-made pickles, and the vegan-friendly lentil-beet burger.
Lobster on the Wharf: For a taste of PEI's freshest Malpeque oysters, Island mussels, steamer clams, and lobster, head to this Prince Street restaurant and seafood shop overlooking the water. Can't decide what to try? Build your own platter: choose from an array of seafood and "land" items, like baby back ribs and sirloin steak. This casual, family-friendly spot has a children's menu too, plus plenty of vegetarian and gluten-free choices.
End your day
Charlottetown is packed with so much personality it requires at least a full day (or more) to truly get a feel for this delightful Maritime city. Be sure to go to the Hopyard for craft beer made from independent breweries before spending the night in your heritage B&B or hotel.
Elmwood Heritage Inn: This five-star B&B traces its lineage to 1889 when it was built for the grandson of the founder of the Cunard British steamship line. Surrounded by its namesake elms, the inn has eight rooms and suites, each with its own charm. The Cunard suite, for instance, features an antique mahogany burl sleigh bed.
The Great George: Primely positioned in the city's National Historic District, this boutique hotel is all about unique and understated elegance. Its 54 rooms (ranging from condos and romantic hideaways to classic guest rooms and deluxe suites) are located among the property's 17 heritage buildings.
Shipwright Inn: Bed down in one of the nine nautically-inspired suites (with names such as the Crow's Nest or Captain's Quarters) at this 1865 five-star B&B and you'll be surrounded by reminders of Charlottetown's shipbuilding heritage. Some of the Victorian rooms have double-sided fireplaces and clawfoot tubs and access to the inn's verandahs and balconies.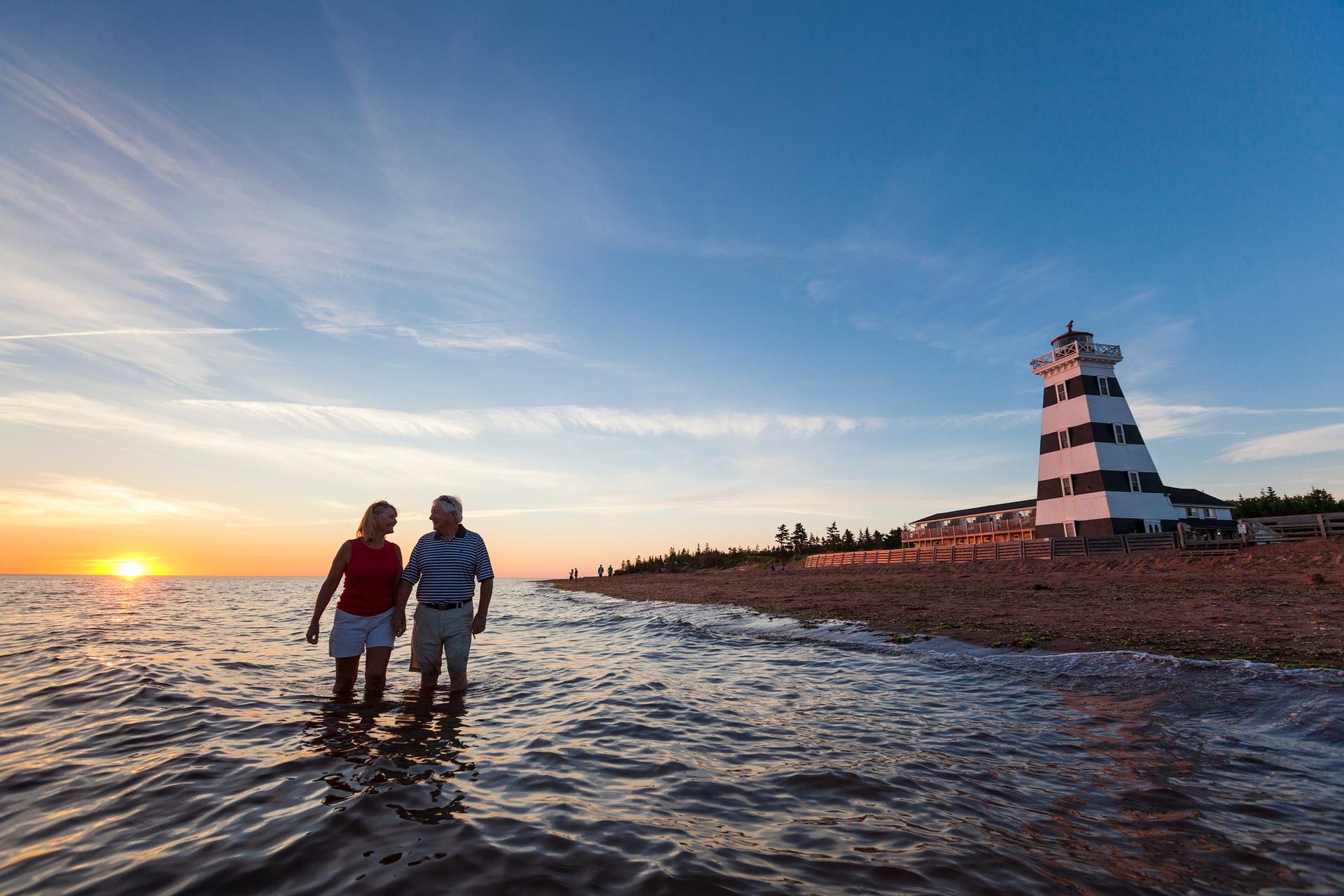 Day 2: North Cape
Total drive time: 2 hours
Discover windswept beaches and learn about Acadian culture and the history of PEI's prized potatoes on this drive starting from the bustling city of Summerside to the village of Tignish, a protected archeological area and the start of the Confederation Trail.
Must-stops along the way
Eat
It's no surprise that seafood is the cornerstone of most of the Island's eateries, but each place has an unique history, story, and superb setting too.
End your day
Driving the North Cape route will leave you yearning to explore more. Especially when you can sleep overnight in a lighthouse or a waterfront heritage inn.
Sea Glass Bed and Breakfast: The design of this Summerside retreat's three cozy rooms and garden cottage was inspired by the area's natural beauty, such as the sandstone cliffs and waters of the Northumberland Strait. Luxe touches like Victoria chaises and antique clawfoot tubs add the ambience. It's just minutes away from Linkletter Provincial Park located on Bedeque Bay.
Briarwood Inn: This 1911 heritage home has been carefully restored, earning it an award for architectural preservation. A mix of period furnishings give each of the inn's rooms eclectic appeal. It's a tranquil place where you can enjoy simple pleasures like reading a book in the parlor or relaxing on the deck overlooking the Dock River.
West Point Lighthouse Inn and Museum: You'll be awestruck by the panoramic views of Northumberland Strait from one of the 13 contemporary suites located in a four-star heritage lighthouse and museum. At 69 feet, the landmark black-and-white striped lighthouse is PEI's tallest.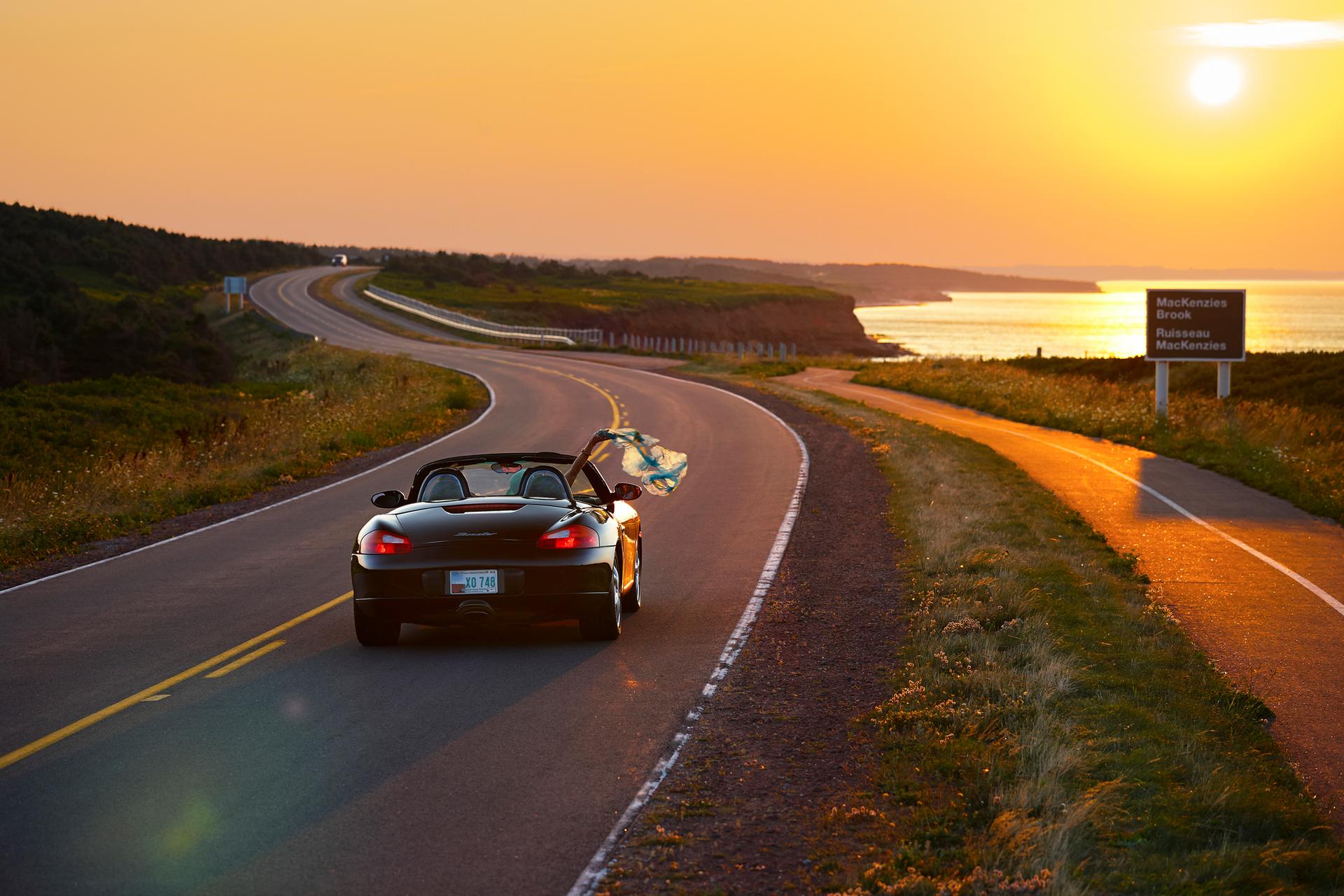 Prince Edward Island National Park
Day 3: Points East
Total drive time: 5 hours
Must-stops along the way
Red cliffs and more than 50 beaches stretch along this 295-mile coastal drive that starts in Charlottetown and ventures north to East Point before looping back along the province's extreme east coast. It's here that you'll find the island's first artisan distillery and the first lighthouse, at Point Prim, giving you even more reasons to stop and soak up small town culture
Prince Edward Island National Park: The Greenwich section of this park is home to large and mobile parabolic dunes -- a rare natural phenomenon in North America. It's also an archeologically significant area, and exhibits at the Greenwich Interpretation Centre display evidence of cultural groups who thrived here up to 10,000 years ago.
Myriad View Artisan Distillery: PEI's first distillery demonstrates the island tradition of making moonshine, which was once illegal but now has been embraced. Take a tour of this Rollo Bay distillery and sample (or bring home) its small-batch spirits (gin, rum, vodka, pastis, brandy, whisky, and moonshine), which are aged in 100 percent Canadian oak. If you visit in summer, taste the limited-quality Strait Shine; it's aged in whisky barrels and hand-picked PEI dandelions are added for flavor.
Point Prim Lighthouse: PEI's first and oldest lighthouse was built in 1845 to provide a guiding beacon into Charlottetown Harbor. Picnic on the grounds of this historic site and peek inside the Keeper's Cottage gift shop, which has exhibits on the lighthouse's history plus memorabilia and crafts you can buy.
Eat
The locavore movement is a way of life, not a trend, at the restaurants that support the island's local farmers, fishers, and purveyors.
The Chuckwagon Farm Market: Devour BBQ ribs, burgers, and salads at the market's BBQ Pit, which prides itself on only using products grown and produced nearby. Or  stock up at this Eldon outpost (check out the wee Selkirk Scottish Heritage Centre) and pack a picnic. Find Island products at the market such as honey, cheese, baked goods hot sauces, and coffee made with beans roasted in PEI.
FireWorks: Gourmet breakfasts, freshly shucked "all-day" oysters (have a Bloody Mary cocktail to go with) and the legendary fireworks feast are the mainstays of this restaurant at The Inn at Bay Fortune. Celebrity chef and Food Network TV host, Michael Smith, helms the kitchen at the inn, which he runs with his wife. Only the freshest local ingredients -- many from the on-site organic culinary farm -- go into dishes such as farm salads, wood-roasted meats, and hearty seafood chowder, and make this spot in Souris a culinary destination.
Windows on the Water: Overlooking the serene Montague River, this restaurant is inside an 1850s-era historic home, which was once the town's general store. Linger over a lunch of seafood classics like lobster rolls and chowder. In the evening, dine on elegant dishes such as New York strip loin steak or chicken breast stuffed with cranberries.
End your day
Getting a feel for rural life is all about going slow. Besides, there's always another beach to walk along or golf course to tee off at. Extend your stay on the east at least one more day and book a room at an award-winning inn or resort.
Inn at Bay Fortune: Spend the night in the seaside town of Souris at PEI's only five-star country inn, which is run, as mentioned, by celebrity Chef Michael Smith. The 1913 property was lovingly updated in 2017 with new decks that look out onto the lush landscapes. With fireplaces, local art, and amenities like in-suite espresso machines and gourmet ? la carte breakfasts, you'll never want to live the sanctuary of your gorgeous room.
Rodd Crowbush Golf & Beach Resort: After a day on the fairways at The Links at Crowbush Cove (one of Points East's numerous golf courses), take a load off in luxury at this five-star resort. Stay in one the deluxe guest rooms or suites in the main hotel, or rest up in a serene self-contained cottage with a Jacuzzi tub, fireplace, full kitchen, screened porch, and BBQ. Resort amenities include an indoor pool (and shuttle to a nearby beach), fitness room, and tennis courts.
Day 4: Central Coast
Must-stops along the way
After exploring the island's extreme east coast, motor back into the middle. Cover this 160-mile drive divided into Green Gables Shore (in the north) with its undulating golf courses, pastoral landscapes, and the inspiration for the endearing novel, Anne of Green Gables. Red Sands Shore (in the south) traverses sleepy farming communities, pretty fishing villages and rusty red beaches.
Eat
There's no shortage of quality places to dine on the Central Coast. Eating gets artistic on this route, be it a cafe huddled next to a gallery, artisanal doughnuts, or premium old-fashioned ice cream.
Avonlea Village: Exhausted from shopping at The Anne of Green Gables Store? Refuel with delicious fare at one of the five restaurants in Avonlea Village. Get a yummy sandwich at Moo Moo Grilled Cheesery, an Instagram-worthy confection at Doughnuts by Design, or unwind at Piatto Pizzeria + Enoteca over a Neapolitan wood-fired pizza and a glass of wine.
The Dunes Studio Gallery & Cafe: A visit to Brackley Beach wouldn't be complete without stopping for lunch or dinner at this cafe, art gallery, and pottery studio. Chef Norman Day creates standout dishes such as the PEI lamb burger that's topped with a red pepper and lentil spread or the signature brie and pear pizza. Then watch potters at work in the studio and shop for locally made art and jewelry in the gallery.
Cows: When you're marveling at the eight-mile Confederation Bridge at Gateway Village in Borden-Carleton, sweeten the experience with old-fashioned ice cream. Cows has been a PEI institution since 1983 with to-die-for flavors such as PEI strawberry, Lemoon Delight, and Cowconut Cream Pie.
End your day
Now that you're fully immersed in Island life you'll want to get cozy at your cottage or historic hotel and start planning your next Canadian adventure.
Anne's Windy Poplars Hot Tub Cottage Resort: For a rustic and romantic hideaway, overnight in the cottages located mere minutes from Cavendish and its namesake beach. At this family friendly resort surrounded by mature trees, it's all about maximizing downtime. Soak in the hot tub, swim in the saltwater pool and play a game of horseshoes.
The Gables of PEI: This resort community is set amid Stanley Bridge's rolling hills and near the popular Andersons Creek Golf Course. A mix of accommodations are available, ranging from expansive cottages (some sleep up to 10) to executive suites with yards and patios.
The Orient Hotel: When you see the sunshine yellow building with sky-blue doors you'll have arrived at this hotel in the picturesque fishing village Victoria-by-the-Sea. The historic accommodation established in 1900 offers cozy suites with views of the gardens, countryside, and Westmoreland River.
With so many hidden coves, historic sites ,and heritage roads to discover, you'll want to take your time and spend a couple of extra days driving Prince Edward Island's diverse coastlines and communities.