Feast: community cooking and indigenous foodways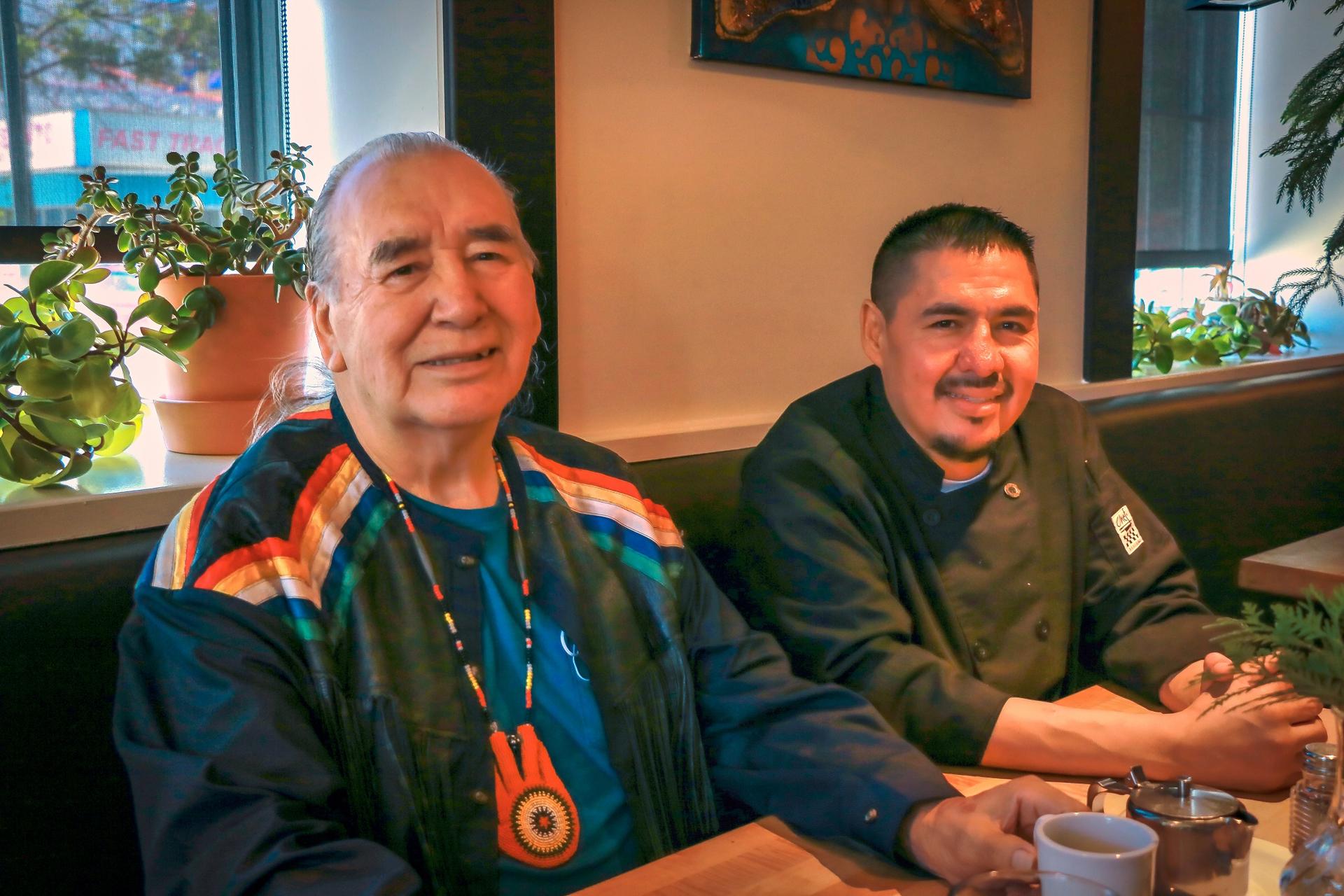 In Winnipeg's West End, if you stop by the corner of Sherbrook and Ellice, you'll likely notice a red door. And if you pass through that red door, you'll discover a microcosm of modern Indigenous culture and cuisine that's made up of more than just fresh, local produce and modern twists on traditional recipes. The art on the walls, the stack of fresh-baked bannock for pick up and the smiling staff will make you feel right at home. That experience is just what self-taught chef and owner Christa Guenther wants: to share her homemade recipes, created with Indigenous foods, with the community. Before opening Feast Caf? Bistro, Guenther noticed that there was a lack of representation of Indigenous chefs and Indigenous food in Winnipeg and across Canada. This gave her a purpose in opening the caf? bistro over four years ago.  
The menu at Feast is a celebration of Indigenous foods in a community space. Bison meat and bannock are a staple, but so are wild rice and all kinds of squash⁠—and let's not forget the fresh veggies from Guenther's garden that are brought in when ripe, ready to be added to recipes. Every dish has a few nods to Indigenous cuisine: the Feast salad is an ode to gatherers with cranberries and wild rice on fresh greens; pizza is baked on bannock, made on site, making the crust light and surprising to your taste buds; tacos, soups and stews also make the cut for favorite meals. Food is Indigenous and locally sourced first, and efforts are made to be as eco-friendly as possible when it comes to compostable containers and mindful usage of water.
Feast Café Bistro, Winnipeg - credit: Travel Manitoba
Beyond wanting to highlight her background and the ingredients of the local landscape of Winnipeg (think of bold flavours like juniper berries, bison, sweet grass and fiddleheads), Guenther wanted the space to have more of a community impact. This inspired her to create an environment at Feast that would be welcoming for all community members to share a meal, while providing opportunities for those who face barriers to employment.
The impact Guenther had hoped for is evident in the stories of Feast's staff. Winnipeg writer, Catherine Dulude, connected with three people who have found their place at Feast, sharing their stories.
Steve Spence, Cook
"I grew up in Peguis First Nation, with traditional values and lifestyle, but as I grew older, I lost my ways, coming to the city.  Getting in with the wrong crowd, not having lots of the things other kids had. My peers were like me, we supported each other to get those things. By the time I was 15-16, I was fully engaged in the street lifestyle, selling drugs and doing crimes to get the things that I wanted and needed. I ended up in a Youth Centre for a while and then I was transferred to Headingley Penitentiary, right after the riot*. I was hardened by then. I needed my identity, I needed to know who I was because I wasn't that guy who was able to go hurt people, but I was at the same time. When I went to jail, I requested to see the elder and do a sweat. And that's when I met Calvin*. I was lost in the penal system, but my prayers were answered. I wanted my identity and my culture back and I got it. That's where I found it. Calvin gave a sense of belonging and pride.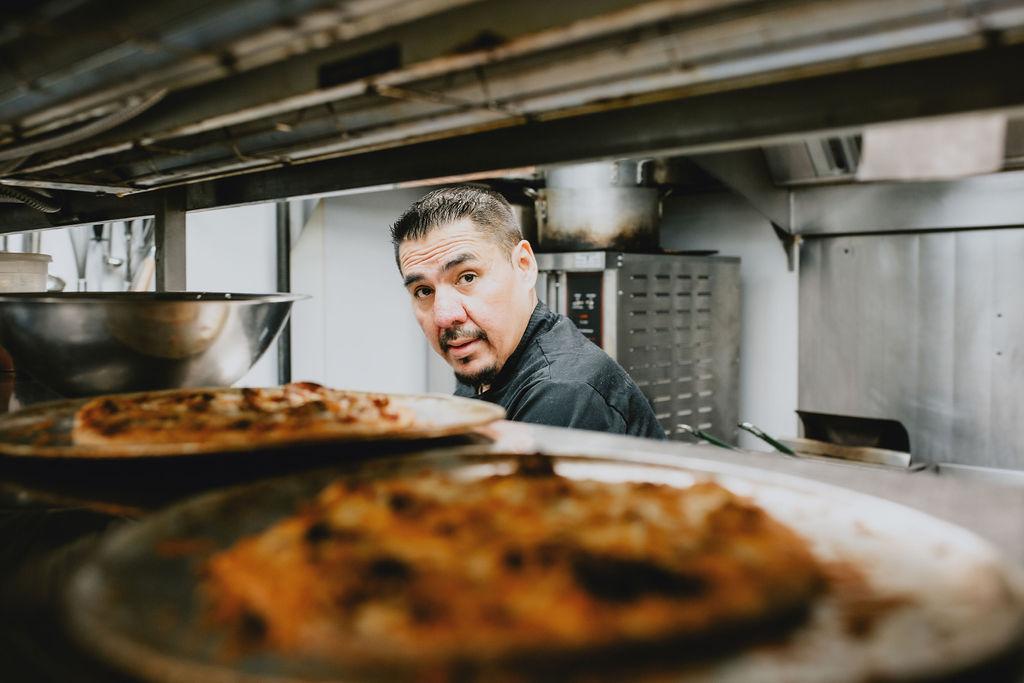 Steve Spence, Cook - credit: Sarah Lamontagne
My path took me back to jail, but eventually, I told my lawyer I can't go from jail back to the streets because I'm going to go right back to that lifestyle. I'm going to need a treatment program. I completed my treatment program and got skills cooking for twelve guys, three times a day. When it came to an end, I needed to grow more, and I reached out here at Feast. I researched it more, and I thought, this is really something I want to get involved with. I wanted to build my life around this. And Christa brought me on. It allowed me to keep my identity. I can't express how it makes me feel. This is my life now.   
I always thought about Calvin since. And then I met Leela, here at Feast who is our waitress. And when I heard her last name, Pompana, I asked her if she knew Calvin, and she told me he was her dad. I told her I can't wait to see him and let him know how much he has helped me."
*In 1996, there was a riot at the Headingley Correctional Centre in Winnipeg. Elder Calvin Pompana was brought in after the riot: "I started working at the Headingley Correctional Centre. There were 500 inmates and 400 of them had Aboriginal ancestry. They had a riot in '96, and one of the requests was that they wanted a full time elder. The first month I was there I went to every cell. And asked them what they wanted. And they asked for sweat lodges so that's what I did for 10 years."
Michael Fosseneuve-Urbanski, Catering Manager
"I love cooking and I always wanted to do something towards my background, Indigenous-style cooking. And when I was given this opportunity to be the catering manager, to oversee all this Indigenous food going out to amazing places and making sure it looks phenomenal and have people want to come back, gave me a new sense of pride. I'm going back to my roots. I never really knew about my roots, about my history. And now that I know more about it, I want to take more pride in that. I want to be able to embrace that more.
Michael Fosseneuve-Urbanski, Catering Manager - credit: Sarah Lamontagne
I'm Métis, my dad is Métis and my mom was part of the Sixties Scoop, I did not know this before about a couple years ago. I had no idea this was part of my background. She told me about it. She was adopted into a Ukrainian family. They love and care about us, I love them until the day they die. And that's why I keep both names.
I always try to help people in the community. It has given me a new light to work with people who have a rough past, to see that people can change. It gives me hope and a new sense of being able to help people. This area used to be pretty bad for a long time. Having Feast here, it's amazing. People don't vandalize it. It feels like we are part of the community."
Misty Muswagon, Baker
"I was a drug dealer; I was an alcoholic. Going from one addiction to the other. I'm very ashamed of the things I've done. But I've been clean for two years now. My past was not so good. My family was dysfunctional, I had to take care of my little brother and grow up fast. But now that we are older, I had to break the cycle. I had to educate myself, go back to school, get my daughter back into my care. I took a program at Red River College called the Baking and Patisserie Program. My hours of practicum were here at Feast. It was a very good experience and I got an opportunity to work here after. And this was my first real job. 
Misty Muswagon, Baker - credit: Sarah Lamontagne
My life changed a lot, I'm healthier, I'm more alert. I used to be very angry at society, but I guess I managed to let it all go, through ceremonies, sweats and prayer.
Christa has a big heart and feeds the homeless too. I feel Feast has opened up a lot of opportunities for Indigenous people around here and it has a lot of doors for us, and for people who come from the streets."
Through the power of culture and food, Feast keeps on collecting success stories and is able to make a difference in the community.  Grabbing a bite there is both a culinary experience and an educational one.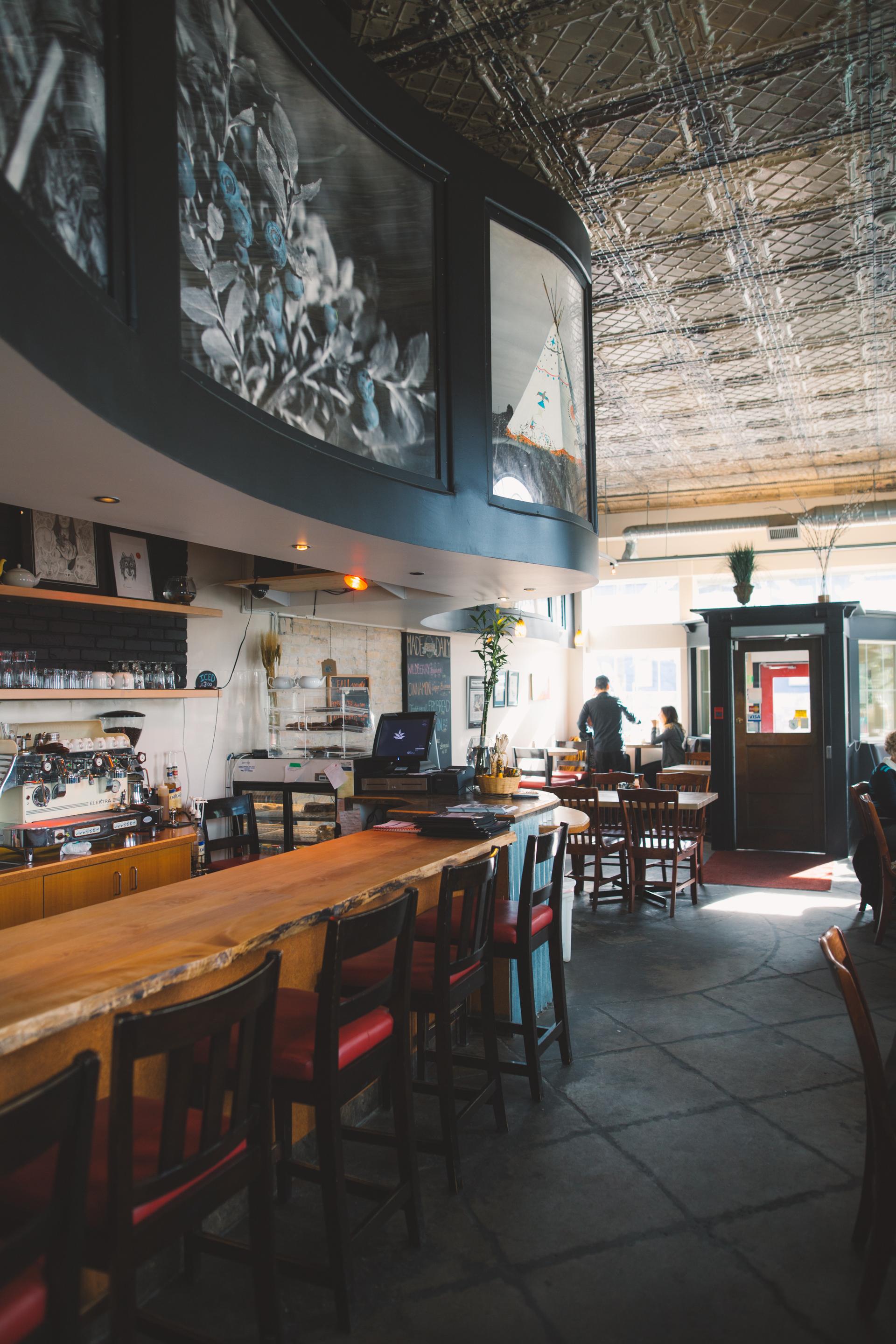 Feast Café Bistro, Winnipeg - credit: Travel Manitoba
Feast has a way of making you feel like you belong. Sharing food and moments in that space will inspire you to do better and to be kind to your fellow community members. It doesn't take much to be nice and it can have a lasting effect. If you're in Winnipeg, be sure to visit Feast Caf? Bistro - their Instagram account is a great source of up-to-date hours and specials.