Ontario's most stunning waterfalls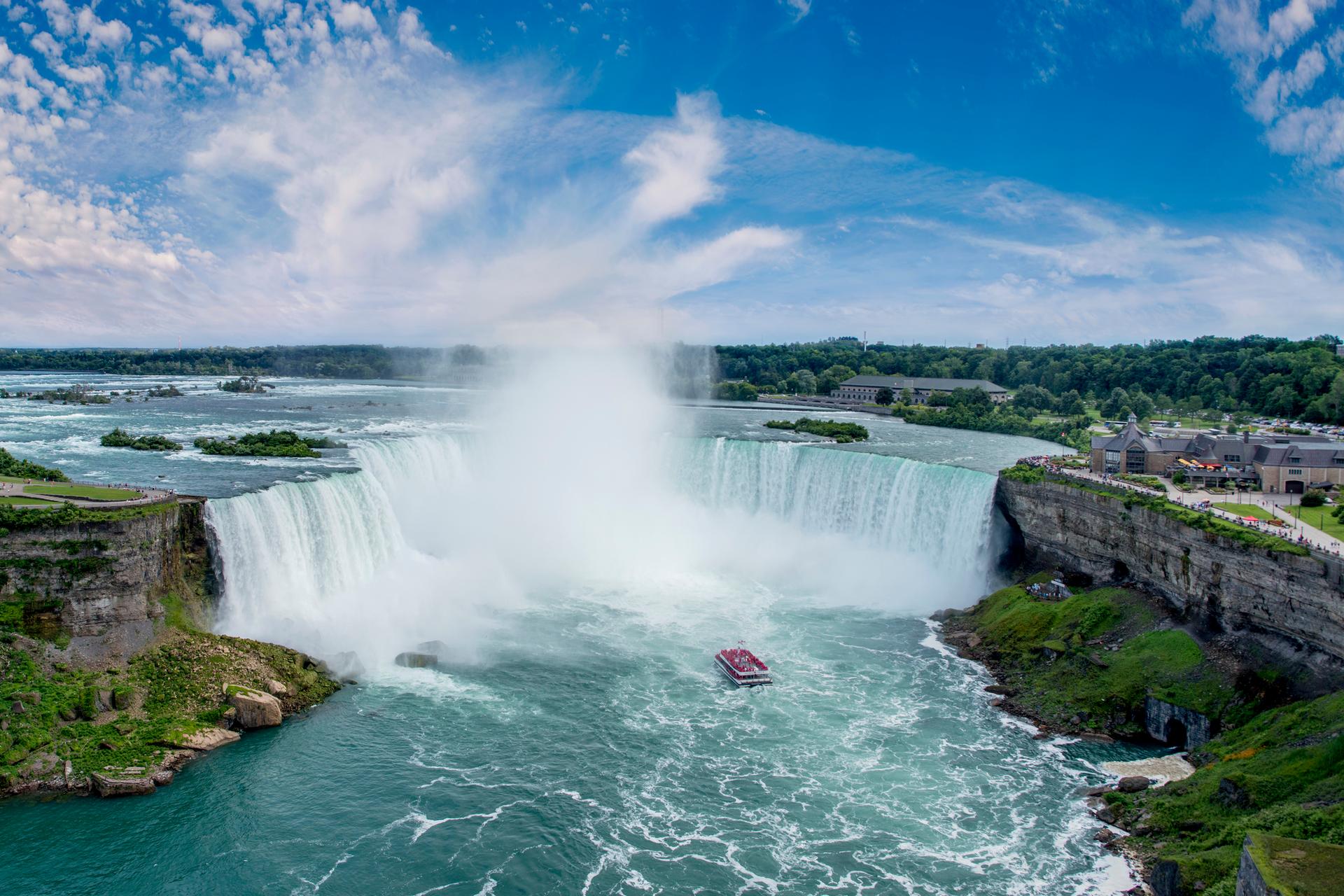 Waterfalls are awe-inspiring, daunting, and calming all at the same time. There's nothing like watching thousands of gallons of water per second blasting over a painter's palette of sculpted rocks down into a blue-green pool far below. Ontario, above the Great Lakes, is filled with clear lakes and rushing rivers -- and gorgeous waterfalls -- both right in the city and in the backcountry. Niagara Falls, of course, is the most well known, but there are so many other spectacular cascades to see. Add these best of the best to your bucket list.
Niagara Falls near Toronto
Kakabeka Falls in northern Ontario
If you don't want to join the crowds touring Niagara, head to Kakabeka Falls Provincial Park in Ontario's north to see the province's second-highest waterfall. Mighty Kakabeka Falls is gorgeous year-round, and you can get a good look at the water and gorge right from the wrap-around boardwalk. Especially beautiful are the cascades set off by fall's changing leaves in yellows, golds, and crimson. If you want to venture further, hike or cross-country ski the nature trails, swim at the beach up river from the falls, and check out the fossils at the base. They're estimated to be over 1.6 million years old.
High Falls at Algonquin Provincial Park
For a picnic and a cool dip on a hot summer day you'll want to visit High Falls at quintessentially Canadian Algonquin Provincial Park, a massive wilderness playground in central Ontario. Hike an easy path through the red pines along the York River to High Falls, a gently sloping waterfall that creates a fast-moving chute between two deep pools -- in other words, a natural slide propelling you down the smooth, glacial-polished river bed. Warm up, sunbathe, and picnic on the smooth gray rocks apr?s swim.
The Devil's Punchbowl in Hamilton
The Hamilton area on Lake Ontario's western tip, about an hour's drive from Toronto, has 100 waterfalls alone. Albion is a classic cascading 62 feet down the forested mountainside in King's Forest Park. Then there's 135-foot-high Tew Falls, which looks like something out of a fantasy novel with a curtain of transparent water raining down into a sculpted gorge colored with layers of sediment and clingy green vines. Located in the Spencer Gorge/Webster Falls Conservation Area, it's best in spring (nearby tiered Webster Falls is pretty incredible, too.) But it's the Devil's Punchbowl off the epic Bruce Trail that takes the prize as the most impressive: a dramatic vertical drop of water ribbons tumbling off a precipice into a deep bowl. Look for fossils in the sand -- this area is home to over 40 million years of geological history in shale and dolomite.
Hog's Back Falls in Ottawa
If you want to mix your big city fun with some natural wonders, make the trip (15 minutes by car or 50 minutes by bus) from downtown Ottawa to Hog's Back Falls, aka Prince of Wales Falls. This is a wide, man-made falls where the UNESCO World Heritage Site Rideau Canal, with its canal locks and the steep canyon of the Rideau River, split. And it's especially magical in winter when the mist coats everything --rocks, bridge, spindly tree branches -- in a frosting of white ice. Cross-country ski, walk, or cycle in the surrounding park's paths along the river, taking in impressive views.
If you're a paddler, the No. 1 choice is Lady Evelyn-Smoothwater Provincial Park. In the province's north, this is pristine wilderness has an idyllic river for backcountry canoe adventures and boasts a 1,491-mile canoe network. Picture foamy white falls flowing down rugged rocks on a backdrop of green pine forest. There's plenty of fodder for photographers, too, with six main waterfalls in the park. Paddlers love the river's many and varied rapids. Pitch a tent near the falls and nod off to nature's lullaby.
In addition to stunning falls, Ontario boasts miles and miles of shoreline and sandy beaches waiting to be explored  -- some that even make you think you're in the Caribbean for a moment. Pack your gear and get outside at the top provincial parks.
Get more outdoor adventure ideas at the Ontario Travel website.