Hunt for Gems and Fossils on Nova Scotia Beaches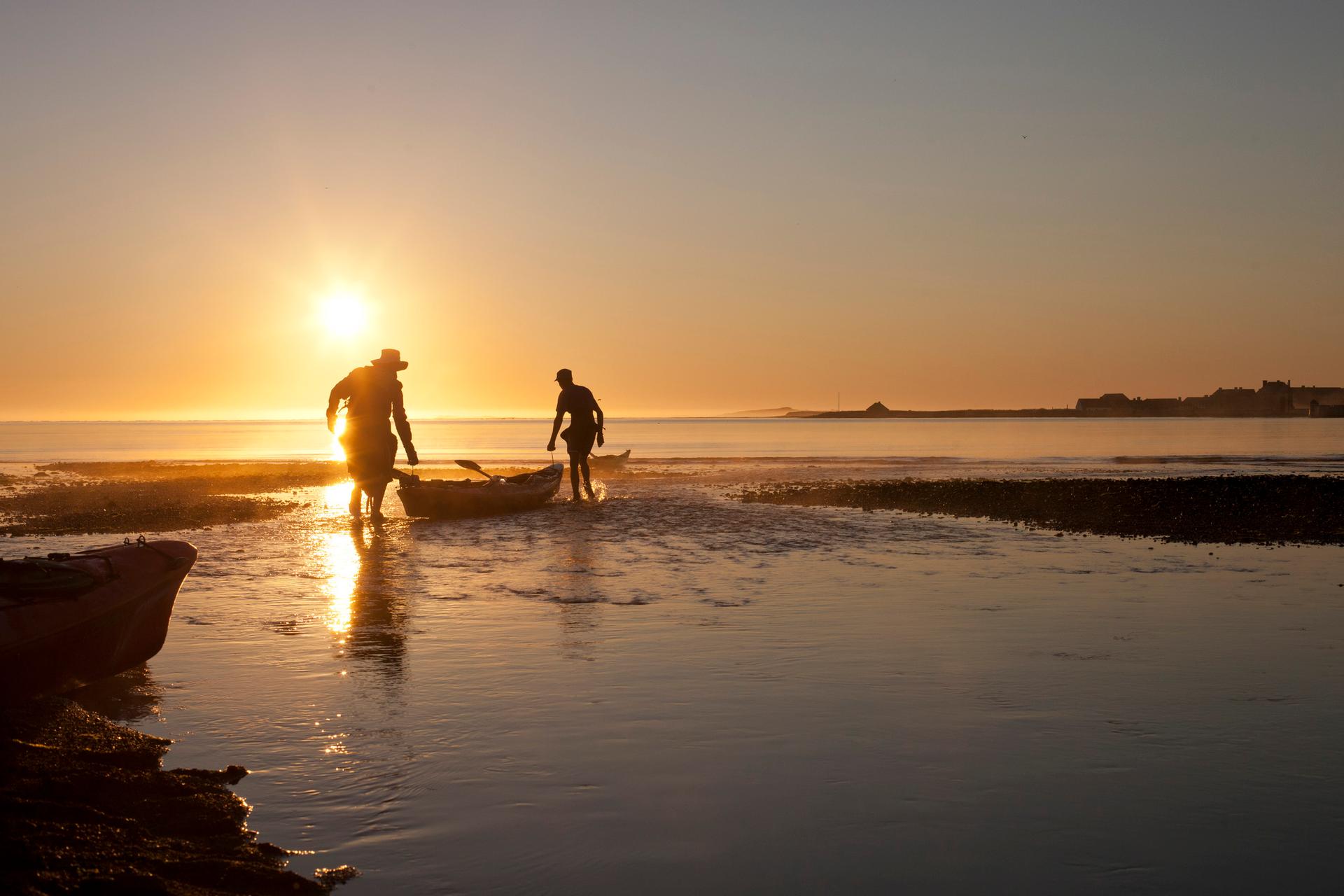 Playing, picnicking, and napping on the beach is a must. But there's another way to enjoy Nova Scotia's beautiful coastline: Like an archaeologist. Several engaging programs get you right into the action. Accompany researchers in search of the area's many Jurassic-age fossils or learn about military history and hidden treasure on a haunted island. Or, let an experienced local show you where to dig for clams, how to do it, and how to cook 'em up for a succulent shore dinner. You'll never look at the beach the same way again -- and that's a good thing.
Tidal Reveal: Dig for Canada's Oldest Dinosaurs
Always fancied being an archaeologist? Now's your chance. During just six days each summer, you can join an active fossil dig when the tides align at the famed Bay of Fundy along its towering red cliffs. Starting with a Zodiac boat tour and shore walk, a museum expert leads you through a dig based on the latest research to unearth ancient dinosaur fossils embedded in the sea floor exposed by the tide. Your guide will share tales from the field, show off the latest discoveries, and impart fascinating facts about the area's geology. After the work is done, everyone dives into a gourmet Nova Scotia lobster picnic lunch.
Folks and Folklore Tour of McNab's Island
Strategically located at the mouth of Halifax Harbour, McNab's Island is home to historic forts, treasure, and some say, many ghosts. It's just  a quick 15-minute boat ride from Halifax to the island, but you'll want to spend a half-day exploring. Expect to see fox, deer, lots of birds, and perhaps a sea serpent. Your guide will show you around National Historic Site Fort McNab, an 1889 fortification with breech-loaded guns that guarded the city -- and Canada -- til WWII, and its large cannons, plus an old brickworks, and 1864's Fort Ives with shelters, search lights, and a submarine net. After hearing about the island's legends, you'll enjoy a tasty picnic at Hangman's Beach including local fruit and smoked salmon.
Plankton, Periwinkles, and Predators
The Bay of Fundy has the highest tides on the planet at four stories high, with 160 billion tons of seawater ebbing and flowing each day. This three-hour tour helps you explore this natural wonder by taking you along the ocean floor at low tide to Point Prim, a UNESCO Biosphere Reserve. Greg Turner, a retired science teacher, interprets all the science and biology for you. He shows guests firsthand about about sealife in the area, revealing, for example, what a barnacle feeding frenzy looks like. You'll collect plankton, taste seaweed, observe tidal creatures under a microscope, find elusive anemones and sea slugs, and discover the ins and outs of predator-prey relationships.
Clam Harbour Clam Digging Experience
It'd be hard to imagine a better mentor than Darcy Baker, a fourth generation clam digger. He takes guests to the Clam Harbour mud flats on Lake Charlotte's eastern shore. Here, Darcy teaches you all about the industry, history and harvesting techniques, and clams and their habitat. Then he shows you exactly how to dig up white, soft-shell mollusks using a special "clam fork." Celebrate afterwards with a traditional steamed-clam feed, plus the requisite baked beans, brown bread, and soup, with homemade gingerbread for dessert. The day ends with a walking tour of Memory Lane Heritage Village, a 1940s living history museum with intriguing artifacts along the lines of antique clam harvesting tools and equipment.
Fundy Treasure Hunt – Uncovering the Jewels of the Bay
The green Annapolis Valley is well known for its fertile vineyards and orchards. What's lesser known is that the area is extremely mineral rich. Experienced local guide and rock hound Brian Hebert tells guests about the geology and history of Scots Bay beach in the Bay of Fundy. When the tide is out, he takes small groups out to hunt for gemstones on the ocean floor, helps you ID them, while understanding the characteristics of each. Then you get to design your own custom necklace, earrings, or ring set in sterling silver with your find. The day concludes with a three-course meal at the cheery waterfront Port Pub and Bistro in Port Williams. It'll be fun to remember your adventure when your jewel arrives in the mail back at home.
In addition to beautiful sandy beaches, "New Scotland" is famed for its lively Celtic music and culture, spectacular coastal hikes, and one of the world's top drives, the Cabot Trail. Make time for more adventures.
Get top travel tips at the Tourism Nova Scotia website.