Golf getaway guide for Victoria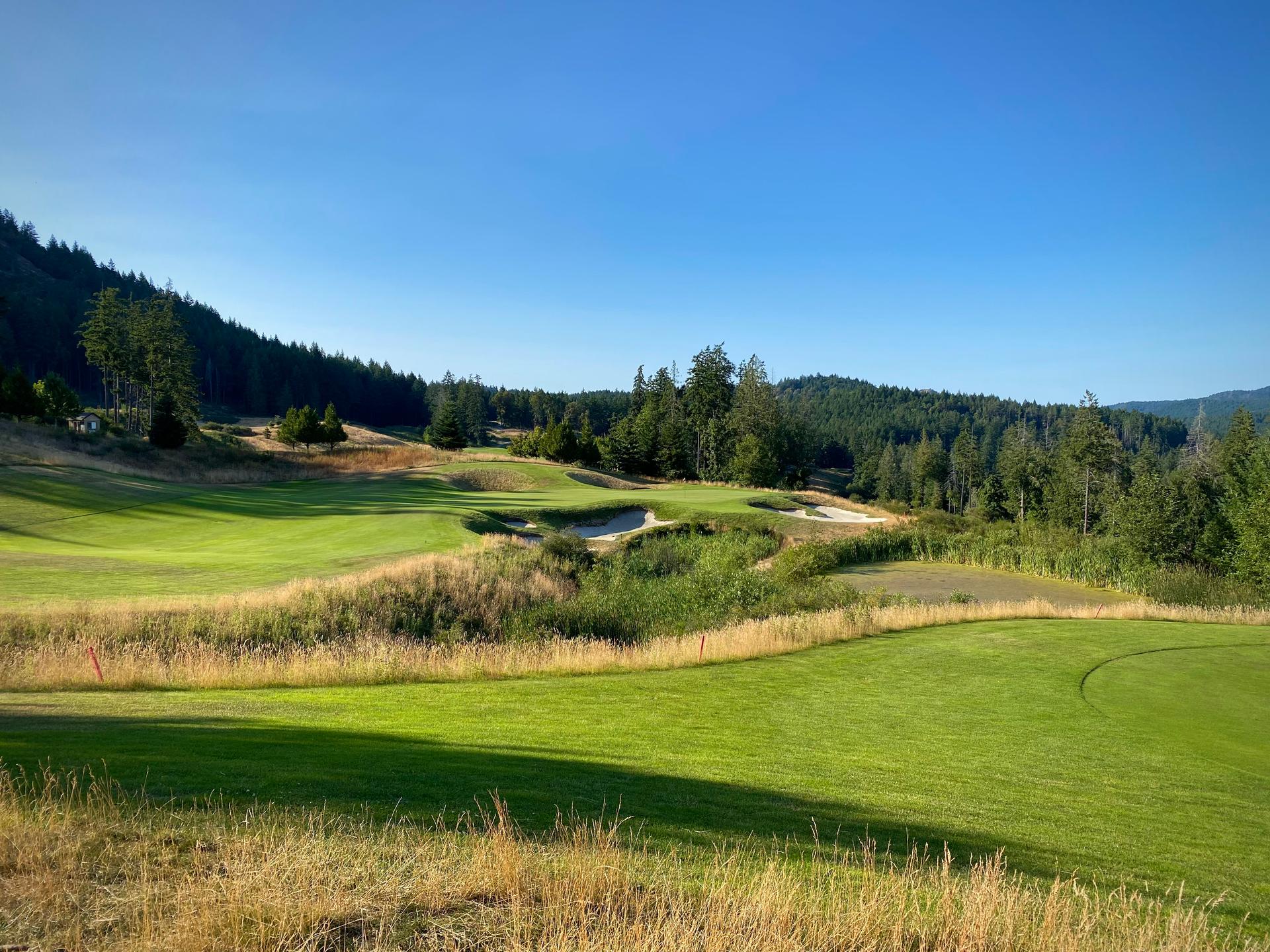 Located on the traditional territory of the l?k?????n (Lekwungen) Peoples, known today as the Esquimalt and Songhees Nation, Victoria is a place of beauty, endless outdoor activities, fabulous food and top-notch golf.
Enjoy unique golf all around Victoria, BC
Playing golf in Victoria provides a new sense of appreciation for the land you walk on. There are pause-worthy moments at all of the courses across Victoria, many of which are less than a 30-minute drive from the bustling downtown and Inner Harbour. Of these courses, Bear Mountain Golf Resort and Spa stands out as a favourite for local golfers.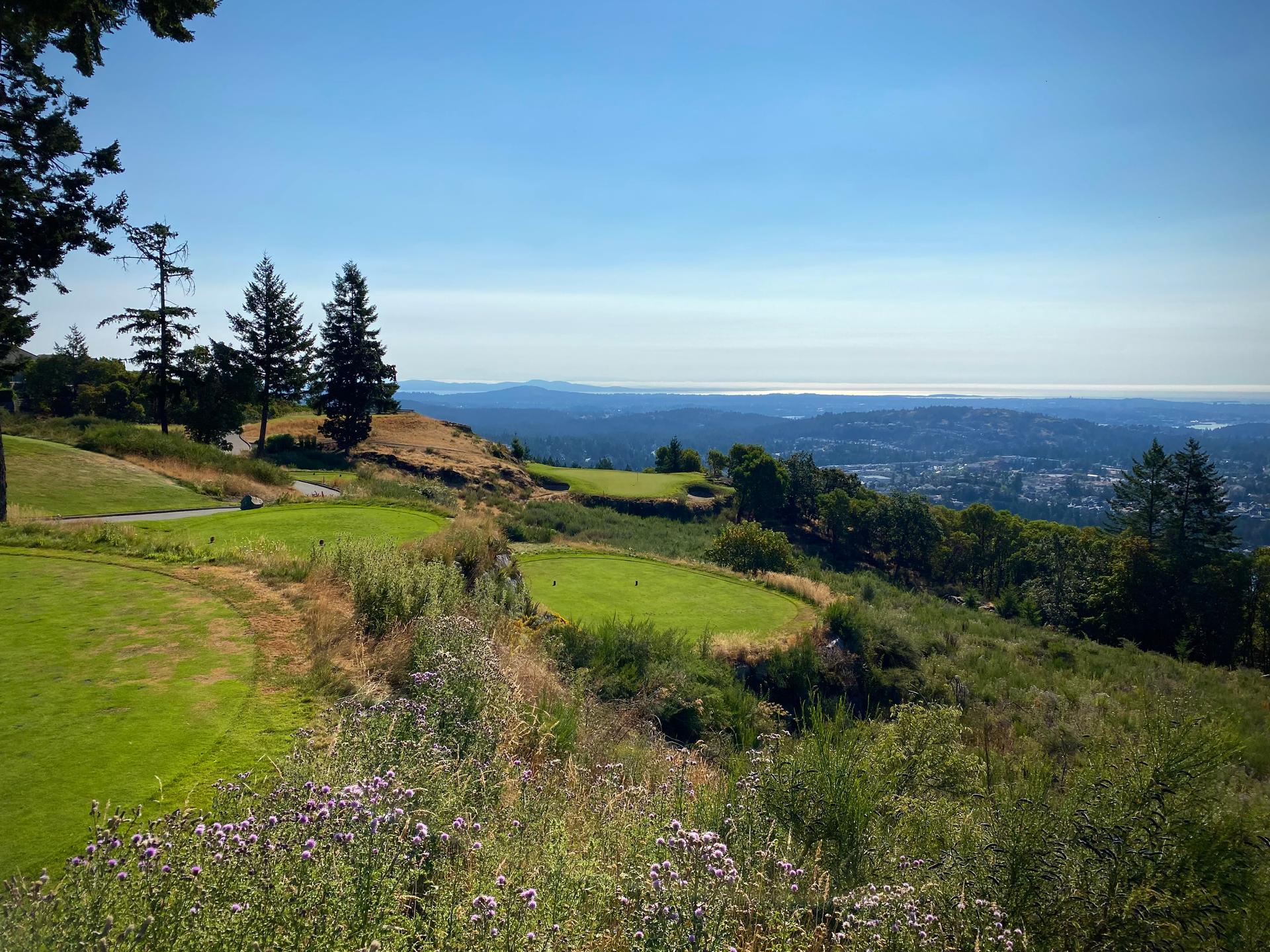 The iconic par-3 14th at the Mountain Course at Bear Mountain Golf Resort and Spa. Credit: Adam Stanley
At Bear Mountain there are two 18-hole courses designed by Jack Nicklaus. Nicklaus put his mark on this gorgeous piece of property which is evident as it's the only 36-hole Nicklaus Design facility in Canada. The Mountain Course offers incredibly surreal views, while The Valley Course is a little more playable but equally as beautiful.
A little closer to the city lies Highland Pacific Golf Course and Olympic View Golf Club.
Olympic View is nestled inside a mature forest and offers up a variety of interesting holes. It also has peekaboo views of the Olympic Mountains across the border in Washington State. Highland Pacific, meanwhile, is equal parts fun and stunning to look at.
Sarah Chow, who used to play softball on Team Canada and has lived in Victoria all her life and has picked up golf recently. She fell in love with it because, given Victoria's weather, she could play year-round among some of the best scenery in Canada.  
"You've got mountains, you've got water, you've got wildlife... and you've got great weather all the time," says Chow. "I don't see why you wouldn't want to play in Victoria."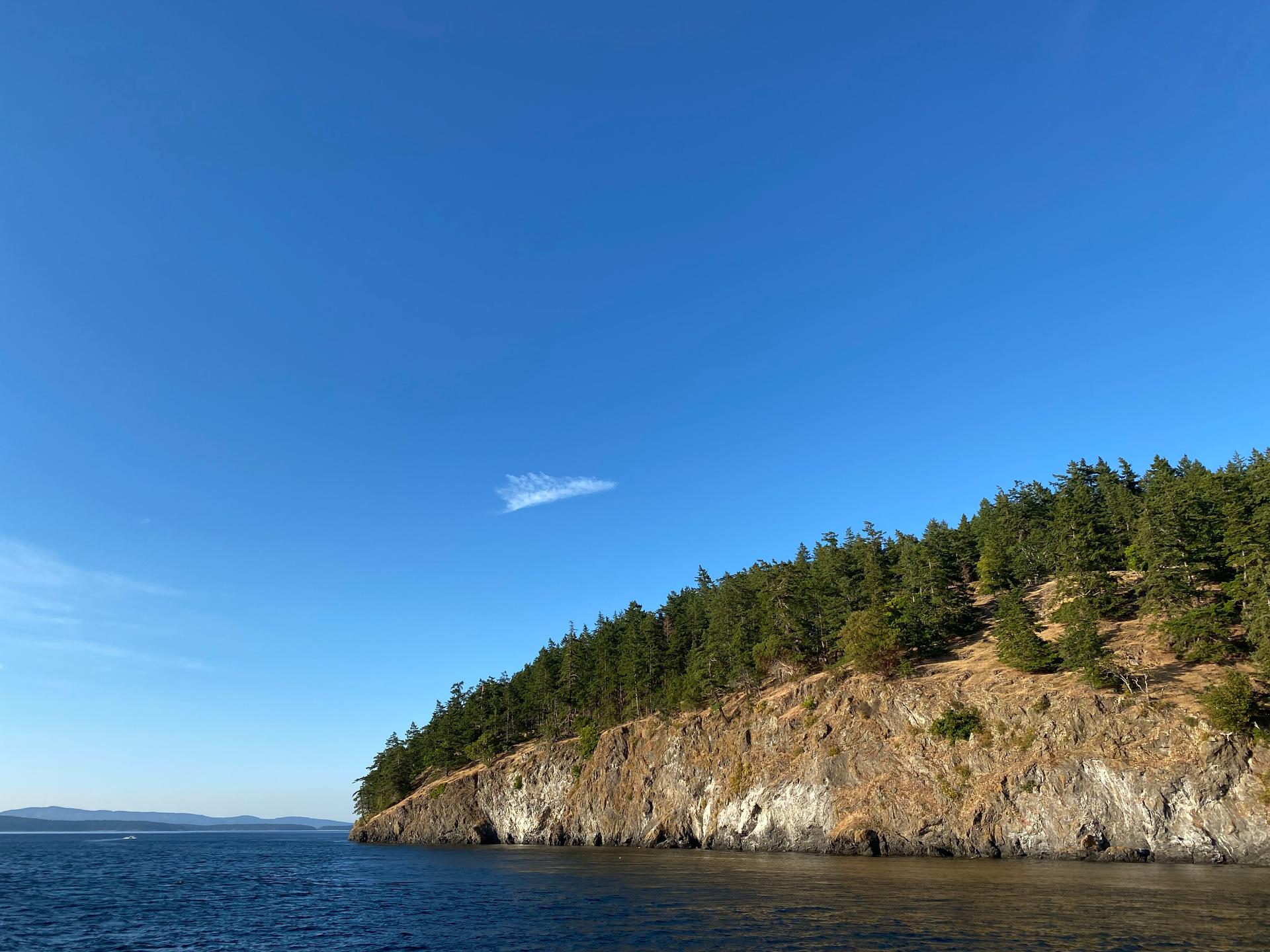 The views from the water on a cruise with the Prince of Whales. Credit: Adam Stanley
The importance of the Indigenous culture
Whether you're enjoying the world-class golf or foodie-first dining, the culture of the Indigenous Peoples in Victoria and British Columbia is something every visitor should take the time to learn about. At the Royal BC Museum, the Indigeneous exhibit that has hosted visitors for decades is currently undergoing a refresh in consultation with Indigeneous Peoples of the area to provide a more authentic and welcoming experience for all. Not far from the museum, members of the Songhees Nation offer daily walking tours around Victoria's Inner Harbour where their history and culture are shared with guests.  
While there are plenty of experiences on land that will deepen your understanding and appreciation of Indigenous cultures in Victoria, there's also lots to experience if you head out on the water. Sidney Whale Watching is an Indigenous-owned whale watching company offering a three-hour ride on the Salish Sea. On your adventure you'll learn more about the significance of marine wildlife to the Coast Salish Peoples while enjoying the beautiful spectacle of seeing orcas and humpbacks breach the ocean's surface.
Enjoy what the land (and sea) has to offer
Victoria's growing season is longer than nearly any other spot in Canada and many of the restaurants (and craft beer pioneers such as Vancouver Island Brewing) take full advantage of the access to local produce.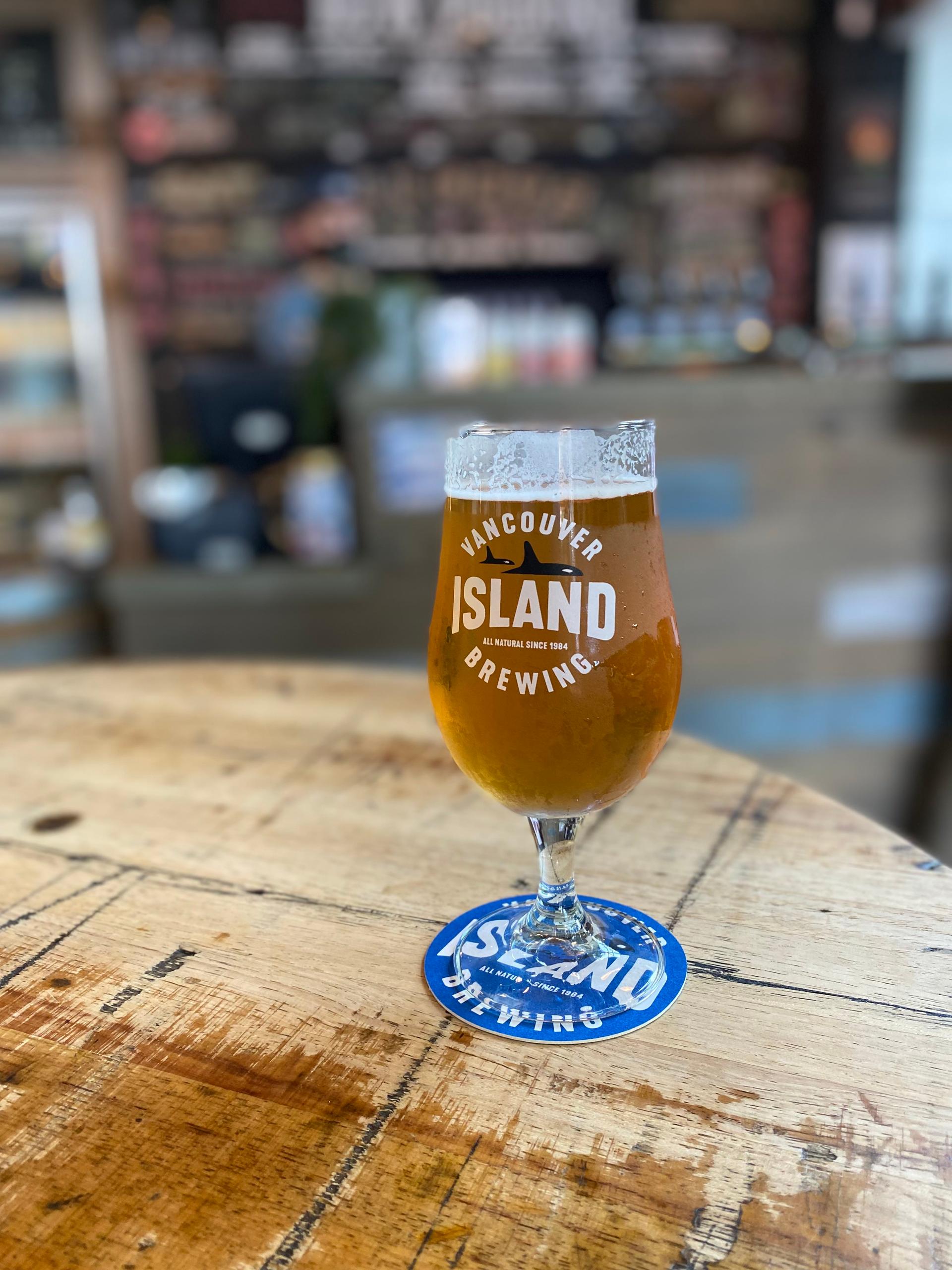 One of Vancouver Island Brewing's excellent local beers. Credit: Adam Stanley
Near the harbour, there's 10 Acres Bistro. It has a ethereal garden patio where guests can enjoy farm-to-fork dining and boasts dishes that pop with bright flavours. Looking for something fun and casual? The Sticky Wicket Bar & Restaurant rooftop gives you birds-eye views of downtown (with great pub food, to boot) while Gozen Izakaya has some of the city's best sushi.

Beyond sushi, Victoria has tons to offer when it comes to fresh, locally sourced seafood, and there's nothing more tasty than what's caught off the coast of British Columbia. There there are plenty of spots serving up sustainable and delicious seafood with a favourite being the Blue Crab Seafood House. Their signature seafood pasta with fresh manilla clams, Salt Spring Island mussels and fresh prawns make for an unforgettable combiniation of mouthwatering flavours. 
But out of the wide array of flavours found in Victoria, there's one meal that the city is known for and that's brunch. In fact, the Food Network recently named Victoria as "The Brunch Capital of Canada" and there's no better place to enjoy a mid-morning treat than at The House of Boateng. Owned by a husband-and-wife team, the award-winning spot in Langford serves colourful, flavourful dishes inspired by Castro Boatang's Ghanaian heritage.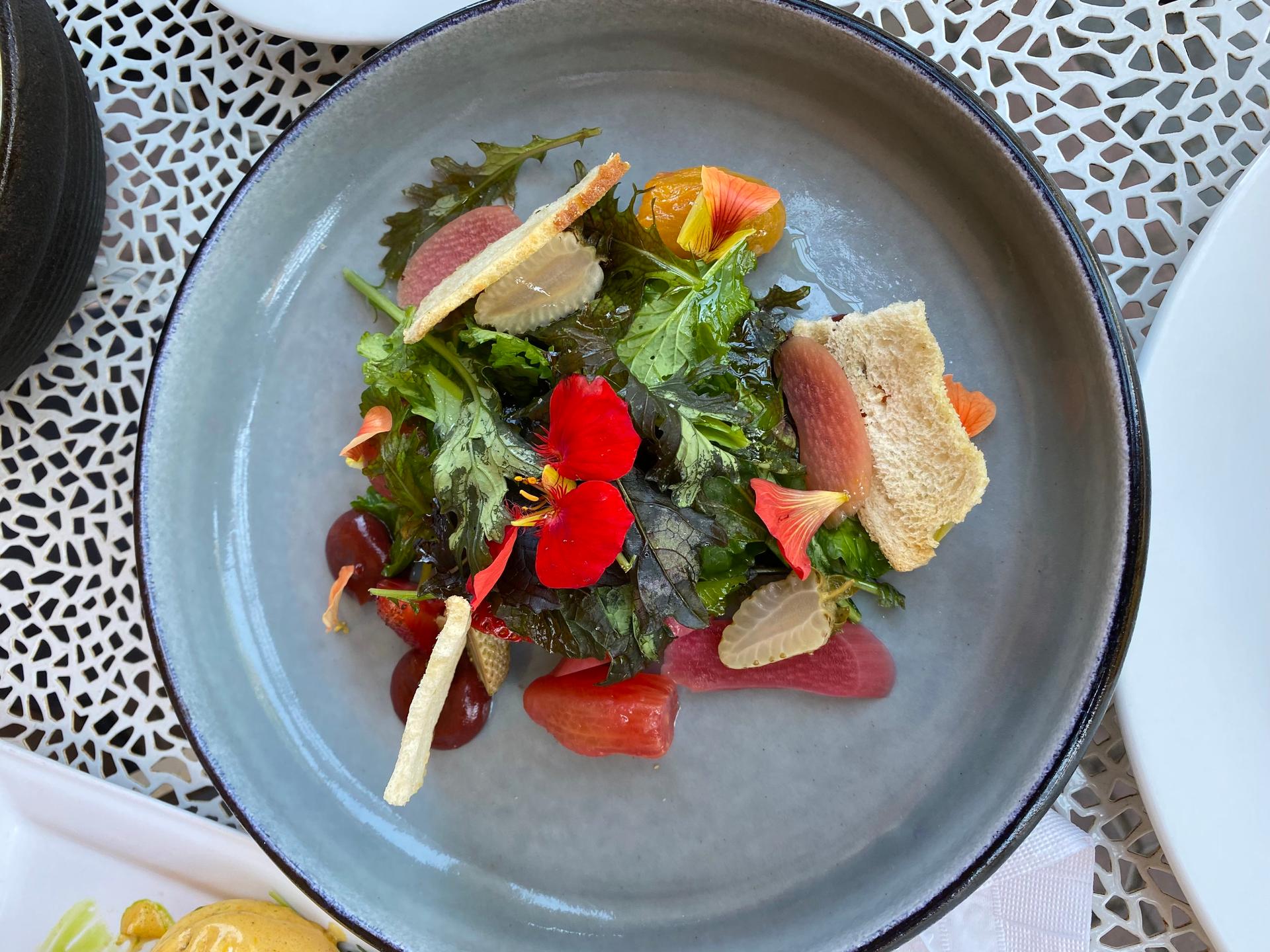 A fabulous dish, featuring local ingredients, served at The House of Boateng. Credit: Adam Stanley
Whatever kind of cuisine, activity or golf course you might be looking for, Victoria will deliver with many world-class options. You'll find great food, drink and culture in town to complement the golf offerings. And, if you're looking for even more great golf, all you have to do is head north up the island where there are dozens of courses that make up the Vancouver Island Golf Trail.