6 of the best parks in Toronto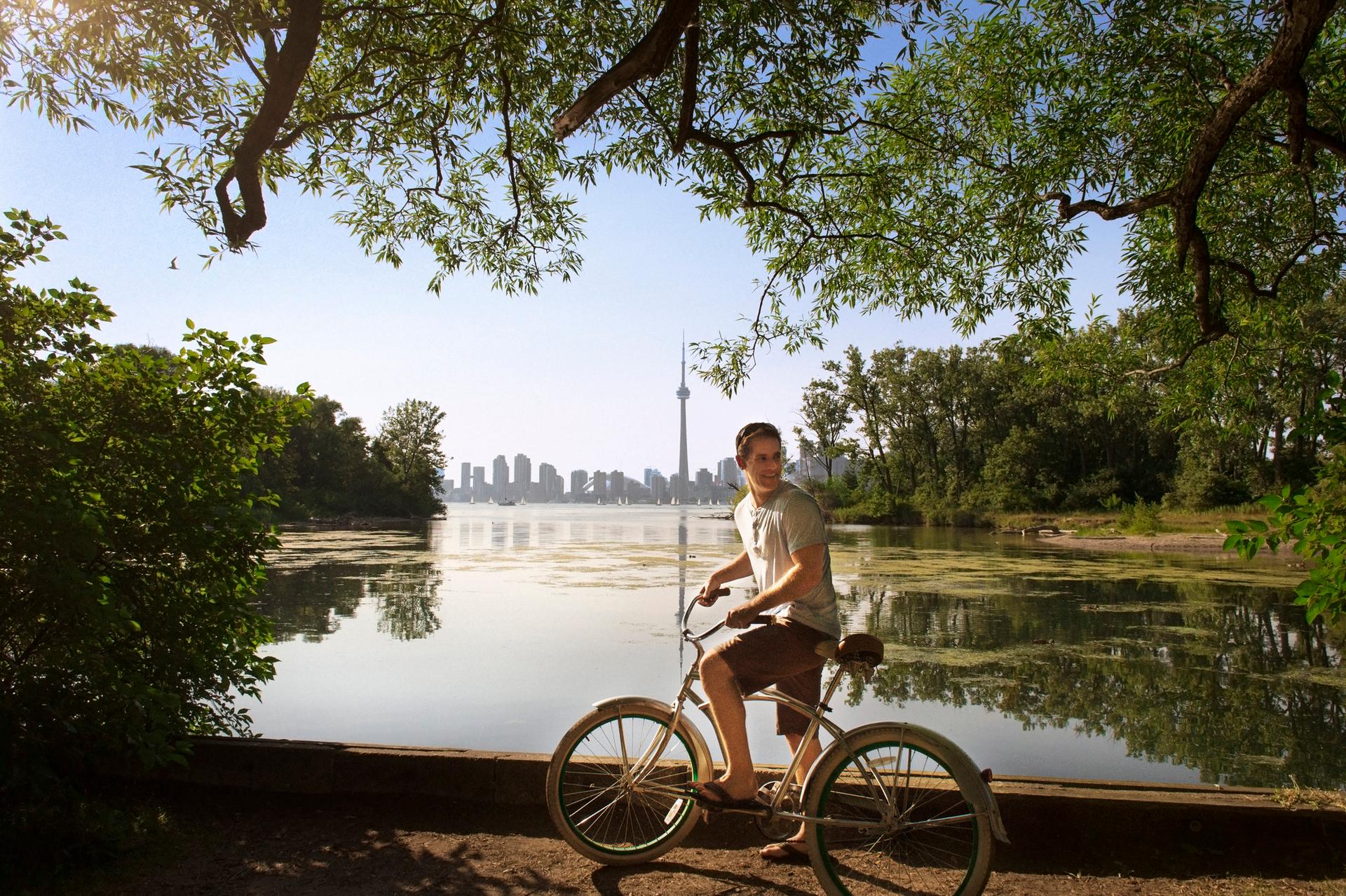 Toronto is Canada's downtown -- all about the latest and greatest in culture, design, dining, and entertainment. But everyone needs a break from big city bustle, and that's where green spaces come in. A diverse eastern city known for its distinctive neighborhoods, Toronto has more than 1,500 parks to explore.
These are green oases where urbanites can take five on a bench, walk the dog, stroll, cycle, picnic, and play. There's plenty of art-meets-garden, farm-as-park, sustainable-hip, and even a national park right in the city -- because a park isn't just a park any more. So after you gallery hop, art-crawl, film-fest, research the latest craft cocktail trend, and shop 'til you drop, enjoy some hard-earned R&R at these top Toronto parks.
Reclaimed industrial cool at Evergreen Brick Works
Eco-friendly Evergreen Brick Works calls itself a "community environmental centre." The site of a former industrial plant, this green-design showcase includes a year-round weekend farmers market, native plant and organic gardening store, caf?, cycling repair and rental space, and open-air native and edible plant gardens. There's even a kids' greenhouse and wood-fired oven. Pretty ponds and nature trails wind through 40-acres of the surrounding Don Valley. Take a guided tour of what National Geographic named a top-10 geotourism destination. The best part is? It's free.
Classic, hip, artsy at Trinity Bellwoods Park
If it's a traditional green space you're looking for, head to trendy, culture-minded Trinity Bellwoods Park -- the spot to be on sunny weekends. The 37-acre park on Queen Street West, formerly the Trinity College campus, has it all: volleyball and tennis courts, ball diamonds, an ice rink, picnicking, wading pool, playground, and rec center, plus lots of greenery, grassy fields, and century-old trees with paved walking paths and vintage cast iron lamps. Look out for ongoing events, art installations, drum circles, plays, book fairs, and the elusive white squirrels locals say live here. Don't miss the superb CN Tower view either.
Musically inspired beauty at Toronto Music Garden
If you like a dash of music with your art and architecture, you've got to see the meticulously sculpted Toronto Music Garden. This original project on Lake Ontario's waterfront is a collaboration with world-renowned cellist Yo-Yo Ma, with themed areas inspired by Bach's six unaccompanied cello suites. The result is a botanical delight. Join a free guided tour or take a seat at an evening al fresco summer concert -- also free -- to fully enjoy the sight-meets-sound experience.
Islands in the city at the Toronto Islands
Just a quick ferry jaunt from downtown, the Toronto Islands are a chain of small isles packed with parkland. The sandy lakeside beaches with gorgeous views of the city skyline make for an easy getaway, and cycling, canoeing, and kayaking are popular too. Also on offer are playgrounds, gardens, picnicking, a landmark lighthouse, children's garden at Toronto Island Park, and a petting zoo-type farm plus amusement park on Centre Island.
Farmer for a day at Riverdale Farm
Bring your gourmet St. Lawrence Market goodies to Riverdale Farm and walk the wooded paths of the 7.5-acre historic 1900s farmstead replica. Set in scenic Cabbagetown parkland with ponds and butterfly herb gardens, you can see pigs, goats, chickens, sheep, horses, and cows, including heritage livestock breeds, and watch farmers feeding and hoeing. Admission is free.
Exotics in the conservatory at Allan Garden
Botanicals fan? You've found your haven. Imagine a 16,000-square-foot greenhouse filled with every manner of tropical plant, spiny cacti, and exotic palm from around the globe. That's what you'll find at lovely Allan Gardens Conservatory, one of Toronto's oldest parks. The glass-domed Palm House dates back to 1910. Take a guided tour to find out more about the unusual flora or attend a seasonal flower show.
What's your kind of park? The good thing is, Toronto very likely has it -- and then some. Time to get outside.
Find your favorite park on the See Toronto Now website.