The ultimate winter experiences
The meditative nature of ice fishing on a serene lake is a deeply Canadian outdoor experience. But maybe moving your muscles while fat-biking through a forest is more your speed. Canada has it all—and winter is the ideal time to expand your horizons, whether dogsledding in British Columbia, snowshoeing in Nova Scotia or gazing at the northern lights in the Yukon. 
Embrace the outdoors with these top winter activities in Canada.
1. Fat bike snow-shrouded forests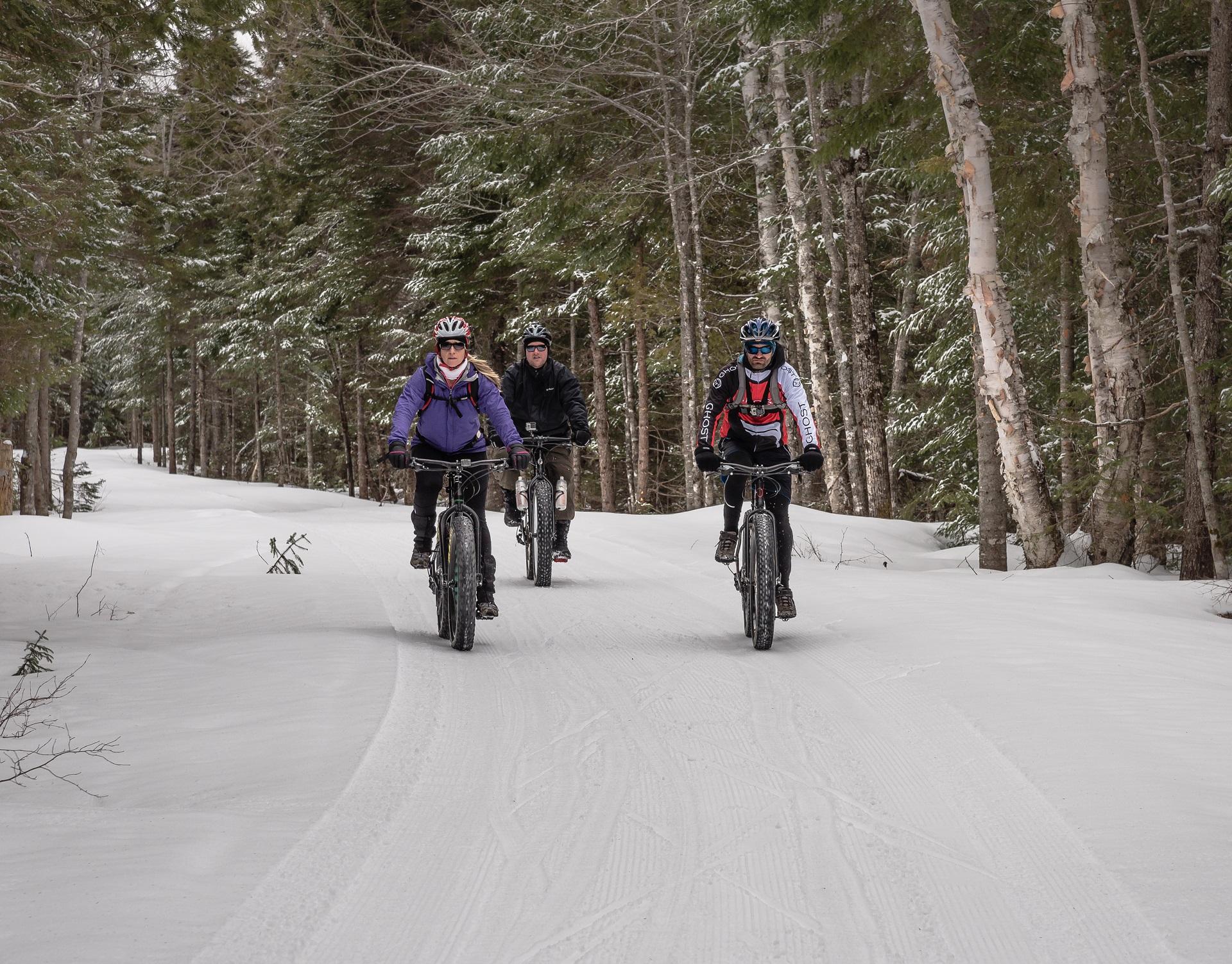 Fat biking in Kouchibouguac National Park – credit: Parks Canada
Ready for a rad ride? Despite its curious name, fat biking is like mountain biking with oversized tires that grip the snow. This means you can cycle winter wonderlands like Mark Arendz Provincial Ski Park in Brookvale, Prince Edward Island. Shred its trio of single-track routes--Shortbread Trail, Buttertart Trail, and Maple Fudge Trail--indulgent trails, especially for fat bikes. 
On the east coast of New Brunswick (between Miramichi and Moncton) cruise through the Acadian forest at Kouchibouguac National Park. Groomed fat-bike trails wind among seven warming huts stocked with firewood. (Pack a thermos of hot chocolate!) No bike? No matter. Head northward and rent a fat bike at Sugarloaf Provincial Park (near Atholville) and test your mettle on the trails.
2. Be awestruck by the northern lights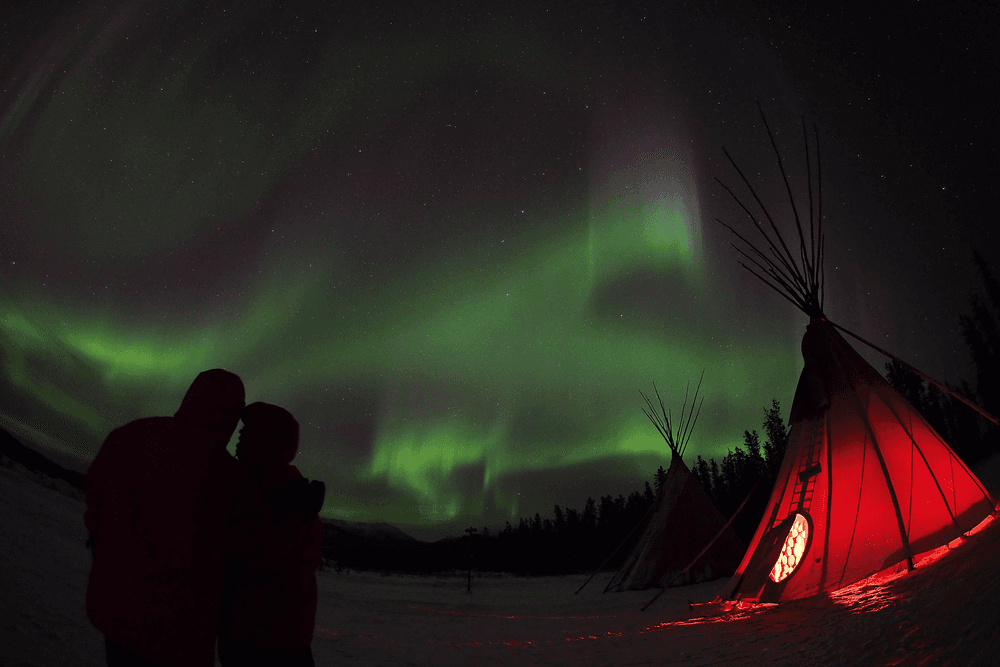 Northern Lights viewing at The AuroraCentre, Whitehorse, Yukon – credit: Arctic Range Adventure
If ever there was a time to pause, gaze up at the starry sky and be captivated by gaseous green lights--aka aurora borealis--it's now. The Northwest Territories' subarctic skies are prime for aurora-spotting (a stellar 240 nights of the year), thanks to its ultra-low humidity and location. Indigenous-owned Northstar Adventures in Yellowknife offers cool ways to take in the northern lights, like snowmobile and teepee camp tours. 
In the Yukon, Northern Tales in Whitehorse adds luxury to the mix with spa packages, while Arctic Range Adventure's tours include wildlife photography where you're likely to see everything from musk-ox to arctic fox. 
3. Mush a dogsled across the tundra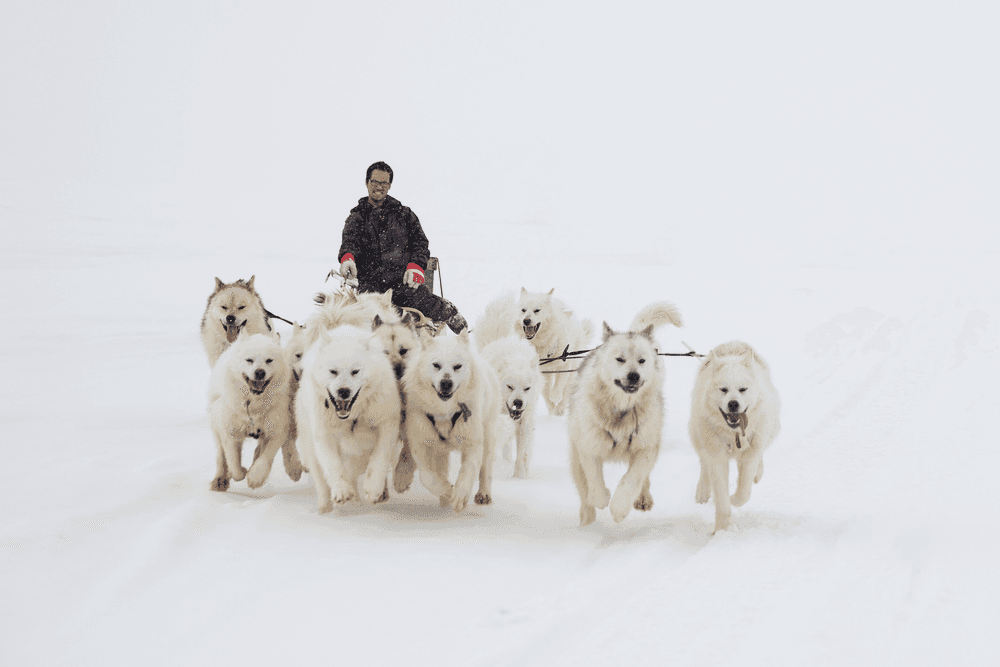 Dogsledding Baffin Island, Nunavut – credit: Sean Scott
Most people are familiar with the word "mush!" But dog sledding commands like "gee!" and "haw!"--not so much. Discover this exhilarating sport in Nunavut on a qamutiq--a traditional Inuit sled--while traversing Arctic  tundra or frozen ocean led by experts at Inukpak Outfitting (it also offers an igloo-building workshop) in Iqaluit.
In British Columbia, even daytrippers can go dogsledding. Bundle up the kids for a three-hour tour with Canadian Wilderness Adventures in Whistler, zipping through the Callaghan Valley's old-growth forests, pulled by huskies. Or head inland to Thompson Country, where Mountain Man Dog Sled Adventures (at Sun Peaks Resort outside of Kamloops) will let you drive your own dog sled. Farther north (between T?te Jaune Cache and McBride), Cold Fire Creek Dogsledding offers three tours covering distances from 10 to 36 km.
4. Ice fish from a warm hut
Ice fishing at Bear Lake, Grande Prairie, Alberta – credit: Travel Alberta
If you're an avid angler or fly-fisher during the warmer seasons, amp up this solitary sport's cool factor by ice fishing. To find the ideal ice-fishing spot in Saskatchewan, ask a local, or watch as fishing shacks crop up on the winter ice. Then rent yourself a cozy, heated refuge and meditate on trophy-sized walleyes, pikes, and perches beneath the ice's surface. Regina Beach (about 50 km north of Regina) hosts an annual ice-fishing derby, while places like Thompson's Resort (near Missinipe) offer ice-fishing packages complete with self-contained lakeshore cabins. 
In Alberta, Sturgeon, Bear, and Snipe lakes near Grande Prairie are local go-tos. Companies like Ice Fishing Alberta use gear such as sonar and underwater video cameras on guided trips near Canmore and Kananaskis Country, among other locations. 
5. Cross-country ski past shimmering lakes
Cross-country ski outside Quebec City, Quebec – credit: Benoit Camirand/Office du tourisme de Québec
Who doesn't want to glide on groomed trails that meander fragrant forests and skirt the shores of shimmering lakes? Discover the southern Saskatchewan forest at Moose Mountain Provincial Park (23 km north of Carlyle) while cross-country skiing trails such as Corral Lake Loop, Stirrup Lake Loop and others. Want to explore more in Sask? Check out eight other parks ideal for cross-country skiing.  
In Quebec, get a history lesson while exploring more than 95 kilometres of cross-country ski trails at an unconventional spot: Valcartier military base near Qu?bec City. Not to be outdone, Torrance Barrens Dark Sky Preserve in Ontario about (two hours from Toronto) is another atypical treasure with cross-country ski trails and unusual topography.
6. Snowshoe solitary trails to hidden huts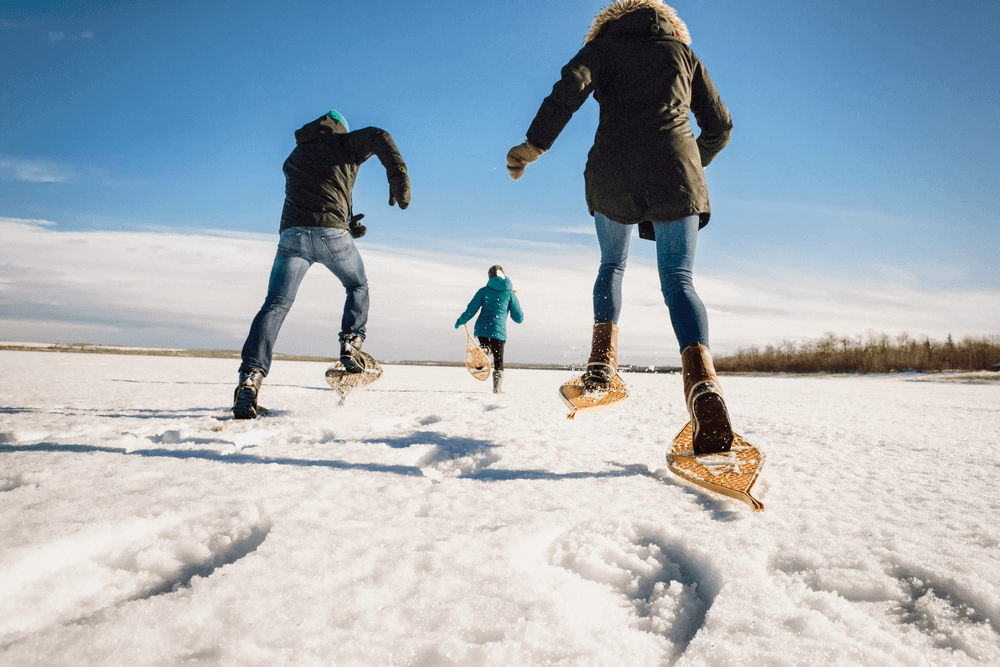 Snowshoeing, Grande Prairie, Alberta – credit: Travel Alberta
7. Ice skate on a cranberry bog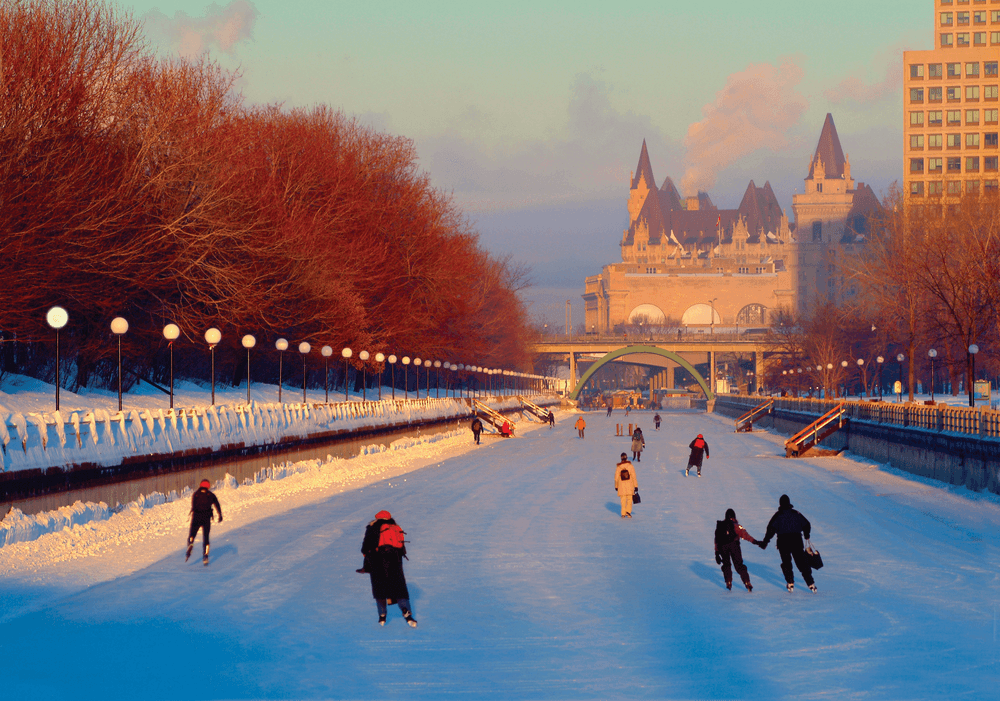 Outdoor ice skating on the Rideau Canal Skateway, Ottawa, Ontario – credit: Ottawa Tourism
8. Take a self-guided snowmobile tour
Snowmobiling the Callaghan Valley, Whistler, BC – credit: Tourism Whistler/Mike Crane
Gloves, helmet, layers of clothing? Snowmobiling will get your blood rushing, especially when whipping through New Brunswick's expansive winter trail system such as the Fundy Highlands, where you can embark on a self-guided tour covering more than 800 km of terrain. Get away from it all on the Northern New Brunswick Odyssey, a snowmobiling adventure along the Acadian Peninsula, passing massive Maritime mountains along the way.
On the other side of the country, British Columbia can brag about its own epic route: the Gold Rush Snowmobile Trail (GRST), a historic multi-use trail that travels between 70 Mile House and Horsefly. Check out GPS way-pointed topographical maps to plan your winter adventure.