10 must-try outdoor adventures in BC's Okanagan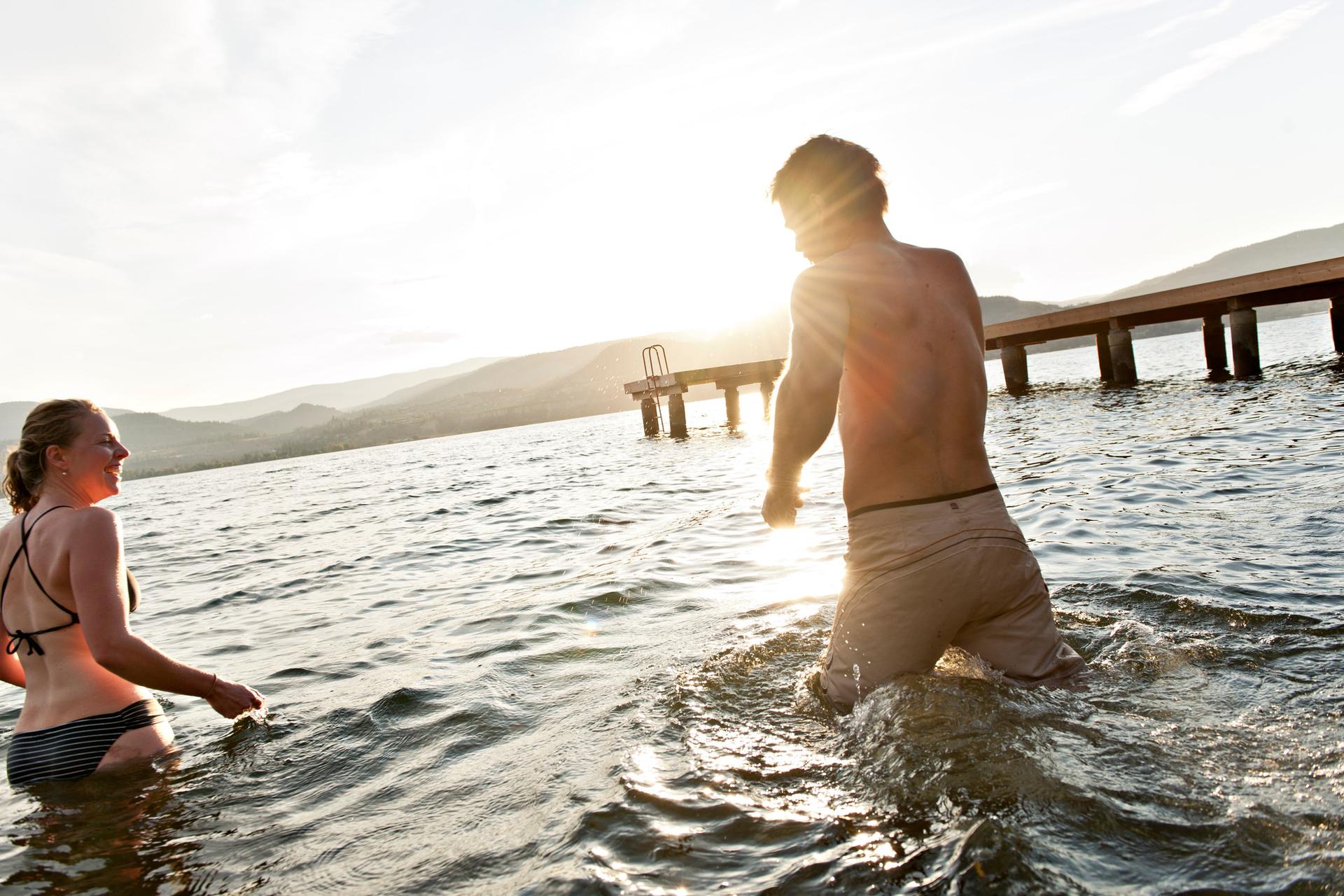 Start with a lake edged with sandy beaches. Add a Wild West landscape of canyons, mountains and Canada's only true desert. Throw in wineries turning out internationally acclaimed (and delicious) reds and whites and you get British Columbia's Okanagan Valley.
Just over four hours from Vancouver by car, this diverse and beautiful valley is home to cities and nature alike. Popular as a summer destination for urbanites escaping the city, there's plenty happening during the warmer months. Here are 10 can't-miss summer activities in the Okanagan, whether your idea of adventure is climbing a mountain or sipping cabernet sauvignon in the sun.
Beat the heat at the beach
The Okanagan is legendary for its dry, hot summers, when temperatures can surpass 95 degrees. Sandy beaches along the area's ancient glacial lakes draw big crowds for swimming and sports or just to soak up the rays. To see and be seen, check out Okanagan Beach in Penticton, a half-mile long stretch of sand favored by locals and visitors alike.  
Indulge in some creative wine touring
The Okanagan is called "Napa North" for a reason: hundreds of wineries offer wine lovers endless options. Creative tours provide ways to work up a sweat between sips: kayak your way from tasting to tasting or cycle to some of the region's best wineries with trained guides.
The historic Kettle Valley Rail Trail -- an early 1900s railway turned into a scenic cycling route -- slices through the Okanagan Valley. A gentle grade and spectacular views make for awesome rides. Don't miss the Myra Canyon section, where you can cycle across 18 soaring wooden rail trestles and through two tunnels. Plus, there are several places in the valley to rent bikes, so there's no need to pack one across the border.
Sleep in the great outdoors
The Okanagan has long been a favorite for family camping, with options to suit hardy outdoorsy types and glampers alike. Rent a deluxe RV and enjoy the plush digs at NK'MIP RV Park by Osoyoos Lake, complete with its own bistro, bar, and marina. Or pack a tent for some old-fashioned car camping at Okanagan Lake Provincial Park, where hundreds of campsites overlook the water.
Get your adrenaline pumping on the water
Okanagan Lake and nearby Osoyoos Lake are liquid playgrounds for water sport  lovers. Options range from traditional water skiing and wakeboarding to heart-pounding parasailing and even wakesurfing, where riders literally surf behind special wake boats -- no tow rope required. Prefer a quieter adventure? Rent a kayak or stand up paddle board.
Hike from glacier-carved peaks to desert
Wildly diverse topography -- from mountains to lakes to desert -- makes for excellent day hiking. Enjoy a pleasant stroll along the one mile desert interpretive trail in Osoyoos, or tackle a more ambitious trek at a four provincial parks in the region. Hardcore types can even learn to rappel down the world-renowned Skaha Bluffs near Penticton.
Take the plunge at an adventure park
Does hurtling through the air at 53 mph sound like your idea of fun? A trio of adventure parks in the Okanagan offer high-speed ziplines and bungee jumping for thrill-seekers. For water lovers, there's the unique Whiplash Cable Wake Park, where a system of pulleys whizzes boarders and water skiers around a course.
Search for sea monsters on a scuba adventure
Okanagan Lake plunges from sandy shallows to a bone-chilling depth of 760 ft, with lots of unique formations and aquatic life for scuba divers to explore. Beginners can poke around the barge at Fintry Provincial Park, a sunken Canadian Pacific Railway barge, while advanced divers can peek into the caves at Squally Point, legendary home of Ogopogo, the Loch Ness Monster of Okanagan Lake.
Worn out from all that adventure? Plop down into a tube for a 4-mile lazy river ride down the Okanagan River Channel. Dug in the 1950s, the slow-flowing channel connects Okanagan Lake to Skaha Lake and is a local favorite in the dog days of summer. Rent a tube or bring your own and wind down with a morning or afternoon float through the heart of Okanagan wine country.
Birders, break out your binoculars
With varied landscapes -- ranging from wetlands to desert -- the Okanagan is home to some 300 different species of birds, making it one of BC's birding hotspots. Guided tours take birders through a network of marshes, pastures, and rivers, where it's possible to spot everything from waterfowl, such as mergansers and loons, to bald eagles and even rare songbirds.

Looking for more fun in the Okanagan? Check out the Hello BC website for inspiration.