A quick guide to Whistler's restaurants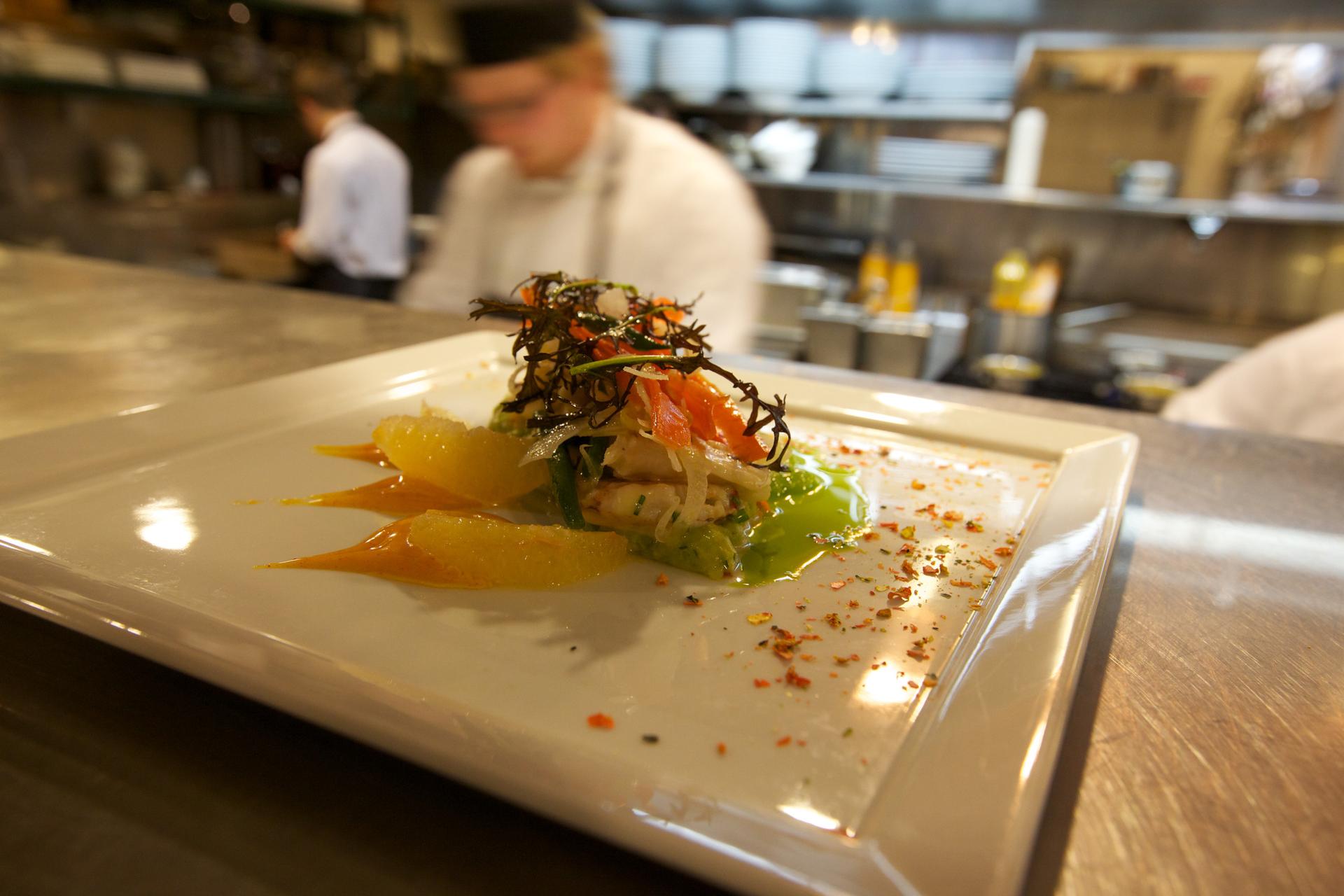 Post-mountain adventure, basically any meal tastes good. But in Whistler you don't have to compromise flavour and quality just because you're hungry. There are so many delicious options in the Village and surrounding areas that it can actually be hard to choose where to go.
Whistler's next level food game is the result of all the fresh local ingredients restaurants have access to, being so close to the Pemberton Valley. Paired with the low-key luxury a mountain community provides, dining out in Whistler is truly an experience. Here are a few places to try.
Pacific Northwest favourites: Wild Wood Pacific Bistro
If you're hungry for a delicious breakfast, Wildwood Pacific Bistro should be your first stop in Whistler. Located in the Crystal Hotel, this spot is a locals' secret (don't worry -- travellers are welcome too!) that serves up amazing meals three times a day, though their twists on classic breakfasts really take the cake. Be sure to try a Caesar (the Canadian version of a Bloody Mary), no matter what time you decide to dine.
Big breakfast: Elements Urban Tapas Parlour
Another breakfast gem that won't leave you hungry, Element Urban Tapas Parlour is known for their stuffed French toast. And no, this isn't your typical French toast -- it's stuffed with brie and ham. Woke up a bit too late? Don't worry, Elements also serves up awesome share plates throughout the day and their service really completes the experience.
Farm-fresh, fine dining: Araxi
Araxi is arguably the best of the best in the Village. Pacific Northwest-inspired, this restaurant is focused on farm-to-table and the freshest food possible. In fact, its excellence in fine food has been acknowledged in the form of being called the best restaurant in Whistler for over 10 years. Once you've had the pleasure of dining at this spot -- whether for a special occasion or just a really good meal -- you can try some of the recipes on your own with their cookbooks.
Spanish small plates, handcrafted cocktails and fresh ingredients are what make up the vibe at Bar Oso. From sandwiches to charcuterie, this low-key spot is focused on top-quality food. Grab a seat the long bar, make friends with locals, and munch on authentic tapas as you watch the bartender whip up a fantastic cocktail -- we recommend the Trophy Wife or Oso Sour.
Sure it's not fine dining, but try wandering through the Village without catching a whiff of the caramelized onions at Zog's. This small kiosk at the base of the mountain is definitely a partiers' favourite. Grab-and-go foods like poutine and hot dogs, are by no means fancy, but they're definitely delicious. Snag a snack after a long day on the hill or chow down after a night of weaving your way through Whistler's nightlife.
Pizza, enough said: Creekbread
What's a restaurant guide without a pizza option? Creekbread is known in Whistler for its delicious woodfired pizzas. With a focus on organic produce and quality foods, it'll be clear after one visit that "housemade" is the mantra around here. Because the food here is so delicious, it can get busy, so call ahead to secure a spot.
Feel good, good for you: Green Moustache
Come for a juice, stay for the famous Buddha Bowl. Green Moustache is an organic, gluten and dairy free spot that is definitely the place to go for nutritious food in Whistler. Owned by a local Whistler family, it calls itself "creative, fun, simple, clean and organic" -- and we couldn't agree more. Their smoothies, salads, and bevy of beverages are definitely worth a visit.
Alta Bistro has established itself as a place that serves delicious food and supports local businesses, farmers, fishermen, and more. With a focus on sustainability and ethical sourcing, Alta Bistro strives to deliver the best seasonal French cuisine that pairs fresh flavours with top-quality craftsmanship. Be sure to indulge in their wine list and relax in the industrial space that's accented by down-to-earth touches.
Dinner and a show: Bearfoot Bistro
If you've heard of Whistler, you've probably heard of Bearfoot Bistro too. Well-known for their Ketel One Ice Room (the coldest bar in the world!) and their champagne sabering, this Village favourite is also home to delicious meals in an upscale setting. If you're keen to experience a culinary journey, you're in luck, especially since Bearfoot offers special events like a 3-course lobster dinner and half-price bar food.