The top 10 things to do in Lunenburg this summer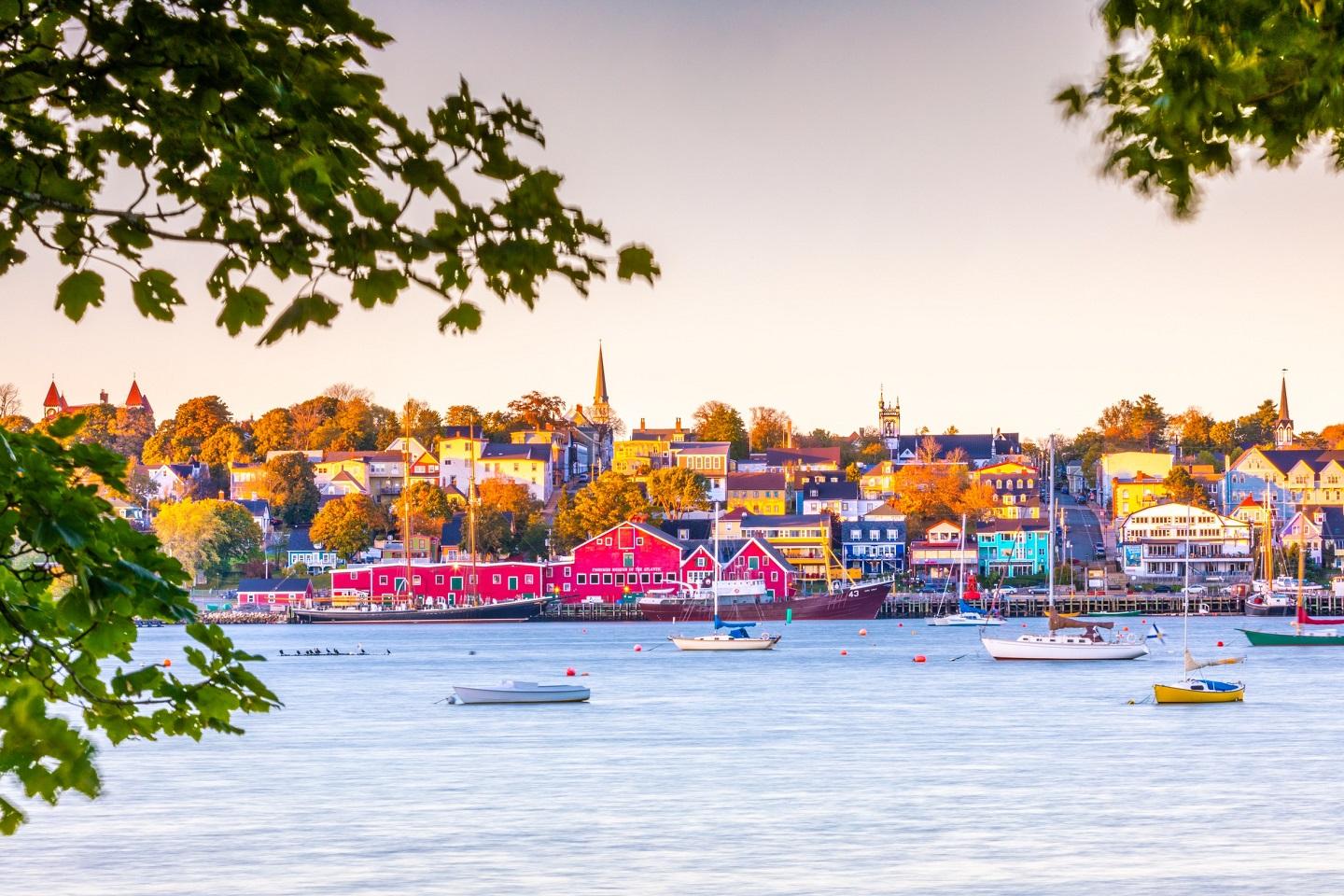 Lunenburg's charming and picture-perfect townscape is world-famous as a UNESCO World Heritage Site, being the homeport of Bluenose II, Nova Scotia's sailing ambassador, and many, many restaurants to chow down on fresh, local seafood. But, after you're done experiencing these Lunenburg essentials, explore the rest of the town and discover these gems nestled amongst the colourful streetscape.
This artisanal distillery, located in an historic building that was once a blacksmith shop (hence, the name Ironworks) is hyper-focused on delivering quality spirits by integrating local ingredients. Their award-winning spirits make the perfect souvenir or a memorable gift from your visit to Lunenburg. Their Pear Eau-de-Vie is an incredible example of creative bottling; the pear grows inside the bottle on the tree all summer making for a stunning visual. No surprise it is extremely popular and sells out quickly. Visit their distillery near the Lunenburg waterfront for a tour and tasting.
Upon walking into this gallery, you may initially be taken aback by the detailed scenes being played out before you. Instantly, you'll see that each piece of art on display has been inspired by nature and life by the sea. But... get a little closer and you'll see these works aren't painted canvases but quilts! The artistry and detail in each quilt is truly captivating and will leave you wondering how she created each piece. You don't need to be a quilter to appreciate the talent required to compose and construct each of these works of art. Try your hand at art quilting at one of Laurie's workshops where she lets you in on her techniques.
If you need that extra jolt of energy to help you kick start your day in Lunenburg, visit Laughing Whale Caf? for your caffeine fix. Here you'll find a small batch roastery with a passion for sustainability and a nice, hot cuppa. Grab your coffee to go or relax for a moment with a sweet treat. Like what you're tasting? Pick up a bag of beans to enjoy once you return home.    
Perched atop the town as if to keep a watchful eye, the Lunenburg Academy is a National Historic Site that was once a school but today is home to LAMP, among other enterprises. The black, white, and brick red fa?ade can't be missed when exploring the town and is the meeting point for the start of the popular Lunenburg Walking Tours. Visitors will enjoy LAMP's incredible concert series with performances ranging from opera to jazz and everything in between.
You may be too busy to enjoy it as you explore all of Nova Scotia's attractions, but take the time to visit Fiore Botanica and pick up a few items to help you relax and unwind once you return home. Products are blended in small batches with something for all members of the family. From baby to pets, face to body, beard to bath, you can integrate a little Nova Scotia into your self-care routine (plus they smell really nice).
Offering Authentic and Haunted Lunenburg tours, or a customized tour of your choice, this is the best way to delve a little deeper into the town's storied past. Touching on the town's history, architecture, and culture, the tour is a great way to jumpstart your visit to Lunenburg and can provide insight and context to the rest of your stay. Not only are the tours interesting and educational, but they are a fun way to explore the town with an experienced local guide.
If you need that sweet fix to get you through the afternoon (or even start the day, we can be honest), make a stop in to Kate's for a freshly baked muffin or scone, honey pecan cinnamon bun (what?), maple glazed blueberry biscuit (yes!), plain or chocolate oat cake (yum!), or a variety of other coffee cakes and sweet breads. Kate is also serving up other favourite Nova Scotian caf? fare like a variety of breakfast and sandwich offerings, haddock chowder, fish cakes, and more.
If you'd prefer to explore the Lunenburg area by bike, stop by Rhumb Line Bicycle Shop for rentals (half, full and multi-day rentals available) or contact ahead to book a guided tour of the area by bike. Their knowledgeable staff will make sure you are outfitted properly and can share their take on some of the local sights.
If you're looking for the perfect spot to relax and refuel after a day of exploring Lunenburg, check out the Salt Shaker Deli which has been featured on The Food Network's "You Gotta Eat Here." Enjoy their fresh, from scratch menu which includes, you guessed it, fishcakes, lobster rolls, and their award-wining smoked seafood chowder. Soups, salads, gourmet pizzas, pad thai, pastas, and more are deliciously popular menu items.
Alright, you've been exploring and walking and eating and drinking and it's time to call it a day. A stay at the Water Sprite Bed & Breakfast is the perfect way to end your busy day exploring Lunenburg. With incredible harbour views from your private balcony, outstanding service and well-appointed guest rooms, enjoy an evening of rest and relaxation before continuing on with your exploration of Nova Scotia!
Located about eight kilometres from Lunenburg, the community of Blue Rocks is a picturesque fishing village that will delight artists, photographers, cyclists, and kayakers alike. Enjoy a guided, easy paddle on calm waters around the area in a sea kayak with Pleasant Paddling. Explore the surrounding islands, learn about the flora and fauna of the area, take a break on a secluded beach, and be entertained by the seals who call these waters home.