Where to find the real Newfoundland and Labrador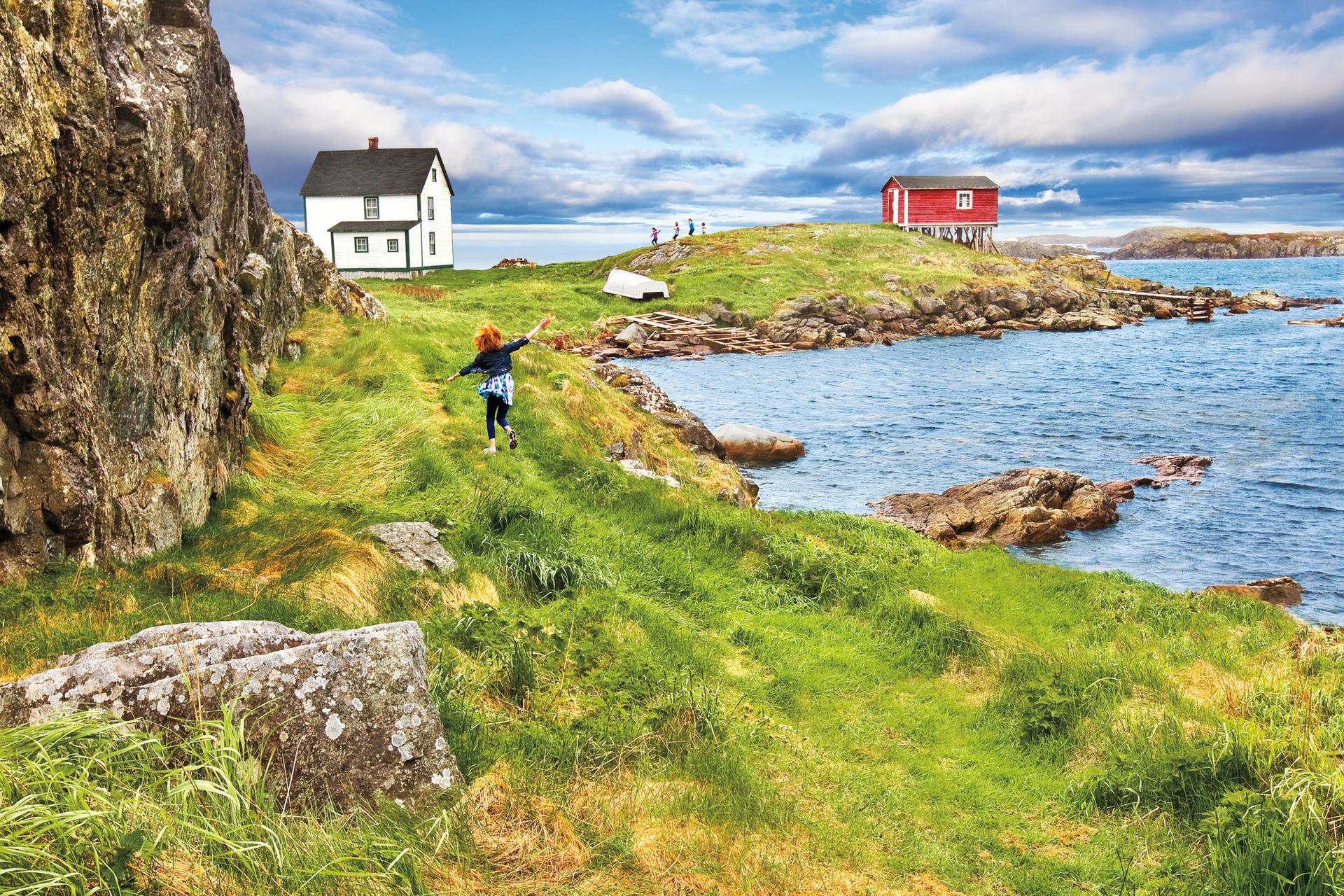 Newfoundland and Labrador has soul. A place shaped by the Atlantic Ocean, by tradition, and by hardship, it's also a land of sweeping natural beauty, rugged cliffs, jewel-colored saltbox houses, and remote, tight-knit fishing communities. Newfoundlanders themselves are resilient, ever optimistic, and always ready for a good laugh and lively party -- with fiddling and dancing, of course. With their lilting accents, you'll find these to be some of the most generous hosts and big-hearted folks you'll ever meet.
It's a place that moves you, and one that you won't likely forget any time soon. Here's how to experience the real Newfoundland and Labrador.
Rent a house in a far-flung community
Here's an authentic Newfoundland moment: sitting on the deck of a 100-year-old historic house on the Bonavista Peninsula, taking in the salty sea breeze that sways the tall grass and pink clover, and sipping a tumbler of local Screech on the rocks -- the rocks being 10,000-year-old iceberg rocks the host left in the ice box. CapeRace Adventures can arrange for you to stay in a small-town private home, places like Heart's Delight and the Avalon Peninsula. You get the keys, the dates, and directions (there are often no addresses), and the rest is up to you. The best part? A neighbor stops by to connect you with anything you fancy -- a boat ride with a seasoned fisherman, a community feast, wild strawberry picking... who knows where it might lead.
A great way to meet the locals is a community cellar supper, and "come-from-aways" or CFAs (that means travellers like you) are always welcome. Ask around to find out where the next one is happening or check the local newspaper. A cellar supper usually includes a downhome "Jiggs Dinner" of root vegetables, cabbage, and salt beef, or perhaps cod tongues. These generally take place in community centers and church halls and you can expect simple, but hearty and tasty fare. Be sure to pick up some bakeapple or partridge berry preserves as a souvenir if anyone's selling homespun goods. Try a little local lingo, too; as in, "How ya gettin' on?"
In maritime Newfoundland, it's all about the sea. If the time is right in summer, watch the "capelin rolling" spectacle on the beach. Gather up a bucket of the spawning smelt-like fish and roast 'em over a campfire for dinner. Or hire a guide to take you out squid jiggin' (catching squid), boating, or angling, and see first-hand how it's done.
A "scuff" is a dance at someone's house or barn, and a "kitchen party" is an impromptu house party with live music. It's true, St. John's has some of the most raucous nightlife and best musical entertainment around, based in and around George Street. But a gathering of friends in someone's kitchen, usually with fiddles, accordions, mandolins, foot-stomping and heart-wrenching Celtic and folk music, jigs and reels, and a makeshift "ugly stick" to keep the beat... well, that takes the cake. Everyone plays, so prepare to pick up a spoon and get tapping. After the party's over, head to DUSK Ultralounge for a night cap to end the evening on an even higher note.
You'll think you've landed in Ireland when you see the emerald cliffs of the Avalon Peninsula's Cape St. Mary's, a cacophony of squawking, swirling gannets, murres, and dive-bombing puffins. It doesn't really matter where, just get outside. Wander through wild irises and black spruce draped in Old Man's Beard on the mist-shrouded Skerwink Trail near Trinity. Eventually you'll reach the cliffs, revealing towering, obelisk-shaped Ice Age rock "stacks" jutting up out of the ocean. Not surprisingly, Travel + Leisure named this a top 35 North America/Europe walk.
Other not-to-miss favorites: the Tolkien-esque Torngat Mountains and grand-scale Gros Morne National Park. But even heading up to Signal Hill National Historic Site in St. John's, North America's oldest city, to see the historic battle site, the spot of the first transatlantic wireless signal, and the ships glide in and out of port, is an adventure.
Look out for spouting whales, turquoise-tinged icebergs, and "bergy bits" while on a lighthouse picnic up on a grassy knoll somewhere. Ferryland puts all these icons together for you in superb, everything-from-scratch style on a luncheon to remember. You'll set up next to an 1870 hilltop lighthouse with a plaid blanket, fresh-squeezed lemonade in Mason jars, chutney-glazed ham, Brie, thin-sliced Granny Smith apples on homemade molasses bread, greens with edible flowers, and peach shortcake. It really is magical.
Once you've visited "the Rock" -- unfiltered and unpretentious -- you'll likely be back. And there'll be plenty more to see and do. See you at the kitchen party!