Exploring Calgary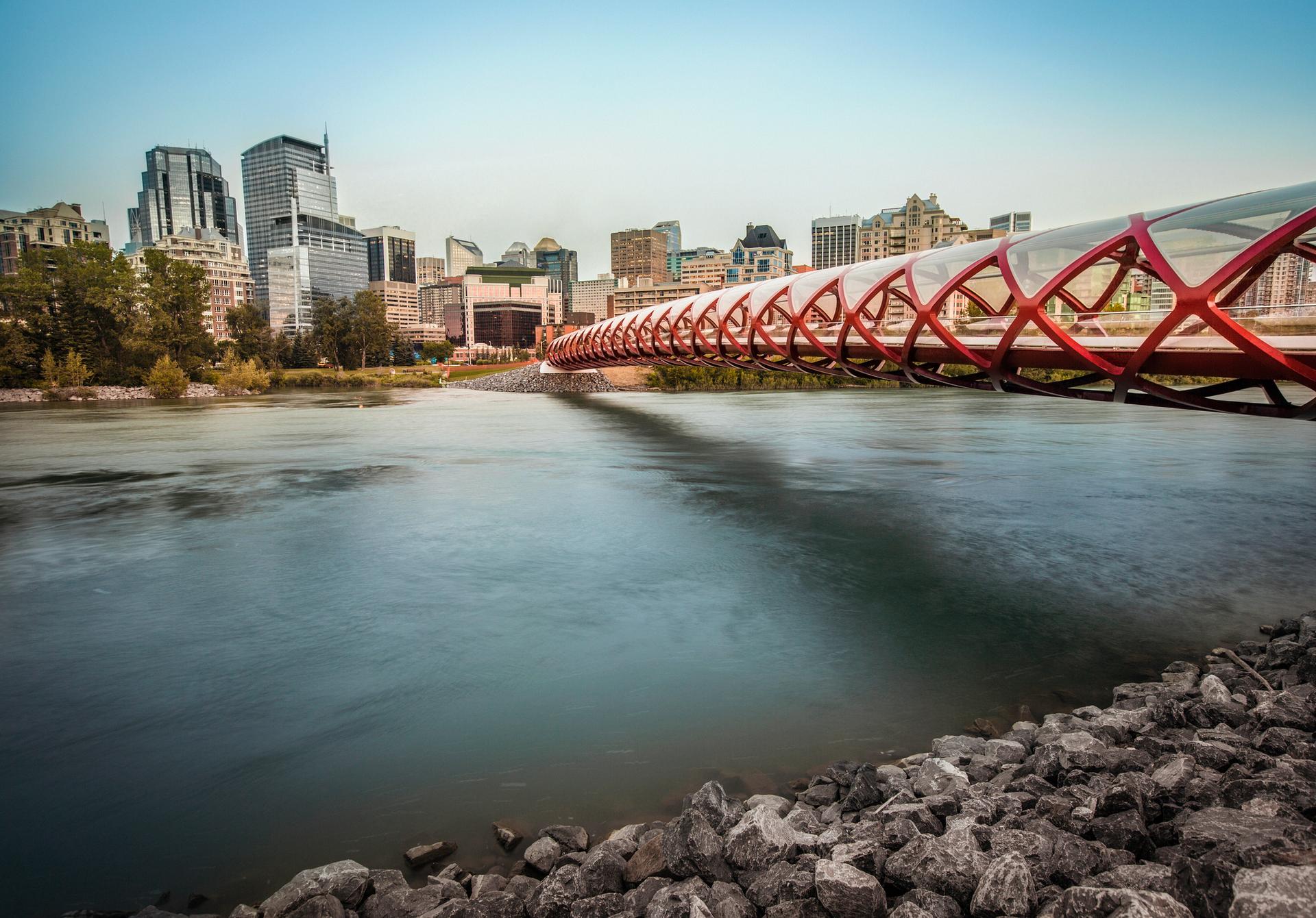 With unique attractions and a lively arts and cultural scene, Calgary is bustling with activity every season of the year. 
WinSport
Attractions and events
From the "Greatest Outdoor Show on Earth" to grizzly bears and yes, even dinosaurs, Calgary is bound to please.
If you've ever watched the Olympics and thought to yourself, "I want to try that!" come to Calgary and give it a whirl. Canada Olympic Park on the western edge of Calgary was the epicentre of events during the 1988 Winter Olympic Games. Today it's part of WinSport, where Olympic hopefuls continue to train in state-of-the-art facilities and visitors can live out their own Olympic dreams. Grab a seat in the back of a bobsled and ride the course that made the Jamaican bobsled team famous, and be sure to ride the Skyline Luge that parallels the Olympic track, twisting and turning for 1800m and dropping over 100m by the time you get to the bottom. While you're here, ride the fastest and longest single zipline in North America from the top of a ski jump, and spend some time at Canada's Sports Hall of Fame with its 12 galleries and over 50 hands-on exhibits. Winsport is open year-round so come back and ski this winter.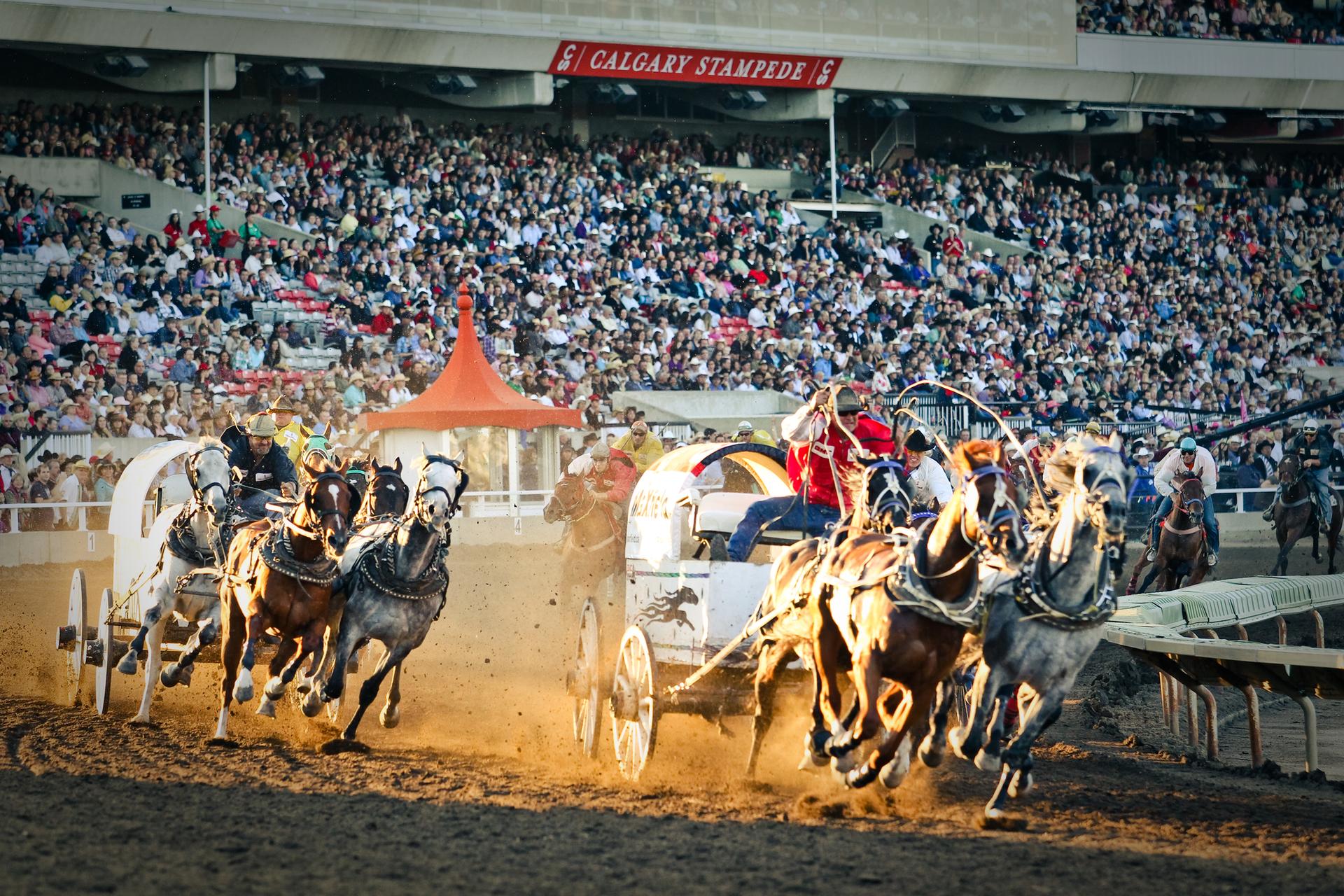 The Calgary Stampede
Cowboys take centre stage as the stars of the annual Calgary Stampede. Cheer on your favourite athletes--animal and human--in the barrel racing, bull riding, bareback and saddle bronco competitions and at the chuckwagon races. The whole city celebrates its western heritage for ten days every July. Country music, cultural exhibits, cowboy food, and fashion can all be found on the Stampede Grounds and throughout the city.
Speaking of western heritage, no visit would be complete without a trip back in time at Heritage Park Historical Village. Canada's largest living history museum has more than 180 interactive exhibits spread throughout 127 acres of land. Hop on board a steam train dating back to the 1880s and tour the park, take a boat ride on a paddlewheeler and enjoy all the fun of the fair with an old fashioned Ferris wheel ride, and snack on delicious home-made pastries and sweets.
If you love music you're in for a treat, the Calgary Folk Music Festival, Calgary International Blues Festival, and the Opera in the Village pull in crowds from around the world. A must-see for music fans is Studio Bell's National Music Centre, devoted to all things musical, including performances, recording, technology, and the promotion of musical education. Check out over 2,000 musical artifacts and 22,000 square feet of exhibitions that tell the story of music in Canada.
If you're after something different, Beakerhead is an annual celebration where engineering and art make a happy mix. The streets of Calgary become a giant laboratory in which you might see engineers using technology to create art, home-built scientific contraptions, and many one-of-a-kind events. Sled Island pulls in a huge crowd, with the help of five days of music, film, visual arts, and comedy at 35 different venues around the city. And there's something for everyone at GlobalFest, a yearly multicultural festival and international fireworks competition. Come on, who doesn't like fireworks?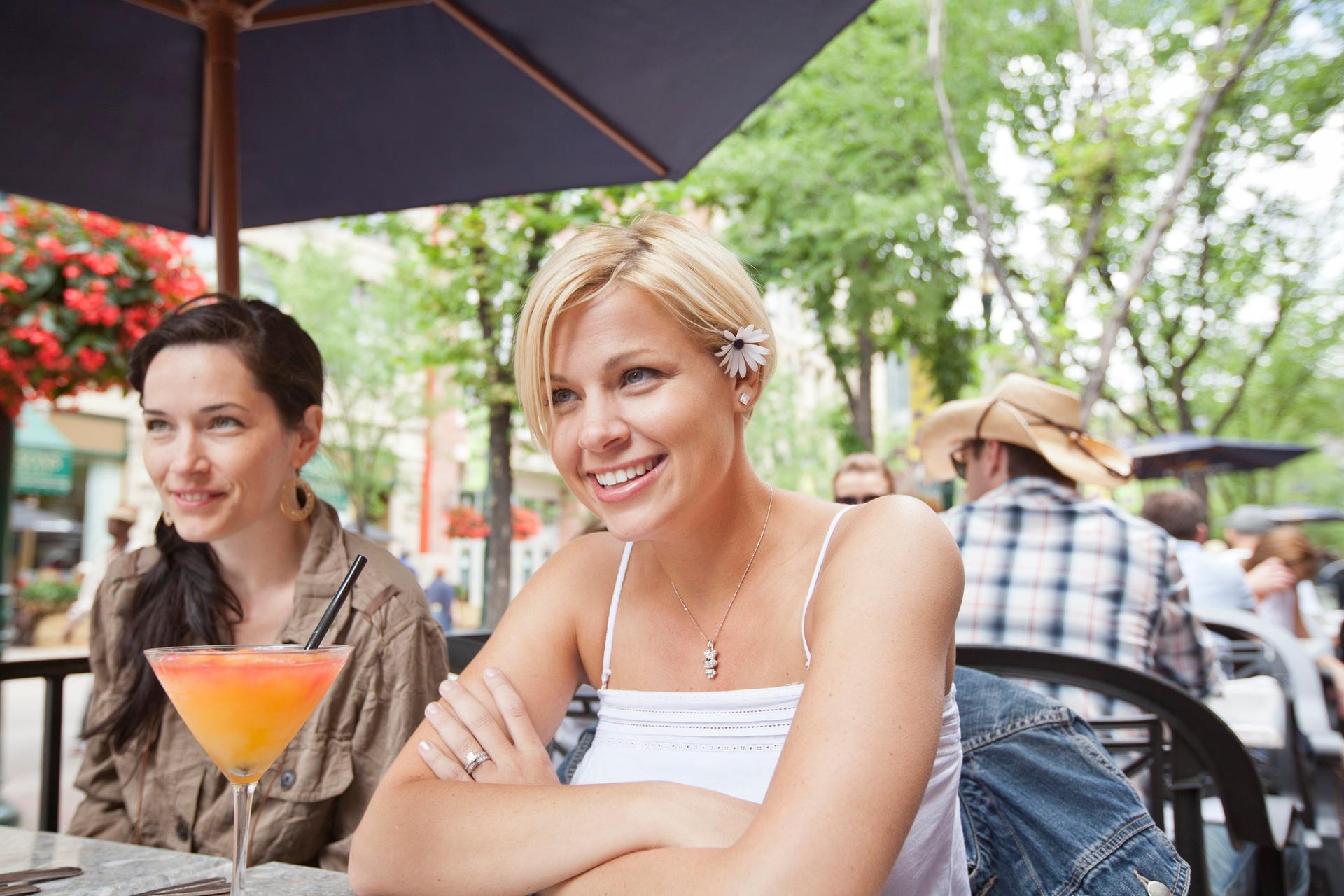 Calgary isn't short on places to grab food and drinks
How to spend a day in Calgary
With so many options it's easy to be spoiled for choice, so maybe just go with the flow and spend a day seeing what makes Calgarians so proud of the city they call home.
Start your day downtown with a walk along the Bow River pathway system. Cross the river into pedestrian-friendly Kensington Village and slurp on a raw food smoothie or tuck into a more traditional sit-down breakfast; there are more than 40 restaurants and coffee shops to choose from. Then let the shopping begin! After you've explored Kensington, add stops at the CORE shopping centre on Stephen Avenue, and the trendy boutiques along 17th Avenue to your list.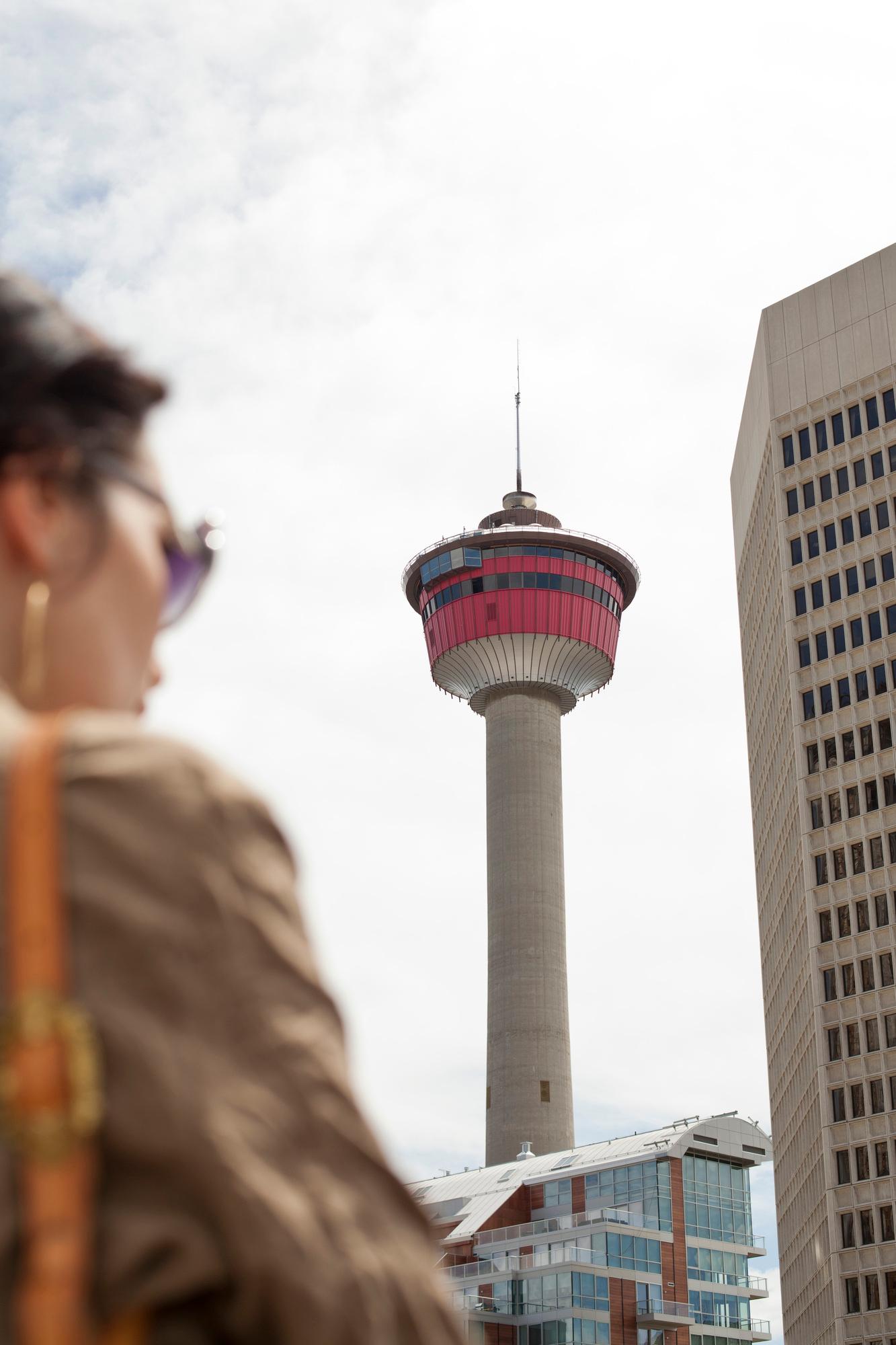 Calgary Tower
Hit the heights for lunch in the rotating restaurant at the top of the Calgary Tower, 1228m above sea level. Afterwards take the self-guided multi-media tour of the 360-degree observation deck and venture out onto a glass walkway, 190m above the downtown core.
Next stop is the nearby Glenbow Museum, home to the largest art collection in Western Canada and a great place to learn about its history. For more on the history of Calgary, visit Fort Calgary just 10 minutes away, established by the North West Mounted Police in 1875.
After a stroll around St. Patrick's Island, a grassy green escape on the Bow River, it's time to get dinner. There are plenty of delicious choices in nearby Inglewood, Calgary's oldest neighborhood, or along historic Stephen Avenue Walk downtown.
Are you ready for a night on the town? Try a slice of culture downtown at Arts Commons, where you can enjoy live theatre at a number of venues or watch the symphony at the Jack Singer Concert Hall. Afterward, head back to 17th Avenue or the Kensington area to soak up the fun at its bars, pubs, and clubs.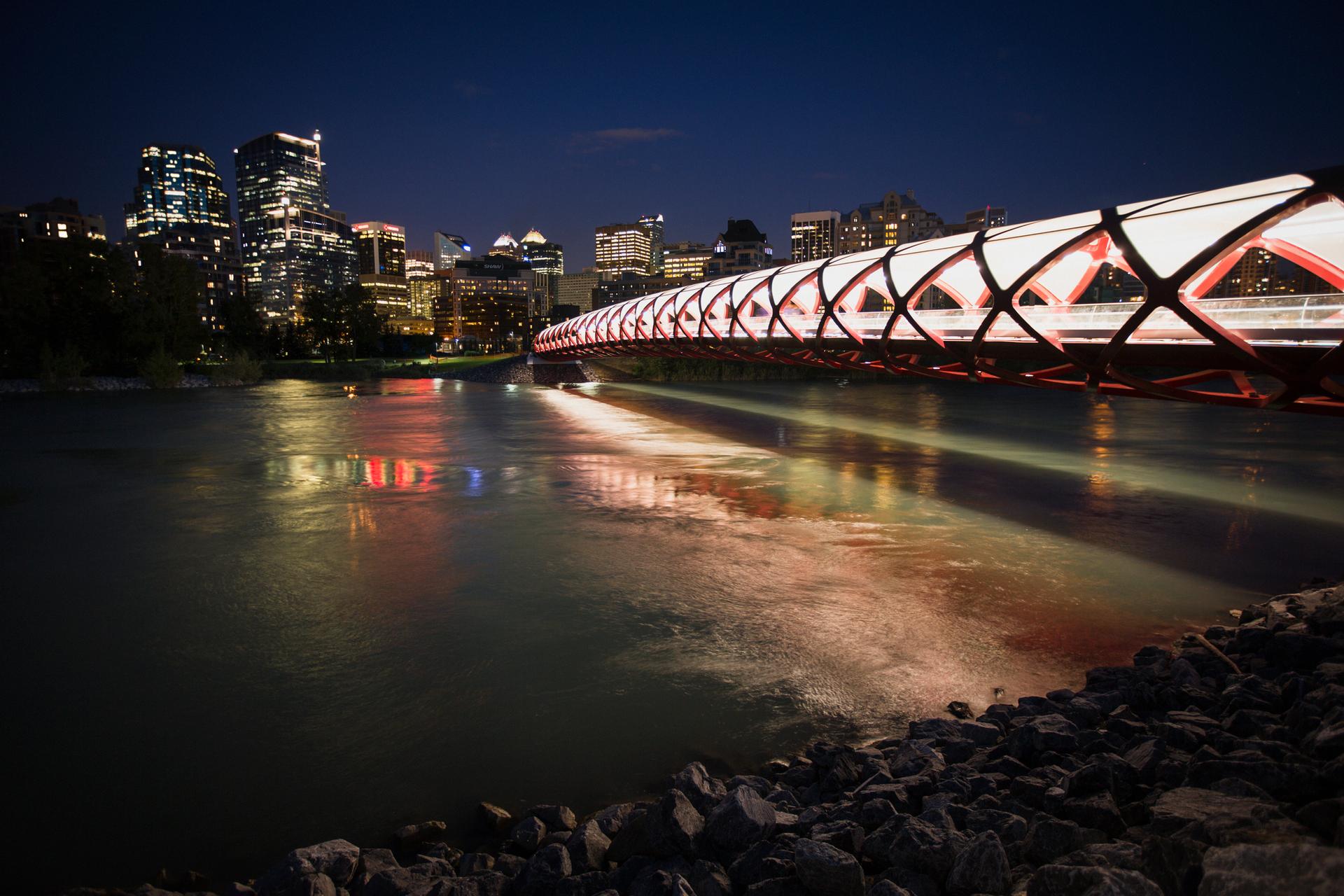 Peace Bridge - Credit: Travel Albert/Sabrina Hill
Getting tired? Snap your next Facebook cover photo in front of the beautifully illuminated Peace Bridge, and then you can call it a night.