The top fall destinations across Canada
Fall has countless charms — crisp air, leaves that transform into rich hues, and cozy evenings spent around the warmth of a bonfire. From coast to coast to coast, there are endless ways to embrace this magical season across Canada's diverse destinations. Not sure where to start? We've rounded up some of the best experiences as the temperatures begin to dip.
Western Canada
Stanley Park, Vancouver, British Columbia
With dramatic landscapes, pleasant year-round temperatures and cosmopolitan cities nestled in the wilderness, Western Canada draws scores of travellers. But come autumn, it's especially delightful.
British Columbia
Arguably one of the best ways to experience fall is at Stanley Park, a 1,000+ acre park in the heart of Vancouver. Either rent a bike or meander around the 10-kilometre seawall for jaw-dropping views of sandy beaches and the glistening sun on the Pacific Ocean. Or walk through one of the many forest trails within the park (with half a million trees, you'll have plenty of opportunities to marvel at the vibrant autumn hues). After you've worked up an appetite, head over to the iconic Sylvia Hotel to admire its exterior that's covered in red foliage -- before sitting down for a gourmet meal of Pacific halibut, prawn linguine and more.
For another top attraction, visit Queen Elizabeth Park. Covering 130 acres, it boasts breathtaking gardens, pitch and putt golf, the Bloedel Conservatory with 120 tropical birds and 500 exotic plants, fine dining and more. It's also the highest point in Vancouver at 125 meters above sea level, so be sure to have your camera ready to capture unparalleled views of the city.
Interested in attending a festival during your visit? There are plenty that embrace the season. Stroll through the pathways to see dozens of sunflower varieties at the Sunflower Festival in Chilliwack, about an hour and a half drive from Vancouver. Or head to the Fort Langley Cranberry Festival. Held on the Saturday before Thanksgiving, it celebrates the history and harvest of the cranberry in the area.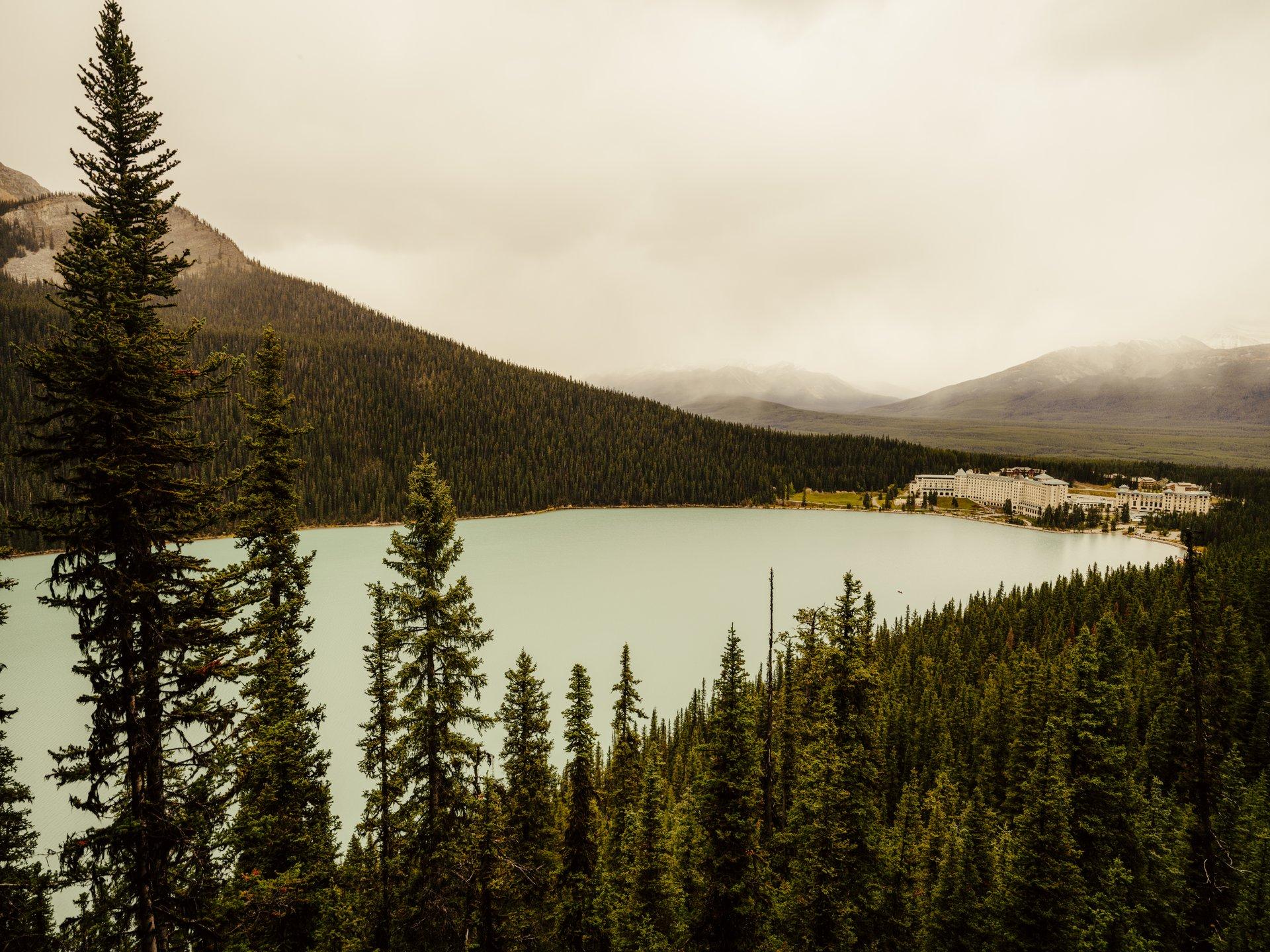 Lake Louise, Alberta
Alberta
Want to make the most of fall foliage in Canada's Rockies? Take a hike -- a larch hike, that is. Each September, the larch tree's verdant needles turn a deep shade of gold before dropping to the ground, making for some extraordinary views along the trails. A couple of the most popular spots to see them include the Larch Valley and Sentinel Pass hike near Lake Louise and Healy Pass near Banff. You can't go wrong with a stay at the Fairmont Chateau Lake Louise, either. The fairy-tale like property is nestled within soaring snow-capped mountains and overlooks a vivid turquoise lake.
The fall also offers exceptional dark sky viewing in Alberta. Time your trip with the Jasper Dark Sky Festival, which takes place at the world's largest accessible dark sky preserve each October. Featuring famous speakers, fun activities and unbelievable skyscapes, the annual festival attracts visitors from around the world.
Prairies
Nuit Blanche, Winnipeg, Manitoba | Photo Credit Travel Manitoba
With sprawling grasslands, winding rivers and an abundance of local produce, Canada's Prairies lure travellers every autumn.
Manitoba
If you're after lively festivals, Manitoba is the place to be in the fall. Head to Nuit Blanche, a free, one-night festival held in downtown Winnipeg each September that celebrates contemporary art. There's also the Harvest Moon Festival in Clearwater, which celebrates the harvest season and local food -- and boasts an incredible line-up of performers.
Saskatchewan
Looking to usher in the season with a serene hike? Saskatchewan has an array of trails. Head out to one of the four trails in the Beaver Creek Conservation Area, about 15-minutes from Saskatoon, which takes you through everything from dense forests to open prairies. Or, hike the Pelly Point Nature Trail in Duck Mountain Provincial Park, an hour-long trail that offers the chance to see the blazing reds of Manitoba maples. 
Central Canada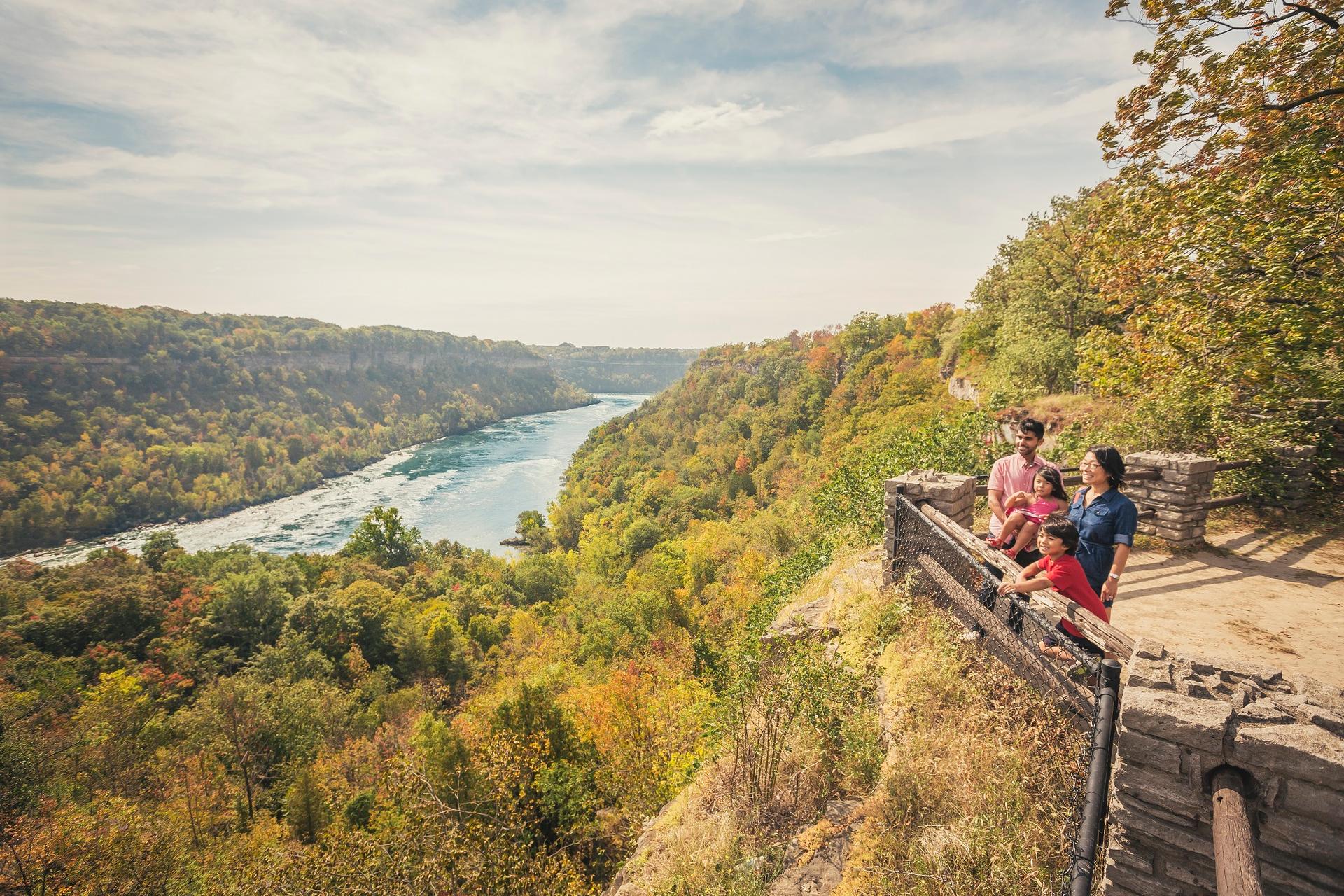 Niargara Falls, Ontario | Photo credit: Destination Ontario
Many people tend to associate fall with Central Canada -- and for good reason. The provinces of Ontario and Quebec boast some of the country's best fall foliage.
Ontario
Head to the charming town of Niagara-on-the-Lake -- about an hour and a half drive from Toronto -- to see the changing leaves in all their glory. Either rent a bike or drive along the Niagara River Parkway, called the prettiest Sunday drive in the world by Sir Winston Churchill. Then, spend some time admiring the quaint shops and restaurants along historic Queen Street. Finish your day with wine tasting and a multi-course meal at one of the award-winning wineries in the region, like Peller Estates Winery.  
Another iconic way to take in the beauty of fall is the Agawa Canyon Train Tour. The one-day excursion sets off in Sault Ste. Marie in northeastern Ontario, taking travellers on a 367-kilometre journey along pristine lakeshores, through granite rock formations and next to forests awash in brilliant tapestry of colours. Late September through early October is the best time to go.
Fall is also the perfect time to enjoy the bounty of the season. If you're in Ontario, be sure to add in a trip to a local farm for apple picking. Dixie Orchards in Caledon is a great option, offering a selection of 23 different varieties of apples.
Qu?bec
Qu?bec's Laurentian Mountains are one of the most iconic places in Canada to experience fall. Located an hour's drive from Montreal, the landscape is defined by mountains, rolling hills and shimmering lakes and rivers and dense forests. Thrill seekers have no shortage of options to revel in its beauty. Take a helicopter ride, hop on a panoramic gondola, zipline through the forests, or soak in the views with a hike through one of its many trails. The colours are most vibrant at the end of September. Bonus tip: you can track the changing colours with the Quebec government's fall foliage map. 
Atlantic Canada
Meat Cove, Nova Scotia | Photo Credit: Tourism Nova Scotia & Tom Cochrane
Known for picturesque seaside towns, fresh seafood and endless beaches, Atlantic Canada always inspires visitors, especially in the fall.
Nova Scotia
Take advantage of the cooler temperatures to go on a rejuvenating hike. Nova Scotia has a wealth of them that offer unmatched views of autumn shades. There's the Cabot Trail, a 300-kilometre loop that weaves through Cape Breton Highlands National Park. Or Meat Cove Mountain, one of Nova Scotia's steepest hikes that offers breathtaking views. Whichever one you choose, have your camera ready to capture the vivid shades of fiery reds, gold and orange.
Consider timing your visit with one of the season's many fall festivals, like the International Celtic Colours Festival in Sydney that runs for a week in October. Celebrating local music and culture, over 250 musicians and performers entertain at venues across the island. Another option is the Halifax Oyster Festival, a two-day festival that's held each September featuring live music, shucking competitions and delicious food.
New Brunswick
One of the best ways to enjoy the beauty of fall in New Brunswick is on the Fundy Coastal Drive, which spans 460 kilometres from Sackville to St. Stephen. You'll want to include a stop at Hopewell Rocks, which is home to the highest tides in the world. Keep your eyes peeled, as fall is also prime whale watching season.
New Brunswick is also hosts an annual food and wine festival in October, called Indulge, which showcases food from some of the province's top chefs in a picturesque seaside setting.
Prince Edward Island
Prince Edward Island is dubbed Canada's food island, so if you're looking to enjoy the fall harvest, this is the place to be. Make your way through the many charming restaurants, or head to a festival. The PEI Fall Flavours Culinary Festival shines a light on the best ingredients and dishes of the season, while the PEI International Shellfish Festival has earned a reputation as the biggest kitchen party in Atlantic Canada.
PEI is also home to the Confederation Trail, which runs from tip to tip of the province. Explore it by foot, or rent a bike to discover its small towns, incredible views and charming restaurants.
Canada's North
Dempster Highway, Yukon
Yukon, Northwest Territories and Nunavut
Looking for an ultra-remote fall trip? Visit Canada's North to witness the tundra transform into the brightest tints imaginable. With numerous trails, it's the perfect time of year to enjoy a hike -- like the 14.5 kilometre Auriol Trail at the Kluane National Park in the Yukon.
For another option, take the 740-kilometre Dempster Highway from the Yukon to the Northwest Territories to see some of the most dramatic landscapes on the planet. There are also ample opportunities for wildlife viewing, from eagles to grizzly bears and caribou.
As the nights get longer, it marks the start of the northern lights season in Canada's North. Time your trip so that you're one of the first to see the extraordinary light show set the sky ablaze in mesmerizing ribbons of colour.
A visit to Canada in the fall leaves guests feeling more rejuvenated and inspired than ever. From invigorating outdoor adventures to meals that celebrate the season's bounty, there are myriad ways to revel in the beauty of the season.