A quick guide to the Great Bear Rainforest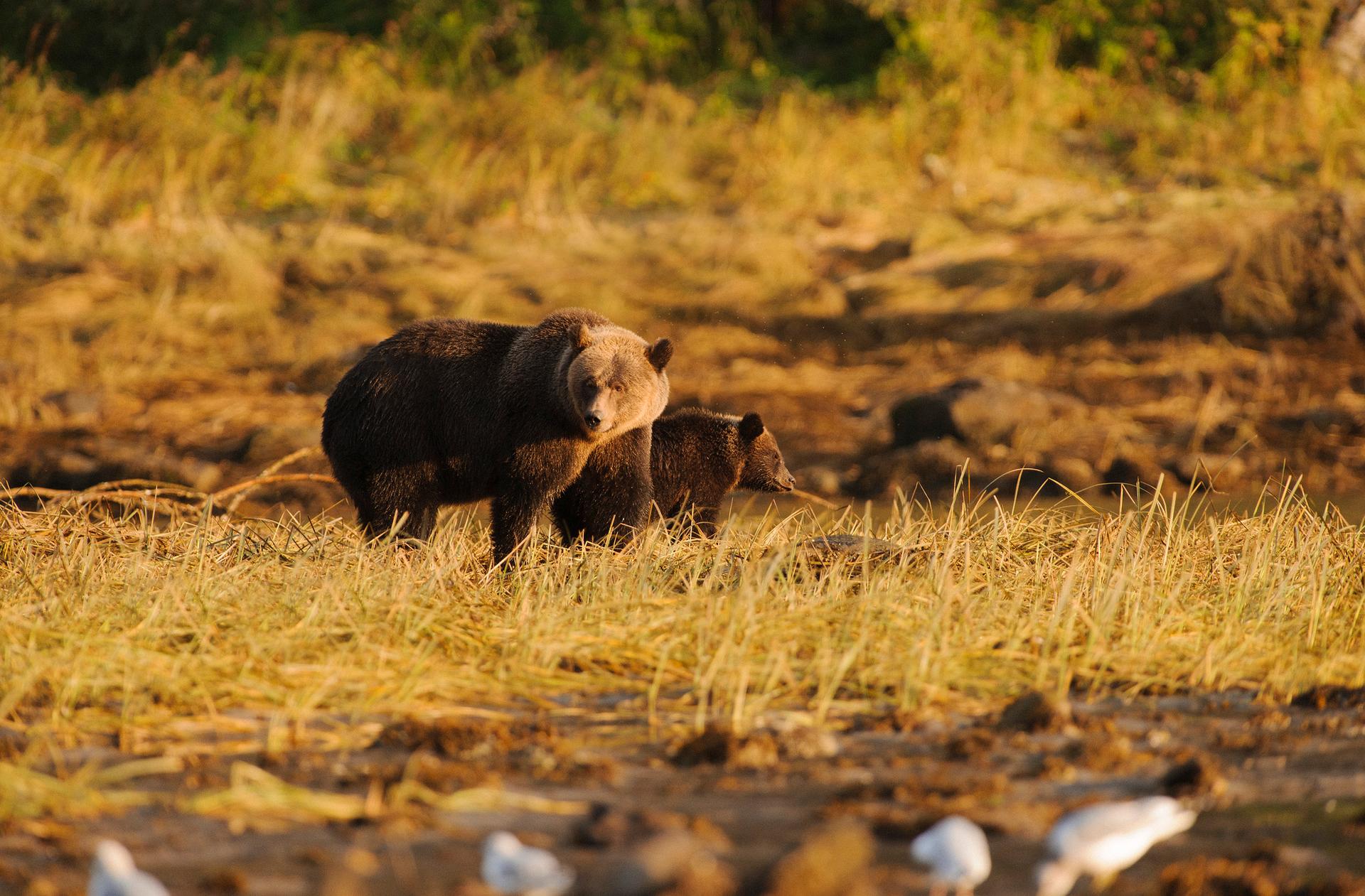 The largest tract of unspoiled temperate rainforest on earth sits on the north east coast of British Columbia, and it's just waiting for you to explore it.
The Great Bear Rainforest is a magnificent natural wonder. It's a diverse ecosystem, home to three species of bears and countless other land and marine animals. It's also a place of cultural significance for local First Nations peoples and has been for thousands of years.
This is one of the rare places in the world that has gone largely unchanged through time, and you don't need to be a serious explorer to experience it. Small communities throughout the region offer both affordable and luxurious accommodations, so you can take a day tour through untouched wilds, and be back in time for a five-star meal.

It sounds clich?, but it's impossible to really understand just how special the Great Bear Rainforest is until you visit it yourself. Here's a quick guide that might just entice you to make that trip a reality.
Quick facts
There are western redcedar trees in the Great Bear Rainforest that are more than 1,000 years old. You'll be amazed at their size as you stand beside one.

The Kermode (Spirit) bear, a subspecies of black bear with a white coat and British Columbia's provincial mammal, is found almost exclusively in the Great Bear Rainforest. There are likely fewer than 400 of these rare bears in existence.

National Geographic named the Great Bear Rainforest one of its "Best Trips" in 2013.

The massive rainforest is roughly 32,000 square kilometres and 21 million acres
5 must-visits
To be honest, the Great Bear Rainforest doesn't necessarily have "attractions." It's more about experiencing the place, exploring and taking it all in. Here are a few great places to start.
Tweedsmuir Provincial Park - South
Located close to the community of Bella Coola, often called "the Gateway to the Great Bear Rainforest," Tweedsmuir Provincial Park - South is one of the biggest parks in British Columbia. It's 989,000 hectares provide more picturesque scenery than you could possibly explore, though it's definitely worth a shot! Float down the Antarko River in a drift boat to fish and photograph wildlife. Canoe the Turner Lake Chain, or fish, hike, and horseback ride your days away -- keeping an eye out for bears, of course. And when it comes time to rest your head, you can of course pitch a tent, or you can book a stay at the Tweedsmuir Park Lodge. What started in 1929 as a hunting lodge is now a fantastic home base for wildlife viewing tours and experiencing local Nuxalk First Nations culture, including wonderful petroglyph gardens.
Klemtu
Klemtu is a small community (with a population of under 500) located right in the heart of the Great Bear Rainforest. Though small in size, the community has a big story to tell: that of the local Kitasoo and Xai'xais First Nations. Visit significant Aboriginal sites, including a traditional Big House (a community meeting place), and uncover the Kitasoo and Xai'xais culture that has flourished in the area for thousands of years. Local guides will also take you on boat tours in search of the Kermode "spirit bear," while sharing the generations-old First Nations mythology about this rare animal. And make sure to stay in the Spirit Bear Lodge on the Klemtu waterfront. Here, you can enjoy local cuisine, authentic Tsimshian artwork, and panoramic ocean views.
Broughton Archipelago Provincial Park
The largest marine park in British Columbia, Broughton Archipelago Provincial Park is more than 11,000 hectares of undeveloped islands -- a paradise you can only explore by water. Naturally, a visit to the park usually consists of either boating or kayaking amongst these deserted islands, and keeping an eye out for hidden beaches as well as cultural symbols left by generations of First Nations peoples. While the islands are relatively uninhabited, the waterways are teeming with life. You might find yourself paddling alongside orcas, harbour seals, sea lions and otters. Or maybe you'd rather drop in a line a try to hook a powerful salmon. While visiting the area, stay in nearby Port McNeill, a small town close to the archipelago, and a great home base for hiking, whale watching, sea kayaking, fishing, and more. A stay at the town's Nimmo Bay Resort is an experience all its own.
The Khutzeymateen/K'tzim-a-deen Grizzly Sanctuary
The Khutzeymateen/K'tzim-a-deen Grizzly Sanctuary was established as the first area in Canada to be protected specifically for grizzly bears, and is one of the best places in the world to see these magnificent animals in their natural habitat. Between May and September, you're almost guaranteed to see grizzlies roaming the shoreline on a boat tour of the area. In order to protect the animals, travel in the sanctuary is limited to regulated tour providers only. You can connect with one in the nearby town of Prince Rupert.
Inside Passage Coastal Adventure Cruise
Though not technically a place to visit, the cruise from BC Ferries offers a unique travel experience through the Great Bear Rainforest. The Inside Passage Coastal Adventure cruise is an eight-night journey from Vancouver all the way to Prince Rupert and back, passing alongside the bulk of the Great Bear Rainforest as you travel. Spot wildlife from the boat and keep an eye out for remote First Nations villages tucked into multiple bays along the route. Passengers also spend two days in Prince Rupert, giving you the opportunity to go fishing, kayaking, whale or grizzly watching, and generally experience some of the culture of the Tsimshian-speaking First Nations people that inhabit the region. If a week on a boat isn't your cup of tea, BC Ferries offers shorter Inside Passage trips from Vancouver Island, with a stop in Bella Bella, and connecting ferries to other Great Bear Rainforest communities like Bella Coola and Klemtu.  
How to spend a weekend in the Great Bear Rainforest
Almost every trip to the Great Bear Rainforest is (rightfully) focused on wildlife viewing. There are just an astonishing amount of opportunities to see animals in their natural habitats within this area, so you should probably plan to spend most of your time on wildlife tours.
If you're visiting the Great Bear Rainforest, you're going to want to see the Kermode "spirit bear" that is nearly exclusive to the region. Connect with Kitasoo/Xai'xais First Nations guides from the appropriately-named Spirit Bear Lodge, and head into their traditional territory to seek out the elusive, creamy-white bear. Take a luxury cruise into their habitat, and keep your eye out for the Kermode from the deck of a yacht or a sailboat.
There are, of course, a number of other bear viewing opportunities. Photograph 300-kg-plus grizzly bears feeding on salmon as you float quietly along the Artnako River near Bella Coola in a stable drift boat. Sit in a hidden viewing blind above a river, close enough to wild grizzlies to hear them splash through the rushing waters near Port Hardy. Stay at the Knight Inlet Lodge, a secluded floating eco-lodge on the Great Bear Rainforest's biggest fjord, and head out onto the water to watch Grizzlies catch their meals during the salmon run. Or, connect with guides in Prince Rupert for a trip into the Khutzeymateen/K'tzim-a-deen Grizzly Sanctuary.
And though the bears are the star of the show, there are a multitude of other animals in this untouched landscape. The waters of the Johnstone Strait and the Broughton Archipelago are teeming with whales and other sea animals, like seals and otters. Then there's the incredible salmon runs, during which thousands of fish can be observed swimming upstream. Aside from feeding the bears, the salmon also attract eagles, which are just one of countless birds species that make the rainforest a birdwatcher's playground.

If there's one thing aside from wildlife viewing you need to do on a trip to the Great Bear Rainforest, it's experiencing some of the incredible First Nations culture present in these communities. Set aside some time to explore the community you're staying in, and connect with the traditions and history of its Aboriginal peoples.
Spend some time in a traditional Big House in Klemtu. This traditional community gathering place will give you an opportunity to experience some Kitasoo and Xai'xais culture. In Tweedsmuir Provincial Park, see ancient petroglyphs left by the Nuxalk First Nations. Or, in Prince Rupert, the Museum of Northern British Columbia is home to artifacts reflecting the 10,000-year-long First Nations settlement of the area. Set in a Northwest Coast traditional longhouse overlooking the harbour, the museum has earned international acclaim for the quality of its collection of art and ceremonial objects.
And why not mix a little bit of wildlife viewing and culture? Join a small-group tour led by a ceremonial potlatch leader from the Musgamakw Dzawada'enuxw nation on a 10 to 12-hour boat excursion that blends Aboriginal culture and wildlife encounters. In addition to cruising the shoreline of the Great Bear Rainforest with plenty of opportunities to see wildlife, you'll view the oldest Big House in Canada -- Gwayasdams -- perched impressively on Gilford Island since 1887, and hear to stories that date back thousands of years to an ancient potlatch language.
If somehow, between all the wildlife and cultural experiences, you still have some time on your visit to the Great Bear Rainforest, there are a ton of outdoor adventures to enjoy, including boating, fishing, kayaking, canoeing, hiking, and even heli-hiking.
How to get here
Where to go next:
Prince Rupert, on the edge of the Great Bear Rainforest, is about a 7h ferry ride from the remote community of Haida Gwaii. That may seem long, but you'll probably never have a better opportunity to reach that incredible community. Aside from that, you'll probably be accessing the rainforest via either Victoria or Vancouver, so extend your stay and spend a little more time in these wonderful cities.

The Great Bear Rainforest is a truly incomparable nature experience. Start planning this bucket list adventure on the Hello BC website.