Outdoor adventure in the heart of Ottawa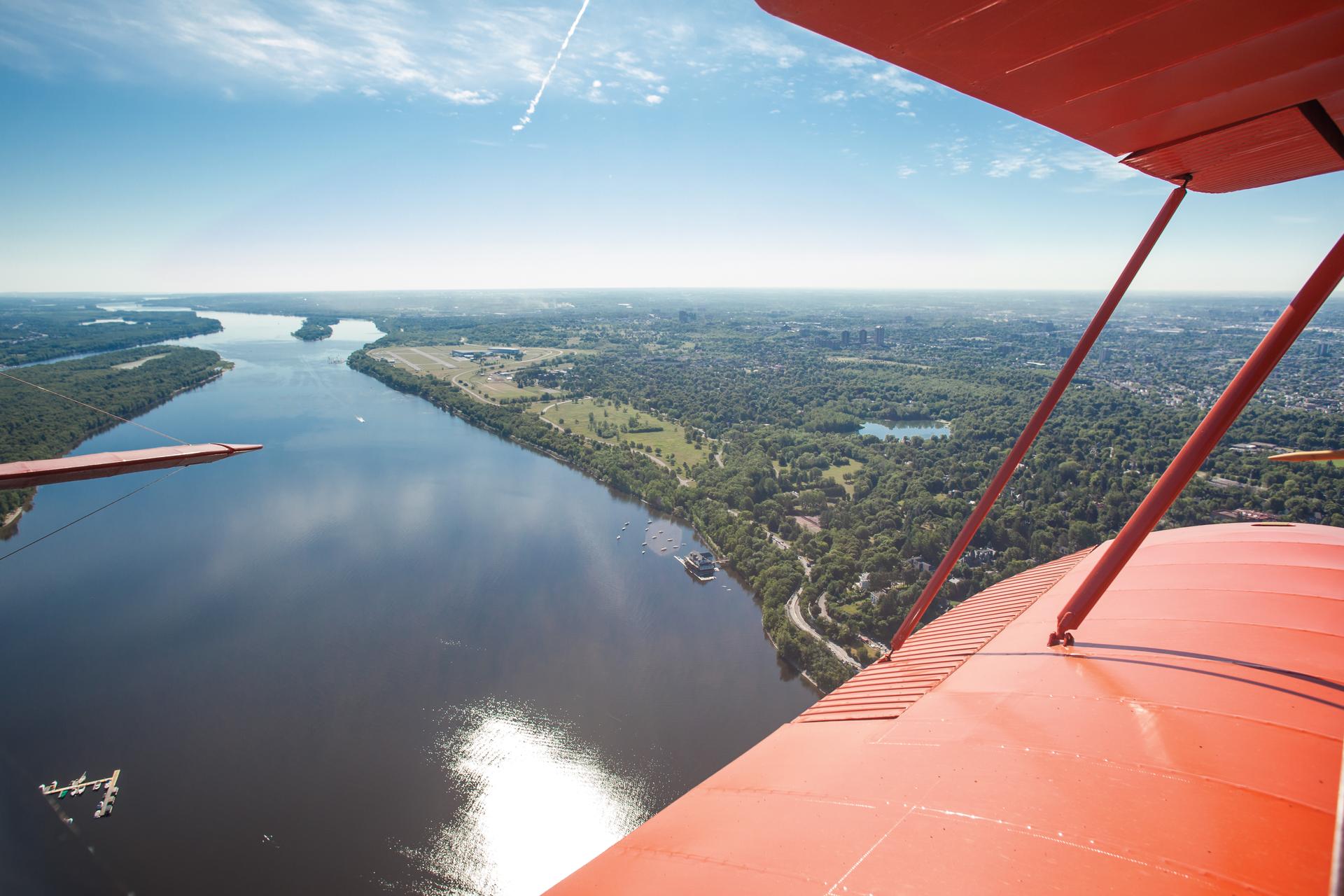 Ottawa is a city, yes, but it's a city with a strong connection to the outdoors. Not only is it surrounded by incredible nature, it's also full of green spaces that are a perfect setting for your next outdoor adventure.
If your idea of a great vacation is spending as little time indoors as possible, here's what Ottawa has to offer.
Cycling the Ottawa River - Credit: Ottawa Tourism
Cycling
If you live your life happily peddling your bike, you're going to love Ottawa--so much so that we thought cycling deserved its own section in this post. Over 150 kilometres of paths allow riders to avoid traffic and take in some of the most beautiful parts of the city. For visitors, you might want to start with the sightseeing cycling route: a seven-kilometre path which brings you along the Rideau Canal to several major museums and landmarks. Also, every Sunday from late May to early September, 50 kilometres of scenic roads are closed to drivers and opened up to cyclists during NOKIA Sunday Bikedays, creating the ideal environment for exploration on two wheels.
Mountain bikers will also find a home in Gatineau Park, about a 15-minute ride from downtown. In the warmer months, 90 kilometres of shared cycling and hiking trails provide plenty of challenges to riders. The park is also home to Camp Fortune, an extreme mountain biking facility where experienced riders can enjoy a pump track and more difficult runs.
Since travelling with a bike can be a challenge, sign up for a cycling tour and let the pros kit you out, and guide you through the city. Ottawa Cycling Tours offers a variety of tours of variable lengths. You could explore the city for a few hours or take on the 150-kilometre Merrickville Tour; it's really up to you. Escape Bicycle Tours is another great option, with tours ranging between 15 and 50 kilometres in distance.
Or, you can venture out on your own (this is an adventure guide, after all). Visit RentABike to--you guessed it--rent a bike and embark on a self-guided cycling route to get out there and see the city.
A hike in Gatineau Park - Credit: Ottawa Tourism
On land
Though Ottawa is a major city, you can still feel like you're in the country from your seat on the back of a horse. The Horse Country Campground offers trail riding programmes for beginner and advanced riders, while Wesley Clover Parks is a great option for riding lessons or just enjoying equestrian events as a spectator.
Several local hiking trails will also make you feel like you've left the city behind. The previously-mentioned Gatineau Park has over 160 kilometres of hiking trails. The Pink Lake trail, which circumnavigates a beautiful turquoise lake, and the King Mountain trail, with its 10 look out points providing views of the Ottawa region, are among the most popular.
Then there's Ottawa's Greenbelt, 20,000 hectares of green space encircling the city. Here you'll find over 140 kilometres of hikeable trails, bringing you through forests, around bogs, and up mountains.
It's said that Ottawa has more golf courses within easy driving distance of downtown than just about anywhere else in Canada. If you like to hit the greens, Ottawa Tourism has a helpful map of more than 30 courses located in and around the city. Highlights include Stonebridge Golf Club's 180-acre championship course and the beautifully designed The Marches Golf Club.
Or, for a real adventure, leave the ground for the sky. Visit the Great Canadian Bungee, and drop 60 metres over a lagoon or head up in a plane to cross skydiving off your To Do list.
Ottawa River Rafting - Credit: OWL Rafting
On the water
When it comes to water adventure in Ottawa, it's all about rafting the whitewater. You can whitewater raft or kayak right in the city, or head northwest of the nation's capital to the Ottawa Valley, known as the Whitewater Capital of Canada. The Ottawa River, once crossed by First Nations and fur traders, is now home to pure thrills.
Choose one of the local rafting companies--OWL Rafting on the Ottawa River, RiverRun Rafting & Wilderness Resort, and Wilderness Tours are a great place to start. With experienced guides at the helm, safely splash and roll through one of the world's great whitewater routes. The difficulty and force of the river varies, so you don't need to be an experienced paddler to enjoy being on the water. Just hop in the boat and enjoy yourself.
In the summer months you can also still enjoy the Rideau Canal, taking a boat cruise or a voyageur canoe trip on the waters where people were ice skating only a few months prior.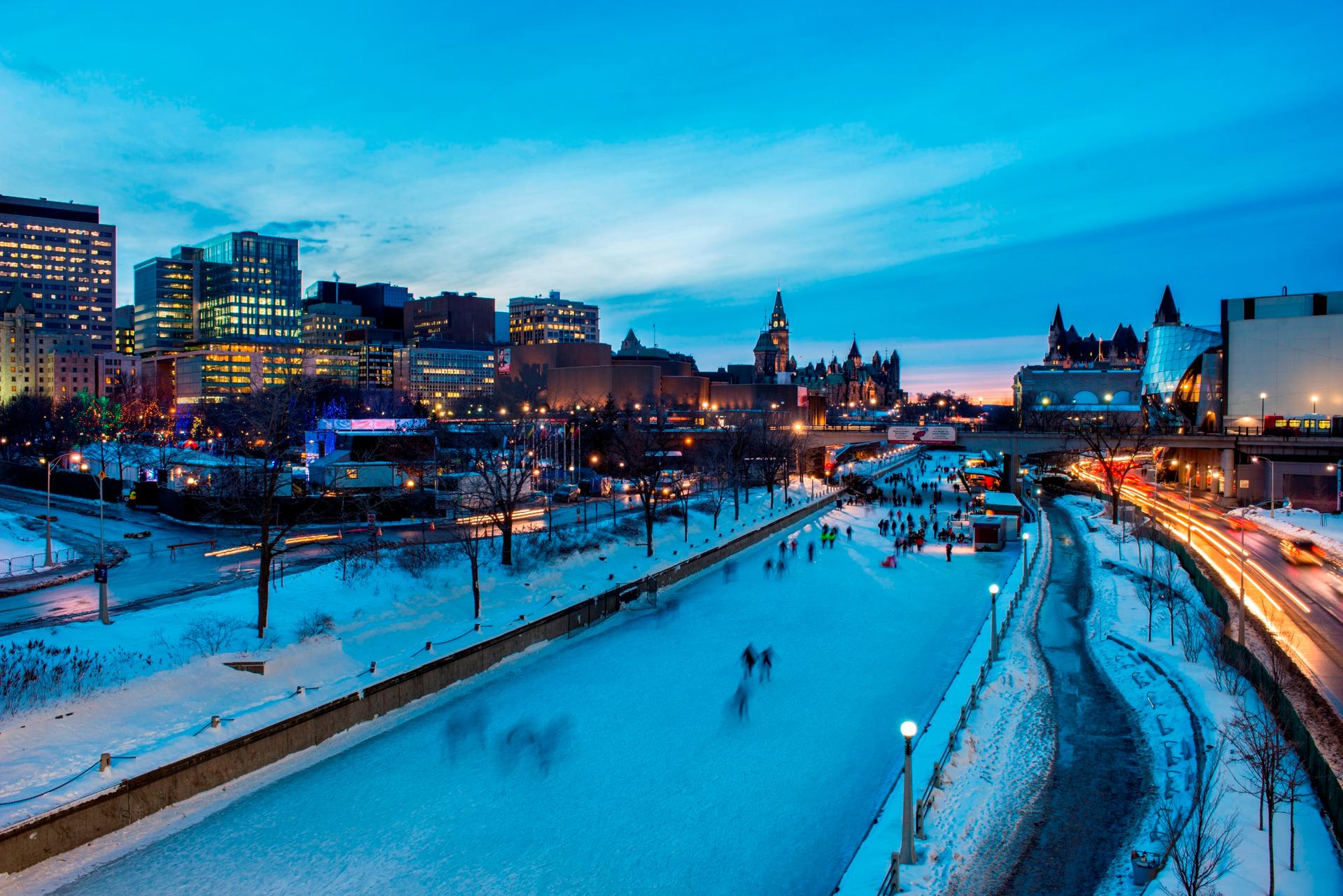 Rideau Canal Skateway - Credit: Ottawa Tourism
Winter fun
Winter in Ottawa is all about the Rideau Canal. The canal is the world's largest naturally frozen skating rink, stretching an impressive 7.5 kilometres long. Ice skate along the frozen canal, gliding your way through downtown Ottawa.
Cross-country ski trails for all skill levels are also accessible around Ottawa. Gatineau Park is one of the area's most popular skiing destinations, with 50 cross-country trails crisscrossing 200 kilometres of park land. Mooney's Bay Ski Centre, just outside of the city centre, is another option for cross-country fans. If you're more of a downhill skier, several mountains can be conquered less than an hour from Ottawa, many just over the provincial border in Quebec.
When the snow falls, those hiking trails at Gatineau Park turn into trails for snowshoeing, a favorite activity of outdoors-y Canadians. And for a different type of outdoor adventure, the park also has cabins, yurts, and four-season tents for winter camping. Dress warm and stay cosy!
For more on outdoor adventures in Ottawa, visit the Ottawa Tourism website.
For more on outdoor adventures in Ottawa, visit the Ottawa Tourism website.