Niagara: from wonders to wineries
Believe it or not, Niagara is much more than just the falls.
In addition to its incomparable natural wonder, the Niagara region is home to tasty modern cuisine and award-winning vineyards; it's home to world-class entertainment and casinos; and it's home to outdoor and historical experiences.
Whether you've never visited Niagara or have seen the falls before, there's always something new to explore. We've put together a quick guide to help inspire your next trip to Niagara.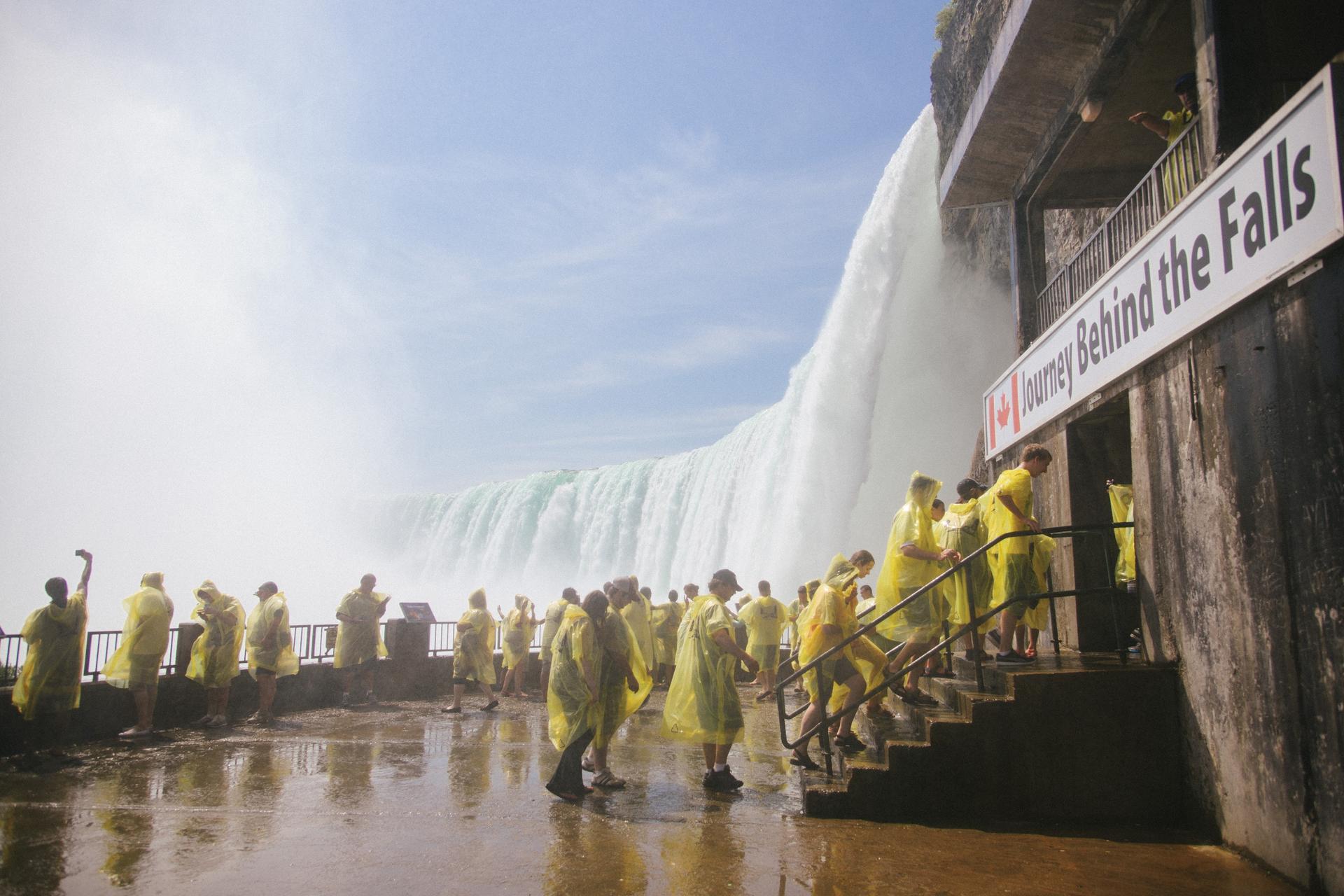 The Journey Behind the Falls
Niagara Falls
While there is more to the region than the falls, a trip to Niagara still wouldn't be complete without visiting them. And why wouldn't you? The roar of the water as you approach it, the mist you feel on your face as you look up 50m at a true natural wonder, and the sheer power of the falls that you can feel to your bones... you'll never get tired of that!
When it comes to experiencing Niagara Falls, there are plenty of options to choose from.
For a classic way to view the falls from below, take a boat cruise for an up-close and soggy view. Don your mist poncho, climb up to the observation deck of a Hornblower Catamaran, and take in that view as you tour the Great Gorge, American Falls, Bridal Veil Falls, and Horseshoe Falls. Wait until night time, and watch the falls light up in colour, on a special "Illumination Night Cruise."
Take an exhilarating ride on the new MistRider Zipline to the Falls.  Be one of the first to experience this new attraction! It's an amazing rush to soar high and fast toward the breathtaking natural Niagara Falls phenomenon. On four parallel ziplines, travelling 670 metres through the wide river gorge, guests get picture-perfect views of the American and Canadian Horseshoe Falls - an exclusive Niagara experience! This guided, gravity powered Element is an incredible, unforgettable flight.
If you enjoyed the view from the front of the falls, why not head behind them? On your Journey Behind the Falls, step into an elevator and descend 45m through bedrock to your destination below the rim of the gorge, right into the heart of Niagara Falls. A quick walk through a tunnel and you'll be standing behind a wall of water free-falling more than 13 storeys- it's a view like no other.
After seeing it from the front and the back, what's left? How about from above? You won't find a more exciting way to experience Niagara Falls than from the cockpit of a helicopter. Take off in a Niagara Helicopter and fly as close as possible to the thundering water on your personal tour. You'll definitely want to bring your camera to this one.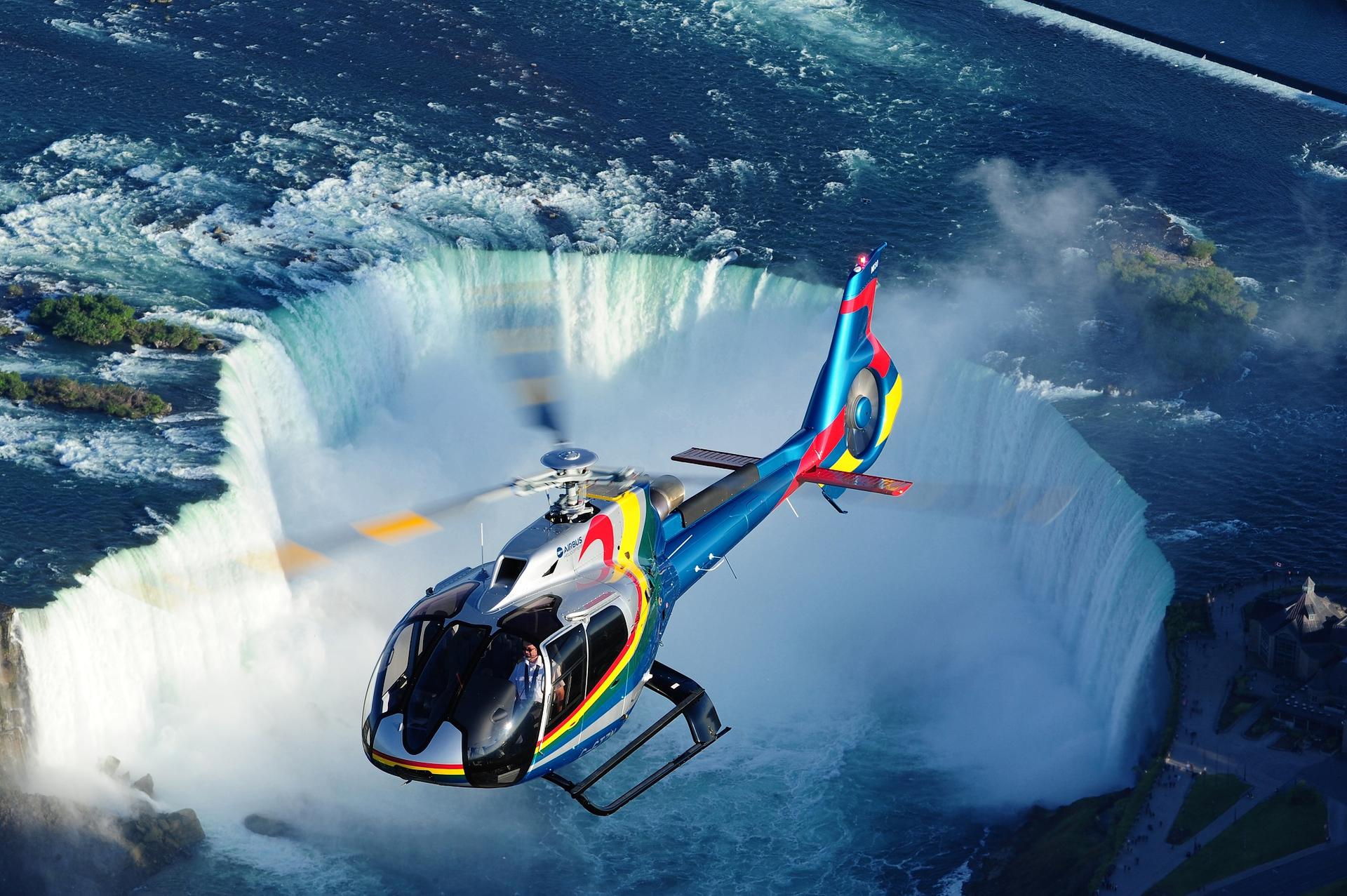 Niagara Helicopters Credit: Mike Reyno
If a great view of Niagara Falls is your ultimate goal, the remarkable Skylon Tower allows you to take in the scenery from almost 240 metres above the action. Choose from the indoor and outdoor observation spaces or two separate dining rooms which all provide a fantastic look at the natural wonder and beyond, with views stretching for 128 kilometres.
Playing outside
Beyond the falls, the Niagara region is full of great reasons to get outdoors.
If you love to get out on the links, the area is home to Canada's largest collection of golf courses. There are 48 courses to choose from, so you're guaranteed to find one that you love.
For a relaxing outdoor experience, head to the South Coast region of Niagara and top up your tan on one of the eight beautiful, sandy beaches of Lake Erie. Water lovers might also pay Port Colborne a visit. Named the World Fishing Network's Ultimate Fishing Town in 2013, it's a great place to hook trout, salmon, walleye, and perch, or just relax with a line in the water.
Want to get your heart rate up? Hundreds of miles of cycling trails can be found in Niagara, from winding roads to challenging hills and everything in between. Take an easy cycle along the Welland Canals Parkway Trail, passing vineyards as you ride the Niagara River Recreation Trail, or take on sections of the lengthy Greater Niagara Circle Route -- a popular destination for keen cyclists.
From biking we turn to hiking. The Niagara Escarpment -- a UNESCO World Biosphere Reserve -- is a fan-favourite for hiking and nature walks. Head out on the Bruce Trail, Canada's oldest and longest footpath, to immerse yourself in nature at your own pace.
While it isn't necessarily a hike, the White Water Walk is an incredible way to experience one of the world's wildest stretches of whitewater. Walk along a boardwalk to take in the incredible Whirlpool Rapids swirling below, where the fast-moving water creates standing waves.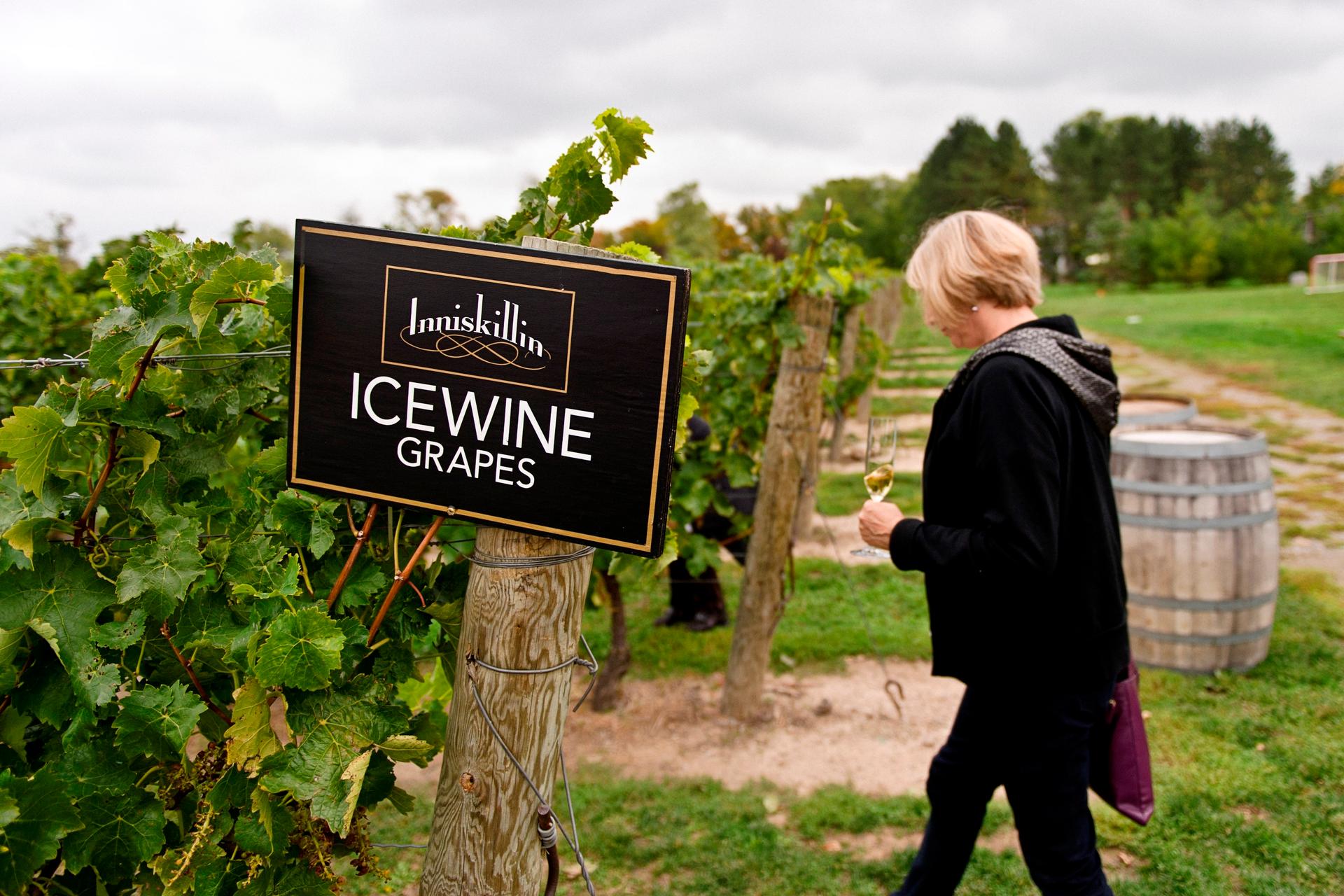 Inniskillin's Ice Wines can't be beat
Wining and dining Niagara
Do you like to visit wine cellars, sample vintages and discover the perfect pairings? A wine-lover's paradise, over 80 vineyards call the Niagara region home. Of those, nearly 30 can be found in the Niagara-on-the-Lake area -- named TripAdvisor's #1 food and wine destination in Canada. The area also invites your to celebrate icewine, a quintessentially Canadian drink. Give it a try, enjoy it paired with the local cuisine, and learn how it's made.
Speaking of local cuisine, Niagara is full of great eats sourced from local ingredients. Whether you're walking through town in search of a quick bite, celebrating at an upscale restaurant, or just want a bite to pair with your wine, you won't have trouble finding somewhere to fit your tastes.
As mentioned, Niagara-on-the-Lake has a reputation for fine food. Drop by the Riverbed Inn for country cooking with views of local vineyards, have your pick of steak and seafood at the Cannery Restaurant, or try out the menu at the Epicurean's dinner bistro.
Hungry after a day spent around the falls? For a meal with a view, score a seat almost on top of Horseshoe Falls at Table Rock House Restaurant. Directly across from the natural wonder, indulge your senses with a meal at the Rainbow Room. Or head to Massimo's Italian Fallsview Restaurant, where Italian cuisine can be enjoyed with a 13th floor view of the falls.
Want fine dining at a great price? Head to Benchmark, where students of the Niagara College's Canadian Food & Wine Institute hone their skills. Or, slip on an apron and learn to cook your own fantastic meal at the Wine Country Cooking School.
Niagara-on-the-Lake Farmers' Market
Finally, if you're planning a picnic, head to one of the many farmers' markets scattered throughout the region for the best in local produce, baking and ingredients.
Never a dull moment
Now that you're well fed, what kind of entertainment are you in the mood for?
Passionate about performing arts? Head to the Shaw Festival, a production company that creates a steady stream of musicals, dramas, and comedies you won't want to miss. For an all-season mixture of theatre, dance, music, and comedy head to St. Catharines' First Ontario Performing Arts Centre. Or for a bit of a lighter entertainment experience, take in a comedy show at Yuk Yuk's Comedy Club, or dinner theatre at Oh Canada Eh?, a frothy musical focused on Canadian icons and stereotypes.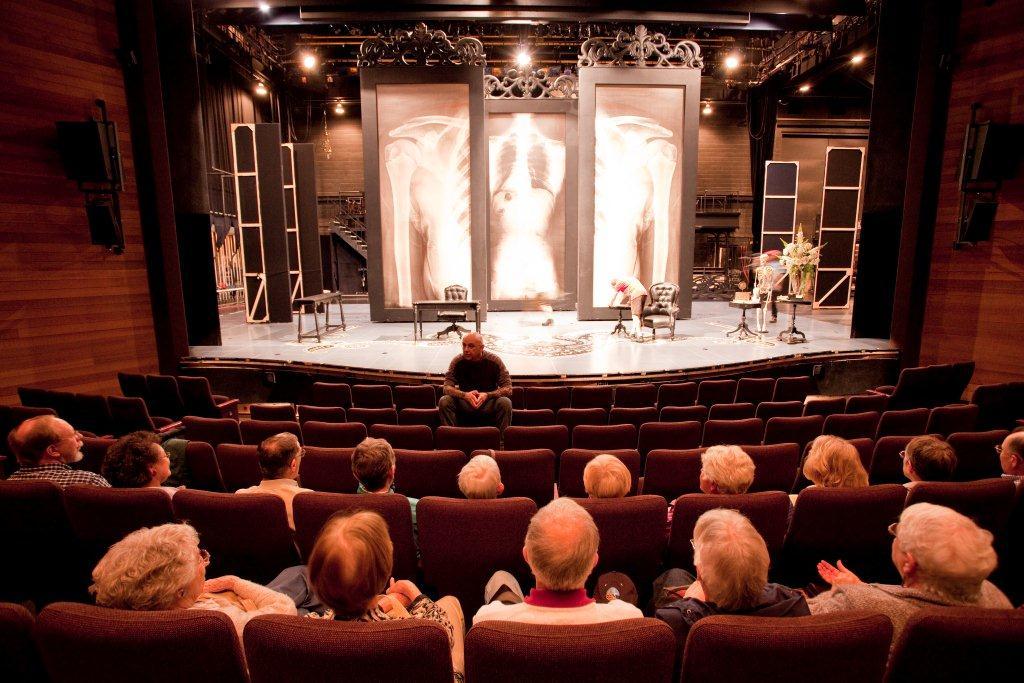 Shaw Festival Theatre Niagara

From CAD 8,839 per person (double occupancy)
21 days / 20 nights
Experience the natural beauty of Canada where spectacular scenery appears at every bend. Rolling ranchland turns to mountain peaks and wild canyons change to brilliant ocean shorelines.  Discover the best of Canada with this epic guided experience.

From CAD 2,134
15 days / 14 nights
A self-drive tour between Ontario and Quebec that leaves room for the charms of nature and the discovery of large cities.

From CAD 4,699 per person (double occupancy)
15 days / 14 nights
Embark on a guided spirit of adventure that stretches from the cobbled colonial towns of Quebec to the unspoiled frontiers of British Columbia's Pacific coast.