New Brunswick's top road trips and tourist attractions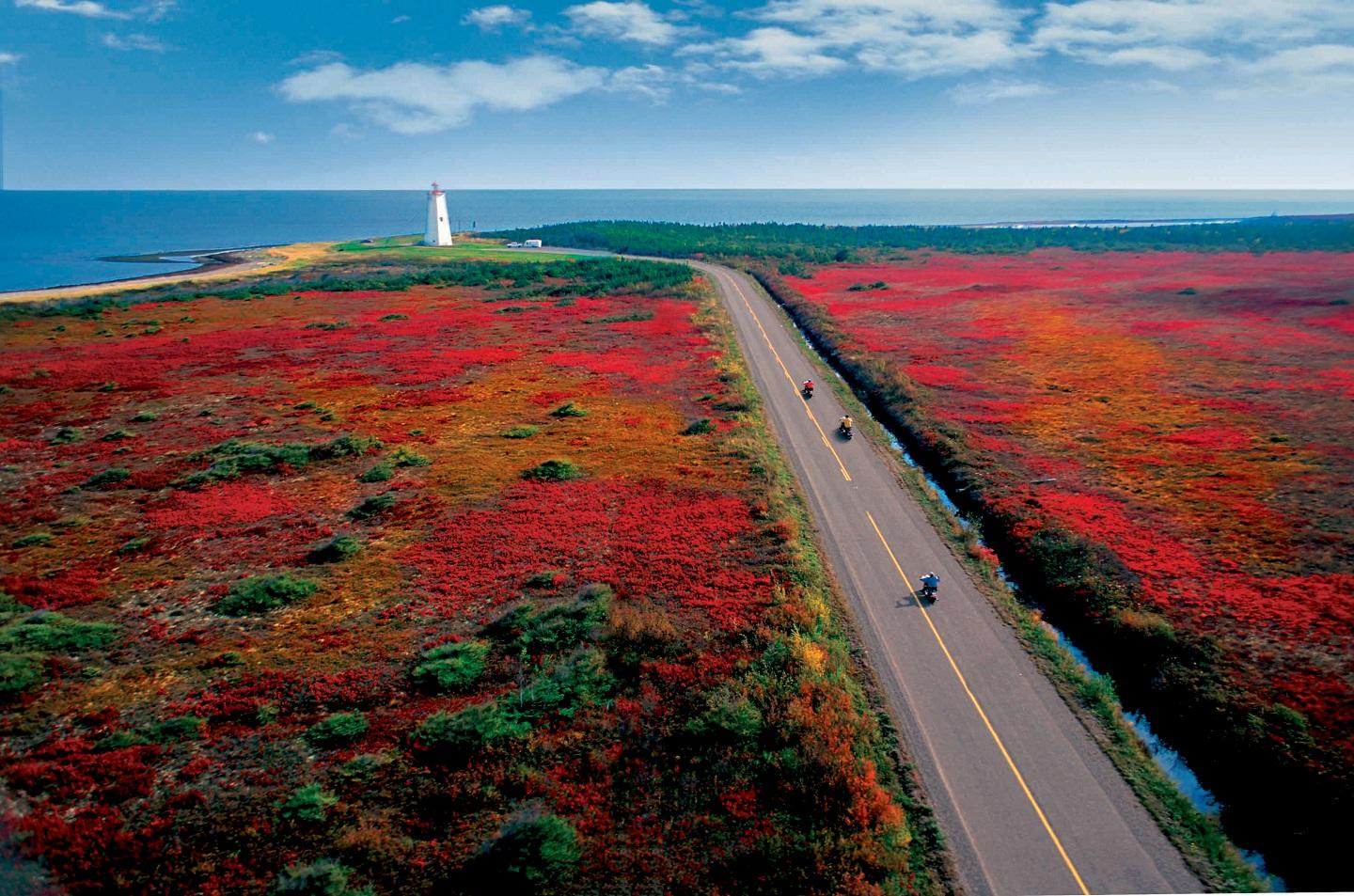 Check the most up-to-date travel restrictions, including border closures, before planning your trip and be sure to contact businesses prior to travel to book reservations and confirm availability.
Known for its abundant seafood, exhilarating whale watching, and vast white-sand beaches, New Brunswick is also home to the Bay of Fundy, which boasts the highest tides on the planet. Flanked by the Atlantic Ocean, it's a small province you can easily crisscross by car, meaning lots of sights with little stress. It's also a bilingual Maritime community deeply influenced by the sea with Acadian roots. Here are the best New Brunswick attractions and road trips -- from city tours to outdoor adventuring -- to get to know this friendly place of lighthouses, lobster, and lively festivals.
1. Fundy Wonders & Whales Route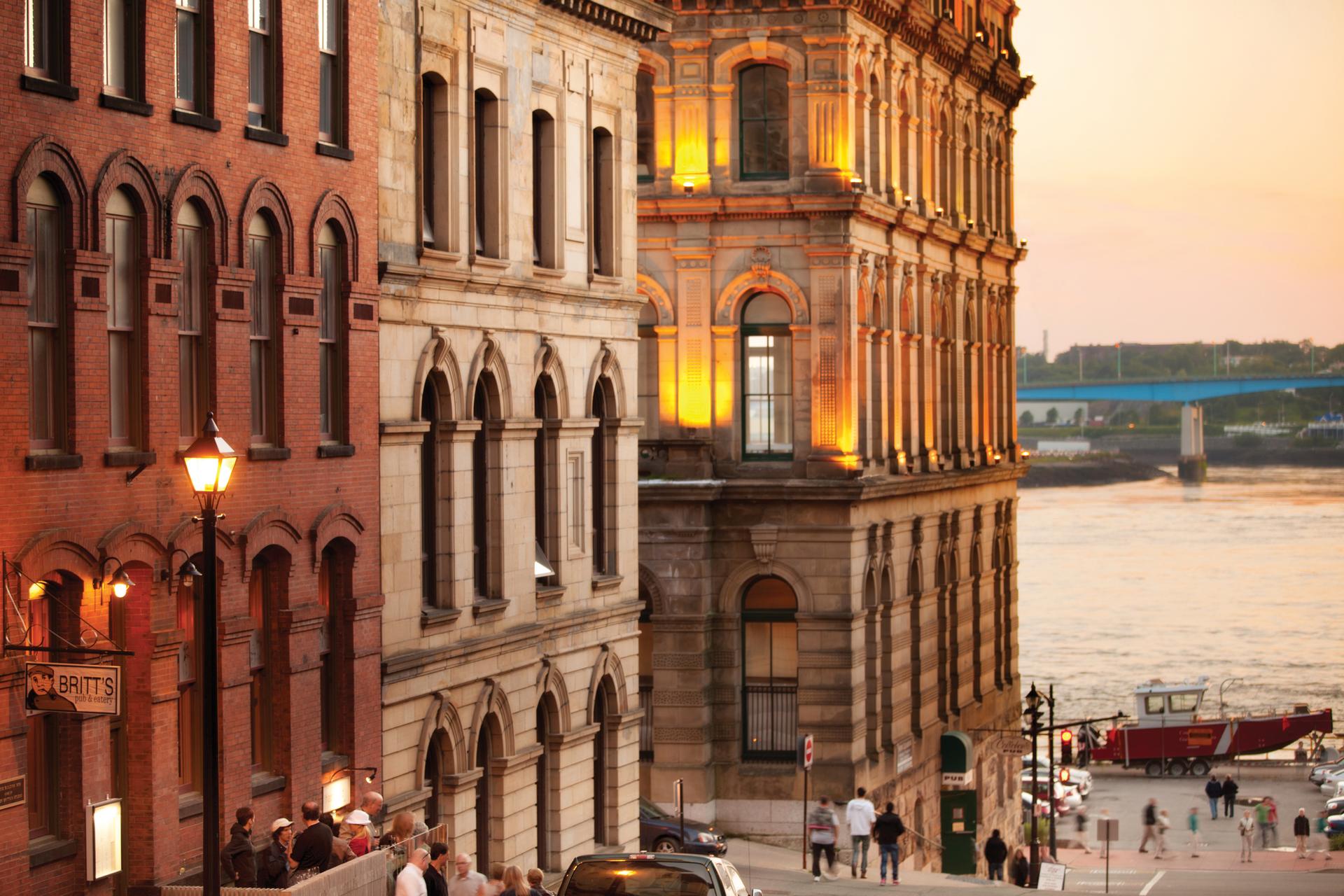 Historic Saint John – credit: Tourism New Brunswick
This well-rounded holiday in the southern part of the province covers both outdoor adventure and Acadian coastal culture, including our favourite Bay of Fundy whale watching adventures. The tour delves into history -- visiting Canada's oldest city, charming Saint John, with its Old World port architecture -- and marine biology, with time to explore the Bay of Fundy's fossil-filled tidal pools, red sandstone cliffs, and dramatic beaches. Then it's onto some laidback Atlantic isles via ferry for whale watching and relaxation, hiking, and biking. Hungry after all of those activities? Savour fresh-caught lobster, before concluding your trip with a taste of heritage, culture, and...chocolate!
Starting point: Saint John
Distance: 300 kilometres
Time: 5-6 days
Essential stops: New River Beach, the Fundy Isles, Saint Andrews, St. Stephen
2. Fundy Treasures & Tides Ride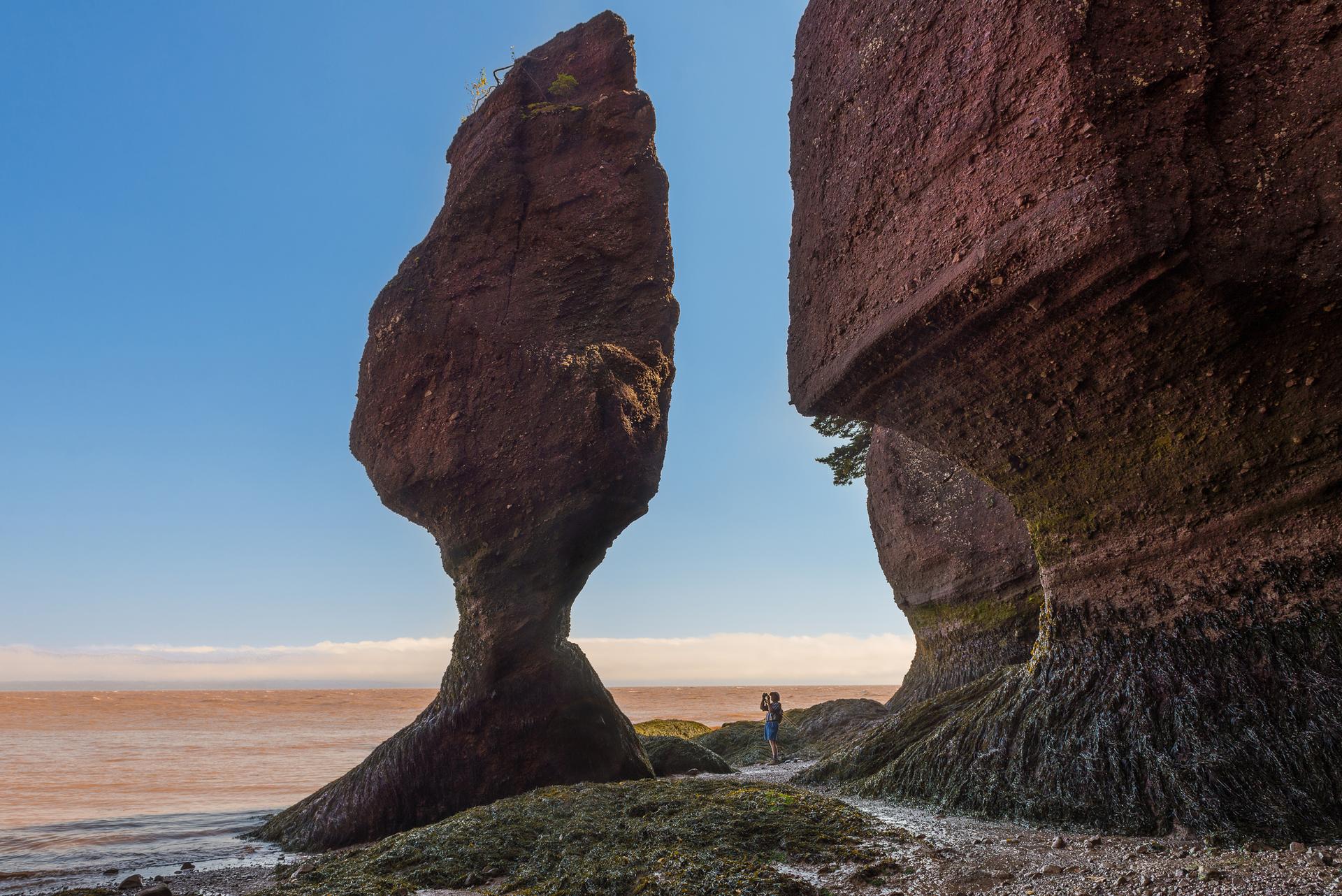 Hopewell Rocks – credit: Tourism New Brunswick
With tides rising and falling as much as 16 metres twice a day, the Bay of Fundy is mind boggling, so it's understandable if you want to make it the focus of your New Brunswick road trip. If you're an outdoor adventurer, this eastern tour is for you. Surf the monster tides on kayaks and tuck into sea caves; look for creatures on the red-sand ocean floor along the towering sandstone Hopewell Rocks -- nicknamed the "Flowerpot Rocks" for their distinctive silhouette; checkout a cliffside lighthouse; hike and camp at a national park; and sample local clam chowder, lobster, and pickerel in bilingual, museum- and gallery-filled Moncton.
Starting point: Moncton
Distance: 225 kilometres
Time: 4-5 days
Essential stops: Hopewell Rocks, Cape Enrage, Fundy National Park, St. Martins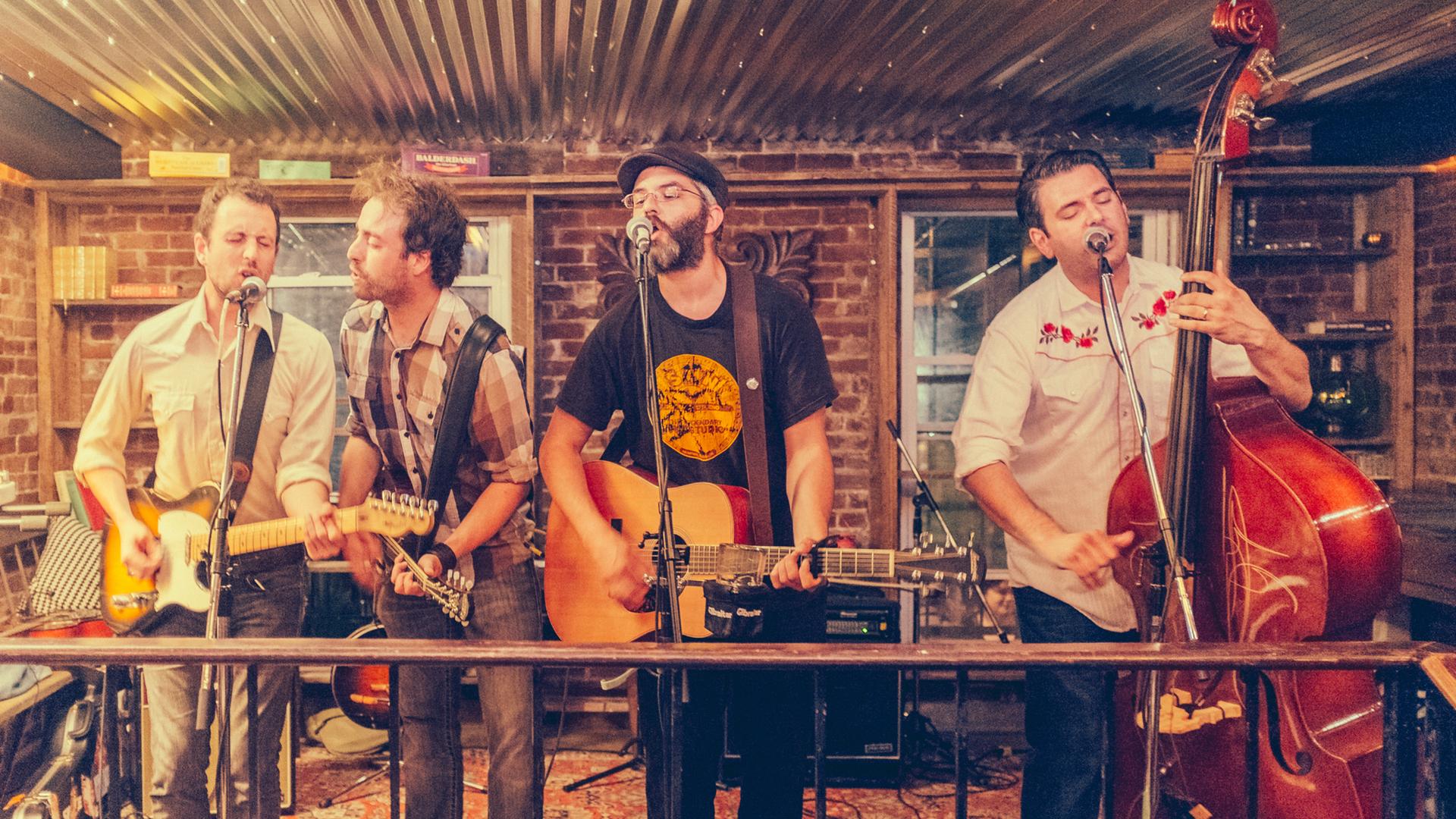 The Capital Complex – credit: Fredericton Tourism
Foodie? Culture-vulture? Try this gastronomic tour starting at the Quebec-Maine border and enjoy the arts and crafts, entertainment, nature, and cuisine of the Saint John River Valley - home to some of our favourite New Brunswick attractions. Spend a night in a forest "dream dome". Then satiate your taste buds as you dine, go wine tasting, or stroll a farmers market. Throw in an excursion to see -- or zipline across -- New Brunswick's largest waterfall and gorge. Finally, find a nice spot to paddle or go boating, all while enjoying the pretty farmland scenery along the way.
Starting point: Edmundston
Distance: 500 kilometres
Time: 3-4 days
Essential stops: Grand Falls, Florenceville-Bristol, Fredericton.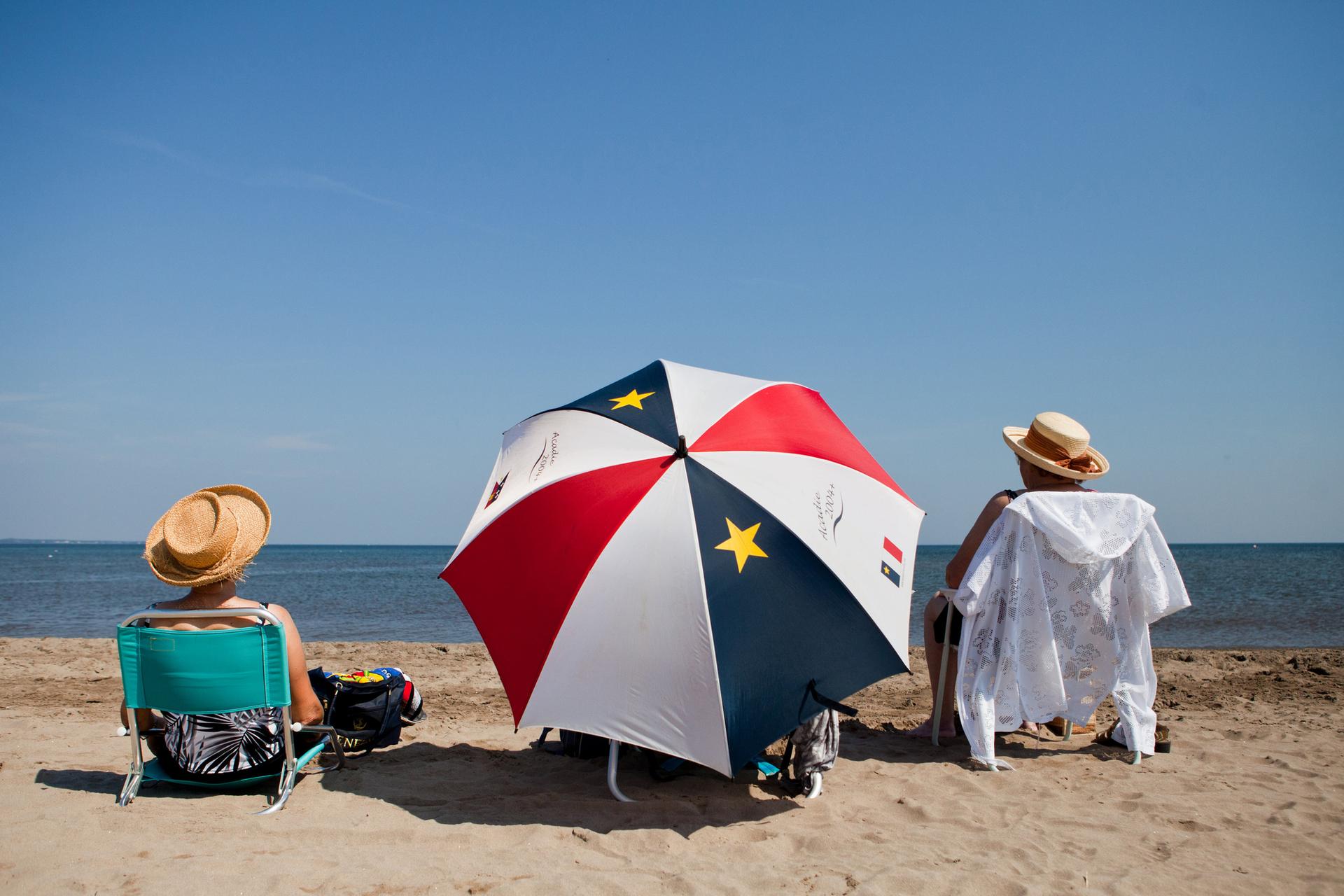 Parlee Beach Provincial Park, Pointe-du-Chêne – credit: Tourism New Brunswick
Looking for relaxation? Visit Canada's warmest salt-water beaches. You can stretch this journey out over a week or make it an easy-going two-day journey to Bathurst and the Acadian Peninsula Beaches. This route skirts the Gulf of St. Lawrence in New Brunswick's north, and combines lounging in quaint seaside towns, golfing, and spa rejuvenation with beach recreation. Camp, hike or bike in a National Park, go wildlife viewing in and around white sand dunes, tuck into fresh seafood like a local, and learn about Acadian culture.
Starting point: Bathurst
Distance: 530 kilometres
Time: 5-7 days (or 2-day option)
Essential stops: Acadian Peninsula Beaches, Kouchibouguac National Park, Shediac, Murray Beach Provincial Park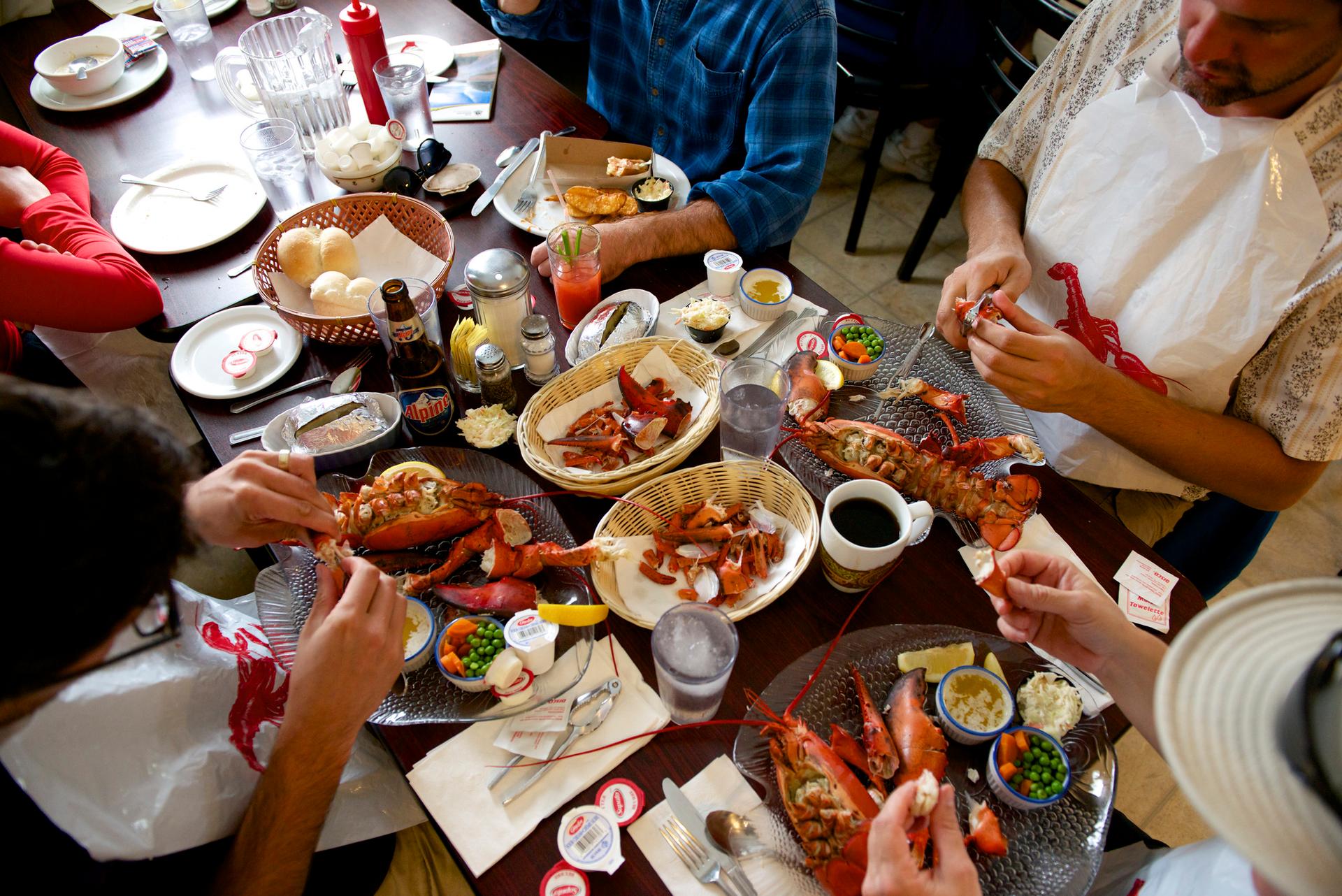 Hopewell Rocks and the Bay of Fundy Coastal Tour, Alma (Harbour View Market)
Acadians know how to enjoy life. And you too will catch joie de vivre after rubbing elbows with the French-speaking locals on this leisurely east-to-northwest New Brunswick scenic drive along the coast of the Gulf of St. Lawrence. Learn about history the fun way -- by strolling pretty, flower-filled towns, staying in cozy bed and breakfasts, sampling local fare, and picnicking on the shore. Be sure to take in some theatre, join a festival, and try some New Brunswick cider. Sant?!
Starting point: Memramcook
Distance: 500 kilometres
Time: 3-5 days
Essential stops: Dieppe and Moncton, Bouctouche and Shediac, Acadian Peninsula, Acadian Isles
6. Mighty Miramichi River Run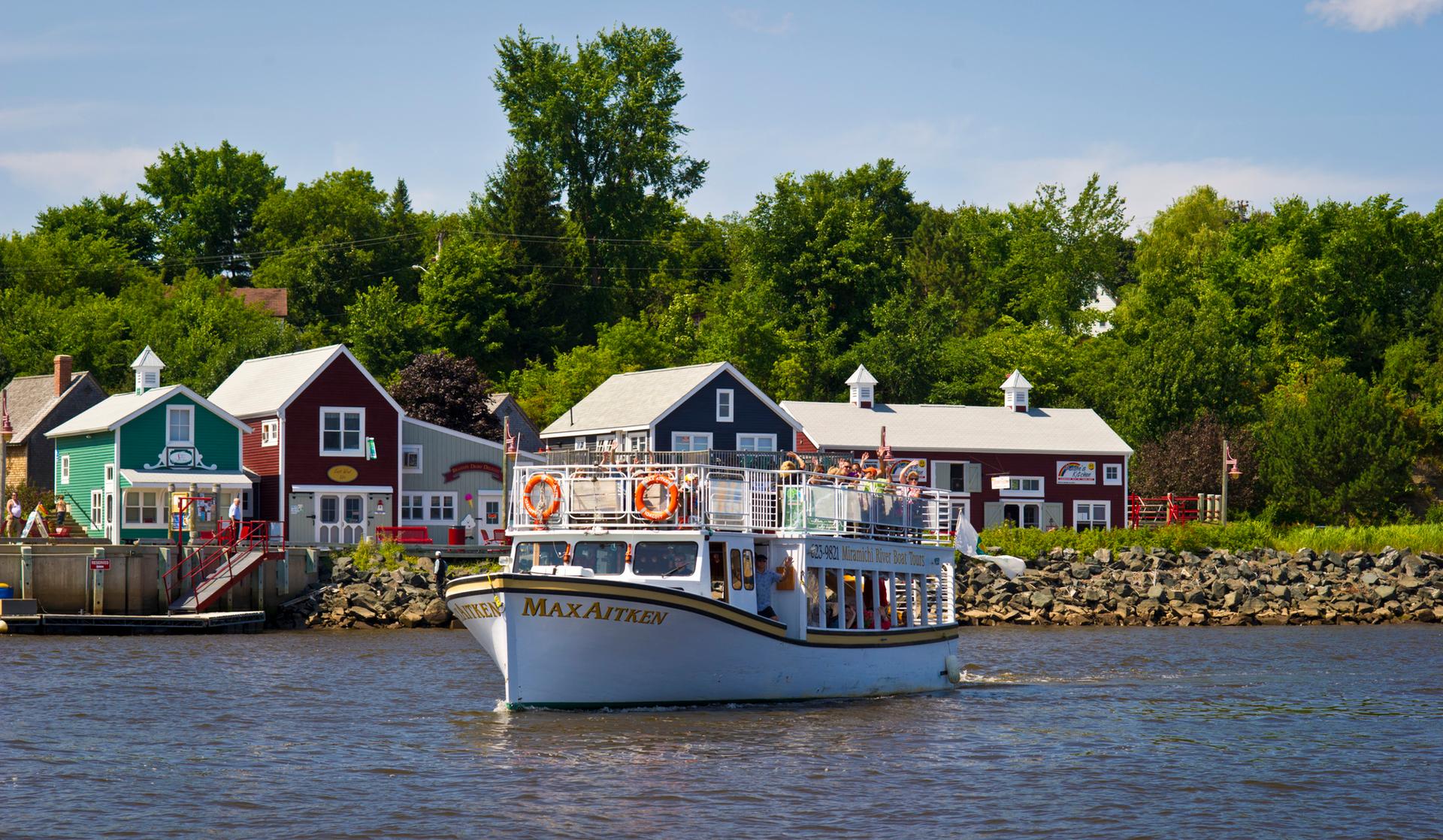 Miramichi River Boat Tours – credit: New Brunswick Department of Tourism and Parks
If you love fly-fishing, or want to learn how, the 250-kilometre-long Miramichi River has some of the best salmon angling in the world. Heading south to north, warm up your skills in lumberjack country, perhaps catching a timbersports competition. Move on to rustic-luxe lodge-based fly-casting, canoeing, and kayaking. Wrap up with a taste of Aboriginal culture, look into the area's ship building history, and explore more of the city.
Starting point: Boiestown & McNamee
Distance: 200 kilometres
Time: 3-5 days
Essential stops: Doaktown, Blackville, Sillikers & Red Bank, Miramichi
To learn more about New Brunswick's road trips, visit the Tourism New Brunswick website.