Montreal summer festival guide
Summertime is festival time in Montreal. Each year, the city's summer calendar is crammed with a dizzying array of festivals and events.
Whether you want to cheer with the biggest bands on earth, watch the world's greatest tennis players, or laugh it up at the best comedy festival anywhere, bring your shades and get ready for a party.
Montreal festivals in May
The month of May technically falls in the category of spring, but for Montreal it's a sense-stimulating, digitally-driven summer teaser.
ELEKTRA is a digital arts festival showcasing new creations in electronic music, video, cinema, performance, design, gaming, and interactive installation, and a definite must-see
Chromatic offers eight days of creative arts, ranging from visual to digital and performance to interactive, high atop the iconic Mount Royal.
Don't miss the overlapping multi-sensory MUTEK festival, an ode to the artists and innovators in electronic music, digital creativity, technology, and live performance.
Then, later in the month, the Festival TransAm?riques lights up the city with compelling new works in contemporary dance and theater.
Francofolies - Credit: Eva Blue
Montreal festivals in June
Want to brush up your French? In mid-June, Les FrancoFolies de Montreal celebrates French-language music from around the globe, with 180 free outdoor performances of pop, rock, blues, jazz, and world music.
Not long after, we paint the town red - and plenty of other colours too - during MURAL Festival, devoted to showcasing the sublime world of urban art and graffiti in Montreal's happening Plateau neighbourhood.
Proving it's a cosmopolitan city with A-list pull, every June Montreal welcomes the Formula 1 Grand Prix du Canada, the only race of its kind in North America. Superfast cars and star-studded parties power this glitzy weekend. 
Swinging in at the end of June is the incomparable Montreal International Jazz Festival. Officially crowned the biggest jazz fest in the world, this granddaddy of festivals is all about musicians playing and people swaying in the Quartier des Spectacles downtown.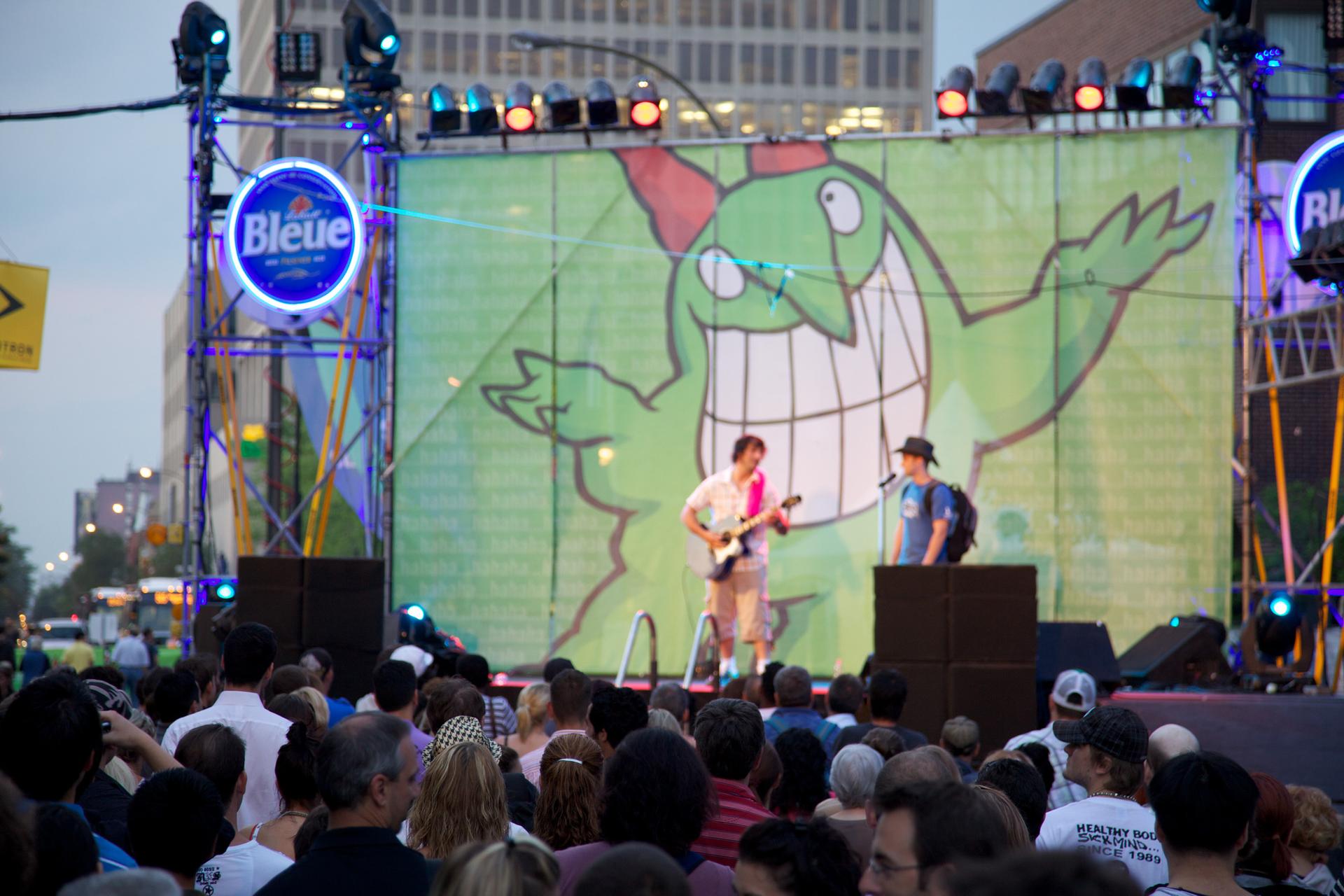 The Just for Laughs Festival - Credit: Asymetric/Finn O'Hara
Montreal festivals in July
The sun-kissed vibes of Africa arrive in Montreal in early July, with the Festival International Nuits d'Afrique. The event welcomes traditional and ground-breaking musicians from Africa, the Caribbean, and Latin America as well as local talent.
If you're into electronic, hip hop or indie music, Montreal's got you covered with MEG Montreal, which runs from late July to early August.
Also in late July is the epic Osheaga Music and Arts Festival, where big names and emerging artists in indie pop, rock, hip hop, and electronic music share the stage for three days straight on scenic ?le Sainte-H?l?ne. 
If you get your kicks from comedy, Montreal's legendary Just For Laughs has been a springboard for some of the craft's biggest names who, come July, fill comedy venues, downtown theatres, and nightclubs.
July also marks the start of the colour-popping pyrotechnics of the International des feux Loto-Qu?bec, a fireworks competition that promises sky-high dazzle.
In mid-July, Montreal's Uniprix Stadium welcomes the female superstars of tennis for the Rogers Cup tournament, where blistering serves, searing backhands, and killer smashes leave sports fans blown away and breathless.
Are you a culture-vulture? The world-famous Fantasia film festival wows with rarities and much-anticipated features in fantasy, horror, science fiction, and more, from mid-July to early August.
Zoofest is relatively new to Montreal's festival scene, but it has proven to be a hit with its line-up of stand-up, sketch comedy, burlesque, and general zaniness.
Circus artists from the Americas and Europe flaunt their creativity and flexibility during Montr?al Compl?tement Cirque.
Meanwhile, the Montreal First Peoples Festival takes us back to the roots of Aboriginal cultures in Montreal, Canada and around the world, with concerts, film screenings, talks, and more from July through to August.
Montreal Festivals in August
IleSoniq, which kicks off in mid-August, brings a sizzling line-up of new electronic dance and urban music to the city. 
And proving that every weekend is another opportunity to party, Piknic ?lectronik satisfies electronic music cravings with top DJs and producers every Sunday at Parc Jean-Drapeau all throughout the summer.
The LGBT community shares their spirit during Montreal's much-loved mid-August Pride events, including the exuberant and colourful Pride Parade, which caps off a week of community and cultural events.
Around the same time, fans of symphony music are given a veritable tympanic treat when the Montreal Symphony Orchestra showcases its Classical Spree.
We weren't kidding about Montreal being a festival city. For more information on these, or other Montreal festivals throughout the year, visit the Tourism Montreal website.

From CAD 8,839 per person (double occupancy)
21 days / 20 nights
Experience the natural beauty of Canada where spectacular scenery appears at every bend. Rolling ranchland turns to mountain peaks and wild canyons change to brilliant ocean shorelines.  Discover the best of Canada with this epic guided experience.

From CAD 3,886
11 days / 10 nights
Follow your nose to the promenades of Québec City, your ears to the music-filled Montréal, and your eyes to the views of the Gaspé Peninsula on this tour of French Canada.

From CAD 1,699 per person (double occupancy)
8 days / 7 nights
On this Eastern adventure you'll discover Canada's unbeatable mix of Old World charm and vibrant urban pleasures. The fortified towns, canals and historic forts of Canada's founding cultures comfortably coexist with cosmopolitan cities boasting exciting fashion and food, world-class attractions and thriving artistic communities.