Discover the open-air galleries of the Vancouver Mural Festival
Check the most up-to-date travel restrictions before planning your trip and be sure to contact businesses prior to travel to confirm availability and book reservations.
Vancouver's laid-back West Coast vibe and spectacular natural setting between mountains and ocean make it a mecca for outdoor enthusiasts. However, few people know that it's also home to Canada's highest number of artists per capita. Typically hidden away in private studios or inside museums, art has recently expanded outside. Now, locals and travellers alike can experience a different kind of outdoor beauty, thanks to the Vancouver Mural Festival.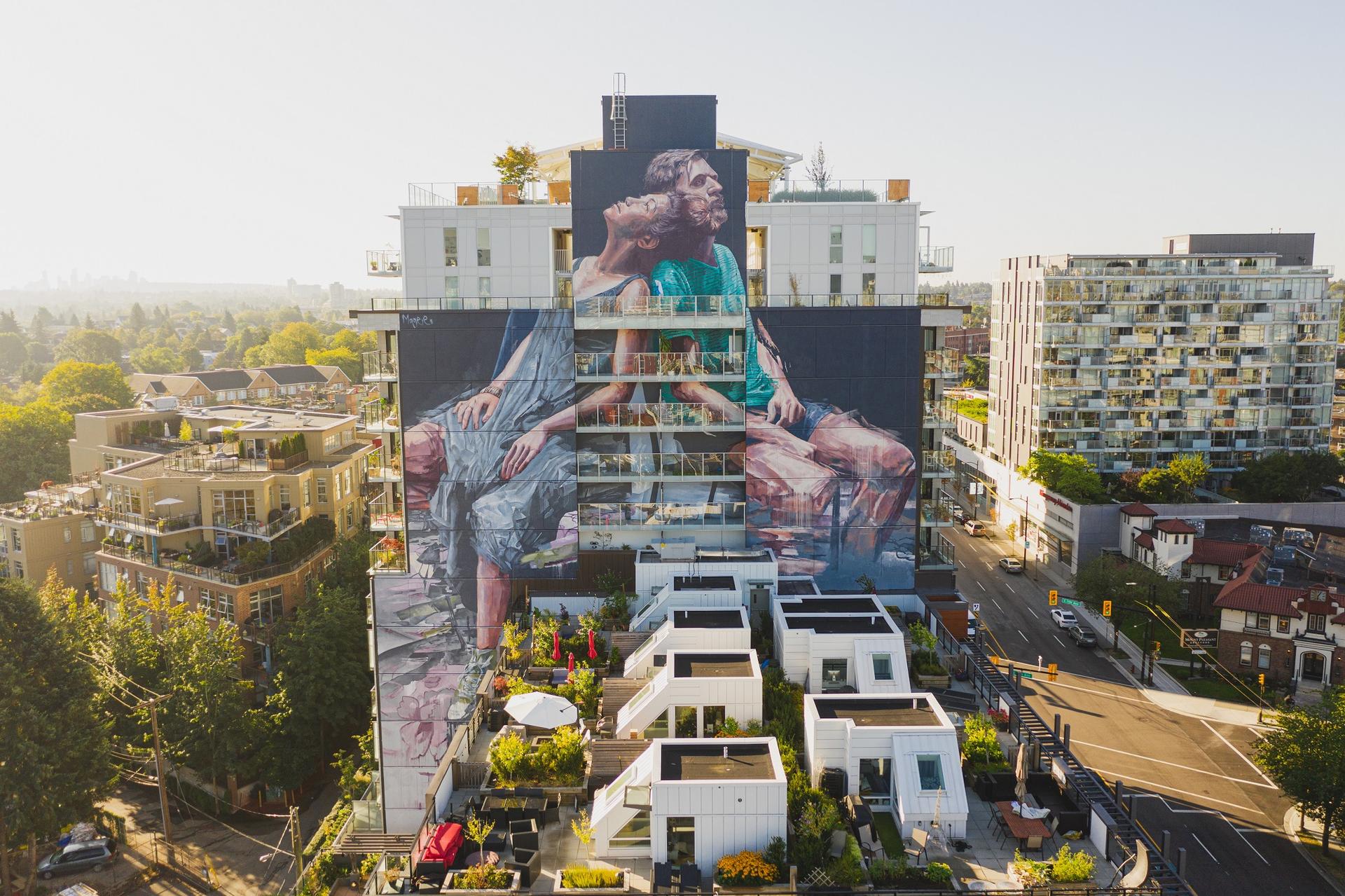 Mural Artist: Fintan Magee. Location: 333 East11th Avenue (best viewed facing south near Kingsway & 10th Avenue). Photo Credit: Connor McCracken
Established in 2016 with a vision to create meaningful experiences that connect people and art, Vancouver Mural Festival has grown from a grassroots initiative to one of British Columbia's most vibrant artistic community celebrations. From 2016 to 2020, the festival has produced more than 250 murals than can be seen throughout Vancouver.
Murals: more than paint on walls
Murals don't just beautify streets, they connect communities and showcase the cultures and stories of the city and its people. Diversity and inclusivity are at the core of the Vancouver Mural Festival. Over ninety percent of its artists are local to the area, more than sixty percent represent BIPOC and marginalized groups, nearly half are female and one in five are Indigenous. As a result, the murals reflect Vancouver's diverse multicultural background and offer an inside look into the city's culture and communities. 
Best known for its concentration of craft breweries and coffee shops, Mount Pleasant is arguably the hub of Vancouver's street art scene and the original home of Vancouver Mural Festival. Geographically straddling the city's east and west, adjacent to Southeast False Creek and Olympic Village, the neighbourhood balances an authentic local charm with a vibrant, creative energy that makes it the perfect starting point to experience local life in Vancouver.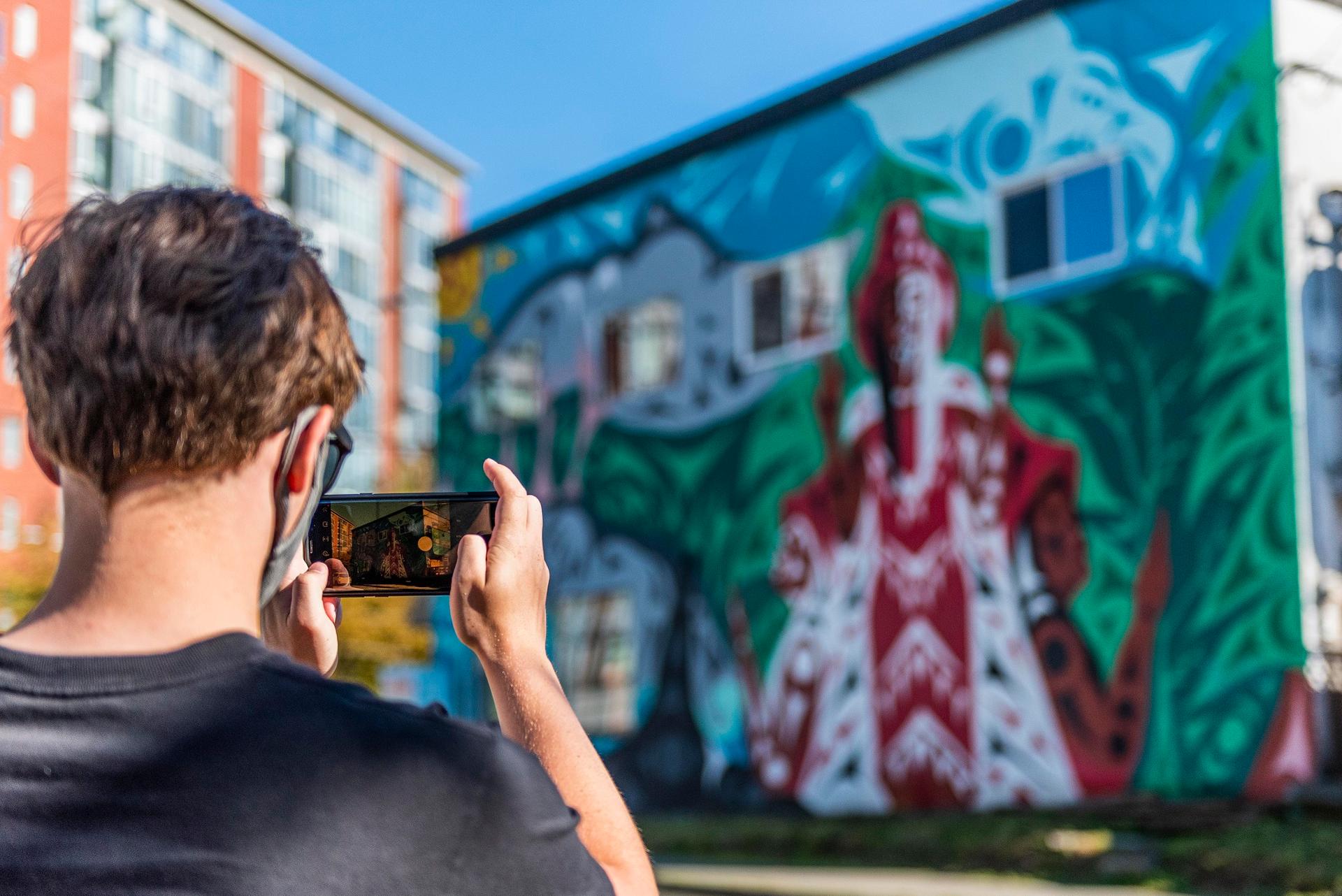 Mural Artist: Siobhan Joseph. Location: 2301 Main Street. Photo credit: Gabriel Martins
To brighten streets, inspire hope and celebrate resilience in response to the 2020 pandemic, Vancouver Mural Festival spearheaded #MakeArtWhileApart with local artists creating sixty murals on boarded-up storefronts. Inspired by this, the organization raised the bar by expanding its summer festival beyond Mount Pleasant to support and bring joy to nine neighbourhoods across the city with 60 new murals. As social distancing became the norm, murals proved to be a much-needed way to connect communities-locally and globally-and the perfect way to safely explore the city while supporting local businesses and artists.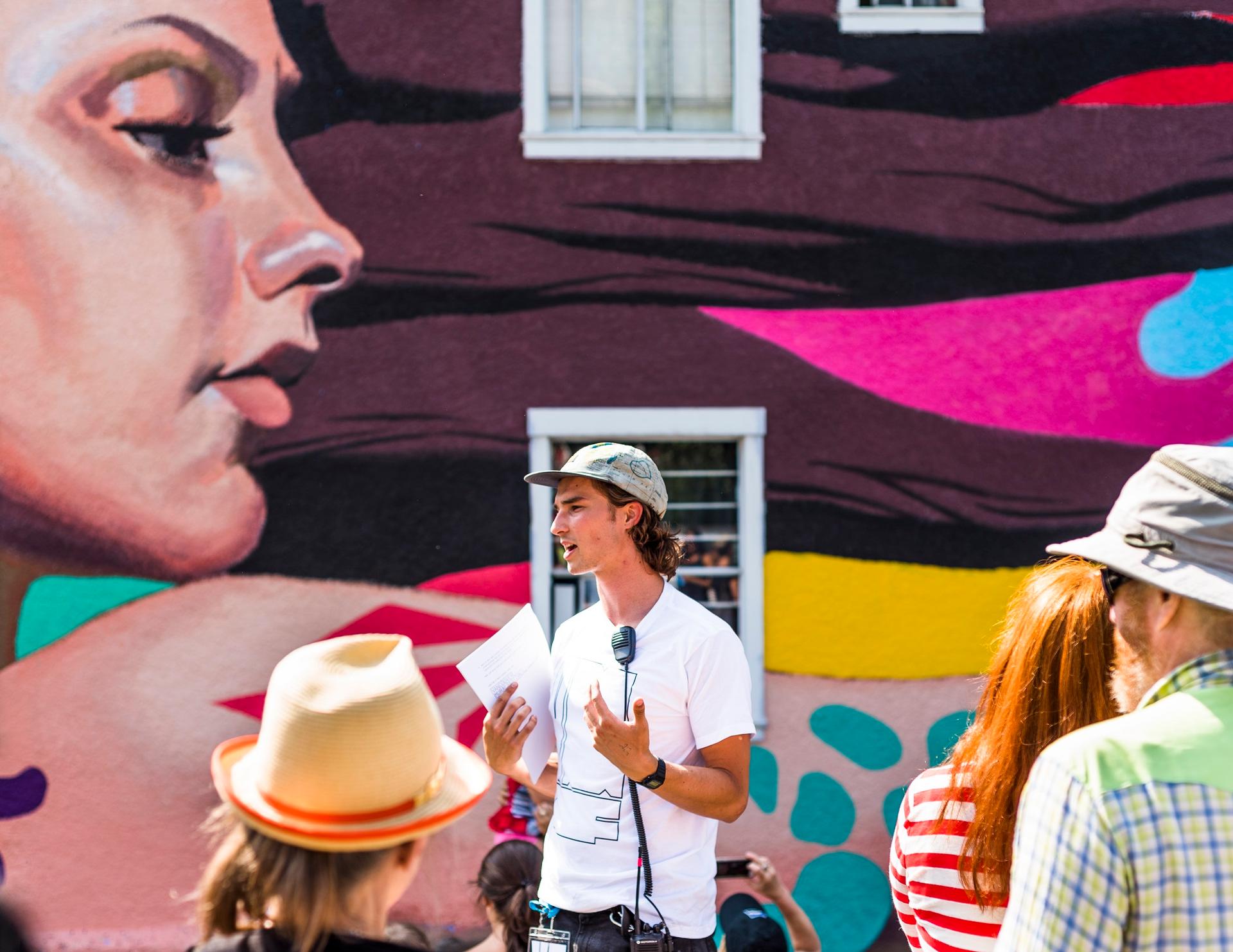 Mural Artists: David Ullock & Doug Nhung. Location: 146 East 6th Avenue. Photo credit: Gabriel Martins
Touring Vancouver's murals like a local
Download the free Vancouver Mural Festival mobile app for a self-guided tour of Vancouver's permanent murals. The app will highlight the mural locations, teach you about the artists and their work, inspire you with curated collections such as family fun, Indigenous art and craft brewery routes and even help you create a 'favourites' list. The app can be used offline (data-free), a great option for travellers.
While exploring the city's most Instagram-worthy murals, do as the locals do and grab a coffee-to-go from one of Mount Pleasant's many artisanal cafes. Walk or bike your way through the streets and alleys that radiate from the corner of Main Street and Broadway, an intersection where you'll spot at least ten murals. Map out your favourites in the app or wander in any direction to discover a diverse range of incredible murals from local artists like Drew Young & Jay Senetchko, Sandeep Johal, Tyler Toews; Indigenous artists Siobhan Joseph, Debra Sparrow and Paul Windsor; and international muralists such as Fintan Magee, Nevercrew, David Shillinglaw, Faith 47 and Medianeras. (Local tip: For the highest concentration of murals, head down Main Alley and 7 1/2 Lane, located just west of Main Street, then continue the loop along Third Avenue and Manitoba Street.)
Round out your day by refueling at one of the neighbourhood's many craft breweries, local restaurants and pop-up patios along the way. Take home a unique souvenir by stopping into a local shop on Main Street. 
Vancouver Mural Festival's 2020 mural highlights
Artist: Animalitoland. Location: 7 West 7th Avenue (viewable from Ontario Street). Photo credit: Steff Love
Rain or shine, Vancouver's murals are a perfect way to explore the urban outdoors and connect with the local arts and culture of the city.