Canada's unique neighbourhoods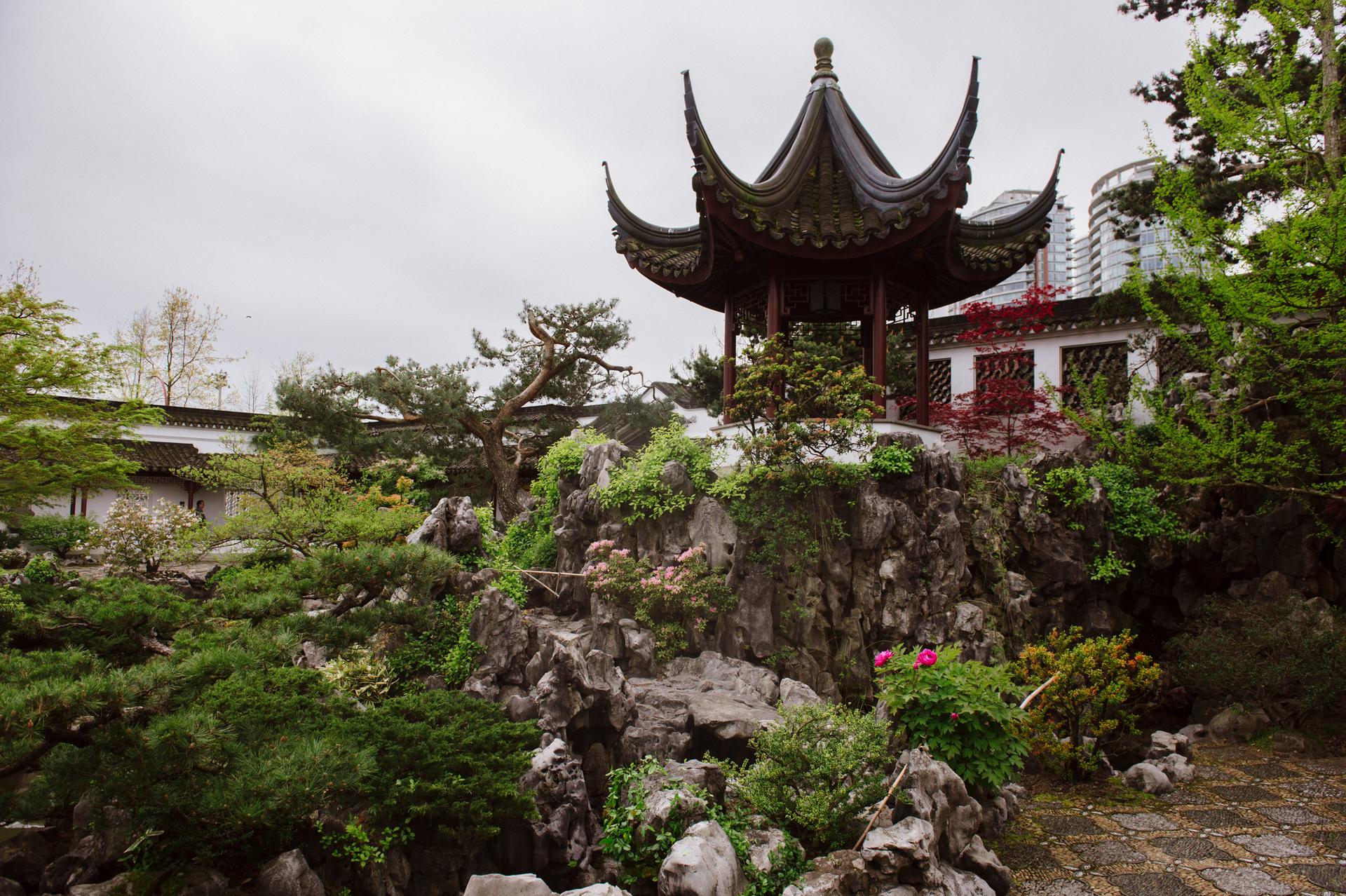 Check the most up-to-date travel restrictions, including border closures, before planning your trip and be sure to contact businesses prior to travel to book reservations and confirm availability.
Canada is a multicultural patchwork of people from more than 200 countries. This diversity is reflected in vibrant communities and people across the country. With so many backgrounds represented and celebrated, Canada's neighbourhoods are home to food, art, culture and more that is a reflection of all the people that call the country home.  
Get to know Canada's unique neighbourhoods that proudly mix quaint charm with global flair.      
Little Italy
Montreal, Quebec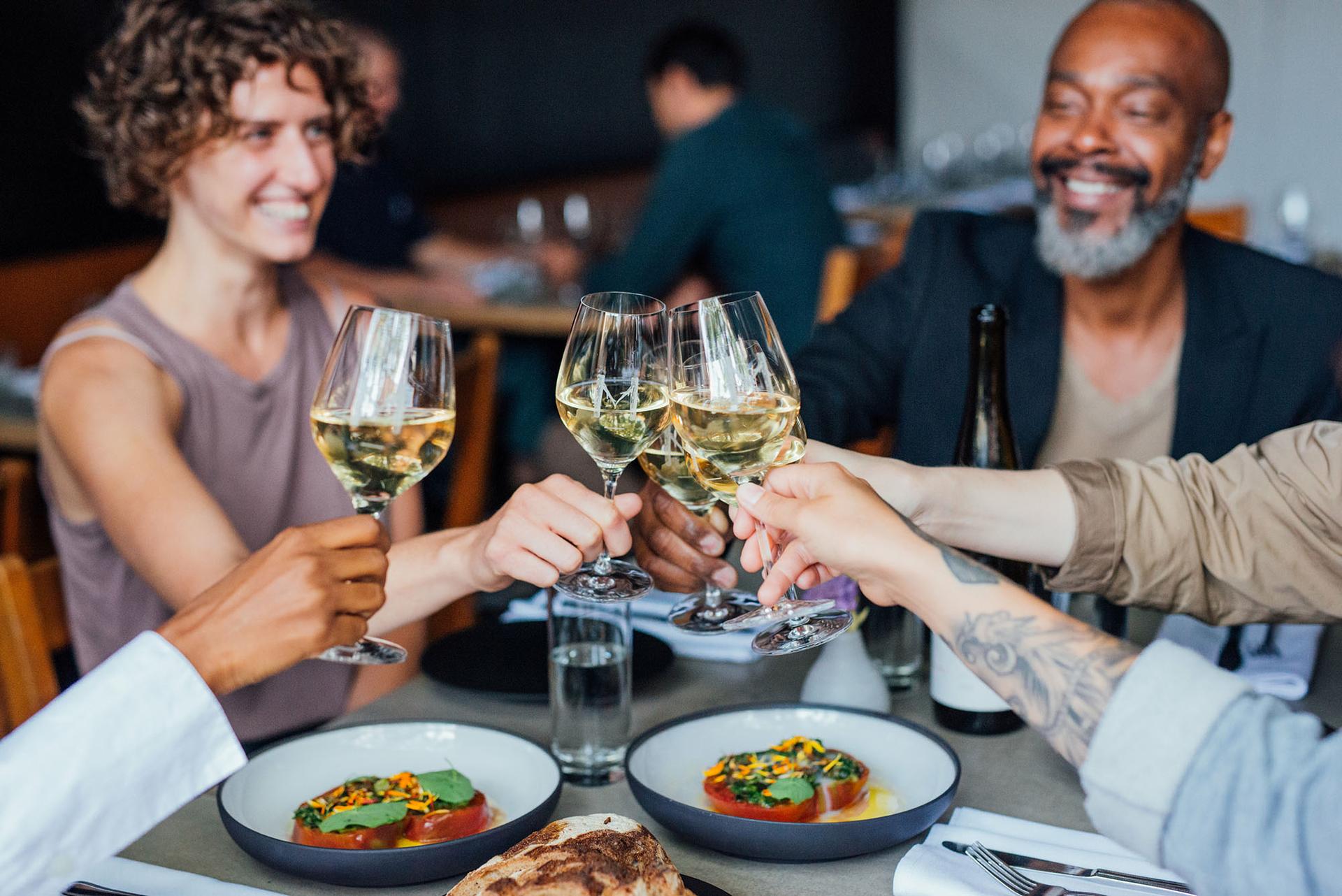 Credit: Alison Slattery - Two Food Photographers / Tourisme Montreal
Bohemian, artsy, and seductively French -- that's Montreal. Though there are many colourful pockets in this diverse city, you'll want to spend time in vivacious Little Italy. It's been an Italiano hub since the 19th century, where you'll find leafy green parks and quaint architecture. And of course, there's the food. Check out the bustling outdoor cafes in and around St-Laurent Boulevard , and sample Italian fare (hand-rolled pasta, calamari, pizza, espresso), especially at standout Primo & Secondo. If you're up for more, the famed Jean-Talon public market showcases international cuisine, fresh produce, and artisan goods that can inspire a chef-worthy picnic spread or whet your appetite before a meal out. Once you've had a taste of the cuisine, take in the sites. Stroll the streets and spot the fresco-adorned Church of the Madonna della Difesa and shop the charming boutiques!
Parkdale
Toronto, Ontario
Credit: Shawn Squires
Giving New York and London a run for their money, Toronto is "Canada's Downtown" and  multicultural capital. You'll hear more than 180 different languages and dialects spoken as you explore-- Toronto's population is made up of beautifully diverse people from around the globe, residing in communities like Little India, Portugal Village, Greektown, and Chinatown. Neighbourhoods like Corktown, where many Irish immigrants settled, and family-oriented Roncesvalles Village, a historically Polish district where you can now eat Lebanese, French, Spanish and Thai, are definitely worth a visit. But Toronto's Parkdale is a gem that's still being discovered. Here you'll find West Indian, Tibetan and North African enclaves mixed in with creatives and artist types. On Queen West near King Street West and the lake shore, this neighbourhood is in transition, meaning it's unpolished and interesting, with trendy bars and eateries sandwiched between old Victorians, industrial lofts and diamond-in-the-rough buildings. Dine at trendy MoMo House or sip on a tropical cocktail at Miss Thing's. Catch live music, go out for cocktails and shop vintage and vegan fashion. 
Chinatown
Vancouver, British Columbia
Credit: Tourism Vancouver / Nelson Mouellic
Downtown Vancouver is home to mountain views, boutique shops and Canada's largest Chinatown. It's a cool area with a vintage feel; where colourful and eclectic storefronts blend with bustling and authentic storefronts. Immigrants working to build British Columbia's railroad settled here in the 1800s and that history can still be felt today. You'll know you've arrived when you pass through the elaborate Millennium Gate on Pender Street. Wander the sidewalks and peruse stacks of dried fish and exotic mushrooms, burlap sacks brimming with medicinal herbs, shops lined with aromatic  teas, painted porcelain bowls, intricate silk dresses and glazed whole ducks roasting in window rotisseries. These mainstays are mixed with modern touches as artists and other makers have found inspiration among the vibrant streets. Sit down in one of many eateries for some authentic Chinese fare, like dim sum, or go new-age at trendy restaurants like Bao Bei and Juke. Then, relax at tranquil Dr. Sun Yat Sen Classical Chinese Garden, host to an annual autumn full moon festival and late winter's spectacular Chinese New Year parade. 
Gimli
On Lake Winnipeg, Manitoba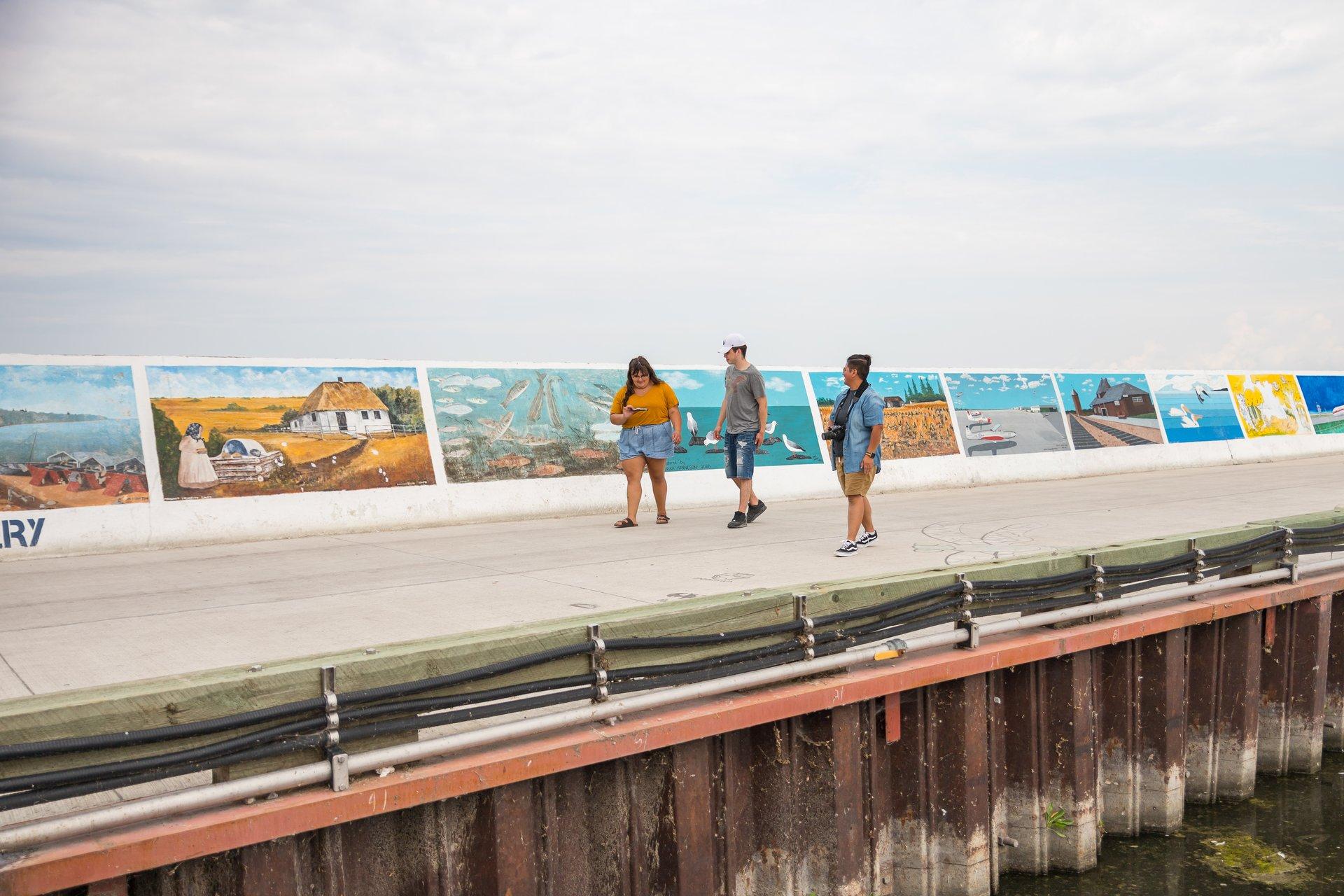 Credit: Liz Tran
Norse heritage is front and centre in Gimli, one hour north of Winnipeg, where a massive Viking statue standing watch over Harbour Park welcomes visitors. Dubbed "New Iceland" back in 1875, today Icelandic culture and Viking heritage still permeate everything in Gimli from the restaurants and the arts to community activities. Sample vinatarta (a traditional prune torte) or scan the Book of Life, a log of family histories housed at the New Iceland Heritage Museum. Enjoy outdoor winter sports Norse-style, including Nordic skiing, ice fishing, and snowmobiling, or spend a summer day swimming and lounging on the Gimli Beach shoreline. Indulge in fresh pickerel on the waterfront (try Lakeview Resort), browse the art galleries, and shop for unusual souvenirs, including Viking helmets, at the wonderfully vintage 1899 H.P. Tergesen and Sons general store.
Whitehorse
Yukon Territory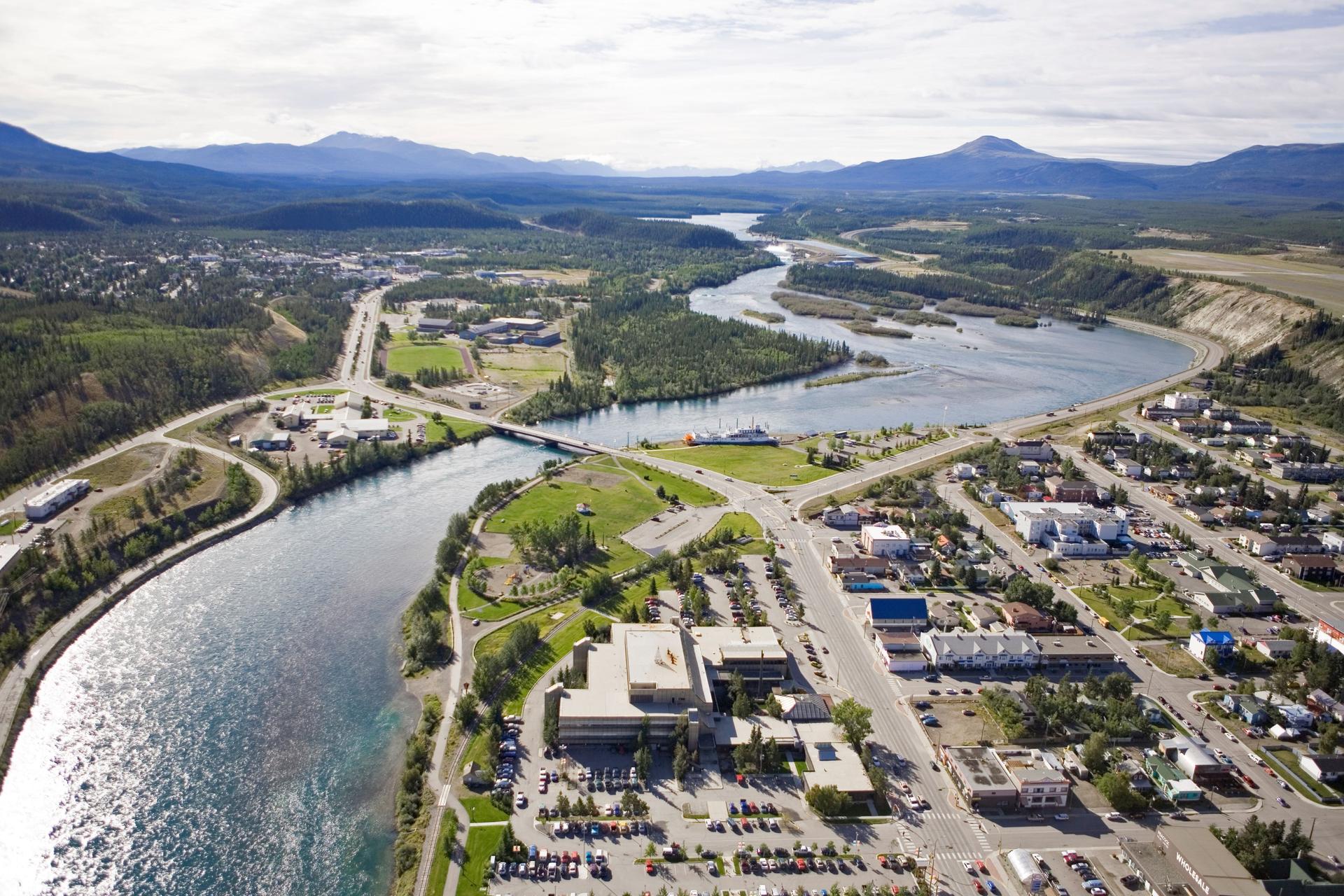 Credit: Fritz Mueller
Up in Canada's North, a thriving  Filipino community calls Whitehorse home. In this vibrant city, dine at downtown's Talk of the Town Restaurant & Bakery, sampling international faves like calamari and quesadillas alongside Filipino specialties: mango rice, lechon kawali (deep-fried pork belly with pickled papaya) and pancit bihon (Canton stir-fry egg noodles with chicken, shrimp and veggies). Check the Canadian Filipino Association's website or flyers around town for folk dances, music festivals and other cultural heritage events. Just beyond Whitehorse's internationally inspired restaurants, you'll find yourself surrounded by pristine nature. The Yukon River runs alongside the city leading you down to a local hiking hotspot, Miles Canyon. If you're looking for more outdoor options, the city is close to hundreds of kilometres of hiking and mountain biking trails to enjoy. After all that fresh air,  he city's museums and cultural centres, like the Kwanlin D?n Cultural Centre and SS Klondike National Historic Centre, will be ready to welcome you.
Kensington Village
Calgary, Alberta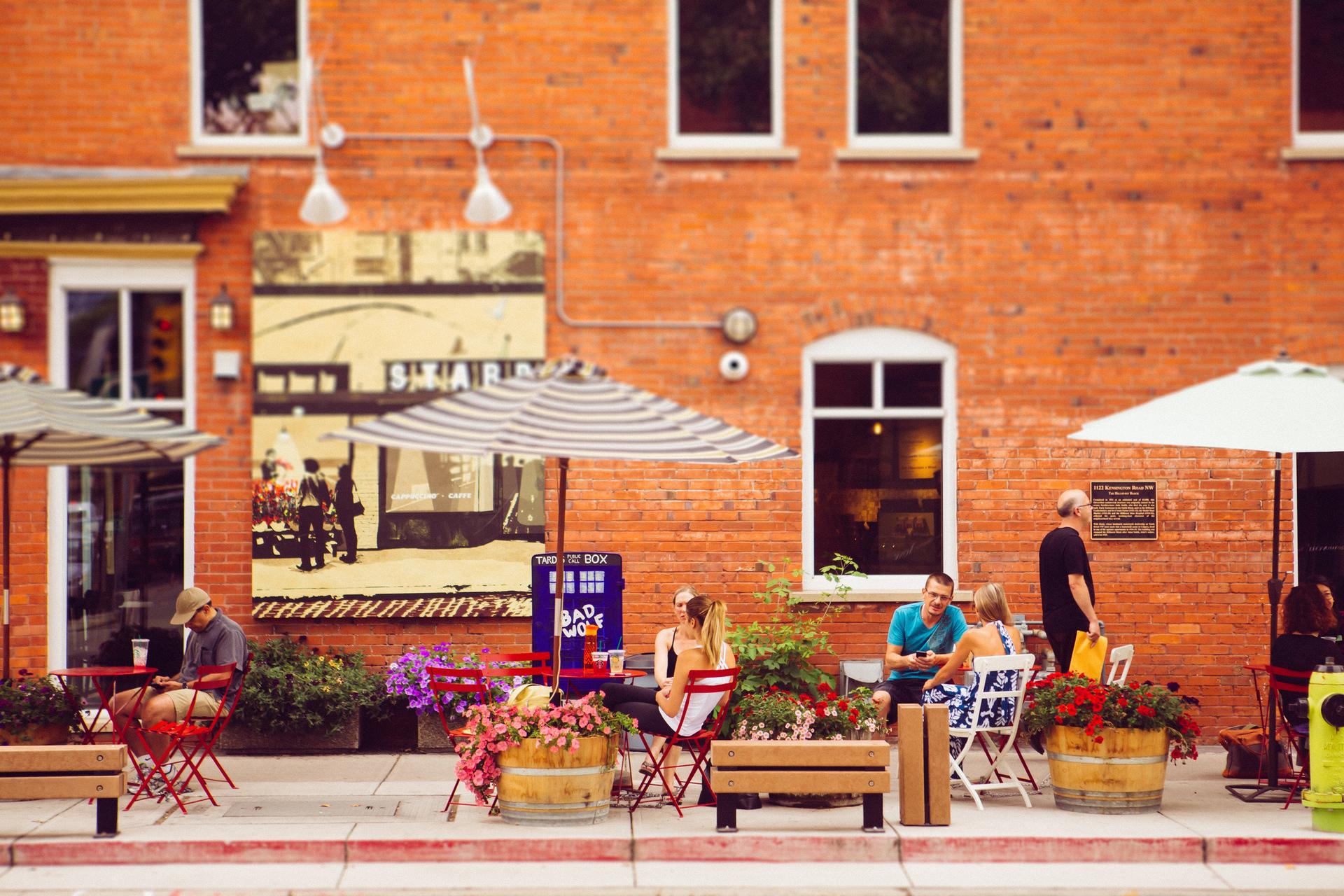 Credit: Tourism Calgary
In the centre of Calgary near the park-lined Bow River, Kensington Village--with its retro brick buildings and tattoo parlours--is home to a mixture of cultures that make it one of the city's hottest places to spend an afternoon or evening out. Go for outstanding outdoor dining (from Indian to green smoothies), packed bars, retail therapy of the homespun and funky kind and live music. Favourites include Ikeman Ramen Bar for their outstanding selection of delicious ramen, Peacock Boutique for trendy consignment and vintage vinyl and cassettes at Hot Wax Records. Share wood-fired Napoletana pizzas on the patio at modern-chic Ristorante Pulcinella, then go for dessert at Amato Gelato with 72 rotating flavors, open late. Kensington puts on a plethora of local events a year, including beer tastings and art crawls.
Bouctouche
Near Moncton, New Brunswick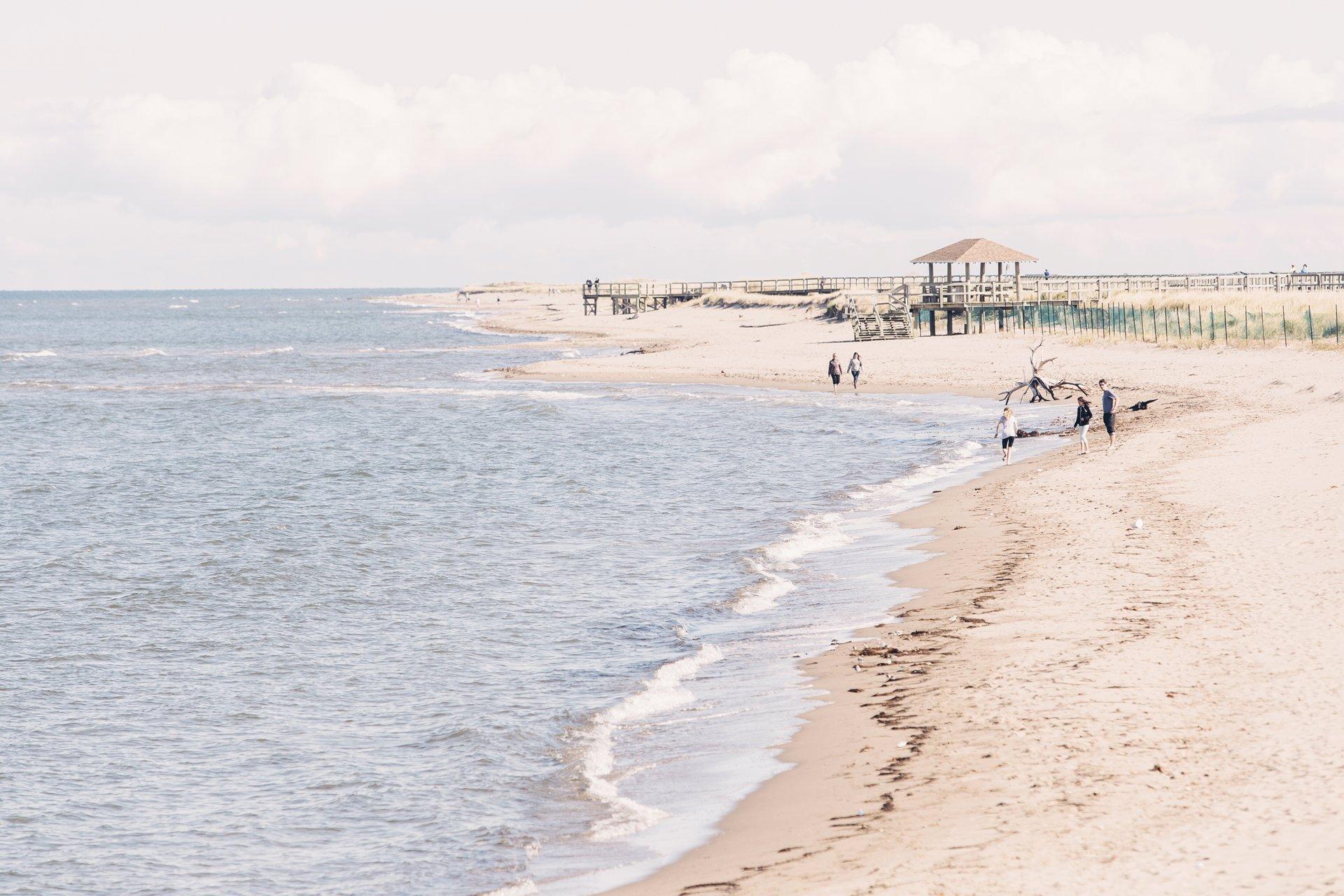 Credit: New Brunswick Tourism
A pretty harbour town at the head of the Bouctouche River, 40 minutes northeast of Moncton, Bouctouche is as famed for its sandy beaches and its Acadian culture. The Acadians are French descendants of colonists who settled in Acadia (Quebec and the Maritimes) in the 17th and 18th centuries. They speak Acadian French and music is central to their culture. Founded back in 1785 by two brothers, Bouctouche celebrates its past at Le Pays de la Sagouine, a recreated historic village with gem-coloured cottages that house music, comedy, dance and plays inspired by the award-winning book La Sagouine. Golf or hike and cycle through giant sand dunes along the trails and boardwalks at Irving Eco Centre, one of North America's longest natural sand spits.
Downtown
Saskatoon, Saskatchewan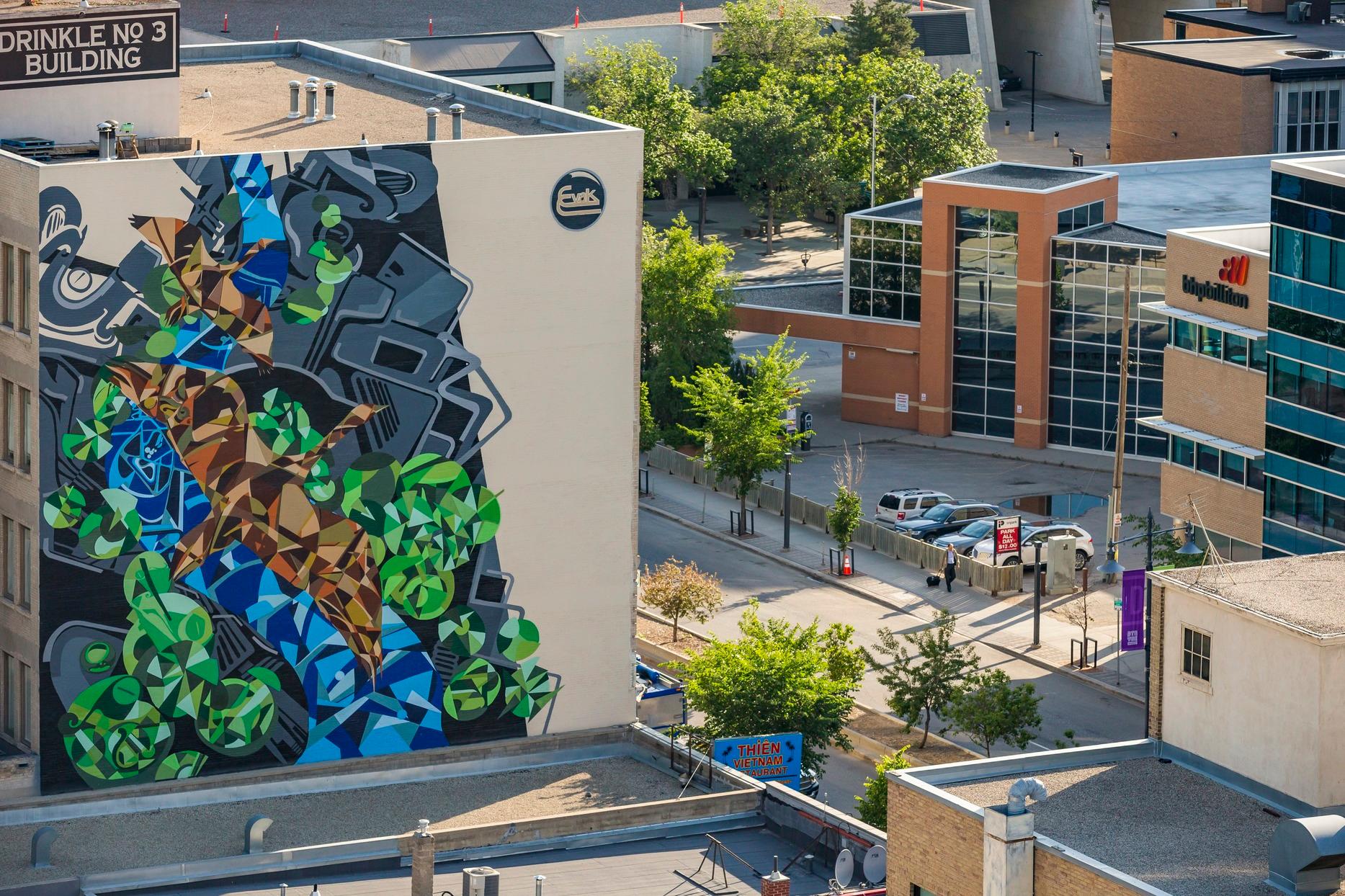 Credit: Greg Huszar Photography
You don't have to look far to find pierogies smothered in sour cream and bacon bits in Saskatoon, on the South Saskatchewan River. Here, among forested boulevards and framed by the river that runs through the city, many residents are known to have Ukranian heritage. The Ukrainian Museum of Canada hosts many fun public events along the riverbank, where you can also pick up traditional clothing and textiles at the gift shop.  Eat like-mom-cooked-it cabbage rolls at no-frills Baba's Homestyle Perogies or authentic and exotic dishes at the friendly, thatch roofed Touch of Ukraine.
 
No need to globetrot to get to know different cultures: Stroll a traditional Chinese garden, eat authentic Italian, Filipino and Ukrainian and celebrate Viking heritage -- all in Canada!