Three road trips through Atlantic Canada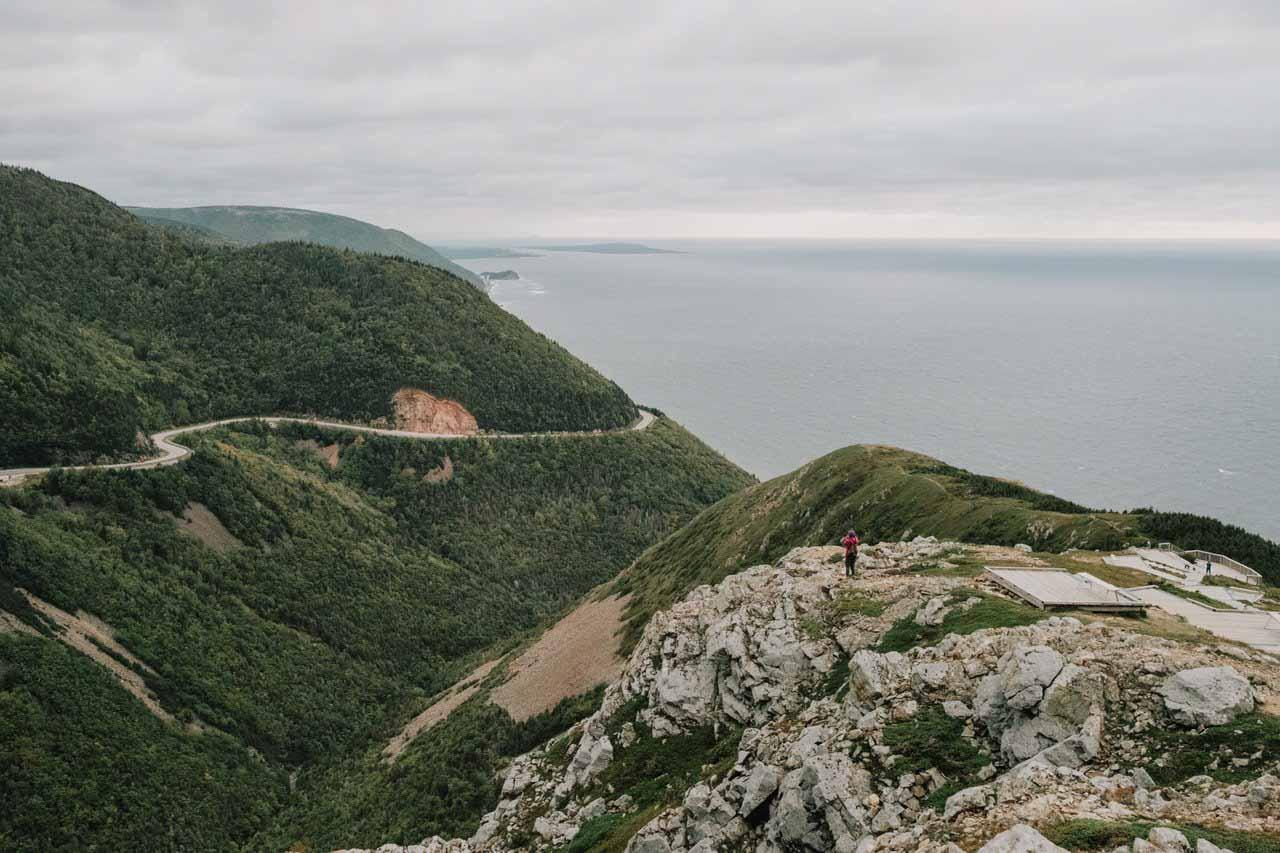 Explore Atlantic Canada on an Eastern Canada road trip that makes the most of the close proximity of neighbouring provinces with some of the world's most scenic drives. Discover local businesses, from family-run restaurants to cute boutiques, as you drive between stunning scenery on one of these quintessential East Coast Canada road trips. Here's everything you need to know before you go. 
Scenic road trip: Halifax to Charlottetown via Saint John
Explore the most picturesque spots on a coastal route between Halifax, Saint John and Charlottetown.
Lunenburg County, Nova Scotia - credit: Nova Scotia Tourism
Distance: 977 km
Timing: 5 to 7 days
Suggested stops: Halifax, Lunenburg, Annapolis Valley, Digby, Saint John, Hopewell Rocks, Moncton, Shediac, Charlottetown, Cavendish, North Cape, Summerside
Halifax to Annapolis Valley, Nova Scotia
Start your trip in Nova Scotia's cosmopolitan capital, Halifax. Take a stroll and dine by the Halifax Waterfront before driving to your first scenic stop in the UNESCO World Heritage Site of Old Lunenburg to explore the colourful colonial buildings. 
Drive two hours west to the lush Annapolis Valley to indulge in an abundance of cideries and vineyards for a day or two. Make time for a visit to the Millbrook Cultural & Heritage Centre to learn about the culture and history of Millbrook First Nation and the Mi'kmaw people of the area.
Digby to Saint John, New Brunswick
Dig into famous scallops in the charming town of Digby, known as "Canada's natural aquarium" and catch the two-hour ferry to Saint John, New Brunswick. 
Spend the night in Saint John before taking part in high-octane adventures such as ziplining across the Reversing Falls Rapids. These rapids are a unique phenomenon caused by the highest tide on earth: twice a day, the powerful tide from the Bay of Fundy roars into the Saint John River, forcing it to change direction. Take advantage of the fast-changing tide to explore the Bay of Fundy and Hopewell Rocks two different ways. When the tide is out, walk on the ocean floor to see the flowerpot rock formations close up (be sure to check the tide table). At high tide, take a guided kayak trip with Baymount Outdoor Adventures to paddle where you stood just hours prior!
Moncton to Shediac
Make your way to Moncton for a taste of New Brunswick local life - pick up locally made cheeses at Les Gourmandes and enjoy as part of a picnic in scenic Centennial Park.  
In Shediac, the "Lobster capital of the world", stop for a photo with the World's Largest Lobster and savour a lobster roll from Captain Dan's.
Charlottetown to North Cape, Prince Edward Island
Cross Canada's longest bridge, the Confederation Bridge, to reach Prince Edward Island. Pick up fresh produce in Charlottetown for a taste of the island's bounty - on a Saturday, stock up at the Charlottetown Farmers' Market. 
Drive 30 minutes northwest to curl up at Cavendish Beach Cottages and take some time to explore the fictional home of Canada's favourite redhead, Anne of Green Gables, at Green Gables Heritage Place. 
Head north to the tip of Prince Edward Island, winding along the red cliffs, to explore the North Cape and its Black Marsh Nature Trail, a 5.5-kilometre boardwalk. 
Summerside to Halifax
Heading back towards Halifax, stop in Summerside to shop for locally made goods at Spinnakers Landing or relax on the deck with fresh local seafood aplenty. 
Off-the-beaten path road trip: Halifax to Charlottetown via Fredericton
From sea caves and secluded islands to Acadian villages and ancient rock formations, discover the hidden gems of the Bay of Fundy and beyond taking in scenic Nova Scotia drives.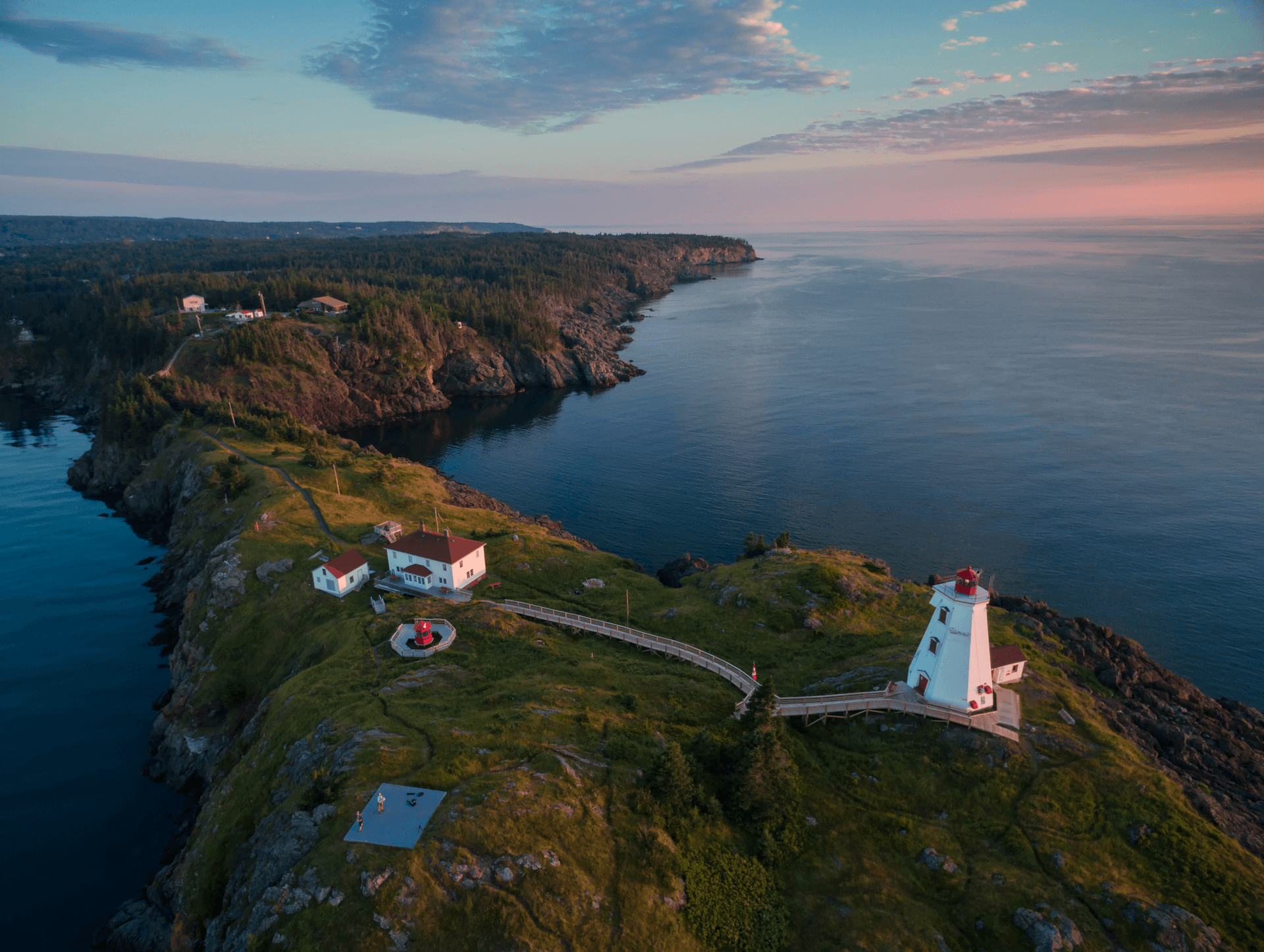 Swallowtail Lighthouse, Grand Manan, New Brunswick - credit: New Brunswick Department of Tourism and Parks
Distance: 1,658 km
Timing: 12-14 days
Suggested stops: Halifax, Brier Island, Grand Manan Island, St. Martins, Fredericton, Kouchibouguac National Park, Point Prim, Murray Harbour, Panmure Island, Basin Head, East Point, Prince Edward Island National Park, Charlottetown
Halifax to Brier Island
Head out of Halifax to take two short ferries from Digby to your first overnight stop: the tranquil Brier Island. Stay at the Brier Island Lodge and enjoy this small island where the friendly fishing community is outnumbered by an abundance of wildlife such as whales and seabirds.
Recommended add-on: Grand Manan Island
Return to the mainland to catch the larger ferry across to New Brunswick where you can add on another island adventure: Grand Manan Island. Step into a postcard by staying in a quaint cottage or camp out to photograph puffins (with Sea Watch Tours in the summer).
St. Martins to Bay of Fundy
Follow the red cliffs of New Brunswick's coastline to discover the sea caves at St. Martins on a kayak trip with Red Rock Adventures. Spend a few days in Fundy National Park to witness the record-breaking 12-metre Bay of Fundy tides as they transform the famous landscape.  
Fredericton to Kouchibouguac National Park
Head inland to spend a night exploring Fredericton. Get a taste of local history and beer on the Capital City Brewery Tour which visits four different breweries and showcases the city's heritage architecture. 
Drive to the Acadian Coast to explore the richness of Kouchibouguac National Park. There, the Mi'gmaq and Acadian cultures intertwine with natural wonders including a designated Dark-Sky Preserve.
Point Prim to Charlottetown via East Point
Cross the Confederation Bridge to Prince Edward Island to join the Points East Coastal Drive. Start with a stroll around the Island's oldest lighthouse at Point Prim. Meander your way to Murray Harbour to stock up on award-winning seafood chowder at Harbourview Restaurant. Work it off with a swim from the white sand beaches of Panmure Island.
Stop at Basin Head Provincial Park where the high volume of silica and quartz in the sand makes it "sing" when you walk on it. Continue your journey with a guided tour of East Point Lighthouse to witness two tides meet.
Wander along the boardwalk at Prince Edward Island National Park, where you'll find red cliffs that frame coastal bays and accessible beach areas. In the summer months, local artist Maurice Bernard runs Sensational Sandcastles in Malpeque to teach families how to create beautiful sand sculptures. 
Before returning to the mainland, treat yourself to a night in Charlottetown.
Classic road trip with a twist: Nova Scotia to Newfoundland and Labrador
Step onto a storied land and take in the natural beauty of fjords and other fantastic sights along the rugged east coast of Nova Scotia and the wild west coast of Newfoundland and Labrador.
Gros Morne National Park - credit: Newfoundland and Labrador Tourism
Halifax to North Sydney
Head to the rugged Eastern Shore of Nova Scotia and the historic Sherbrooke Village Museum, where a heritage tour takes you back to the 1860s and pay a visit to Port Bickerton Lighthouse as you drive along the coast. 
Stop to enjoy a sip at Authentic Seacoast Distillery & Brewhouse and learn about the 300-year-old rum heritage of the region. Stay overnight in the majestic seaside SeaWind Country Inn, before heading to North Sydney to catch the ferry to Port aux Basques, Newfoundland and Labrador.
Port aux Basques to Gros Morne 
Book a cabin to get some rest on the seven-hour sail across the Cabot Strait. Upon arrival, explore the grounds of Rose Blanche Lighthouse and check-in at the Lightkeepers Inn B&B. 
As you make your way up the western coast of Newfoundland and Labrador, discover the picturesque community of Corner Brook, which is situated at the end of a fjord between the tumultuous Atlantic ocean and Newfoundland's highest mountains, the Long Range. Known as the gateway to Gros Morne National Park and the Humber Valley, Corner Brook is also the ideal place to pick up locally made souvenirs. 
As you enter the UNESCO Heritage Site of Gros Morne National Park the spectacular scenery becomes increasingly dramatic with imposing mountains and deep fjords giving way to beaches, bogs, and barren cliffs. Choose from lakeside flatter hikes such as the Stanleyville Trail, which takes in an abandoned logging town, or the more intense Lookout Hills Trail for panoramic views. 
Stay the night, or several, in Woody Point to get a taste of local life and cuisine on the Taste of Gros Morne food tour. 
Recommended add-on: L'Anse Aux Meadows National Historic Site
Before returning to continental Canada, make your way north on an epic drive to the tip of the island and L'Anse Aux Meadows National Historic Site for a Sagas and Shadows storytelling tour.