Beyond the slopes: summer in Whistler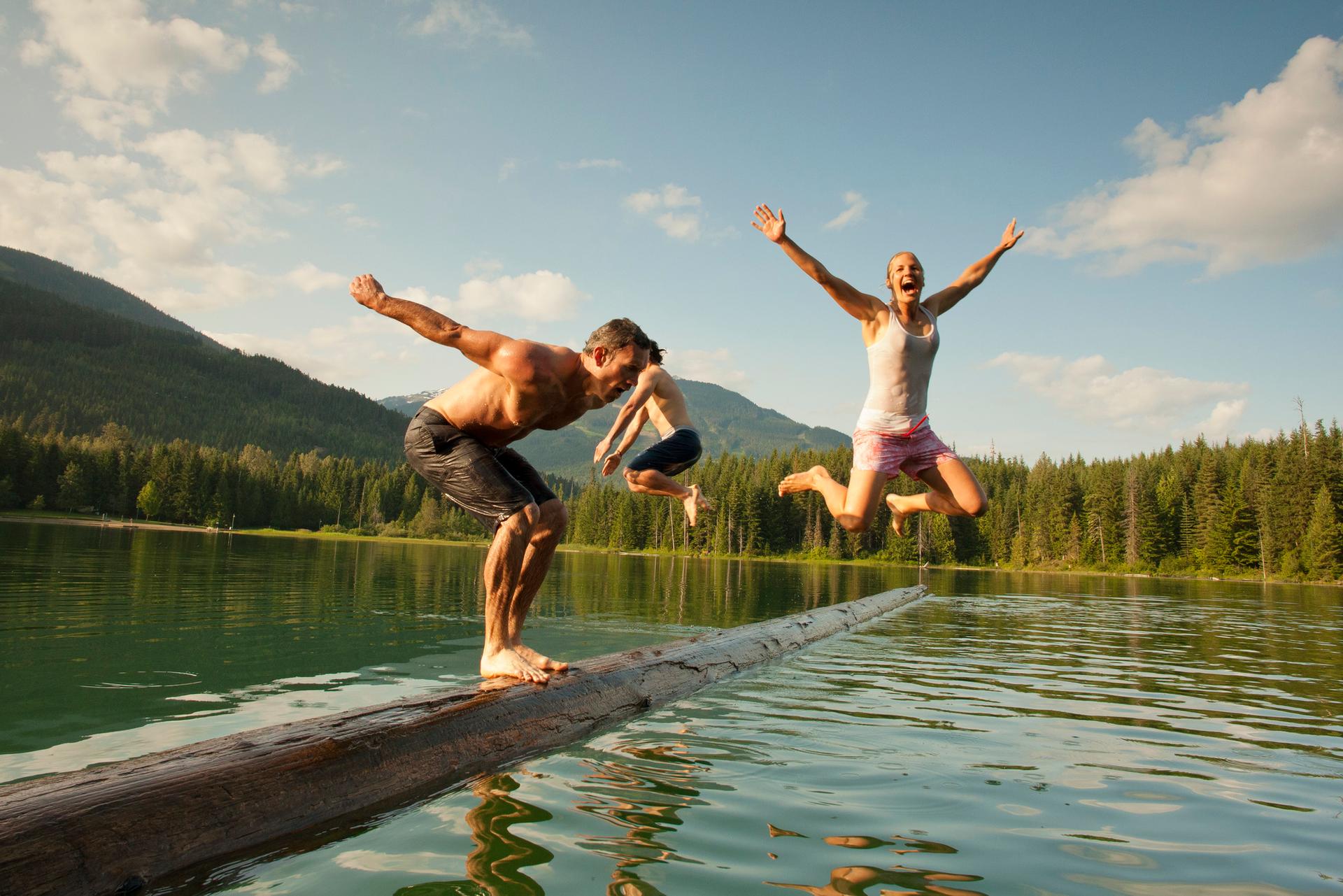 World-renowned for its snow, Whistler often gets pigeonholed as a winter-only destination. But the locals know this is just plain wrong--this vibrant resort town takes on a whole new personality as the days get longer and temperatures rise.
Looking to cross off a bunch of your bucket list items? Stop by this mountain paradise where there's something for everyone, from the outdoor explorer to the armchair adventurer.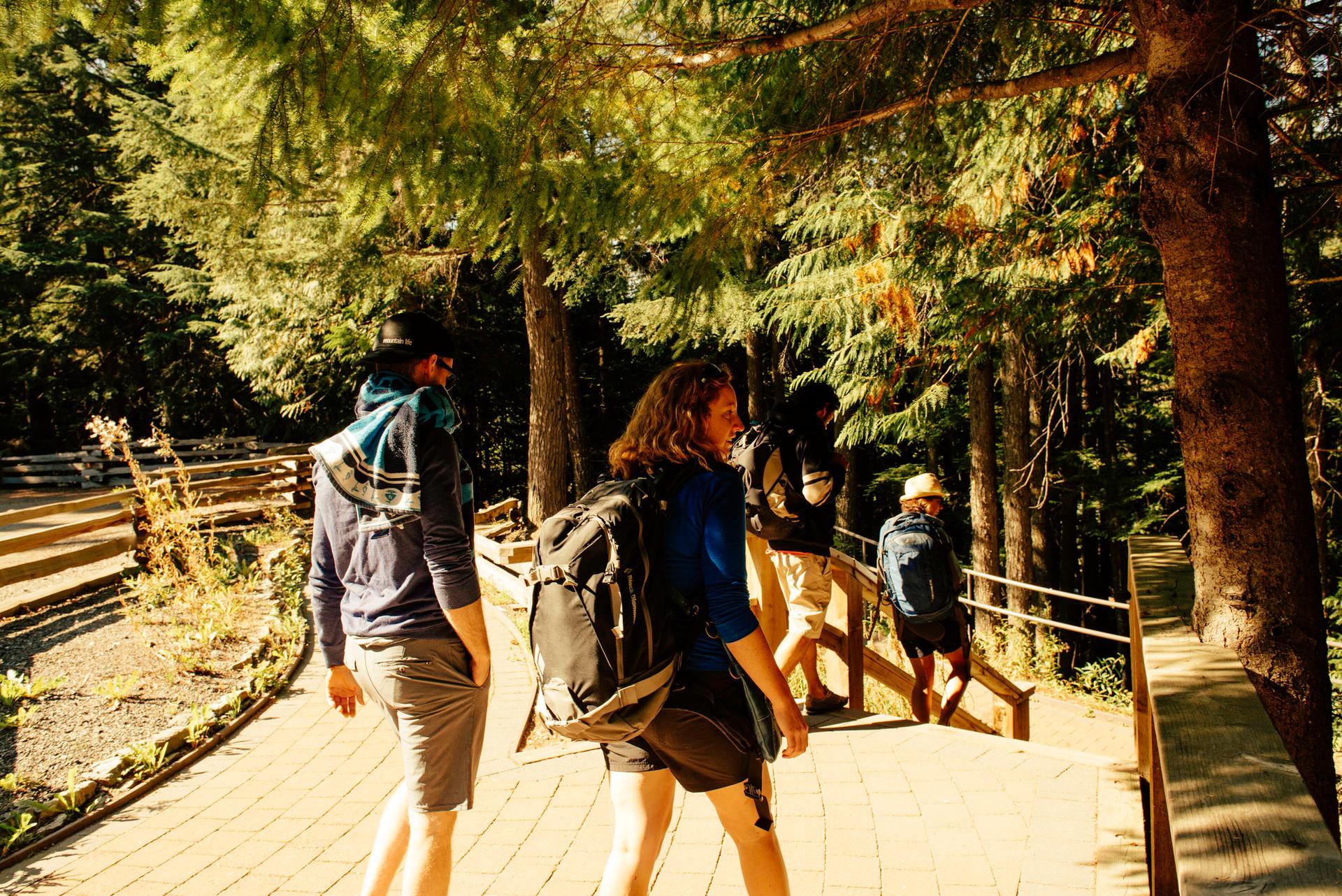 Head to the alpine or explore the forests
Hike
Have mountains, will hike. Nestled in the Pacific Ranges of the Coast Mountains, Whistler offers hikes for every level. If you're a savvy mountaineer, take on the alpine trails at your own pace by choosing a day hike, like the Skywalk trail, or stick closer to the Village and check out the alpine wildflowers. If you haven't navigated a mountain path in a while, opt for a tour to show you everything from glaciers to ancient forests. Want that mountain-top view without the sweat? Check out the PEAK 2 PEAK Gondola that gives you access to over 30 miles of trails, as well as a stunning view from the highest and longest lift in the world. Choose a glass-bottomed gondola if you're feeling adventurous.
Let nature soothe any stress
Relax
If you've spent the day jumping off a bridge or conquering a mountain, nothing feels as good as relaxing and doing absolutely nothing. Come to think of it, even if you haven't been adventuring all day, relaxing at the spa or at a yoga class can be a welcome reprieve from the hustle and bustle of the Village. Start your path to relaxation at a Hatha yoga class at Yogacara, then head to Scandinave Spa to re-energize with luxurious hot and cold pools.
If the sun's out, head to Lost Lake or one of Whistler's many beaches for a dip--picnic definitely recommend. Once you've reached your daily intake of Vitamin D, head back to the Village to explore the shops for some retail therapy.
Natural hot springs are also a great place to relax, but they require a bit more effort to get to. Make the trip to visit three that are all fairly close to the Village.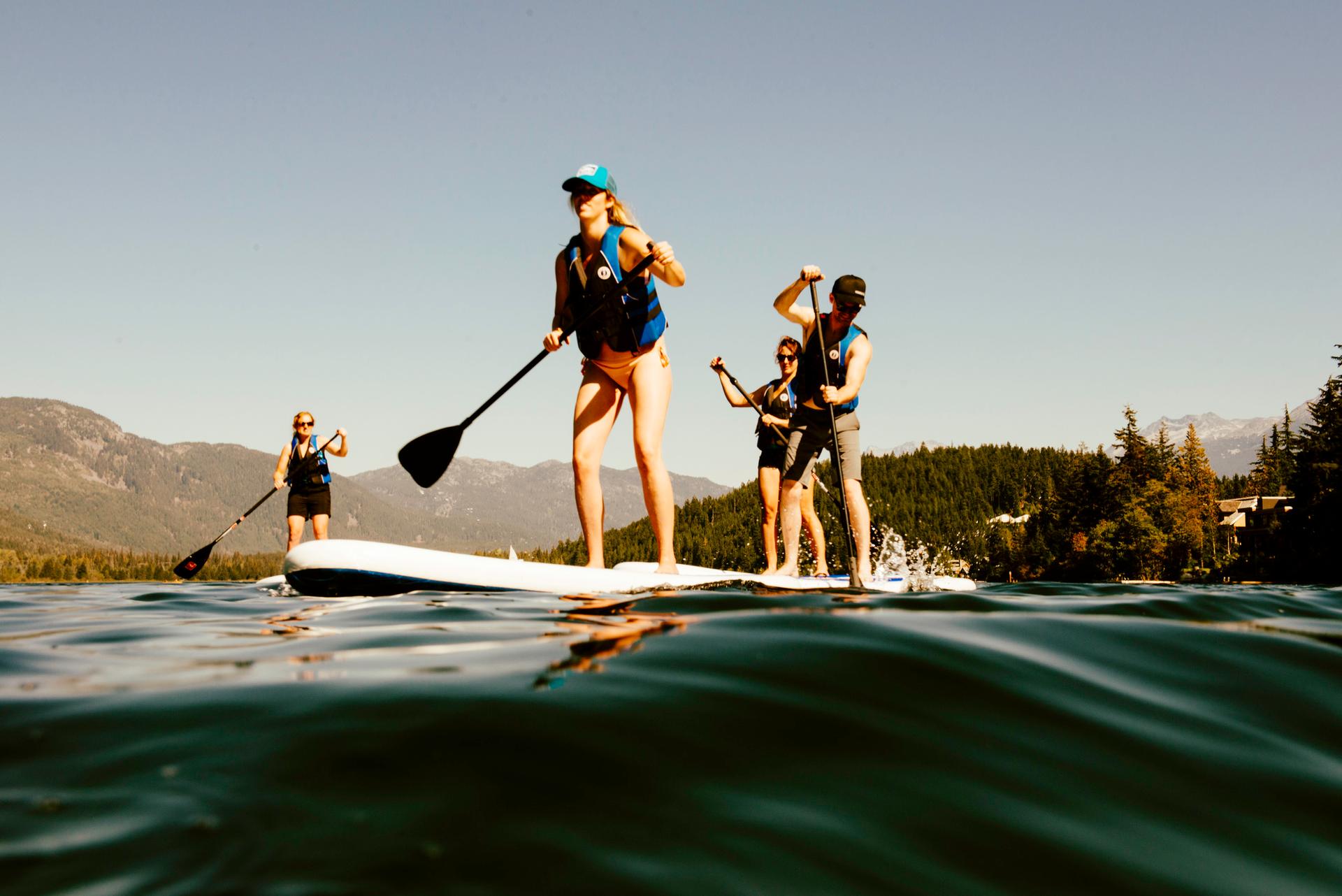 Cool off in one of Whistler's lakes or rivers
Adventure
Whistler is synonymous with adventure year-round. Leave your skis and board behind and step into warm weather thrills. If you don't fancy bungee jumping, check out one of the many ziplining and tree adventure spots on the mountain. From a leisurely forest canopy walk, to a heart pumping zip on the mountain's longest and fastest ziplines, you'll love seeing the world from the top. Hopping on an ATV will also give you a unique perspective of the mountain. Trek to the lesser known spots with a guided ATV tour that'll have you ripping down logging roads and tearing up the backcountry.
Prefer to test your strength? Try out rock climbing at Via Ferrata, a man-made cliff ladder that will take your breath away. But don't worry, you'll have a guide by your side. Once you've completed the ascent, you'll be treated to a view that even most locals haven't seen.
Now that you've worked up a sweat, cool off with an even cooler dip. Standup paddle boarding at Alta Lake will allow you to get up close and personal with the scenery, while a canoe tour to the River of Golden Dreams--yes, that's its real name--will have you pinching yourself. Water-loving thrill seekers should also take a whitewater rafting trip to truly understand the power of nature---all with a smile on your face and paddle in hand.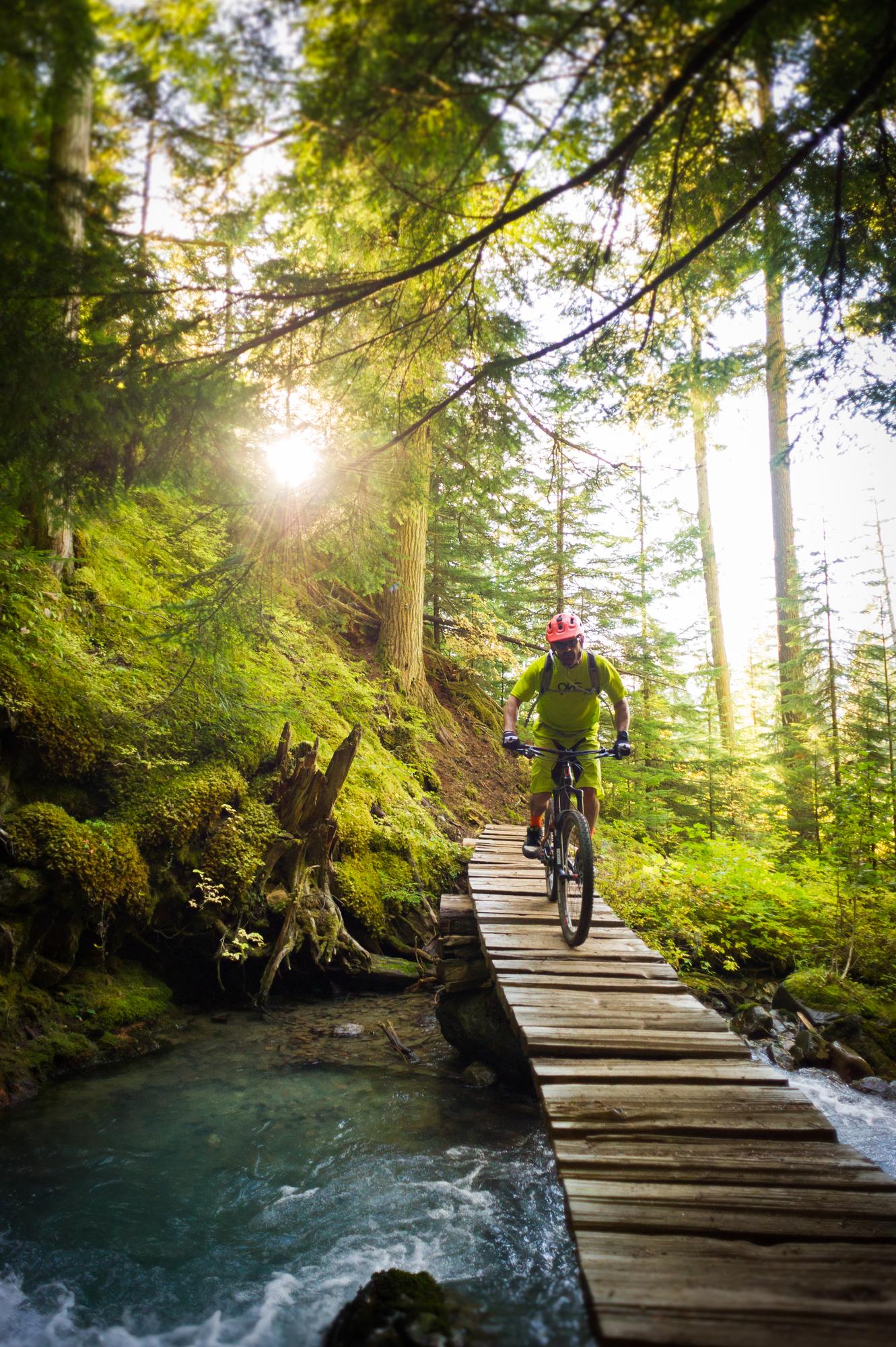 Cruise from the top of a mountain to the bustling village
Bike
You don't need snow to hit the slopes. Whistler is a mountain biking mecca and offers a mountain bike park, as well as several trails that weave down the challenging terrain for cross-country mountain bikers. For less extreme two wheelers, check out the Valley Trail network that stretches almost 25 miles through the Whistler Valley. It's paved and offers a ride through the scenic landscape, making it equal parts exercise and sightseeing. Skip out on cycling yourself, and check out one of Whistler's many cycling events, like Crankworx for an adrenaline rush, or the BC Bike Race for a true West Coast mountain biking experience.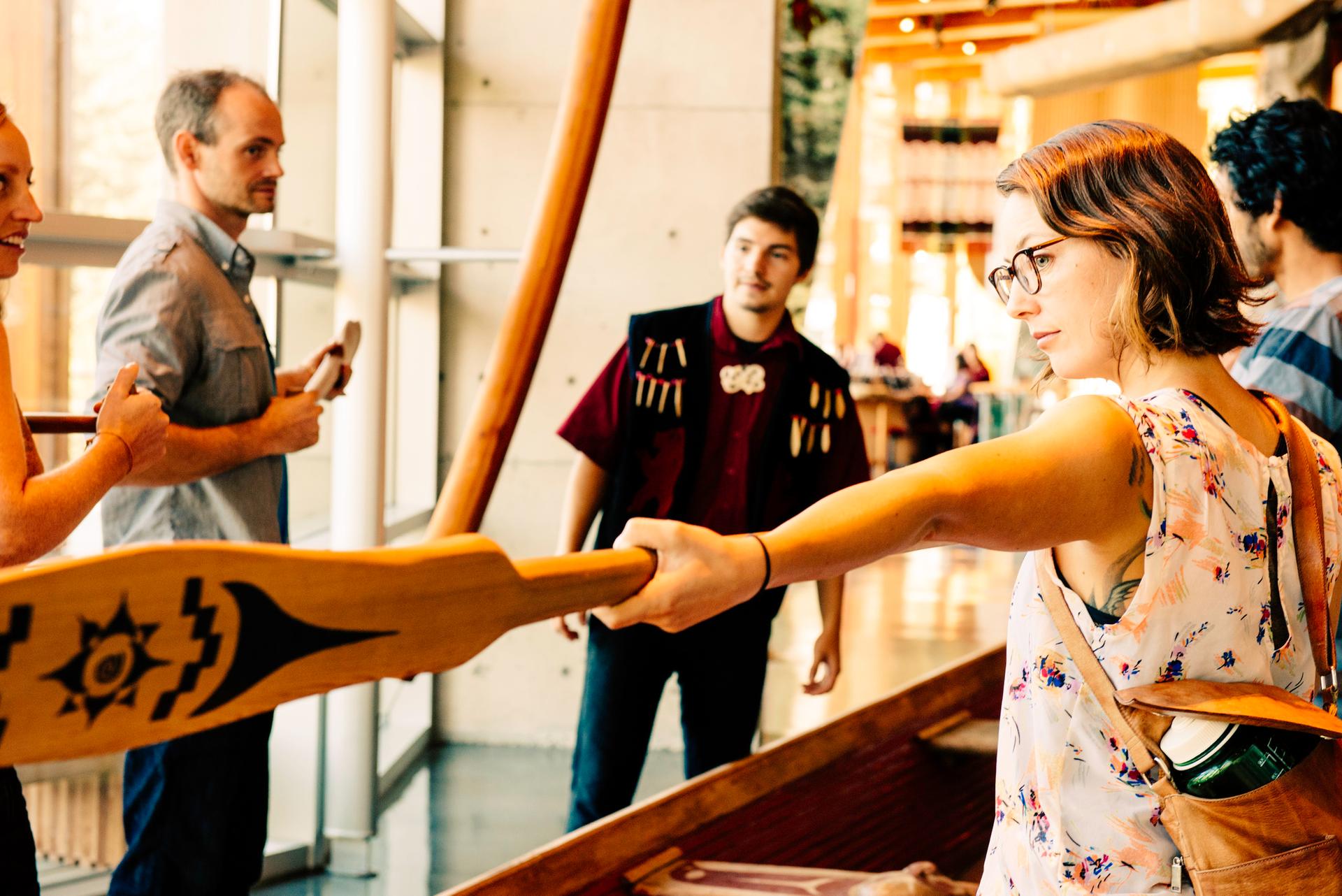 Take a break from outdoor adventure to connect with arts and culture
Discover
Before you settle in to get your fill at one of Whistler's excellent restaurants, take in some local and international culture at the Squamish Lil'wat Cultural Centre and the Audain Art Museum. The Squamish Lil'wat Cultural Centre is a striking building that also boasts being the first centre dedicated to local First Nations art, history, and culture. It doesn't just feature your typical museum exhibits either; instead, you'll be invited to explore an educational forest walk and have the chance to get hands-on with interactive crafts.
The newest cultural hub on the block is the Audain Art Museum, which allows you to take a peek into the flourishing BC art scene. Their impressive permanent collection features gorgeous First Nations pieces, like hand-carved masks, as well as world-renowned artists like Emily Carr and Rodney Graham. Plus, visiting exhibits feature amazing international works all wrapped inside one of Whistler's most unique and innovative buildings. Win-win.
Raise a glass to good times in Whistler at a local pub
Apr

?

s
Not just for skiing! After a long day of spa-side relaxing or tree-top adventuring, you'll deserve a drink. Head to the Village and find a spot to metaphorically put your feet up. Enjoy world-class food at Araxi (seriously, it's won multiple awards) or opt for a patio beer at the Longhorn Saloon & Grill. Try a sample of the Village's best food and drink offerings on a tasting tour to parlay your apr?s into the evening, then check out Escape! Whistler, where you'll be challenged to solve your way out of a riddle-filled game room.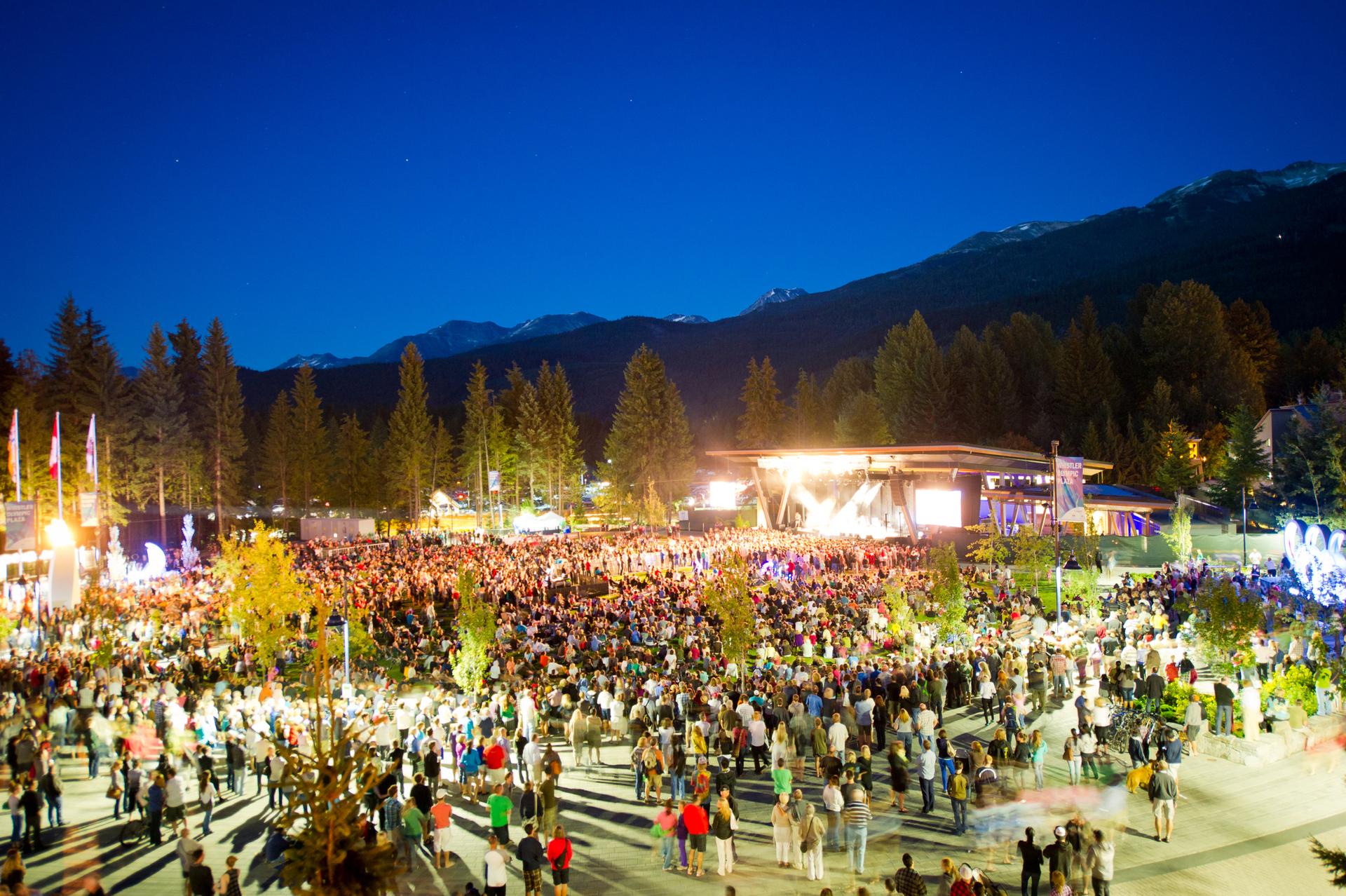 Celebrate with a show in the plaza or seek out an Olympic experience
Celebrate
Mix up your daily adventures with a special event or two. Escape to the alpine with the Mountain Top BBQ Series or explore the outdoors with GO Fest, home to everything from pancake breakfasts and street entertainment, to film screenings and stand up paddle boarding. If you're more musically inclined, there's an outdoor concert series that's sure to keep you entertained with acts like the Vancouver Symphony Orchestra and Jos? Gonz?lez.
Celebrate the good times past by re-living the Vancouver 2010 Olympics. Check out the Whistler Sliding Centre for a tour and an exhilarating ride, or test your marksmanship at the Olympic Park while shooting a .22 calibre biathlon rifle (with a qualified instructor by your side). No time for a tour? You can't miss the extremely Instagrammable rings at the Whistler Olympic Plaza.
Of course the infamous Whistler nightlife can't go unmentioned. There's a host of pubs, lounges, and nightclubs to choose from depending on how you're feeling. You can definitely expect to meet a lot of fun people who are also looking for a great night in the Village, sipping on craft beer and dancing to internationally-renowned DJs. Plan your night in advance, or wander the Village and see where the locals take you.
At the crossroads of urban amenities and outdoor hotspots, you'll find Whistler. Head up the Sea-to-Sky Highway and find your summer adventure amongst the mountains (and shops, and pubs, and restaurants). More importantly, remember it's not all about the snow.
To find out more about Whistler, visit their website.