The Best Way to View the Beautiful Ice Bubbles of Alberta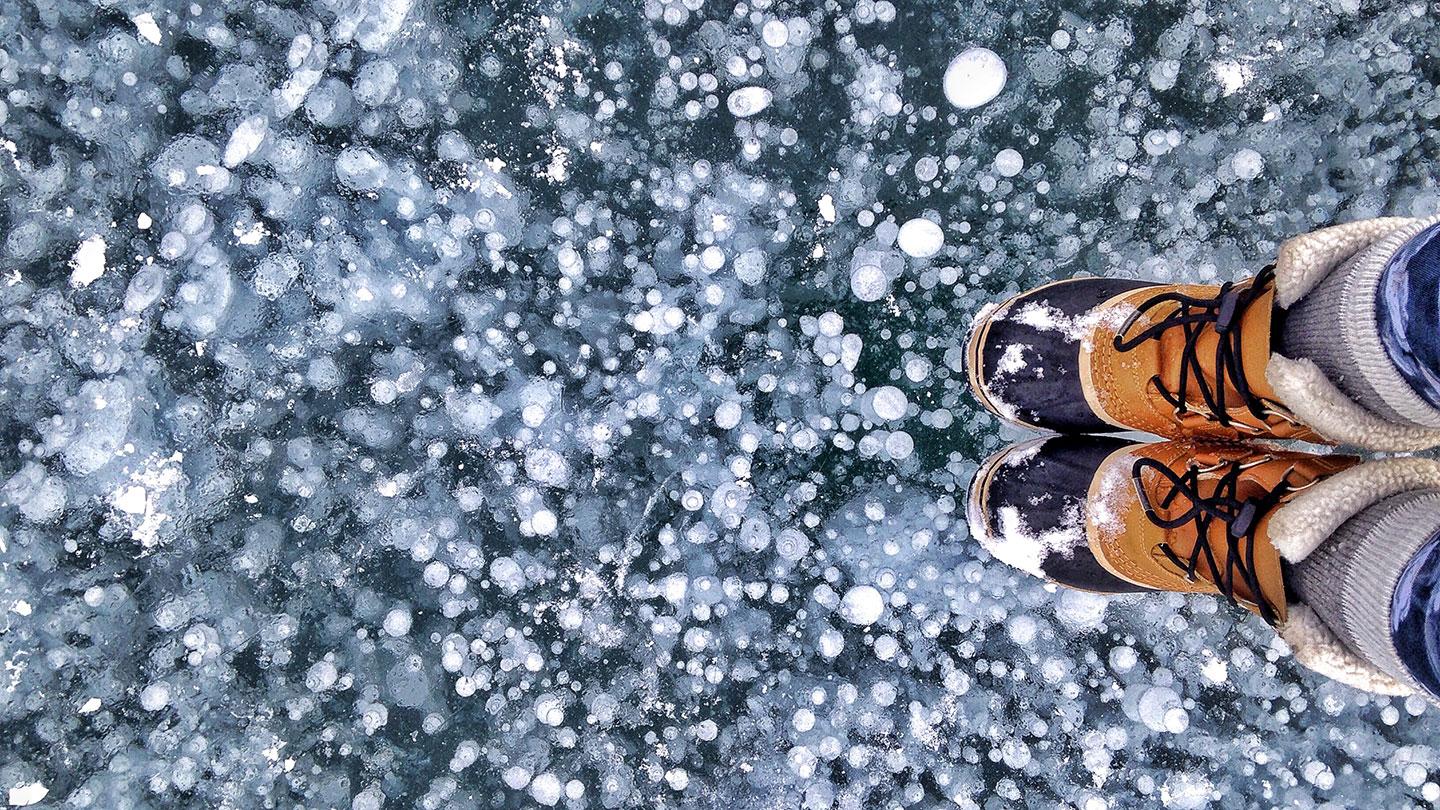 This post by Michael Hingston was originally published on the Travel Alberta blog.
They come here by the dozens, from all around the world. They come to a majestic but unassuming corner of the Canadian Rockies, where there are few signs to guide you, and just a single public bathroom for miles around. 
They're all here in search of one thing: the bubbles.
The bubbles themselves aren't unique, ecologically speaking. In fact, the millions of tiny methane pockets that dot the ice at Abraham Lake are a natural byproduct of the organic matter that decomposes on the floor of all lakes. They've been here ever since this one was created in the early 1970s as part of the nearby Bighorn Dam.
Strong winds polish the ice 'window'
For decades, Abraham Lake was a local secret. But then came a series of recent viral Instagram posts, from such people as Banff photographer Paul Zizka. 
That was quickly followed by a wave of glowing media coverage, in places like National Geographic, the New York Times, and Smithsonian magazine. 
All of a sudden, everyone was calling and asking about the bubbles," says JP Fortin, co-owner of Pursuit Adventures, a tour company based in Red Deer.
Now, tourists from Japan to Australia have started venturing to Abraham Lake to stand on the ice and see this frozen, underwater symphony for themselves--and then to take a selfie with it, naturally.
Snowshoe tours explore Cline River Canyon
For those looking for a little more expert accompaniment, Pursuit Adventures offers a day-long tour of the area, which is part of scenic David Thompson Country.
Snowshoeing around the Cline River Canyon, you travel through a gorgeous stretch of forest that suddenly turns down into the canyon and deposits you in front of a couple of massive glaciers. 
The first thing you notice is how quiet it is. In fact, the only people our little tour group encounters all morning are the quartet of ice climbers who are spending their weekend trying to scale the 50-metre icefalls next to us as we eat our supplied home-made lunches along the frozen riverbank. 
As we trek through the snow, we're treated to stories and gossip about the area from Fortin, a soft-spoken Alberta transplant from Gasp?, Quebec, who charmingly describes even the biggest logistical nightmares as "challenges." 
He and his wife Danielle founded Pursuit in 2010 to show visitors all the wonders that can be found in between well-known Rockies hotspots Jasper and Banff. 
And word is spreading: the company has been running full-time for the past five years.
Bubble-hunters gather like wildlife
Our stomachs full of Red Deer bagels and hummus, we snowshoe up out of the valley and back to the van. 
A few minutes after hitting the road, Abraham Lake comes into view—and so do odd clusters of vehicles, pulled off to the side of the road in a seemingly random way that suggests a pack of wildlife has materialized at the side of the highway.​
Fortin shakes his head knowingly: they're all bubble-hunters, like us. 
It's possible to experience Abraham Lake on your own. During the right conditions, the ice is a solid 60-centimetres thick, and you won't need any help finding the bubbles. They're literally everywhere you look.
Yet it's hard to deny the value of having someone like Fortin at the helm, steering you to the best viewing areas, which can change week to week with the weather. It's also nice to have a guide to ensure safety. Pursuit's guides not only know when the ice is safe to walk on, but they also give its hikers mini-spikes that attach to our boots. 
If you're just there to re-create that one shot on Instagram you saw, Fortin can show you which mountains to put in the background.
You find solitude even on 'busy' days
Even at its busiest, Abraham Lake has a serene solitude compared to many Rocky Mountain destinations. 
As you wander the lake surface, the view down into the frozen bubbles is nearly as awe-inspiring as the one up towards peaks like Mount Michener. It's easy to convince yourself that you are all alone here, surrounded and engulfed by some of the very finest scenery Alberta has to offer. 
Fortin returns to our group, bearing thermoses of hot chocolate and bags of home-made graham wafers, and that doesn't hurt, either.
Venturing onto any frozen lake can be dangerous. As a reservoir, Abraham Lake's water levels below the ice can fluctuate, which increases the risk of falling through.
The safest way is to go with a guide.