Ancient giants: iceberg viewing
The expanse of waters that stretch from the coast of Labrador to the northeast corner of the island of Newfoundland is aptly known as Iceberg Alley, and is one the best places in the world to see ancient giants as they gently float south.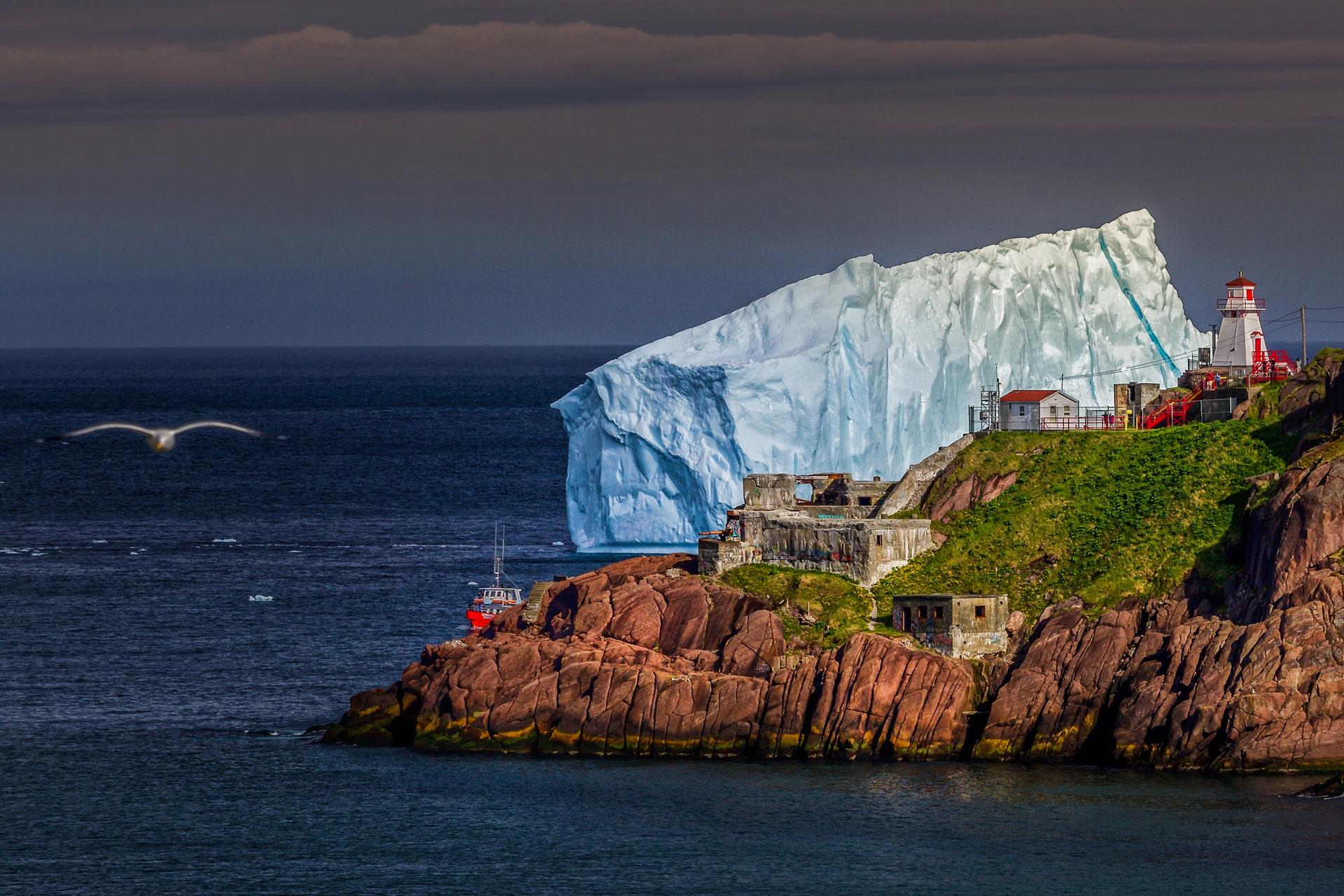 Icebergs float by the Newfoundland and Labrador coast - Credit: Iceberg Quest
These massive icebergs are towering slabs of 12,000-year-old ice that range in colour from snow white to deep aquamarine and have their own unique shape and size. They can be as small as a boat or as large as an office tower — each iceberg has its own story to tell.
Stan Cook Sea Kayak Adventures
Take in the icebergs from land, from a boat, or from up close in a kayak. Each offers an incredible perspective of these natural wonders and will leave you with memories for a lifetime. Imagine watching rivulets of icy water pour from crevasses, and catching the blue-green flashes of submerged corners of these icy giants just below the water line.
If you're lucky, the crew might net small chunks of the iceberg and throw them in your drink. In fact, Newfoundlanders make good use of the icebergs in Iceberg Water, iceberg spirits like Iceberg Vodka, Gin and Rum and, of course, Iceberg Beer brewed in St. John's at the famous Quidi Vidi Brewery.
Take an incredible journey with Iceberg Quest
As you cruise the waters of Newfoundland and Labrador in search of ice, you might also encounter playful dolphins, majestic humpback whales, and a variety of birds, like gannets and the fan-favorite puffins. Consider the wildlife viewing a bonus.
It's in the spring and early summer that the waters fill up with icebergs, with May and June being peak months to head out and see them.
Start planning your date with these monoliths, with the help of Newfoundland and Labrador Tourism.
From CAD 5,795 per person (double occupancy)
12 days / 11 nights
Our guided tours to Newfoundland are carefully crafted to immerse you in the local culture and landscape and expose you to a kaleidoscope of authentic experiences.

From CAD 4,385 per person
Mornin' sunshine! Not only are the residents of Newfoundland and Labrador the first to see the sunrise in North America, they're also lucky enough to see floating icebergs, spouting whales, and plunging puffins on a regular basis. Pack your shades for the quaint lighthouses, rainbow- colored houses, and other bright sights this tour of Newfoundland and Labrador has to offer, including three UNESCO World Heritage Sites. Witness the exceptional beauty and unique geological features of Gros Morne National Park, walk in the footsteps of Vikings at L'Anse Aux Meadows National Historic Site Red Bay, and immerse yourself in the life of a 16th-century whaler at the Red Bay Basque Whaling Station. A ferry crossing between Newfoundland and Labrador – plus scenic cruises around Bonne Bay and the Witless Bay Islands – offer additional vantage points of this windswept, wondrous land. Don't forget to toast the stunning sunset with a local iceberg beer or a shot of Screech.
From CAD 2,543 per person
7 days, 6 nights
It's time to explore North America's most north-easterly point, where the dramatic coastline, mighty fjords and wonderful wildlife will take your breath away. With a knowledgeable leader to guide the way, you'll experience a landscape that has been shaped by the elements over thousands of years, hike easy yet spectacular trails, and enjoy delicious picnic lunches surrounded by the splendour of Newfoundland's famous scenery. Watch huge icebergs bob past the town known as "The Iceberg Capital of the World" in the spring, go whale watching, and spot puffins at one of North America's best viewing sites.