An adventurer's guide to Québec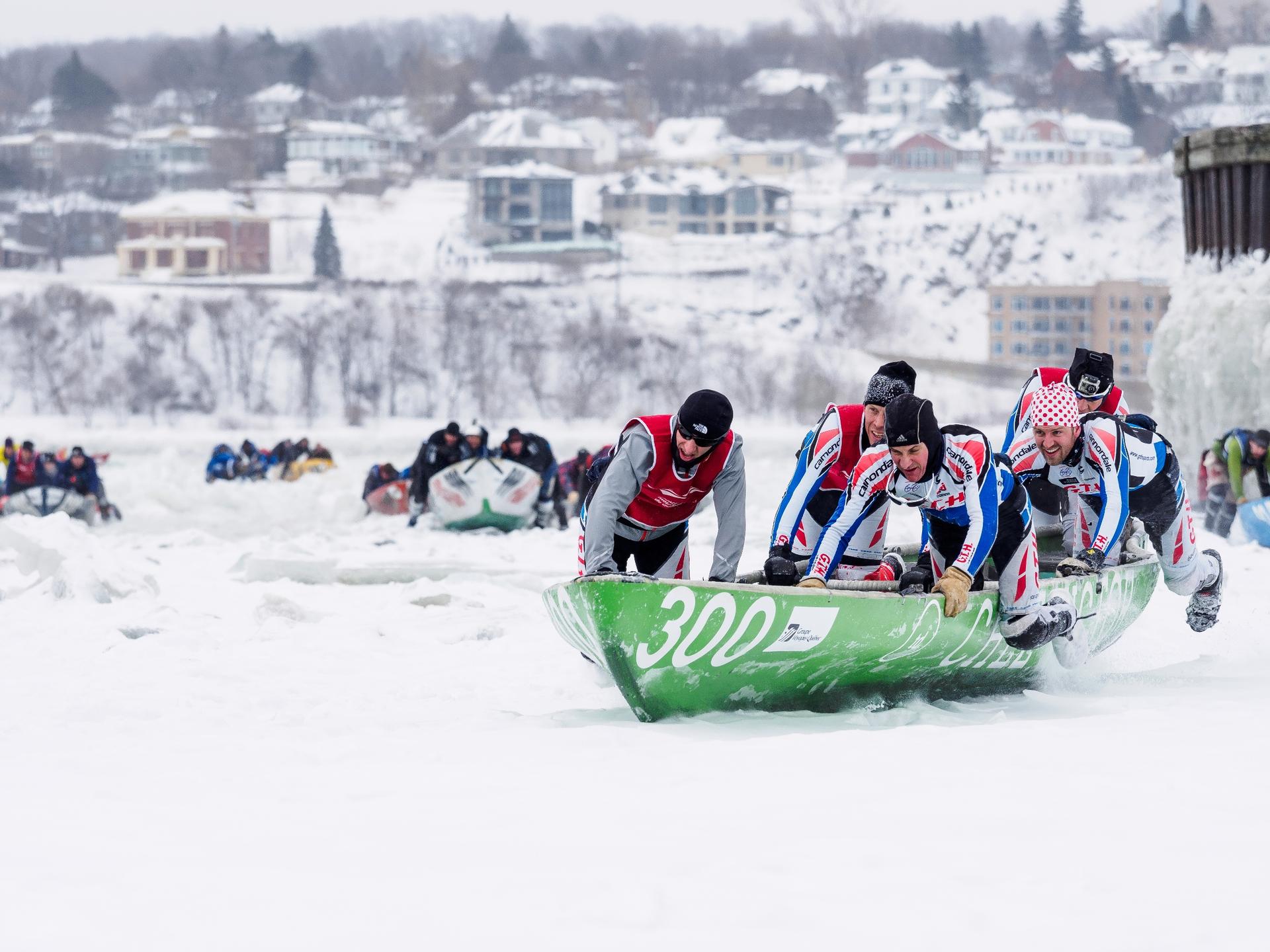 Do you consider yourself an adventurer? Would you choose the great outdoors over shopping and dining? Quebec is full of activities that take you from the tops of mountains to the middle of fjords, from icy waterfalls to river waves. We've put together a little guide to help you discover your own Quebec adventure.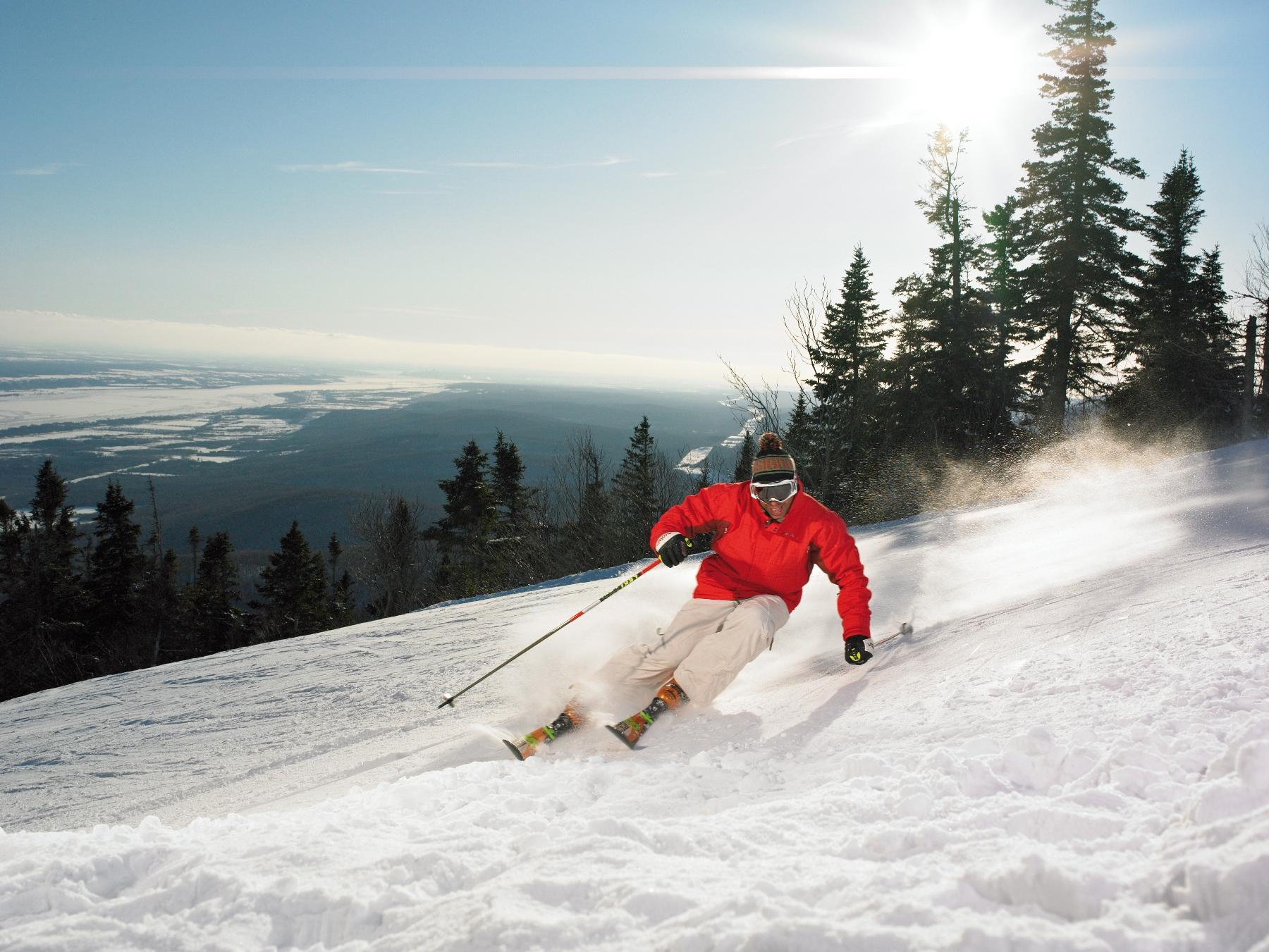 Mont-Sainte-Anne Ski Resort
Ski and snowboard
Quebec gets blanketed with snow every year (over 300cm in some cities, and far more on the mountains), and with that much snow you know there's going to be a huge ski and snowboard scene. There are around 70 ski centers in the province, most of them quite close to the big cities of Montreal and Quebec City. Whether you're nailing grabs on the halfpipe, flying down moguls, or just want to relax on a few blue runs, there's a hill out there for you.
Among the most popular mountains are Mont-Tremblant, Mont-Sainte-Anne, and Le Massif de Charlevoix. Mont-Tremblant, located less than two hours from Montreal is home to one of the most powerful and sophisticated snowmaking systems in North America, and hosts 96 runs on four sides of the mountain. Only 30 minutes from Quebec City, Mont-Sainte-Anne has 71 runs scattered over one of the most beautiful resorts in the country. It also has the highest vertical drop for night skiing in all of Canada. Finally, Le Massif actually has the highest vertical drop east of the Canadian Rockies and is known for its massive snowfall, which hits over 7m annually.
In addition to the major hills, there are many opportunities to hire a local guide and go backcountry skiing. One popular destination for backcountry is the Chic-Choc Mountains. While quite far to the east of Montreal, the mountain range has more than 25 summits of over 975m in height. You won't find a better setting to leave the trails behind.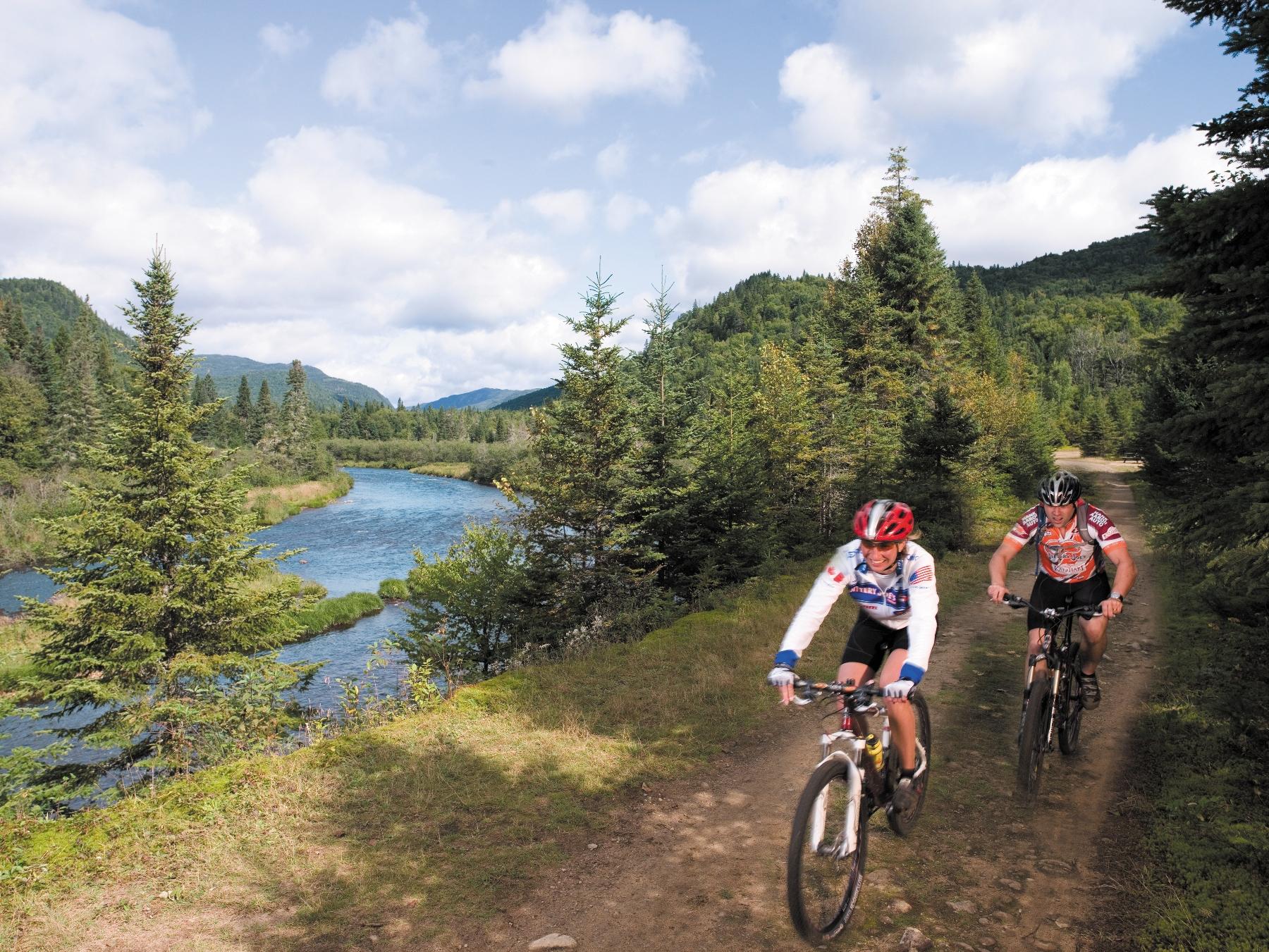 Mountain biking in Quebec Credit: Quebec City Tourism/Camirand Photo
Hiking and biking
Hiking is one of the best ways to experience the vast nature of Quebec. Over 6,000 kilometres of hiking trails exist in the province, so you're probably not going to be able to explore them all during your visit. But, no matter where you're staying, there's going to be a hike nearby.
Here are a few of the most popular destinations:
Mont-Saint Hilaire: Located quite close to Montreal, it has around 30 kilometres of trails.
La Mauricie National Park: Whether you want a quick 30-minute jaunt, or have seven hours to spend immersed in nature, one of this park's 14 trails is right for you
Gaspesie Provincial Park: With 25 peaks over 1000 metres high, this park's 140 kilometres of trails will expose you to breathtaking views, and a variety of flora and fauna.
Many of the popular ski hills also double as summertime hiking destinations or, if you'd rather conquer them on two wheels, mountain biking hubs. The previously mentioned Mont-Tremblant and Mont-Sainte-Anne provide some of the best biking trails in Quebec. Another ski hill in the Eastern Townships, Bromont, has 24 trails that draw in crowds of mountain bikers. But the most popular mountain biking destination is probably the Vall?e Bras-du-Nord near Quebec City. People who visit the area's two separate mountain biking sectors tend to start planning their next trip to Quebec while they're still on the trail.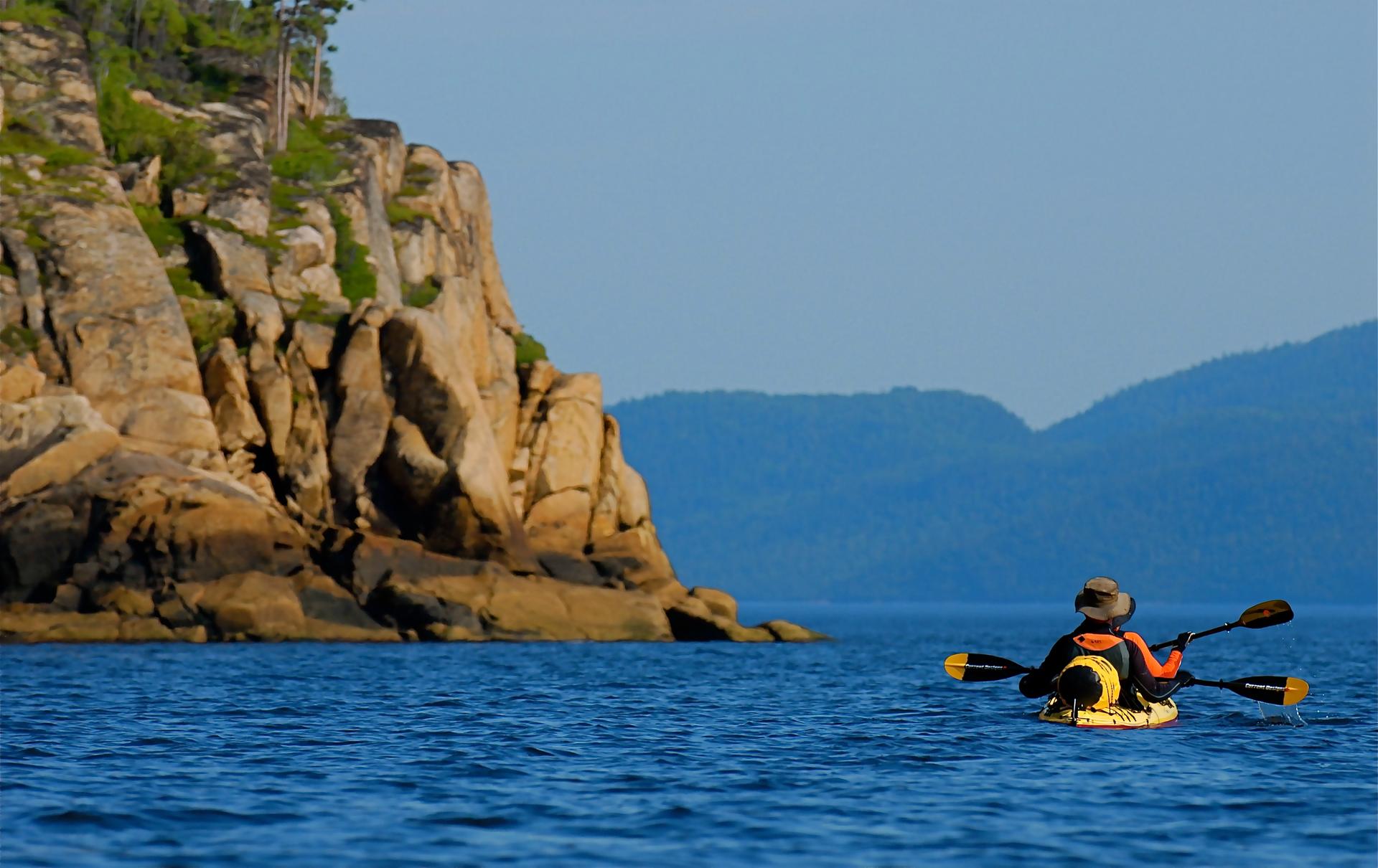 Kayaking the Saguenay Fjord - Credit: Fjord en Kayak
On the water
With thousands upon thousands of lakes and rivers, including the St. Lawrence River, Quebec is definitely a place where you can get wild on the water.
Sea kayaking is a popular activity along the eastern coast of the province and in
the Saguenay Fjord
. Carved by 65,000 year-old glaciers and stretching more than 100 kilometres, the Saguenay Fjord is where rugged cliffs and wildlife meet the sea. Stop, let your kayak drift awhile, rest your paddle and you might see peregrine falcons, loons, or fin whales and humpbacks. If you're really lucky, you might even spot a beluga's shining white back or hear the "pssshh!" of a minke whale's breath.
Of course, a gentle kayaking experience isn't for everyone. Some people would rather test their mettle in the rushing white water. For white water rafting you're probably going to want to head to the Rouge River near Mont-Tremblant or the Jacques Cartier River close to Quebec City. A number of rafting companies will make sure you enjoy your time in the rapids and make it back in one piece. 
On the snow and ice
The winter snow and ice bring a lot more to the table than just skiing. You can make snow angels, have a snowball fight, or speed through fine powder on a high-powered snowmobile. Let's talk about that last one.
You can find over 32,000 kilometres of snowmobile trails in Quebec: basically, wherever you are, there's a snowmobile trail nearby. The further away from the city you're willing to go, the more snowy terrain there is to explore. Snowmobile in Quebec can help you find the right snowmobile experience, whether you want to spot wildlife or zoom across mountain peaks.
If speed isn't your only objective, ice climbing is a great way to appreciate the waters of Quebec in the winter. In Montmorency Falls Park, minutes from Quebec City, you can strap on a harness and climb sections of the frozen 83m high falls, which are taller than their counterpart in Niagara Falls. 
Or, for a uniquely Quebecois adventure, try your hand at ice canoeing. No, we don't put the canoes in storage for the winter! Instead, we bring them out onto the partially frozen St. Lawrence River in downtown Quebec City. Alternate between rowing and pushing as you take on these powerful waters with the historic city in your wake..
The extreme
Ice canoeing is a great introduction to some of the more extreme adventures you can experience in Quebec. Paragliding, bungee jumping and skydiving are three of the more traditional extreme options, and you can find them all in the province.
River surfing provides a different, more unique extreme experience for those who don't mind a little cold water. Surfers hit the Lachine Rapids in Montreal for an experience that is quite different from surfing in the ocean. River waves are stationary, meaning if you can catch one, you can essentially ride it forever (or until you bail).
For more outdoor inspiration, visit the Quebec Original website.