An adventure in the Canadian Rockies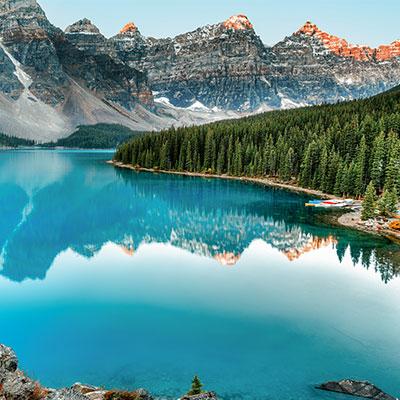 The Canadian Rockies are, quite simply, spectacular. No photo can truly capture the awe-inspiring experience of looking up at the soaring mountains, down into seemingly endless canyons, across ancient glittering glaciers and into turquoise blue lakes so pristine and perfect it's hard to believe they're real.
Banff - Credit: Banff Lake Louise Tourism/Paul Zizka
Places to go
The natural wonders of the Canadian Rocky Mountains are protected in a series of incredible parks along Alberta's western border, including Banff National Park, Jasper National Park, Kananaskis Country and Waterton Lakes National Park.
Banff National Park, part of a UNESCO World Heritage Site, was established in 1885 as the first national park in Canada, and it continues to draw visitors from around the world. Discover the natural beauty of this mountain paradise that has more than 1,600 kilometres of maintained trails for hiking, cycling and horse riding to explore. Come back in winter and ski exhilarating deep powder.
Here are some unmissable spots.
Lake Louise and Moraine Lake
The Canadian Rockies are home to some of the most beautiful lakes in the world. What sets these alpine gems apart is their stunning aquamarine colour, a result of the "rock flour" -- fine-grained silt -- suspended in their glacier-fed waters. Set against a backdrop of magnificent snow-capped peaks, it's a picture-perfect combination that's hard to beat.
Most photogenic of them all in Banff National Park is Lake Louise, anchored at one end by the Victoria Glacier and the other by the stately Fairmont Chateau Lake Louise. Moraine Lake is another turquoise beauty, nestled in the Valley of the Ten Peaks. Rent a canoe or walk the shores, just make sure you bring your camera; the views are stunning. Lake Louise is less than a two-hour drive west of Calgary. From Lake Louise, it's about an hour and 20-minute drive to Moraine Lake, which makes for a perfect day trip into the park, but we bet you'll want to stay longer -- there's so much to see and do along the way.
Lake Minnewanka
Minutes from the town of Banff, Lake Minnewanka is the longest lake in the Canadian Rockies at 28 kilometres long. Hike or bike the trails along its northern shores, or take the hour-long guided boat cruise to see the lake's breathtaking beauty from every angle and learn about its fascinating history. For instance, the summer village of Minnewanka Landing, built in 1912, can only be visited by scuba divers as it is now completely submerged, and the First Nations who hunted and lived along its shores for as many as 10,000 years named it minn-waki - Lake of the Spirits. The descendants of the elk, mule deer, bighorn sheep, grizzly and black bears that sustained the First Nations who lived by the lake still populate the area today.
Cave and Basin National Historic Site
Commemorating the 1883 discovery by railway workers of a natural hot spring that led to the creation of Canada's first national park, the Cave and Basin National Historic Site traces the history of the thermal springs used by First Nations for thousands of years before being accidentally stumbled upon by three railway workers in 1883. Take an evening lantern tour through the rock tunnel that leads to the original pool.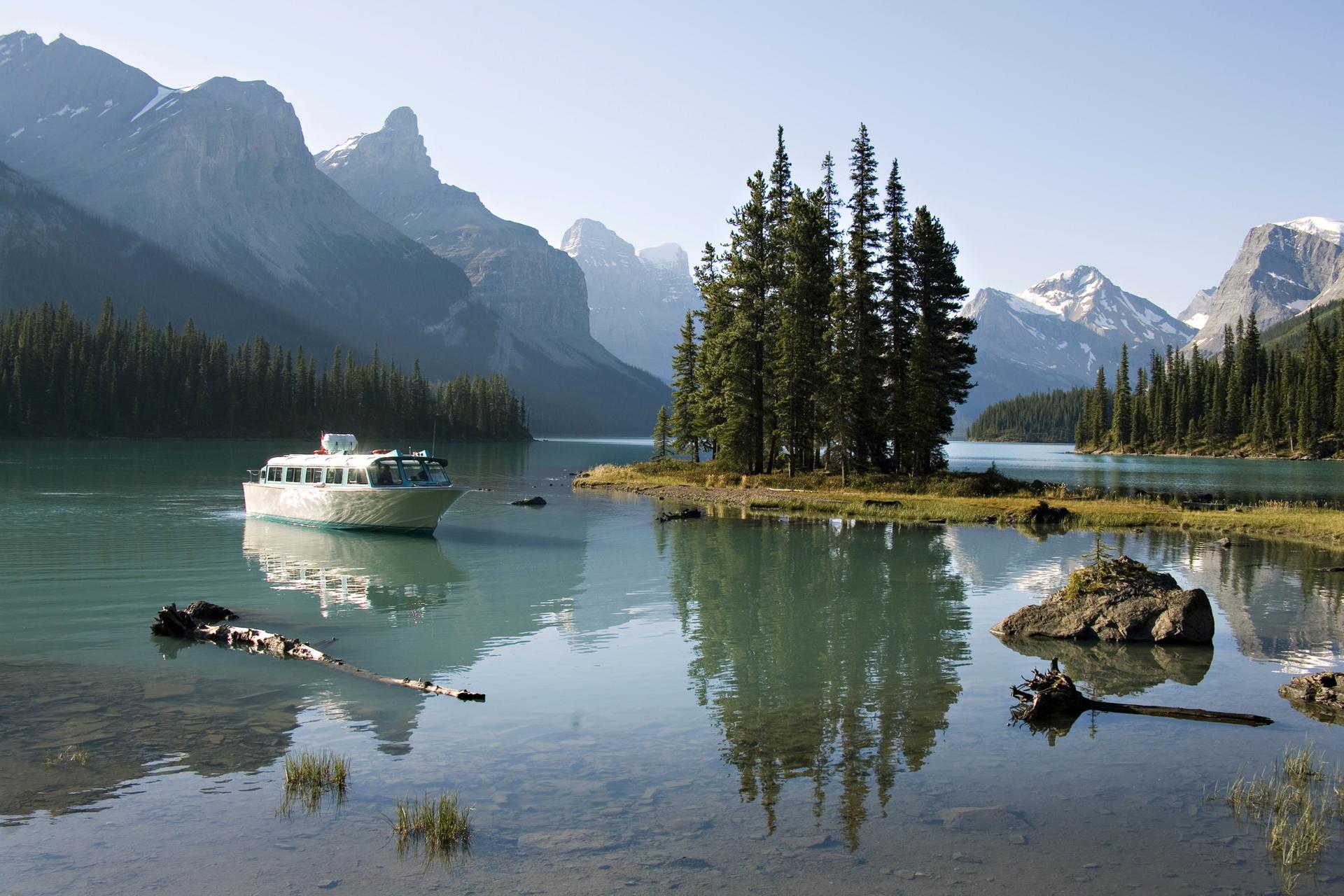 Spirit Island, Maligne Lake - Credit: Jasper Tourism
Jasper National Park
The northernmost national park in the Rockies, Jasper National Park is also the largest, at 10,878 square kilometres. There is so much to explore in this immense park, starting with the beautiful Athabasca Falls. The 23-metre waterfall might not be the world's highest, but its power is striking. Another highlight is Maligne Canyon, carved 50-meters deep by the churning water, where you'll find fascinating fossils, a roaring waterfall and all kinds of flora and fauna.
Columbia Icefield and Glacier Skywalk
The Columbia Icefield is the largest remaining icefield in the Rockies covering almost 230-square-kilometres. To experience it first hand, stop in at the Glacier Discovery Centre on the Icefields Parkway and sign up for the Columbia Icefield Glacier Adventure. You'll board an Ice Explorer - an oversized all-terrain vehicle with huge rubber tires specifically designed to take you right up onto the Athabasca Glacier, the most accessible glacier in North America. Walk out onto ice up to 365 metres thick and drink fresh glacial water. Afterward, your tour will take you to the Glacier Skywalk, a cliff-edge glass-floored observation platform cantilevered 280 metres over the Sunwapta valley. Simply, breathtaking.
Athabasca Falls
At 23 metres in height, Athabasca Falls isn't the tallest waterfall in the Canadian Rockies but it is extremely powerful because of the glacial water of the Athabasca River forced through the narrow gorge. Platforms and walkways where you can safely view and photograph the falls can get slick with the spray so watch your footing and by no means venture beyond the barriers. Located 32 kilometres south of the town of Jasper, it is accessed from the Icefields Parkway using Highway 93A. There's plenty of free parking and it's an easy stroll to the falls.
Maligne Canyon
More than 50 metres at its deepest, Maligne Canyon is a sight to behold in the summer. It plays home to fossils, waterfalls, unexpected animals and lush plant life. Walk the self-guided interpretive trail crossing the gorge on four different bridges, each with its own unique views. Come back in winter when the temperature drops below freezing and the waterfalls turn to towering walls of iridescent blue ice. Go with a guide, who will supply you with ice cleats and the fascinating geology of this place as you walk the canyon floor.
Maligne Lake
Take a boat cruise on this gorgeous aquamarine lake and be sure to bring your camera as you'll visit Spirit Island, one of the most photographed scenes in the world. Hiking and mountain biking trails abound. Half the fun is getting here - it's an incredibly scenic 48-kilometre drive from the town of Jasper with lots of opportunities to spot wildlife.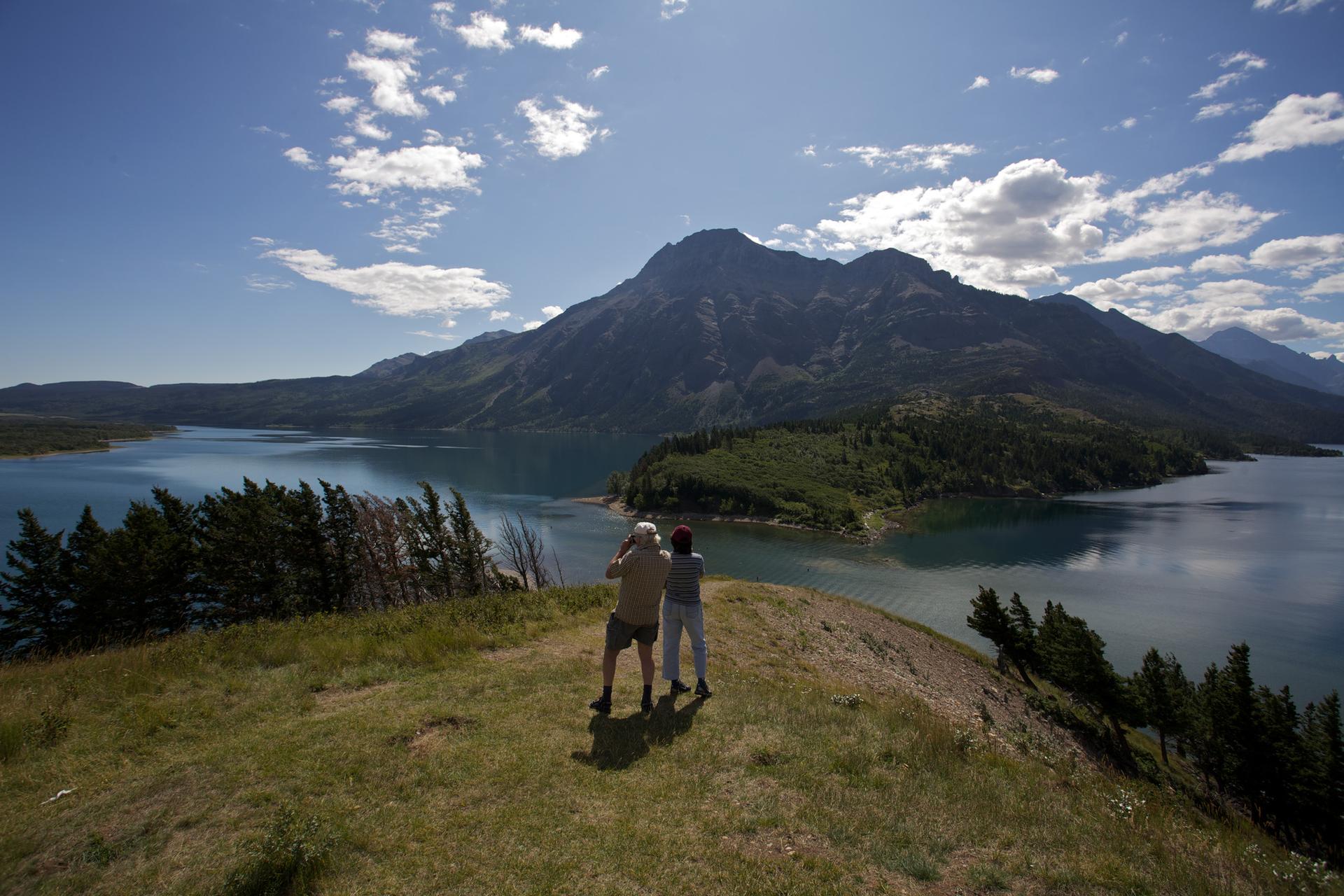 Waterton Lakes National Park - Credit: Asymetric/Dustin Parr
Waterton Lakes National Park lies just north of the Montana border. Nowhere else in the world will you find the combination of an International Peace Park, biosphere reserve and UNESCO World Heritage Site. The soaring mountains rise straight up from the prairies and are home to an unusual variety of plants and animals. Your chances of spotting black bears are more than good, along with bighorn sheep, elk, deer, golden eagles, ground squirrels and countless species of orchids. You'll find some of the best hikes around here or you can pick from a number of beautiful scenic drives. Here are some highlights:
Upper Waterton Lake
Upper Waterton Lake is the deepest lake in the Canadian Rockies. Take the Waterton Shoreline Cruise, and learn about the history and geology of the area and nip into the USA en route at Goat Haunt, Montana.
Red Rock Canyon
Red Rock Canyon is a short drive from the village of Waterton through the Blakiston Valley, keep an eye out for wildlife along the way. Once you get to the canyon, follow the trail around its edges and across the top for perfect views of the unusually coloured rock that gives the canyon its name. Once you've done the loop you can climb down into the stream bed at the bottom. Bring a picnic lunch - it's the perfect place.
Cameron Falls
Cameron Falls is located right in Waterton, making it one of the most accessible natural attractions in the park. Take the short trail to the top of the waterfall for a dazzling view.
Akamina Parkway and Cameron Lake
Take another short drive from Waterton, on a winding mountain road along the Cameron Valley to placid Cameron Lake. It's the ideal spot for a picnic lunch and a refreshing paddle, then a stroll around the lake.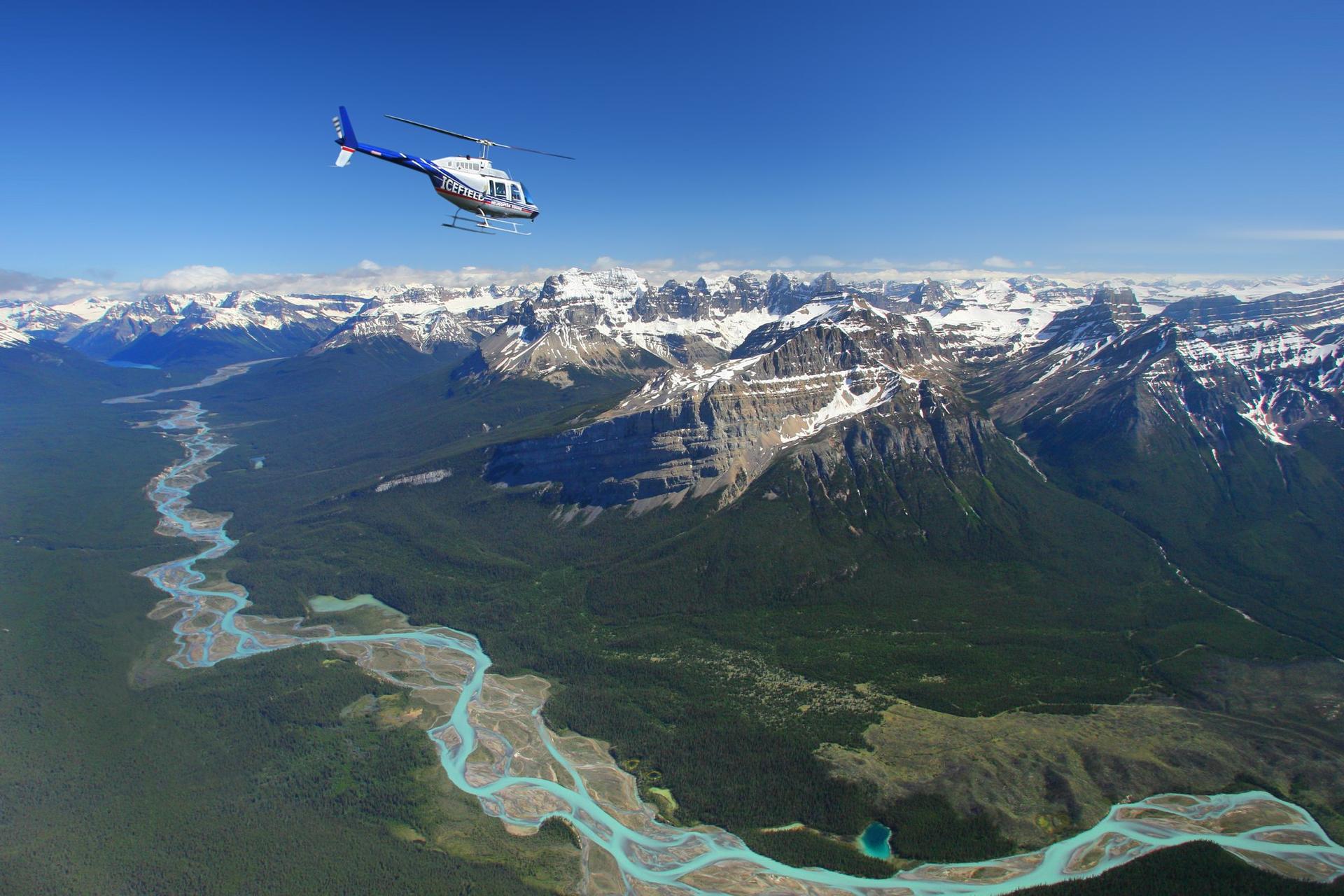 Kananaskis Country - Credit: Heli Canada
Kananaskis Country is located in the front ranges of the Canadian Rockies, less than an hour west of Calgary. Get ready for 4,211-square-kilometres of provincial parks, recreation areas, wildlands and plenty of outdoor adventures. At its heart is the alpine town of Canmore with a lively bar and restaurant scene, shopping, plenty of accommodation options and a host of seasonal festivals. A network of trails spreads out from the town into what the locals call K-Country, and there's lots more hiking and cycling to be discovered in the back country. Try out your skills stand up paddle boarding or whitewater rafting on the Kananaskis River. Come back in winter for alpine and cross-country skiing, snowshoeing and dog sledding.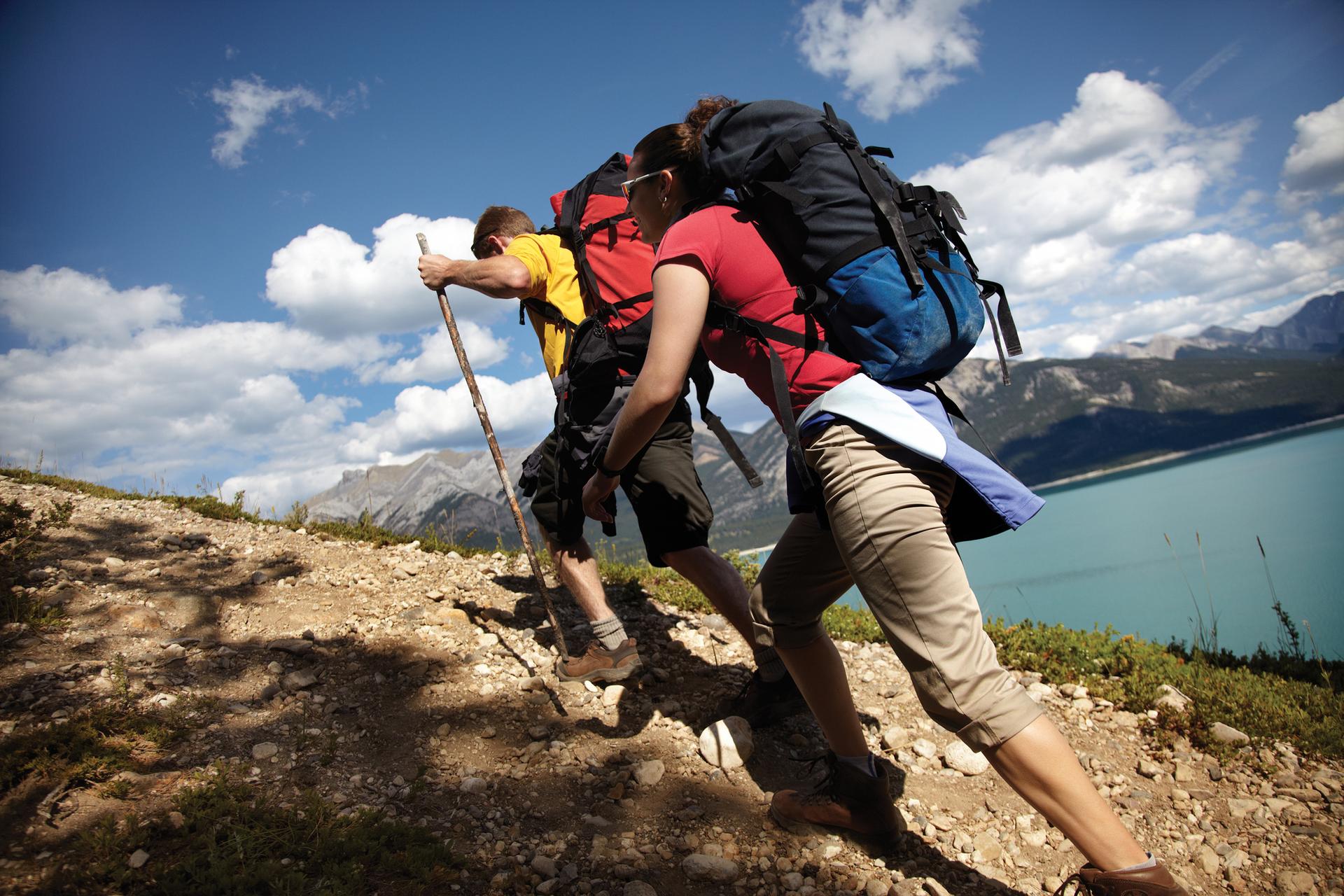 Hiking in the Rockies - Credit: Travel Alberta/George Simhoni
Things to do
With so many beautiful places to explore, the Canadian Rockies are overflowing with different adventures that will put a smile on your face and get your adrenaline pumping, no matter what the season. Here are just a few ideas.
Hiking
There are thousands of miles of maintained hiking trails to discover through the Canadian Rockies, whether it's an easy stroll around a turquoise lake or a multi-day trip through the backcountry, you'll find trails for all abilities from newbies to experts.
Sunshine Meadows in Banff National Park offers up some of the best hiking destinations in Canada. Spot tiny pikas (cute round little mouse-like creatures with a distinctive call) and enjoy the scent of wildflowers as you hike to beautiful Grizzly Lake. The Valley of Ten Peaks around Moraine Lake and the Stanley Glacier are popular trails for moderate hikers, but if you're up for more of a challenge, make a loop and hike to the Lake Agnes tea house before tackling the Plain of Six Glaciers Trail. This will take you from the shoreline of Lake Louise through the mountain forest on a trail which takes in stunning glaciers and ends with a second historic tea house (open seasonally and cash only).
In Jasper, the Skyline Trail is a multi-day hike across 44 kilometres of beautiful mountain ranges. For a less strenuous experience, try any of the trails leading from Jasper into the Athabasca Valley.
For a bucket list experience, take a scenic flight by helicopter. Get a bird's-eye view of the mountain peaks and land in a pristine valley for a hike through the wildflowers. In winter, give heli-snowshoeing or heli-skiing a try.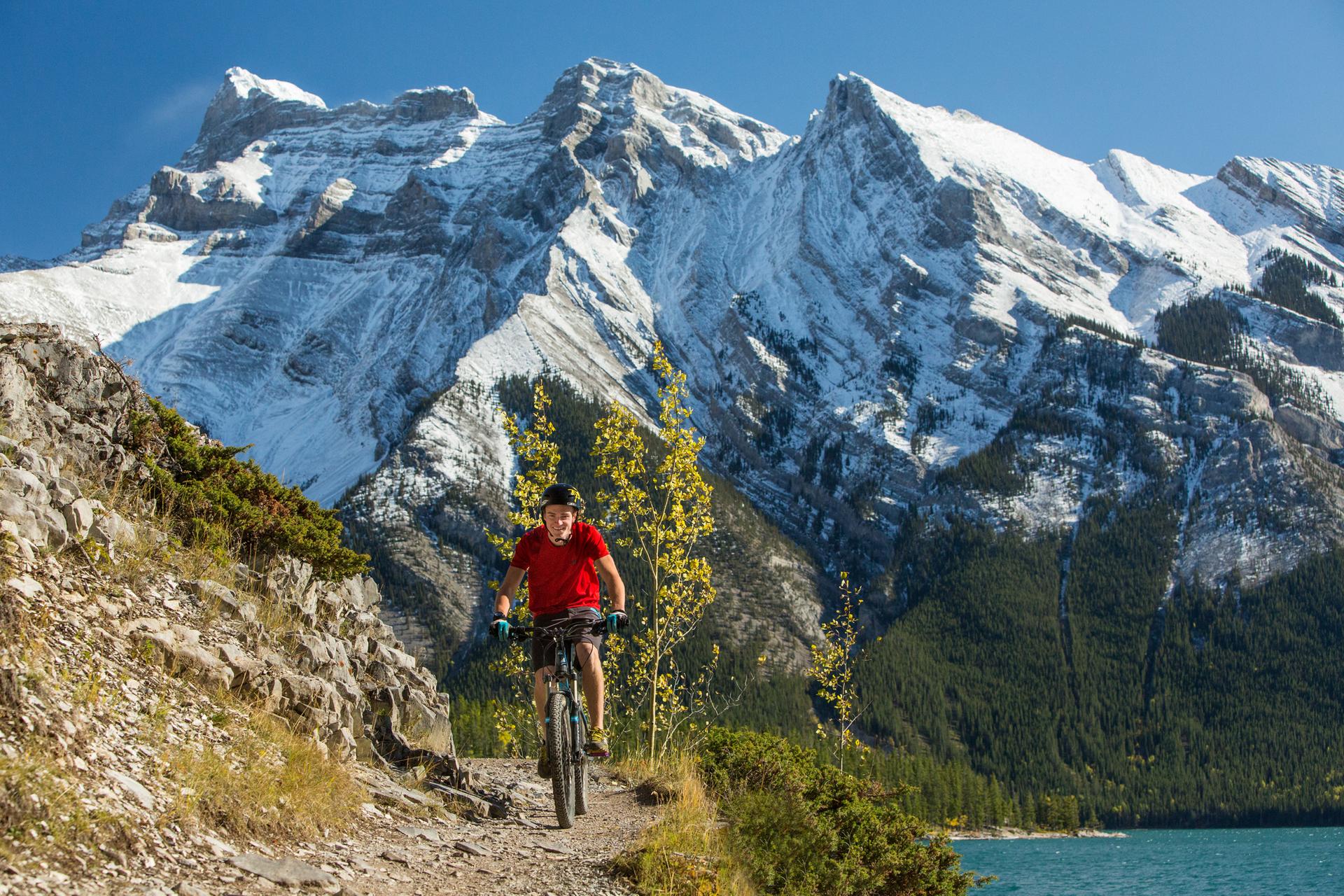 Mountain Biking in the Rockies - Credit: Banff Lake Louise Tourism/Paul Zizka
Cycling and mountain biking
Many of our alpine trails are tailor-made for cycling and mountain biking. Canmore Nordic Centre Provincial Park has over 65 kilometres of groomed trails which you can ski at your leisure. Or, for a more lengthy challenge, set off on a four-day bike tour along the Icefields Parkway.
Whitewater rafting
The rushing rivers in the Canadian Rockies make for excellent whitewater rafting adventures, from an easy float all the way to heart-pumping Class Five rapids. Favourites include the Kananaskis, Athabasca and Kicking Horse rivers. There are professional outfitters in the towns of Jasper, Banff and Canmore who can tailor an experience to suit your skills and thrill-seeking needs.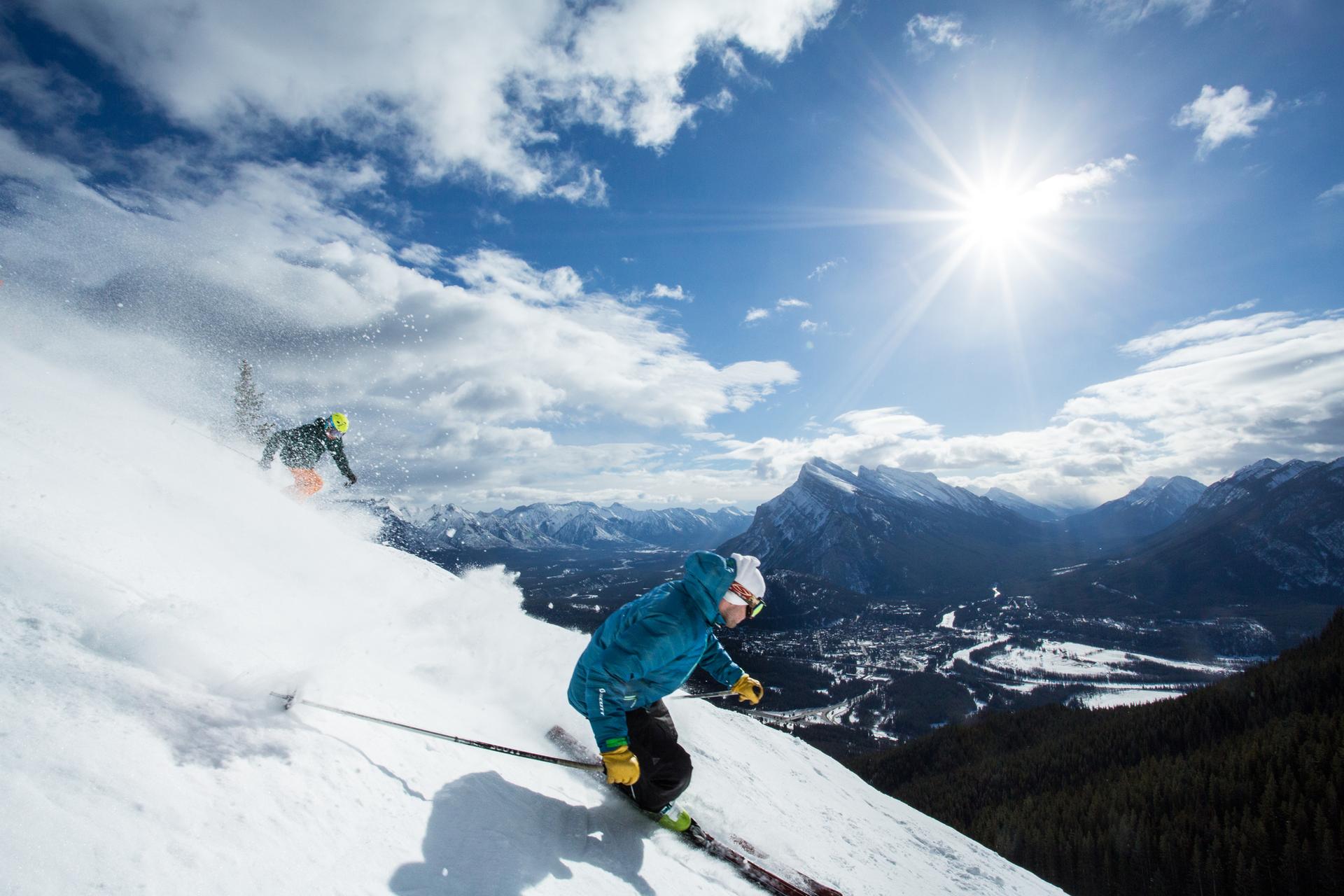 Skiing in the Rockies - Credit: Banff Lake Louise Tourism/Paul Zizka
Skiing and snowboarding
When the weather gets colder and snow begins to falls, hikers and bikers are replaced by skiers and snowboarders who flock to our mountain park ski resorts for the feather-light powder snow the Canadian Rocky Mountains are famous for.
In Banff National Park you can ski the Big Three: Mt. Norquay (28 runs, 503 metres of vertical), Sunshine Village (145+ runs, 1072 metres vertical) and nearby Lake Louise Ski Resort (145+ runs, 990 metres vertical). In Jasper National Park, Marmot Basin has the highest base elevation in Canada (1,698 metres) and offers 86 runs on 914 metres vertical. In Kananaskis Country, you'll find Nakiska, venue for the 1988 Winter Olympics and home to 71 runs on 735 metres vertical. Or try cat skiing virgin runs at Fortress Mountain - no lift lines! Further south, Castle Mountain Resort is one of our best kept secrets.
Of course, the resorts are only one way to tackle the mountains on skis or a board. The Rockies are also home to some of the best backcountry skiing anywhere. Hike in, helicopter in or stay at a remote lodge and spend your days knee-deep in pristine powder.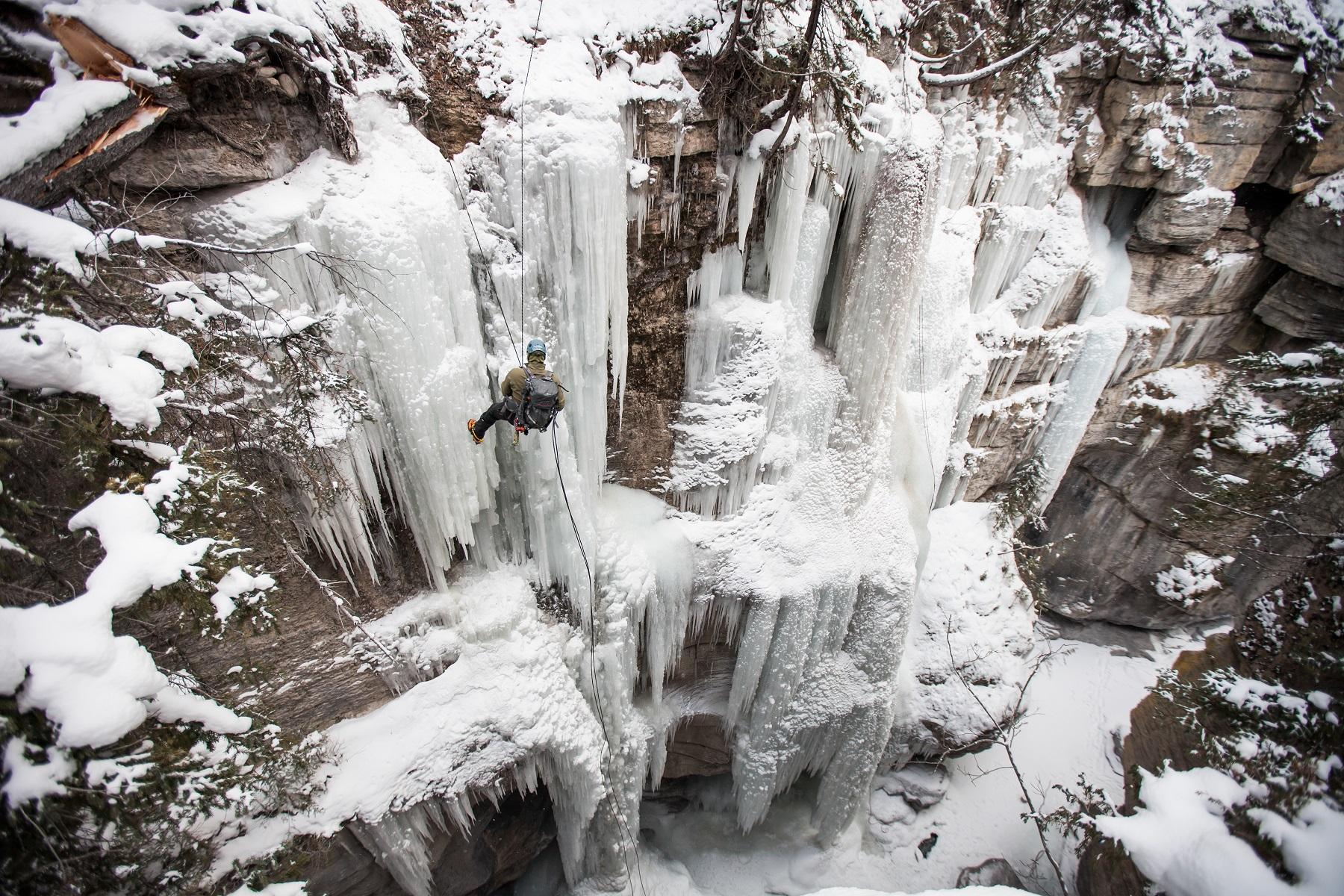 Ice climbing in the Rockies
Ice climbing and ice walks
In winter, the gorges of the Canadian Rockies turn into ethereal ice palaces as waterfalls freeze top to bottom in hues of turquoise and blue. Strap on some ice cleats (spikes which fit to the sole of your boots) and take a guided tour of a canyon floor on an ice walk or learn to ice climb with a professional guide. Top spots include Maligne Canyon in Jasper, Johnson Canyon in Banff and Grotto Canyon in Kananaskis Country.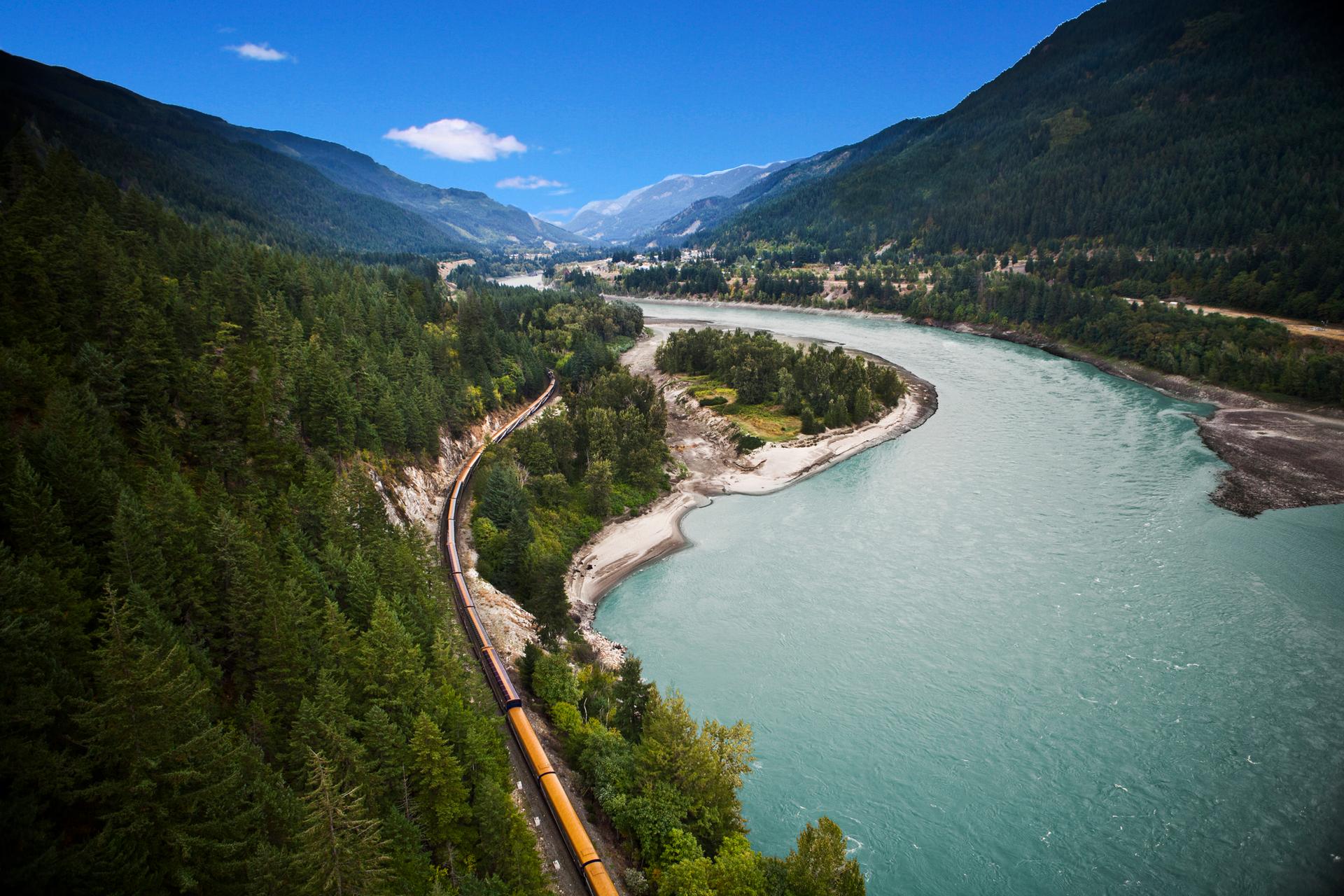 Rocky Mountaineer
Train adventures
Take off on a train adventure to see the absolute best of the Canadian Rockies. Ride in style on the Rocky Mountaineer and see the mountains from the comfort of a train car. Go to places you can't get to by car, such as the legendary Spiral Tunnels, blasted through two mountains at the Kicking Horse Pass, or alongside the mighty Fraser River as it thunders through Hell's Gate. Trundle over high bridges and past brilliant blue mountain lakes. Listen to the powerful rush of water falling from granite cliffs and through narrow canyons. Spy grizzly bears foraging on open slopes or golden eagles catching the updrafts. Stay overnight in iconic mountain lodges and hotels. With the Rocky Mountaineer, the journey is the adventure.