Active Canada: outdoor adventures to try near you
Wherever you are in Canada, amazing adventures await in your own backyard. Whether you're enjoying the best surfing in Canada next to an old-growth cedar forest on Vancouver Island or playing golf on a panoramic riverside course in Newfoundland and Labrador, it's rewarding to soak up Canada's natural splendor while actively exploring. Experiencing outdoor adventures-many only a short drive away-in this vast country of 9.8 million square kilometres makes for an ideal getaway.
From coast to coast to coast, here are some of the best outdoor adventures for active travellers to try on the water, on land and in the air this summer and fall.
On the Water
Kayaking: British Columbia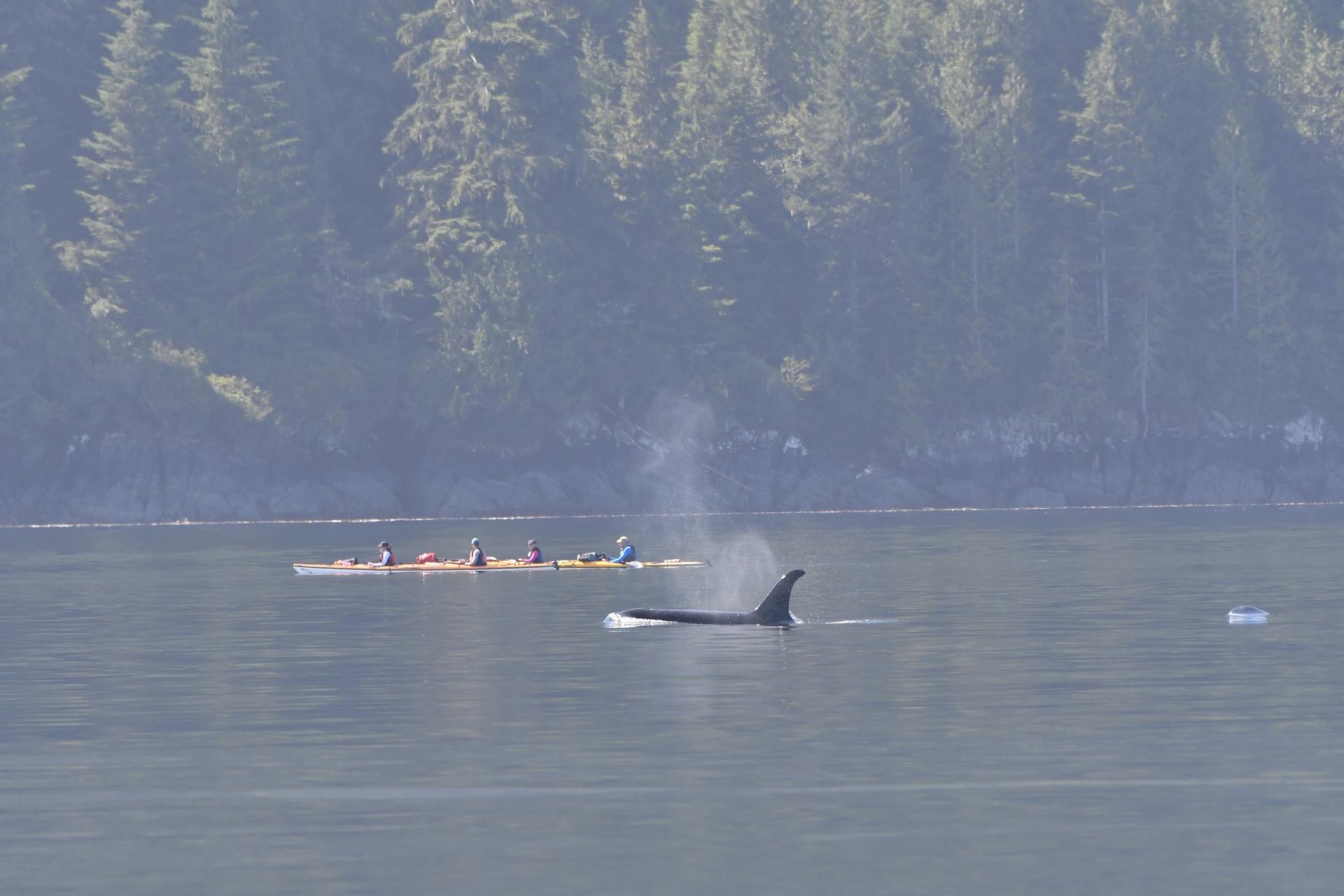 Kayaking: British Columbia - credit: At the Water's Edge Adventures
Marvel as a pod of northern resident orcas swims past your campsite along the Johnstone Strait at sunset. By day, gape as humpbacks spout nearby and a 300-kilogram sea lion dives underneath your kayak. These are among the thrilling encounters that await kayakers off British Columbia's West Coast. Sea Kayak Adventures and At the Water's Edge Adventures offer customized tours of these pristine Pacific waters with guides, gear and gourmet meals.
Canoeing: Yukon
Canoeing Tagish Lake, Yukon - credit: Kyle Mulinder
Paddling down the calm Nisutlin River in the Yukon is one of the best canoe trips in Canada. Sightings of moose, bear and migratory birds enliven the experience amid the Pelly Mountains. Try a week-long canoe trip, suitable for all skill levels, from Whitehorse with Ruby Range Adventure. Up North Adventures encourages paddlers to fish for lake trout and Arctic grayling along the Nisutlin.
Fishing: Manitoba
Fishing in Manitoba - credit: Travel Manitoba
Manitoba's epic wilderness brims with authentic fishing lodges where you can reel in catches like trophy walleye and northern pike. By night, gaze up at the Northern Lights, which illuminate Manitoba's skies up to 300 nights a year.
Situated on the Winnipeg River, Eagle Nest Lodge has welcomed seasoned and novice anglers for more than 50 years, and shore lunches prepared by your guides with freshly caught fish satisfy everyone. In Atikaki Provincial Wilderness Park, the fly-in Aikens Lake Wilderness Lodge has handcrafted log cabins amid birch trees and ancient Indigenous petroglyphs.
Surfing: Various spots across the country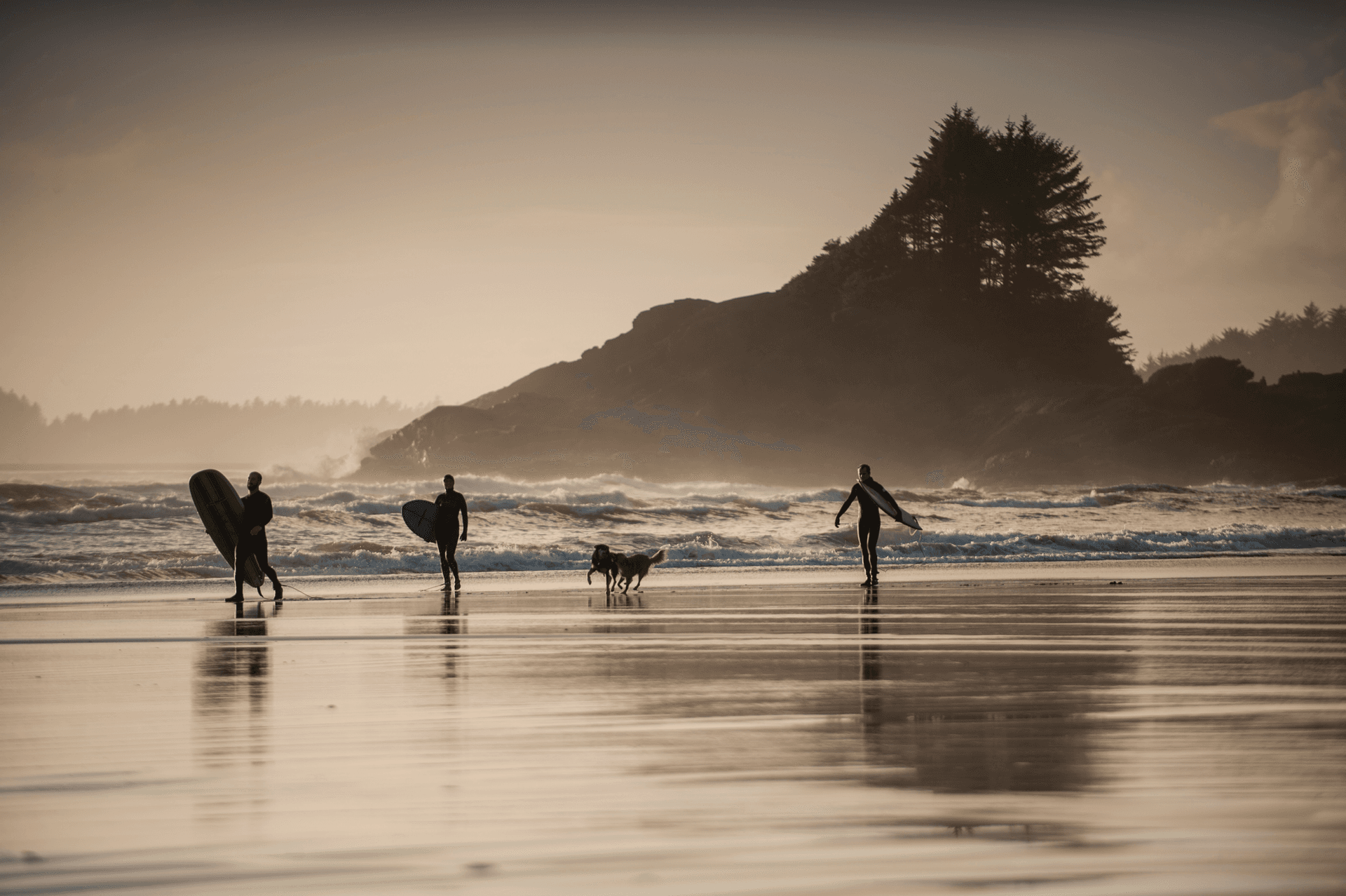 West Coast Surfing Cox Bay, Tofino, BC - credit: Brian Caissie
Facing the open Pacific Ocean, surfing in Tofino is as breathtaking as Canadian surfing gets. On the west coast of Vancouver Island, play in the whitewash at spectacular Cox Bay and enhance your surfing or stand-up paddleboarding skills with lessons from Surf Sister or Tofino Surf Adventures.
In Alberta, the Mountain Wave at Lower Kananaskis River provides surfing thrills, while the 10th Street Wave in Calgary, situated under the Louise Bridge, is a great introduction to river surfing in a vibrant urban setting.
To surf indoors, visit the all-season Oasis Surf Park at Montreal's DIX30 shopping centre. From surfing at Great Lakes playgrounds like Burlington Beach on Lake Ontario to hitting sandy Martinique Beach with Halifax Surf School in Nova Scotia, Eastern Canada burgeons with surfing choices.
Beach adventures: Prince Edward Island
Kiteboarding, Malpeque Bay, PEI - credit: Tourism PEI/Yvonne Duivenvoorden
Water sports fans flock to windswept Cavendish Beach on Prince Edward Island, where dramatic sandstone cliffs and sand dunes meet coastal forests and wetlands. Try kiteboarding with PEI Kiteboarding, just steps from local seafood restaurants and the house that inspired L.M. Montgomery's Anne of Green Gables. For a more laid-back experience, stroll Greenwich's white sand beaches, which offer supervised swimming, and check out the nearby trail system, including a wheelchair-accessible loop.
On the Land
Cycling Nova Scotia
Mountain biking: New Brunswick
In New Brunswick, the world's highest tides bring outdoor enthusiasts to the Bay of Fundy. Fundy National Park-ranging from coastal vistas to mossy valleys-also delivers exhilarating mountain biking. Take an easy ride to MacLaren Pond to view beavers and frogs, or get your heart pumping on the 11.3-kilometre Goose River Trail, which includes backcountry campsites. Rent bikes from Outdoor Elements at Chignecto South.
Bicycle touring: Nova Scotia
Cycling Nova Scotia's 298-kilometre-long Cabot Trail features stunning Atlantic Ocean panoramas, mountainous Acadian forest, salmon pools and moose as well as bald eagle sightings. To absorb the natural beauty of Cape Breton Island, bike the Cabot Trail on a multi-day tour with Freewheeling Adventures (electric bikes available).
Golfing: Newfoundland and Labrador
Humber Valley Golf Club - credit: Tourism Newfoundland and Labrador
With views of the 120-kilometre-long Humber River and the Long Range Mountains, Humber Valley Resort is a magnificent spot for golfers to tee off in Western Newfoundland. Tranquil streams and ponds adorn the 18-hole championship course designed by Doug Carrick, regularly voted one of Canada's best golf courses. It's also a perfect launching pad to explore the rugged coastal terrain of Newfoundland and Labrador's 489-kilometre Viking Trail.
Hiking and backpacking: Various spots across the country
Hiking Virginia Falls, Nahanni National Park Reserve
Hiking and backpacking amid Canada's glacier-carved mountains and vast plains is the perfect way to refresh your mind and body, and what follows are just a few of the amazing options.
In Nunavut, head to Auyuittuq National Park on eastern Baffin Island, featuring mighty glaciers and rivers. The 97-kilometre Akshayuk Pass includes traditional Inuit pathways and Mount Thor, a tooth-like granite peak that attracts climbers with the world's tallest vertical cliff face drop at 1,250 metres. Inukpak Outfitting offers guided hiking expeditions in the park. (Note: As of August 2020,  Auyuittuq National Park is currently closed to those without hunting and gathering rights, meaning it is inaccessible to visitors at the moment. Add this spot to your bucket list for future travel!)
Millennia-old fossils, alpine meadows and animals varying from wolverines to Dall's sheep grace Nahanni National Park Reserve in the Northwest Territories. The 30,000-square-kilometre traditional homeland of the Dene people features hikes such as Secret Lakes and Sunblood Mountain. Nahanni Heli Adventures offers heli-hiking tours for backcountry adventure, and Black Feather runs a Nahanni canoeing and hiking trip that includes Glacier Lake and the renowned Cirque of the Unclimbables. (Note: As of August 2020, locals can visit the park, while travellers coming to the Northwest Territories must undertake a mandatory 14-day self-isolation in Yellowknife, Inuvik, Hay River or Fort Smith.)
A surreal landscape of hoodoos and badlands attracts hikers to Alberta's Writing-on-Stone Provincial Park, known to the Blackfoot people as ??s?nai'pi. You can respectfully view close to 140 rock-art locations, including Indigenous petroglyphs and pictographs depicting spirits and battles, at this UNESCO World Heritage Site near Lethbridge. Interpretive walking tours are available.
Just outside Val Marie, Saskatchewan, Grasslands National Park has more than 700 square kilometres of unspoiled, diverse terrain to explore in the Frenchman River Valley. Wildlife lovers can spot plains bison and pronghorn antelope, while bird-watchers seek golden eagles and sharp-tailed grouse. Limitless star-gazing also awaits here in Canada's darkest Dark Sky Preserve.
In the Air
Flightseeing: Ottawa
Biplane flights from the Canada Aviation and Space Museum, Ottawa
CN Tower EdgeWalk
Toronto's greatest daredevil thrill is arguably the EdgeWalk at the CN Tower. The feeling of walking hands-free around a 1.5-metre outdoor ledge 116 storeys above downtown Toronto is hard to put into words. Safety harnesses even enable you to lean back over the edge toward Lake Ontario.
Ziplining: Quebec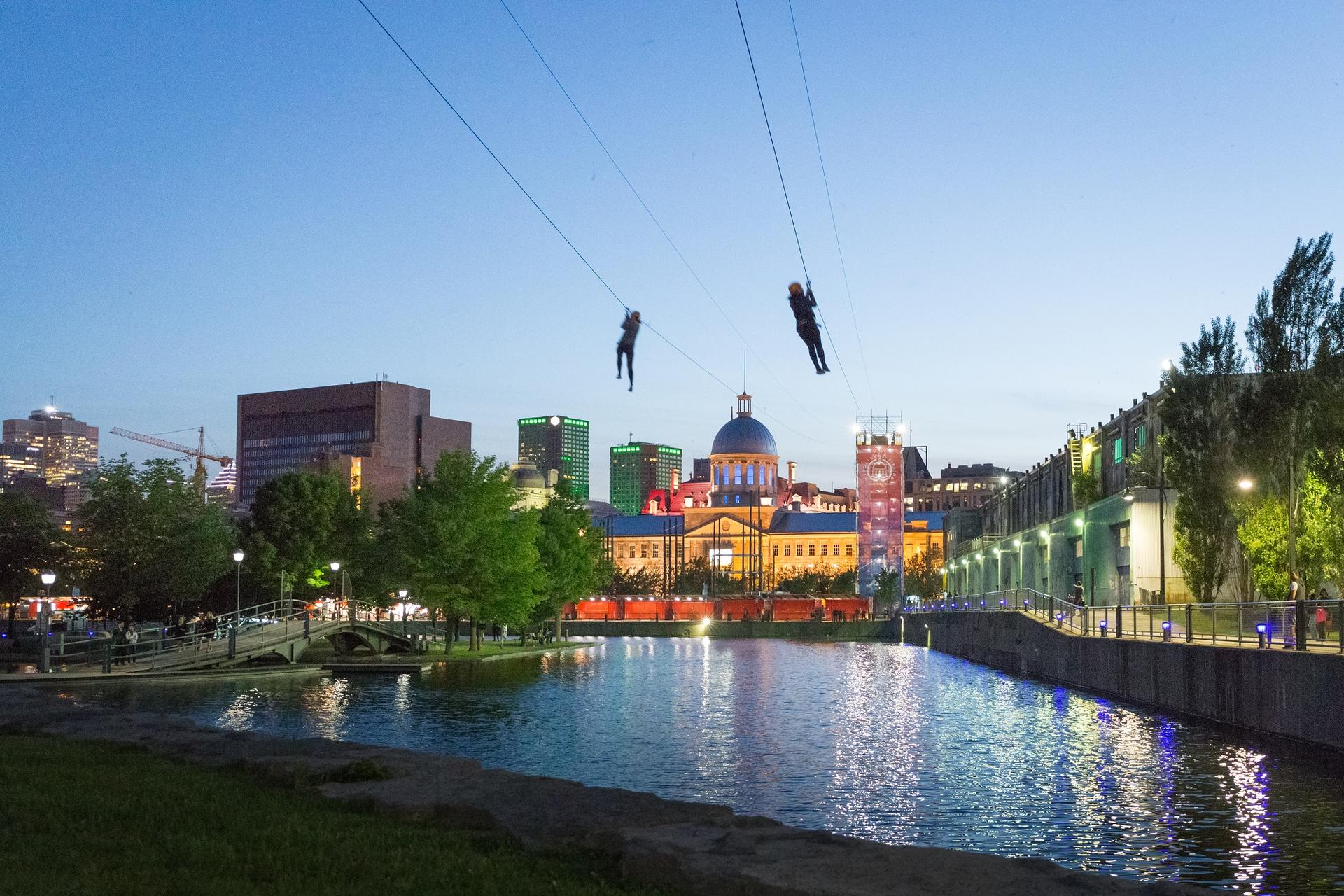 Montreal Zip Line - credit: © Étienne Lechasseur