5 ways to experience the St. Lawrence River
The St. Lawrence River is more than just a beautiful piece of scenery bordering Quebec City. Its shores are home to bustling neighbourhoods and communities; it's a travel route in and out of the region; and it's a place to enjoy outdoor adventures, in the winter and in the summer.
Check out five different ways to enjoy the St. Lawrence during your trip.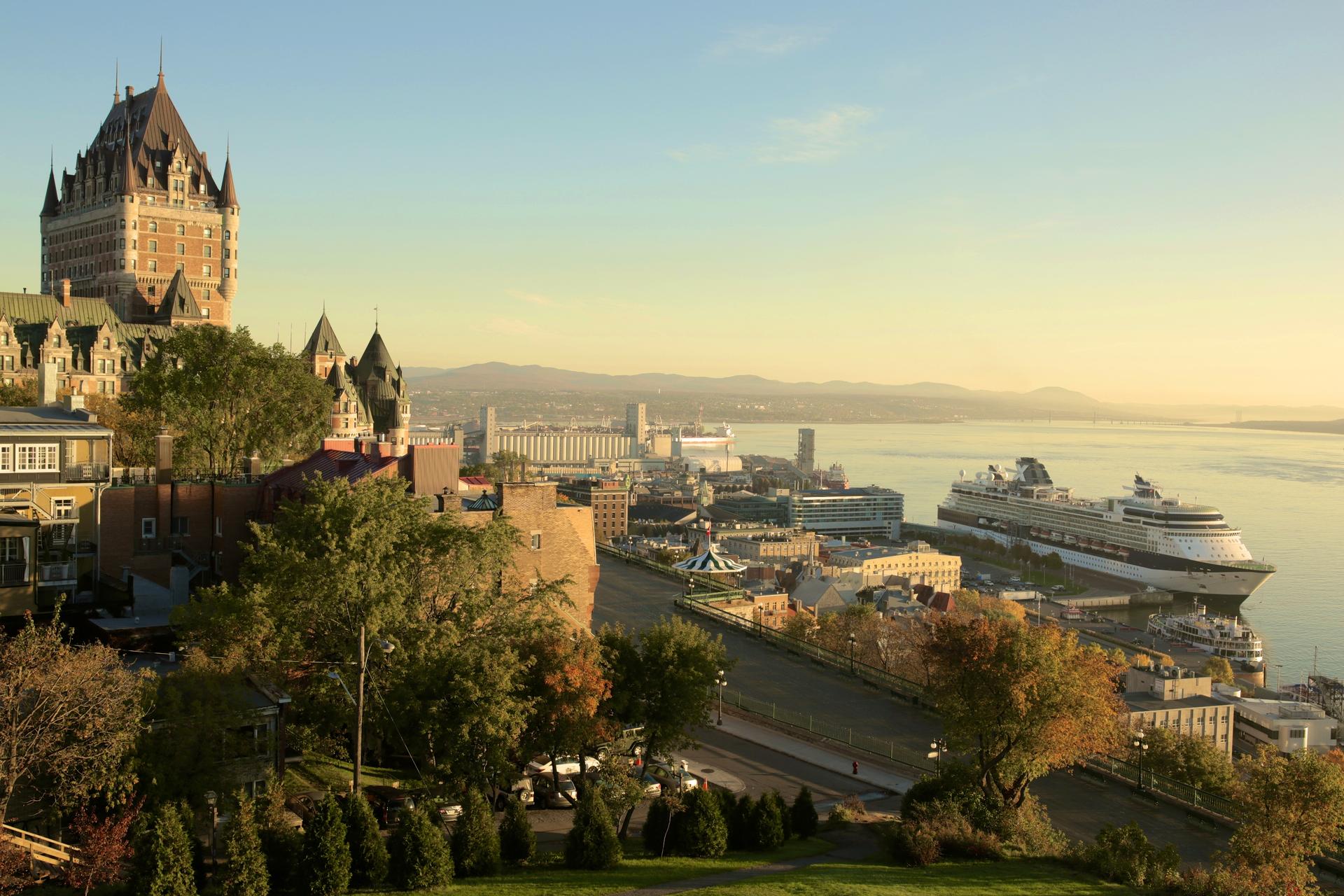 A cruise ship docked in Quebec City - Credit: Francois Gamache
Cruise into Quebec
Many people aren't aware that cruise ships can make their way up the St. Lawrence to Quebec City. Over 500,000 passengers have travelled the river in luxury over the years. These trips run from the summer through to the mid-fall, when the sun is shining and you can really appreciate the beauty of the St. Lawrence.
If you're interested in taking a cruise either into or out of Quebec City, there are routes that cover much of the Atlantic seaboard. Destinations include most of New England, New York City, Boston, Miami, and Fort Lauderdale. Heck, you can even hop on a two-week cruise to Greenland.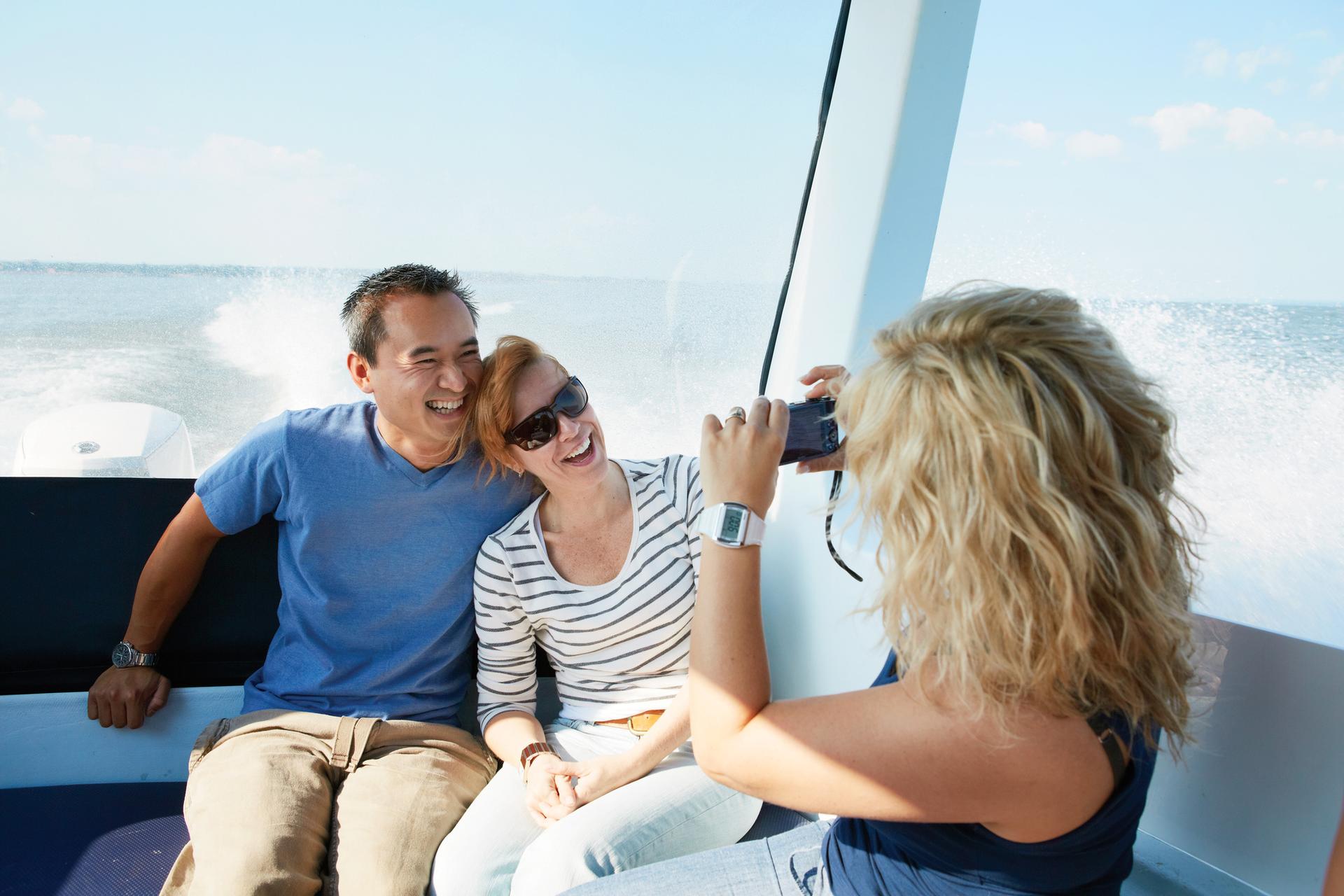 A photo trip on the St. Lawrence River
Take a photo trip by boat
While ice canoes were long used as a link between Quebec and L?vis, now that trip can be covered in the comfort of a ferry. Any time of year, you can travel back and forth between the towns in about an hour. Along the way, you'll have plenty of opportunities to take that next Instagram photo, and generally snap unbelievable shots of the St. Lawrence. This is especially true during the winter, when colliding chunks of ice make for a memorable crossing. 
Of course, there are tons of other boat trips you can take on the river. Pack your tripod and a wide-angle lens, and grab photos of the breathtaking Montmorency Falls as you cruise on by. Travel by water to the nearby regions of the Island of Orleans (?le d'Orl?ans) and C?te-de-Beaupr? region. Or climb aboard a whale-watching boat that heads up the St. Lawrence in search of forked tails. There's really a trip for everyone.
Sail or surf the Baie de Beauport
If you'd rather be in the water than on top of it, the Baie de Beauport is a great place to rent some equipment and get a little wet. Only five minutes from downtown, the bay features a sandy beach from which you can embark on any number of nautical activities.
Explore by canoe, kayak, sailing catamarans or stand-up paddle board. Test your nerve and your balance with windsurfing or kitesurfing. Or try something completely new: the flyboard. Flyboarding essentially involves strapping a 18-metre pipe to your feet and flying above the river using water propulsion. You'd be experiencing the St. Lawrence as it literally propels you through the air.
Promenade Samuel-de-Champlain
Exercise along the promenade
Yes, you can still enjoy the St. Lawrence from land. The Promenade Samuel-De Champlain is a 2.5-kilometre long park along the river, inaugurated in 2008 in celebration of Quebec City's 400th anniversary. Part of the park sits on what used to be an industrial wharf, and its creation was meant to "give the river back to the people."
Today, the promenade is filled with attractions to put you shoulder-to-shoulder with the St. Lawrence. Two large soccer fields and a large grassy area are a perfect spot for athletes to unwind and have some fun. Interpretive paths run through four different themed gardens meant to "reflect the moods of the river." These paths are a popular site for walking, jogging, cycling, rollerblading, and even snowshoeing in the winter. Other features of the promenade include an observation tower and a lookout with spectacular views of the St. Lawrence.
An ice canoe race - Credit: Carnaval de Quebec/Armstrong Photo
Ice canoe the frozen river
It doesn't get much more Canadian that ice canoeing. No, we don't put the canoes in storage for the winter. Instead, we bring them out onto the frozen St. Lawrence River and take off on an adventure.
Once used by Quebec residents as a real means of traveling or sending communications back and forth with the town of L?vis, ice canoes are now a tool for recreation. Alternate between rowing and pushing as you take on these powerful waters with the historic city in your rearview mirror. Feel the ice cracking under your feet and even participate in an ice canoe race.
You'd be hard-pressed to find a better activity for breaking the ice. (... sorry)